Quick Keto Machaca – Low Carb & Gluten Free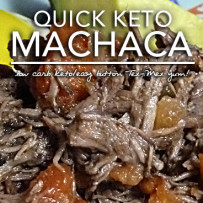 Most of you know Fluffy Chix Cook are chile heads, right? We are all about the Tex and the Mex, because when you get the Tex-Mex together? Great things happen. Great low carb ketogenic things happen! So if you're looking for low carb, gluten free and diabetic friendly Tex-Mex recipes like Fluffy Chix Cook's Quick Keto Machaca? You've found the right place!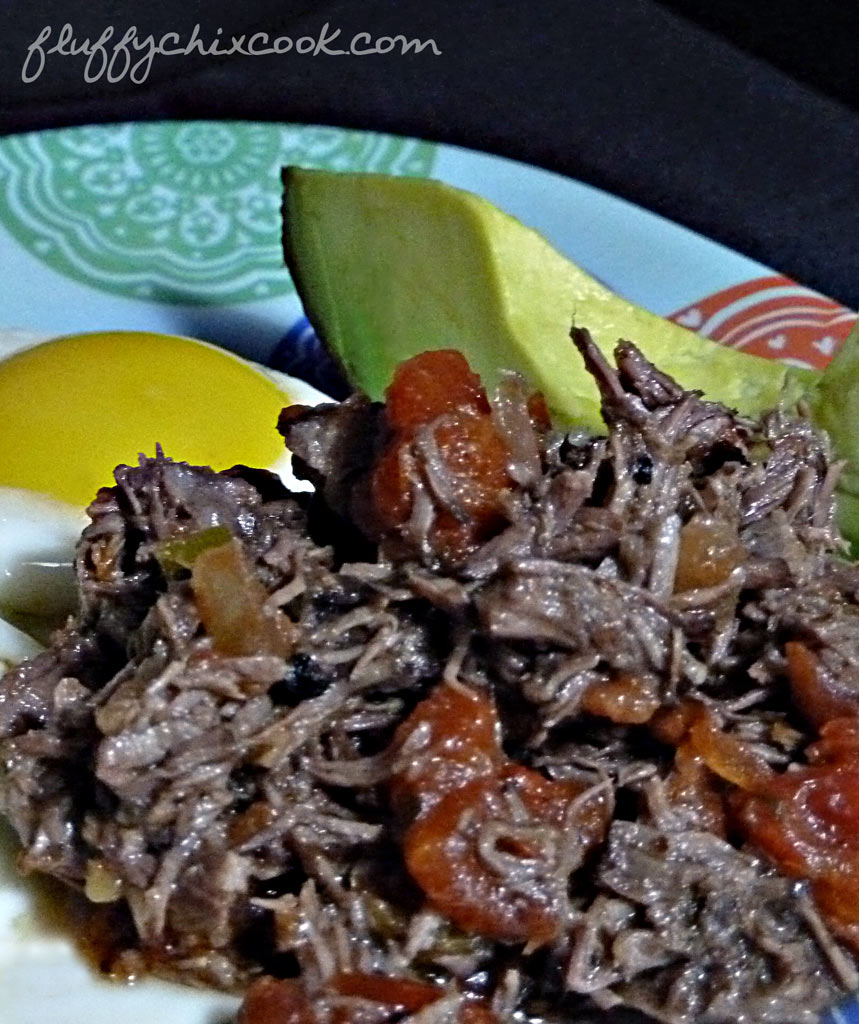 Many people mistakenly believe that low carb ketogenic lifestyles involve deprivation and "lean times" from a culinary perspective. But au contraire mon frère, that just "ain't so." We make every cuisine under the sun, low carb and keto-licious. Even Tex-Mex. Low carb keto Tex-Mex cooking just takes a little re-invention and creative thinking, and that extra effort is completely worth it.
We grew up enjoying machaca, a deeply flavored, slow-cooked Mexican pot roast featuring sofrito, aka the Mexican trinity: onion, chiles, garlic, herbs & spices and often, tomatoes. These aromatic veggies slow cook in oil or lard until very tender then get added to chuck arm roasts for a low and slow simmer until falling apart. Sofritos are the cornerstone of Latin cooking, much like the Cajun trinity or mirapoix are to Cajun, Creole and French cuisines.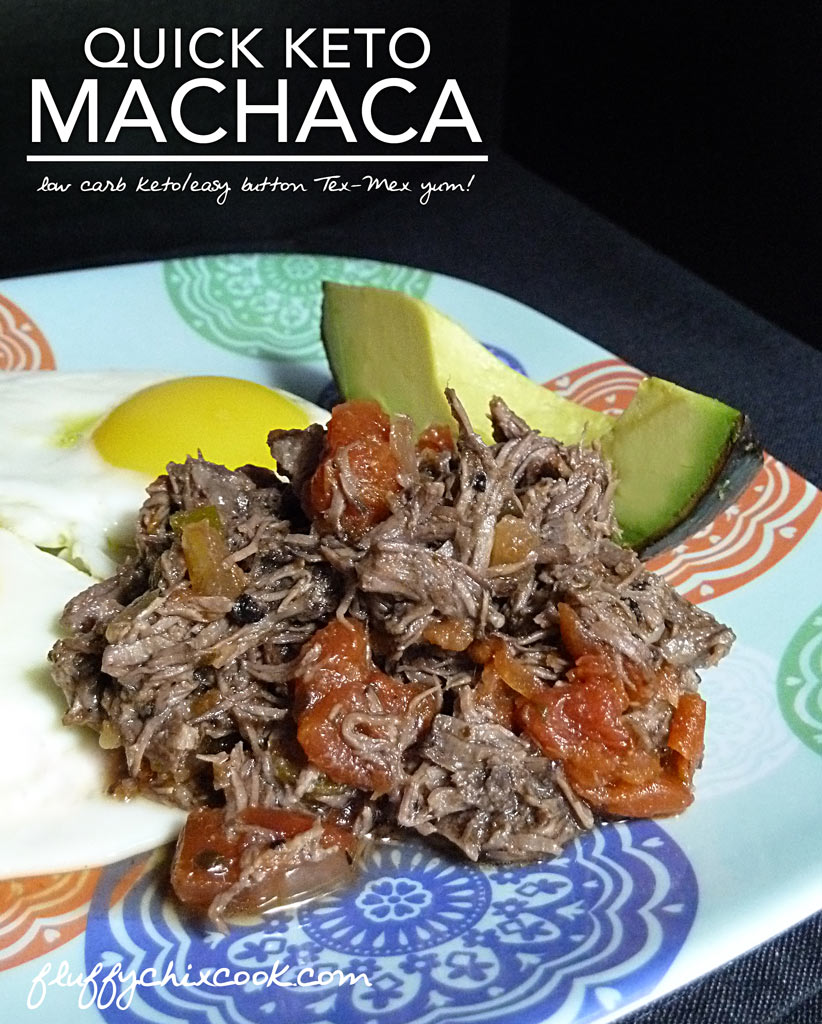 Making sofrito isn't difficult; it just takes a little time. Making machaca isn't difficult; it just takes a little time, as well. But what happens if you don't want to make a full pot that serves 6, 8, or 10 people? And what happens if you don't want to spend a few hours making it? What then? Well that's where Fluffy Chix Cook's handy dandy little Lucky Leftovers and Easy Button recipes come in.
We've developed a method of low carb keto cooking where you cook a protein base such as Beef Rags (slow cooked, pulled beef, pot roast), then portion, B/T (bag n' tag) and freeze for later use. When you're hungry for something like machaca, it's easy to pull out a bag of Beef Rags and combine it with the next best thing to a homemade sofrito—a cooked salsa containing the same ingredients and butter, lard, bacon grease, olive oil, whatevs. Throw in a few spices and boom, baby!! Keto Machaca is born in under 5 minutes!
Now, is that Keto Machaca exactly like the slow cook version that feeds eleventy billion with one recipe? Nah. It is not. But, does it taste amazing and satisfy you in a single portion that only took 3 minutes? You betchersweetbippy! And? It's low carb, gluten free, no sugar added, keto-licious get-down-my-pie-hole cuisine! And the best part? Tomorrow you could make a single serving of Italian Beef from those same frozen and portioned Beef Rags, or you could make Hash, or Creamed Sherried Beef, or any one of a thousand different variations! Score!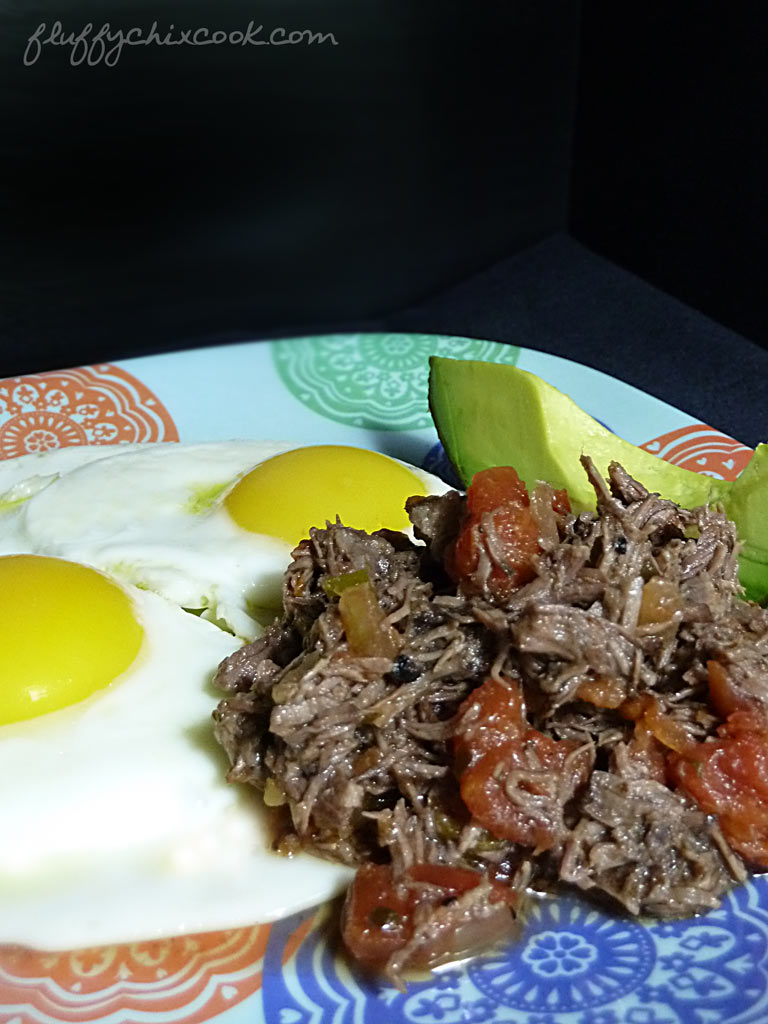 Low carb keto Tex-Mex at your fingertips! And if you want to extend the experience, be sure to watch for upcoming recipes using Keto Machaca, like Machaca Rellenos, Machaca and Eggs, Machaca Street Tacos—all low carb, ketogenic and wonderfully diabetic friendly. Be sure to check out our Induction Friendly Psylli Wraps and the OWL Version, also!
Quick Keto Machaca – Low Carb & Gluten Free
This Keto Machaca is an Easy Button Recipe based on Lucky Leftover Beef Rags. It takes such little time to throw together and heat.
Ingredients
Instructions
Combine everything in a microwave safe dish. Cover and nuke on high for 40-45 seconds. Stir and reserve for your dish.
Notes
We love eating this on its own or as part of a more complex recipe such as chile rellenos, enchiladas, or street tacos. It's awesome in a taco salad too! See how convenient Lucky Leftovers can be for your low carb ketogenic diet? You NEVER have to eat the same thing twice. Simply adjust the flavor profiles and additions to fit what you prefer!
Serving Ideas Use on its own or combine it with your favorite low carb bling to make so many Tex-Mex favorites
Nutritional Information
Per Serving: 402 Calories; 22g Fat (53.9% calories from fat); 39g Protein; 4g Carbohydrate; 1g Dietary Fiber; 91mg Cholesterol; 3g Effective Carbs
Copyright © 2012 Fluffy Chix Cook. All rights reserved.
http://fluffychixcook.com/quick-keto-machaca-low-carb-gluten-free/
Copyright © 2016 Fluffy Chix Cook. All rights reserved.
Copyright © 2012 Fluffy Chix Cook. All rights reserved.
We are not dieticians, nutritionists or medical professionals. The materials on this blog are for informational (and fun) purposes only. We do not fact check, nor do we worry about sources. Please do your own fact checking. We encourage you to look things up and check with your doctor or health care professional before acting on anything seen on Fluffy Chix Cook. xoxo