Radish Chips | A Low Carb Keto Potato Chip Alternative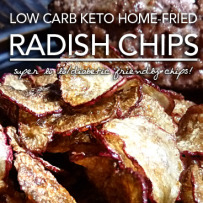 Are you looking for a low carb French fry or potato chip substitute? What if we told you Fluffy Chix Cook has a low carb keto chip-tastic recipe to assuage your salty, crunchy craving for potato chips and French fries? Would you go Lady GaGa over them and share with all of your friends? We bet you would! So pull up your big girl jeans and grab your cowboy boots, let's ride!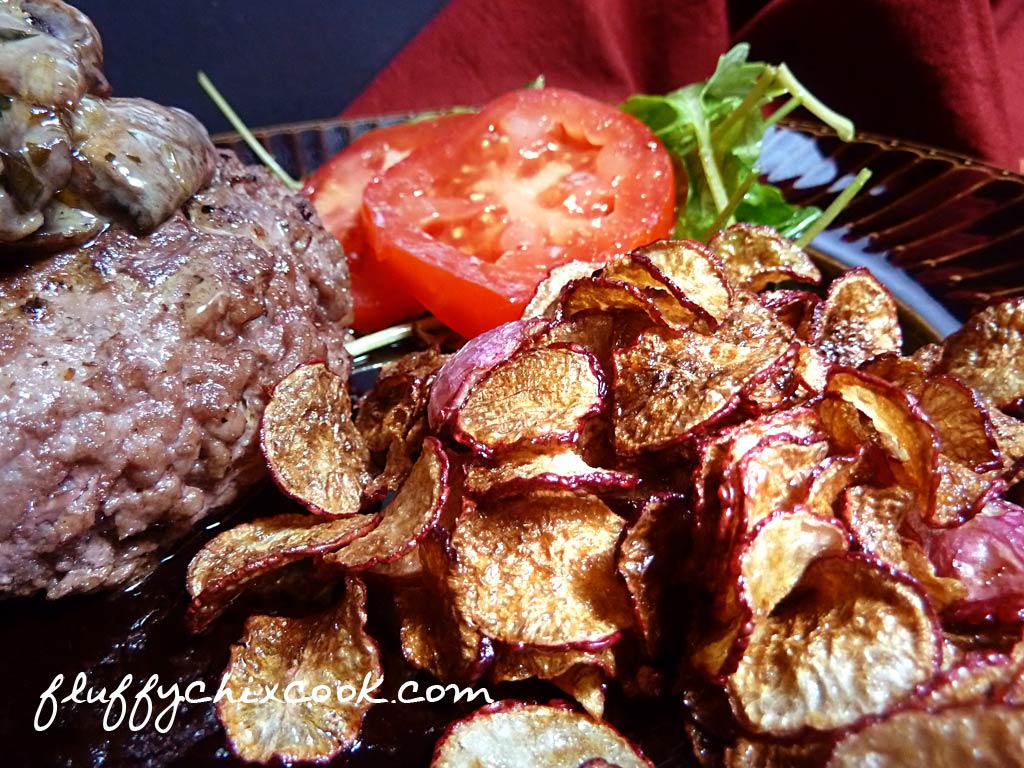 You may have heard, I'm from Texas. You may have also heard that a Texan would deep fat fry its family cat, if that cat stood still long enough! (That last one may be stretching things a bit.) But honest to goodness, Texans, and Southerners, love them some deep fat fried everything—bonus points if whatever you're deep fat frying has a crust. So I got to hankering for a potato chip a few weeks back. I don't have a very pronounced sweet tooth, but my salty-chipy-chix enjoys an epic reputation. I started wondering if radishes crisp when they DFF. So I asked some of our group members over at My Low Carb Keto Cooking Group, a closed group on Facebook, dedicated to sharing recipes, links, food porn, tips and tricks to the low carb keto lifestyle. My friend, Becka Wheeler chimed up that she made them all the time and they tasted great. She even posted a video! Wooohooo! I knew I would make them mine that night, and possibly share with my main squeeze, Mr. Fluffy and our sock monkey boys. As the boys like to say, "Oh, it's on, like Donkey Kong!" And so it began…our journey into fried radish chips…and it was good. So good.
Now, I'm no fat-o-phobe, and because we enjoy a suitable low carb, ketogenic lifestyle, the Fluffys "ain't afeared of no fat"—even if it does involve deep fat frying. Why? Cuz fat is our friend, and if we use a healthy oil that has an appropriate smoke point, enabling cooking at high temperatures without injuring the oil, then cool beans!
So what are a few healthy oils with suitably high smoke points? Well, for this recipe, we are frying at 325-350°F. That's a nice little clip. I would want to use a healthy oil with a smoke point of at least 350-400°. You may be surprised that virgin (not extra virgin) olive oil and light olive oil have smoke points that would allow you to deep fat fry. Also, combining on oil with a lower smoke point with an oil having a higher smoke point, extends the smoke point of the lower smoke point oil. (ie Adding a splash of virgin or light olive oil to butter allows you to pan fry meats and veggies without burning the butter or the ingredient being pan fried.)
Here's a list of healthier oil choices and their associated smoke points (F), in alphabetical order—not in order of preference. Our preference would be to deep fat fry in tallow (rendered beef) made from grass fed cows, lard made from pastured pork, or duck or goose fat made from grain-free, pastured birds. Hey, in the area of fats, the Fluffys go from hedonist to purist in 0.03 seconds! Seriously.
Healthy Fats & Smoke Points
Avocado Oil (virgin) 375-400°
Avocado Oil (refined) 520°
Butter 300°
Coconut Oil (expeller pressed) 350°
Ghee (clarified butter) 450-485°
Goose Fat 375°
Hazelnut Oil 430°
Lard 390°
Olive Oil 325-400°
Palm Oil 455°
Macadamia Nut Oil 413°
Mustard Oil 489°
Tallow 420°
Walnut (refined) 400°
Oh, what's that? You need to know how to convert Fahrenheit to Celsius? No problem!

To convert Celsius (C) to Fahrenheit (F), or Fahrenheit (F) to Celsius (C) simply use these formulae:
(C) °C = (°F – 32) x 5/9 (5/9=0.5556) OR
(F) °F = 9/5 °C + 32 (9/5=1.8)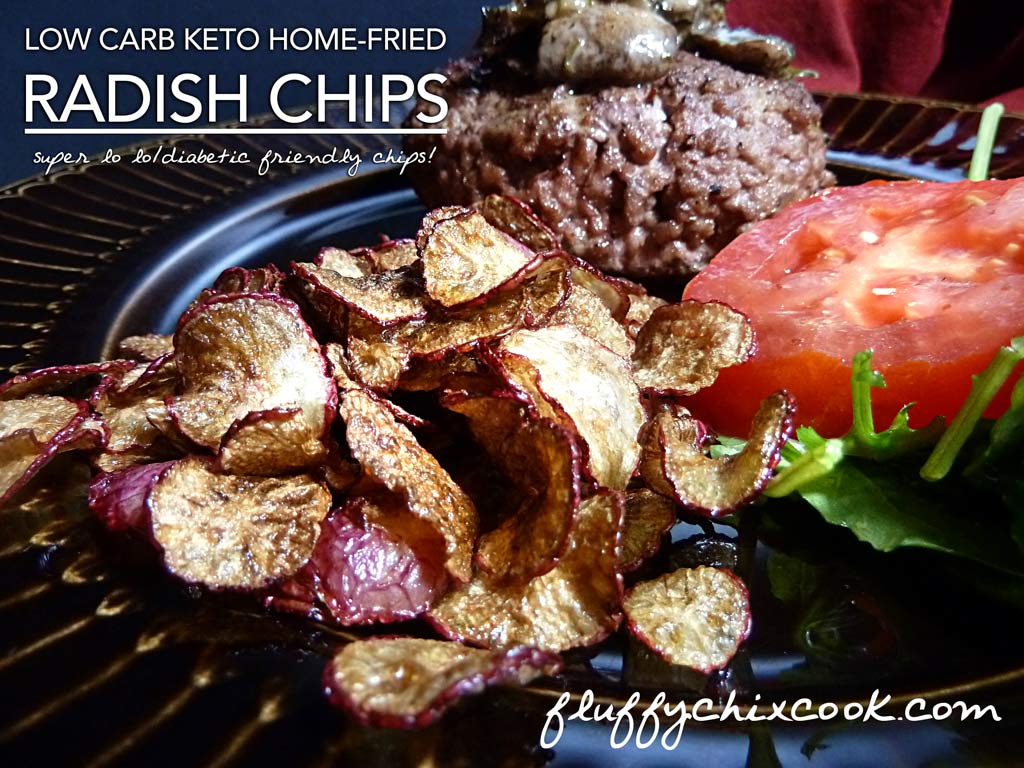 So would we make radish chips again? Oh most definitely! I estimate maybe 1 tablespoon of red palm oil per serving (a very healthy oil). Nutiva produces an organic, unrefined red palm oil that is sustainable and is one of the healthiest fats on earth. It's a superstar on the high heat cooking battlefield. Radishes are one of the lowest carb and calorie, highest fiber foods on the planet and have very stellar nutrition! A 1/2-cup serving of radish slices contains only 9 calories and 2 grams of total carbs—what a bargain! Radish bulbs are packed with Vitamin C and contain a group of compounds, isothiocyanates, thought to have anti-cancer properties. And the healthy oil used in cooking helps deliver those nutrients into our blood stream. Happy days!
Be sure to join us for our next experiment with DFF (deep fat frying)—we'll do onion strings and zucchini straws. And the next experiment after that involves frying paper thin slices of lotus root. Thankfully, Houston has many Asian markets because of our substantial Asian population. Score!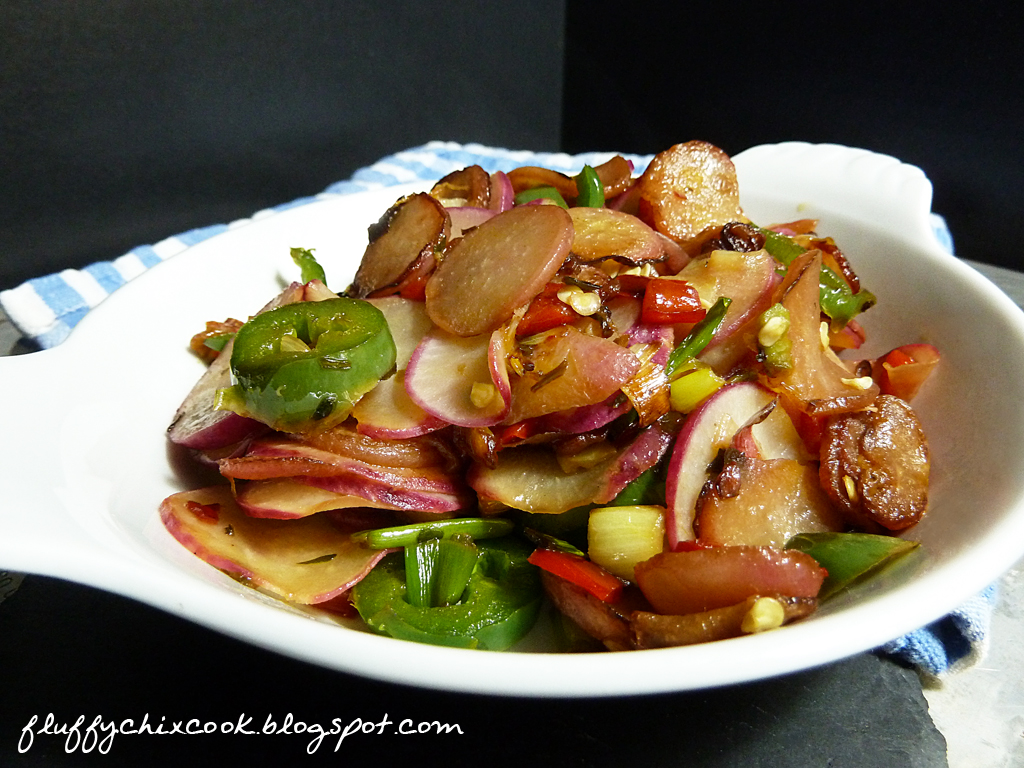 The Fluffys love radishes in any form! We will be bringing you several new and  awesome radish recipes in the coming winter months! In the meantime, try out the Rockin' Radish Brown recipe found in the Fluffy Chix Cook Archives (click on the big Archive button below)!
Radish Chips | A Low Carb Keto Potato Chip Alternative
Thin, crispy, delicate chips. Crunchy and very chip like, and SO low carb keto, we adore them!
Ingredients
12 ounces radishes, about 1 bunch or 12 medium/large radishes
1 quart palm oil—or your favorite high temp oil
kosher salt
Variations

Rosemary & Black Pepper
1/2 tablespoon fresh rosemary leaves
1/4 teaspoon freshly ground black pepper
Instructions
About 1-2 hours before frying, wash and trim radishes. Slice thin rounds about 1/8 thick or less, using a mandolin slicer set to one of the thinnest variances. Lay sliced radishes out on sheets of paper to dry. Blot with more paper towels. Try to get them as dry as possible. They will exude moisture over time.
Heat oil in a heavy, medium sauce pan over medium high heat until oil reaches about 325°. Fry sliced radishes in 3 batches until crispy and golden--about 3-5 minutes per batch. Drain well on a draining rack, or on paper towels. Season as soon as they come out of the oil!
Notes
You must have fresh, flavorful oil, for Fried Radishes! The radish is such a blank canvas, it really carries the taste of whatever you cook them in and what spices you flavor them with—and in this case, we went foodie-purist—kosher salt, only. We wanted to really evaluate what a bare fried radish tasted like before tricking it out as a FDS (flavor delivery system). Delish. Crispy, tender, and tiny! They don't have the big, bold, potato crunch, but they provide fun interest to any meal, if you're inclined to fry.
We used organic red palm oil (sustainably harvested). You could also use the Spectrum Shortening made from palm oil (also sustainably harvested)—or use your favorite oil suitable for deep fat frying. Try not to use traditional vegetable oils. They are filled with PUFAs (poly unsaturated fatty acids) and cause inflammation.
Serving Ideas: Serve with your favorite burger, sandwich or meat!
Per Serving: 149 Calories; 14g Fat (80.2% calories from fat); 1g Protein; 6g Carbohydrate; 3g Dietary Fiber; 3g Effective Carbs.
Copyright © 2014 Fluffy Chix Cook. All rights reserved.
http://fluffychixcook.com/radish-chips-a-low-carb-keto-potato-chip-alternative/
Copyright © 2016 Fluffy Chix Cook. All rights reserved.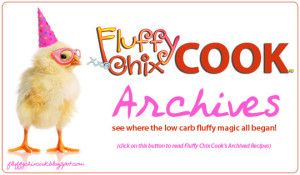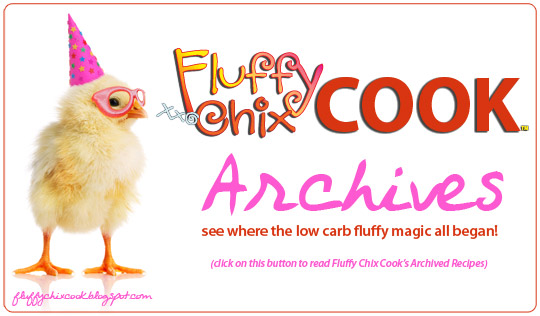 Copyright © 2014 Fluffy Chix Cook. All rights reserved.
We are not dieticians, nutritionists or medical professionals. The materials on this blog are for informational (and fun) purposes only. We do not fact check, nor do we worry about sources. Please do your own fact checking. We encourage you to look things up and check with your doctor or health care professional before acting on anything seen on Fluffy Chix Cook. xoxo