Roasted Cheesy Cauliflower Steaks – Low Carb Side Dish Love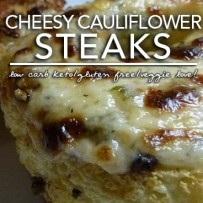 If you think you need to get your eyes checked because cauliflower and steaks may go together but seldom are they the same thing, then wait right there! Fluffy Chix Cook brings you their take on a meaty vegetarian classic, Roasted Cauliflower Steak. This fantastic main course or side dish is tarted up with a super simple low carb cheese sauce and the results are pretty spectacular. Think Low Carb Welsh Rarebit, or something posh and English/Irish pubby. Join us to explore the world of low carb keto roasted veggies and cauliflower steaks.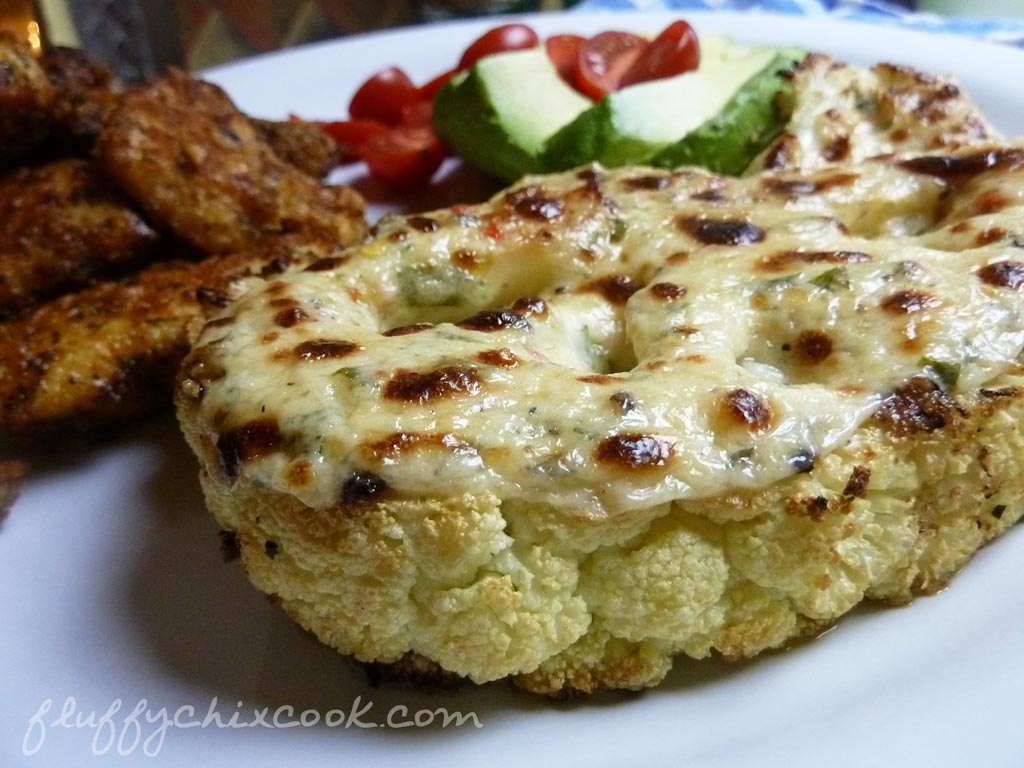 We've roasted just about anything and everything that sits still long enough…remember that one time in band camp? And honestly? We've tasted nothing that is not improved by "brown." Because that's what roasting does. Roasting infuses food with the flavor of brown.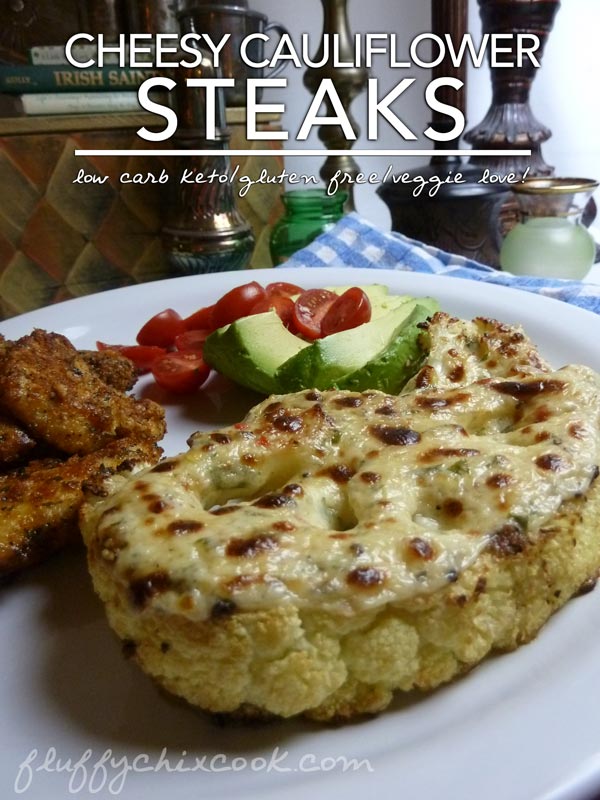 I bet you didn't know brown had a flavor! But it's actually the flavor of umami, nutty, rich, fortified caramelization of natural sugars or proteins that live in all things, animal, vegetable or mineral. (Ok, maybe not mineral…) And roasting cruciferous veggies such as cauliflower, broccoli, Brussels sprouts, cabbage taste especially nutty after about 35-40 minutes in a piping hot 450° oven! Throw a splash of olive oil, kosher salt, black pepper and dusting of granulated garlic and you have the recipe for low carb keto veggie-side-dish recipe perfection.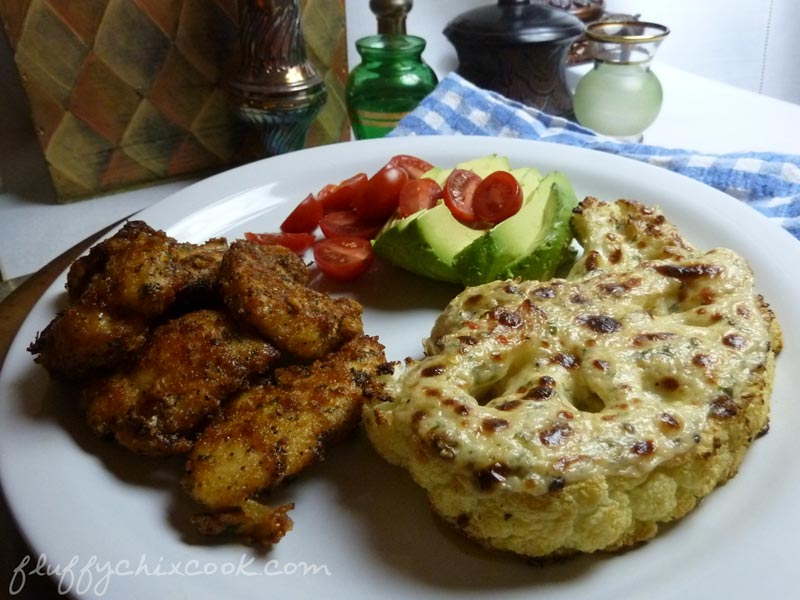 But we were inspired by the cabbage steaks floating around Pinterest this last year and had the wild hair that made us think, "What if we did this with cauliflower? What if we cut cauliflower into thick steaks or planks and roasted the bejeesus out of them?" And we did it. Of course we thought ourselves terribly brilliant and sat around with a glass of cab assuring the other that we were indeed geniuses. We thought we'd done the impossible and were ready to finally stand tall and proud, proclaiming the recipe not just "roasted cauliflower steaks" but "Fluffy Chix Roasted Cauliflower Steaks." We were planting the flag at midnight!
Cough. Ahem. Then we looked up and checked the internet. Apparently we're NOT so genius. Eleventy billion recipes for roasted cauliflower steaks. We wept quietly and removed the Fluffy possessive from the recipe title. Alas we must endure another day before creating something so unique it must be prefaced by the Fluffy Chix Cook possessive.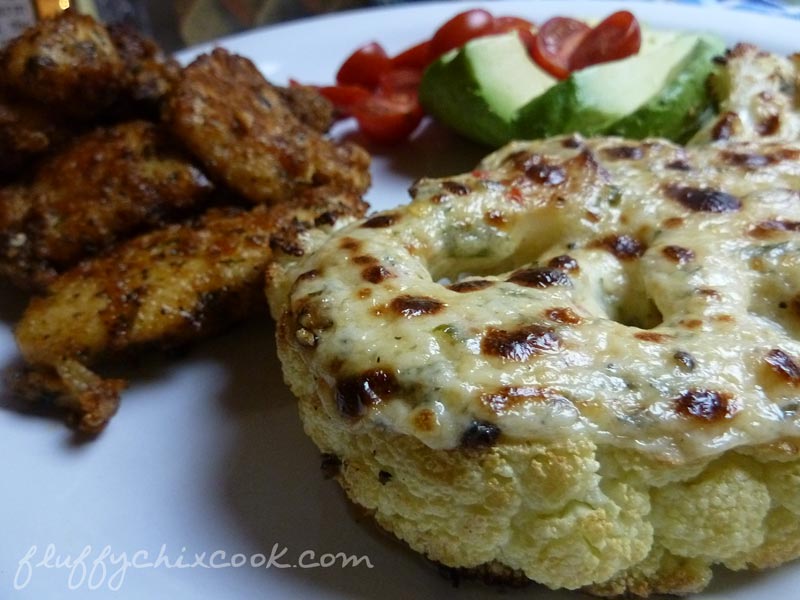 Now down to brass tacks. Our top low carb keto roasted cauliflower steak variations (with anything and everything)! Psssst that's some of the variations we've had and we will bring you soon:

Roasted Pizza Cauliflower Steaks
Loaded Cauliflower Steaks
Roasted Tomato Kalamata and Garlic Cauliflower Steaks
Roasted Feta Mint and Pine Nut Cauliflower Steaks
and of course, Roasted Cheesy Cauliflower Steaks
Hope you try this recipe then run back here to proclaim your love for roasted cauliflower steaks. It's a low carb keto dreamy side dish so simple and quick to make, you'll wonder why you didn't think of this years ago!
(Double psssst! If you think you've seen this simple cheese sauce somewhere before, you have! This is a slight variation of the terrific and simple sauce on the Quick Chicken Cordon Blue in the February edition of FEAST! You should go grab it now, if you haven't already! And if you love nutty, roasted cauliflower then you should check out this post about Roasted Smashed Fauxtatoes aka Roasted Mashed Cauliflower, because life as you know it may forever be changed.)
Roasted Cheesy Cauliflower Steaks – Low Carb Side Dish Love
Nutty and meaty cauliflower steaks topped with a creamy cheese sauce broils to golden brown gooey yum!!
Ingredients
Instructions
Move oven rack to the top position in the oven. Preheat oven to 450°. Line baking tray with nonstick aluminum foil.
Season cauliflower with granulated garlic, salt and freshly ground black pepper. Drizzle with olive oil. Roast 17-20 minutes per side until golden brown and fork tender.
While cauliflower roasts, mix sauce ingredients together in a small bowl.
When cauliflower is done, turn oven to broil. Divide cheese sauce between roasted cauliflower steaks. Smear over tops. Broil 2-3 minutes or until cheese is melted and golden in spots. Serve immediately.
Notes
We love roasting cauliflower steaks. Use your imagination to top with them with anything and everything! The sky is the limit. We particularly love this simple cheese sauce, but also love loaded cauliflower steaks with bacon, butter, cheese and chopped green onions, and pizza cauliflower steaks. Such a fun and unexpected way to enjoy nutty, roasted cauliflower.
Serving Ideas Serve on its own with a side salad for a simple vegetarian meal, or along with your favorite protein.
Nutritional Information Per Serving 336 Calories; 31g Fat (79.0% calories from fat); 8g Protein; 10g Carbohydrate; 4g Dietary Fiber; 6g Effective Carbs
Copyright © 2015 Fluffy Chix Cook. All rights reserved.
http://fluffychixcook.com/roasted-cheesy-cauliflower-steaks-low-carb-side-dish-love/
Copyright © 2016 Fluffy Chix Cook. All rights reserved.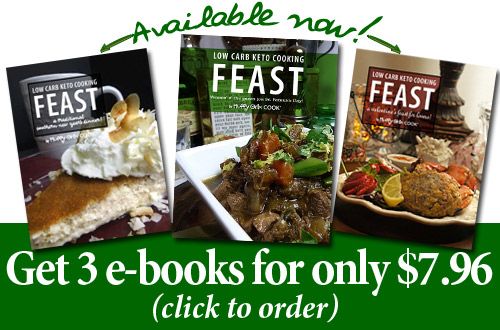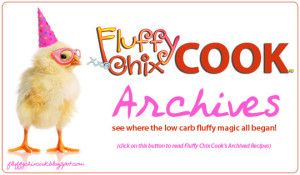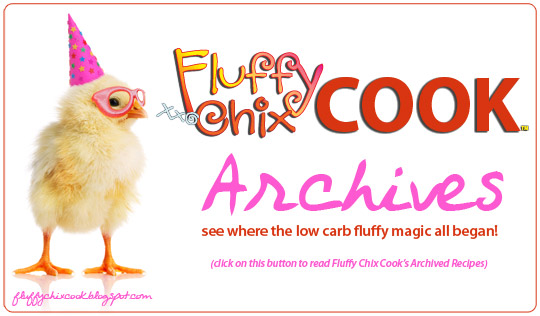 Copyright © 2014 Fluffy Chix Cook. All rights reserved.
We are not dieticians, nutritionists or medical professionals. The materials on this blog are for informational (and fun) purposes only. We do not fact check, nor do we worry about sources. Please do your own fact checking. We encourage you to look things up and check with your doctor or health care professional before acting on anything seen on Fluffy Chix Cook. xoxo