Roasted Mashed Cauliflower aka Roasted Smashed Fauxtatoes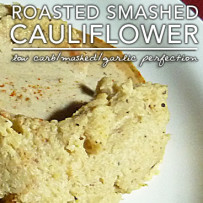 Many people fear an austere lifestyle when eating a low carb ketogenic diet. Do you find yourself looking for low carb mashed potato substitutes? Maybe you're familiar with low carb mashed cauliflower, but you experience technical difficulties: the mash is too watery, the cauliflower too bitter? Well follow along with Fluffy Chix Cook's version of Roasted Mashed Cauliflower, aka Roasted Smashed Fauxtatoes, and experience low carb satisfaction. Never miss mashed potatoes again!
Cauliflower, perhaps the most beloved veggie in the Low Carb Land, gets prepared many ways: roast it, toast it, slice it, dice it, send it through a food processor…get the picture? Cauliflower is the low carb poster child for potato-substitutes, maybe the super hero?! Its versatility and (usually) mild flavor makes cauliflower a winner with young and old. On any given day millions are making mashed cauliflower in their kitchens—avowing it's exact resemblance to mashed potaters. Even swearing allegiance to it! Of course, mashed cauliflower is a low carb staple. It's a gravy and topping delivery system (GDS & TDS). And don't forget the butter! Mashed anything, dripping with butter, gets our votes.
So why oh why am I coming to you with yet another tired-out, old recipe for mashed cauliflower?
Well, mainly cuz this recipe is good enough to make the trip to the new motherland—Fluffy's new blog!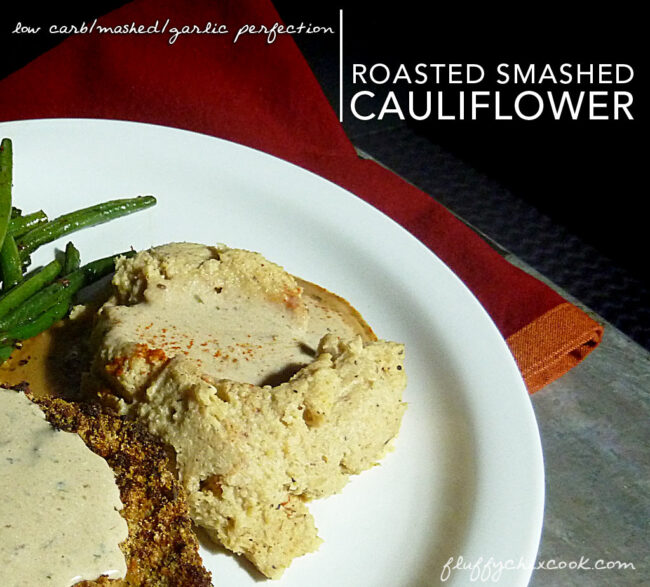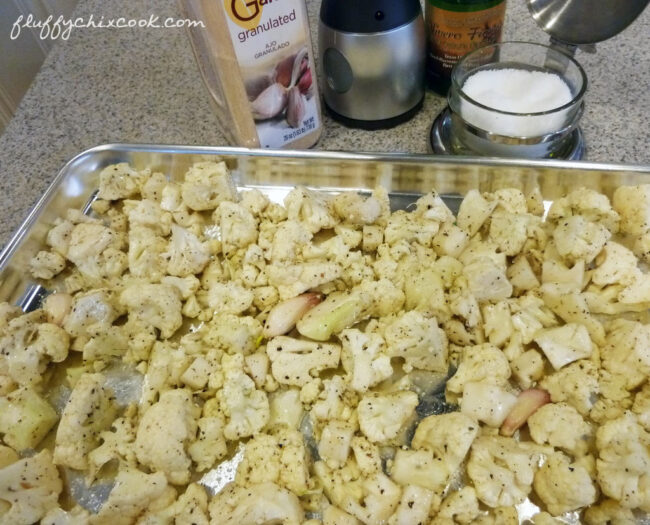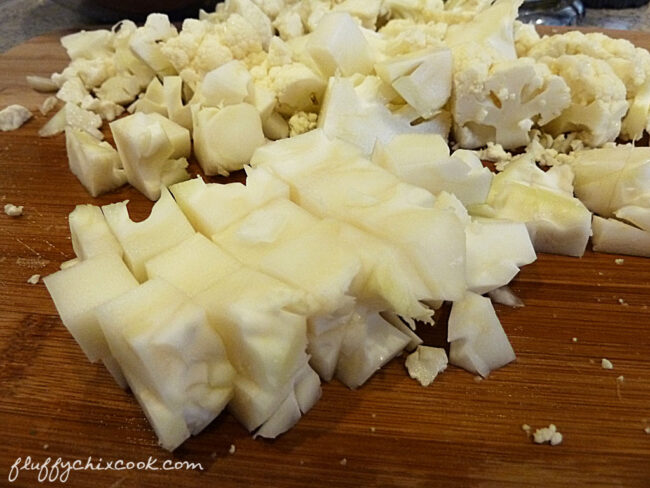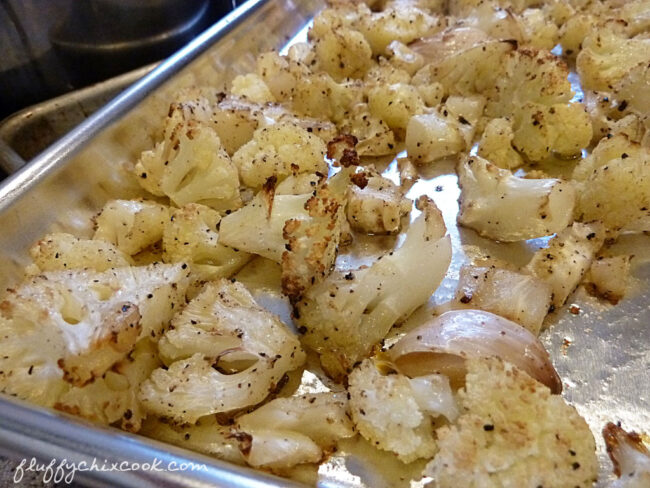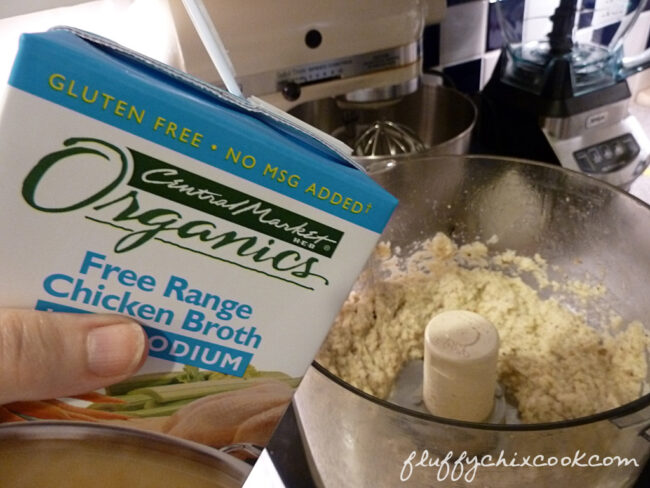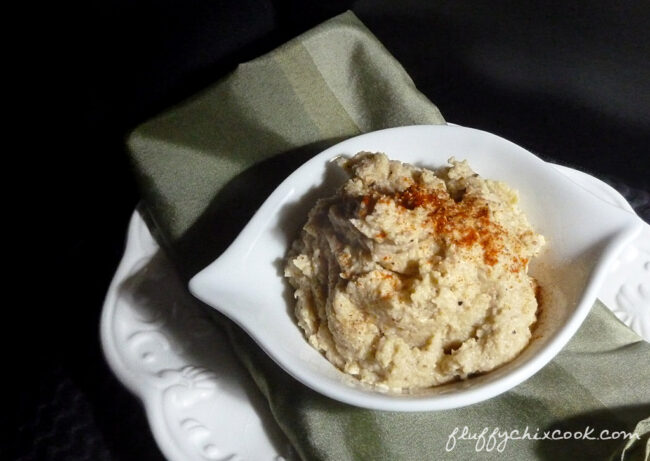 Don't get me wrong, there are places and times when the neutrality of mashed cauliflower made by steaming or microwaving method is the perfect low carb – keto dinner paring. But if you're sick of namby, pamby, wimpy mcwimpster, soggy woggy, and down-right wet cauliflower…then you'll want this recipe for Fluffy Chix Cook Roasted Mashed Cauliflower aka Roasted Smashed Fauxtatoes, because a mashed cauliflower by any other name has never tasted as bold nor held such wonderful texture. And don't skip the dusting of nutmeg. Combined with the nutty roasting and cream, the nutmeg gives it that little something different to throw it into the bombastically delicious category.
And, if you want an option for a "lighter version," because you are fasting, or because you too have to consider calories (shhh that's a dirty word in our world, so please don't use it often, mkay…), please take a look over at our Fast Days Healing Days (IF/ADF website) version of Roasted Smashed Fauxtatoes. Just as delicious, but we heartlessly slashed about "a hunnert" calories off of our Fast Day version, while keeping the carbs low.
(Just promise to pardon the mess, Fast Days Healing Days is still under construction and we're working just as hard as our not so fluffy little arms can go!)
Hey, so give us a shout out, mkay? What's YOUR favorite way to enjoy the low carb keto wonders of cauliflower? Maybe your favorite will end up being next on our recipe list?!
Roasted Mashed Cauliflower aka Roasted Smashed Fauxtatoes
Never miss those high carbage mashed potatoes again! We're not lying. We really mean it! Although not mashed potatoes, they creamy, nuttiness and hint of nutmeg works great with gravies, sauces and butter.
Ingredients
Instructions
Preheat oven to 450°.
Wash and clean cauliflower. Break into florets. Drizzle with olive oil and season with granulated garlic, kosher salt and freshly ground black pepper. Roast at 450° for 30-35 minutes stirring once. Cauliflower should be fork tender and golden in spots.
Place roasted cauliflower in a food processor or blender with cream cheese, butter, heavy cream and nutmeg. Process to a smooth puree, season with kosher salt and pepper and enjoy. (Process when the roasted cauliflower is still hot from the oven for a smoother puree.) Serve hot, hot, hotty devil!
Notes
Roasted cauliflower has many advantages to steaming. Roasting dries out the cauliflower, so having a wet cauliflower puree is never an issue. In fact, you might find it necessary to add a tablespoon or two of water, stock or additional heavy cream to thin it enough to get a smooth puree! Roasting also adds boatloads of "brown," nutty, flavor; perfect with the roasted garlic. Roasting any veg is a super easy way to cook vegetables. No muss and no fuss!
Serving Ideas Serve with your favorite protein. This is awesome with any dish involving gravy like Swiss Steak or pan juices like roasts of all kinds. And it makes great leftovers, too—but, we'll get to those soon!
Nutritional Information
Per 4 Servings (About 1 Cup): 188 Calories; 16g Fat (72.3% calories from fat); 4g Protein; 10g Carbohydrate; 4g Dietary Fiber; 39mg Cholesterol; 6g Net Carbohydrate
Per 6 Servings (Abut ¾ Cup): 126 Calories; 11g Fat (72.3% calories from fat); 3g Protein; 6g Carbohydrate; 3g Dietary Fiber; 26mg Cholesterol; 3g Net Carbohydrate
Copyright 2012 © Fluffy Chix Cook. All rights reserved.
http://fluffychixcook.com/roasted-mashed-cauliflower-aka-roasted-smashed-fauxtatoes/
Copyright © 2016 Fluffy Chix Cook. All rights reserved.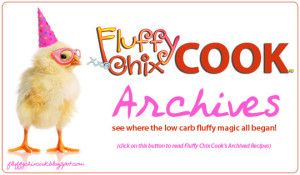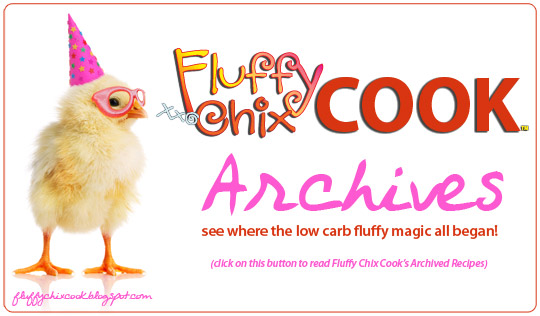 Copyright 2012 © Fluffy Chix Cook. All rights reserved.
We are not dieticians, nutritionists or medical professionals. The materials on this blog are for informational (and fun) purposes only. We do not fact check, nor do we worry about sources. Please do your own fact checking. We encourage you to look things up and check with your doctor or health care professional before acting on anything seen on Fluffy Chix Cook. xoxo