Salmon Salad – Keto Allergy KISS Day 5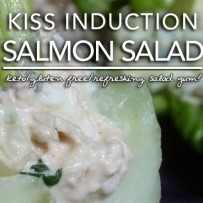 Salmon Salad makes a rock star Keto KISS Induction and Allergy Rotation Meal. As you're aware, salads make some of the best KISS Keto Meals on the face of Mother Earth. They're ready in minutes, often require little or no cooking, and are basically an "assembly job." Most salads fit excellently within the super low carb Induction framework (under 20g net or total carbs/day), and that makes salads perfect ketogenic vittles. Join Fluffy Chix Cook and the Fluffys to see how Mr. Fluffy rates Fish Day on his 1-10 scale of love or hate and learn a little more about how to rotate food families to help identify food sensitivities.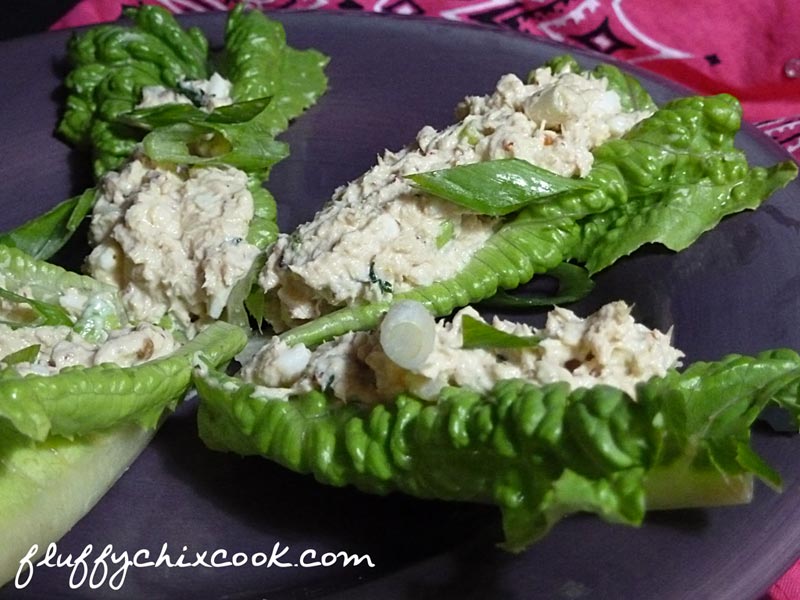 Day 5 Fish/Chard or Spinach (Goosefoot/Beet Family)/Avocado Day—Yeeehaw!!! I love this day in our low carb keto rotation, but frankly Mr. F. only endures it. Gifts from the sea and greens are not among his favorite low carb foods. In fact, he's been known to deduct points off the total meal score for, and I quote, "Excessive use of greens—first down denied—fourth and long."
Ahem. Yes, he can be a big whiny baby when it comes to greens and fish. Why do you think I gave him chocolate as his treat on Fish Day?  Me=Wile E. Cayote. And there's more than one way to skin a pole cat!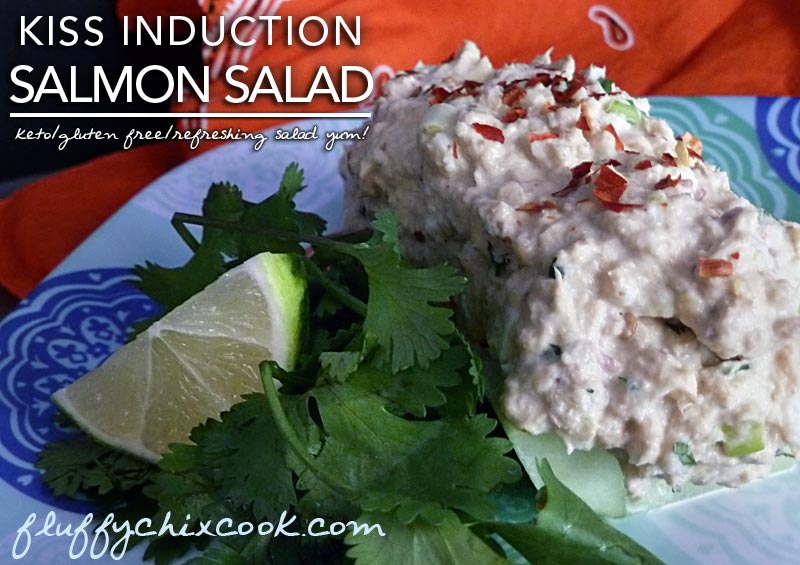 So the thing about Fish Day, unlike other food family rotations, according to my friend and nutritionist Pam Stahl, a fish should never be eaten more than once per day and the entire family should not be eaten more than once per week. Fish and associated crustacean, mollusk families have a high degree or reactivity. It might be the actual fish someone reacts to, or it can also be an allergy to iodine. Most salt water fish and shellfish are fantastic sources of bioavailable iodine. We know Mr. Fluffy hasn't had any problems with fish, so we will continue to keep fish in our 4 day rotation, voiding the 1 time per week rule, but if you have or suspect you have an issue with fish (any variety), watch this family closely for signs and symptoms of sensitivity.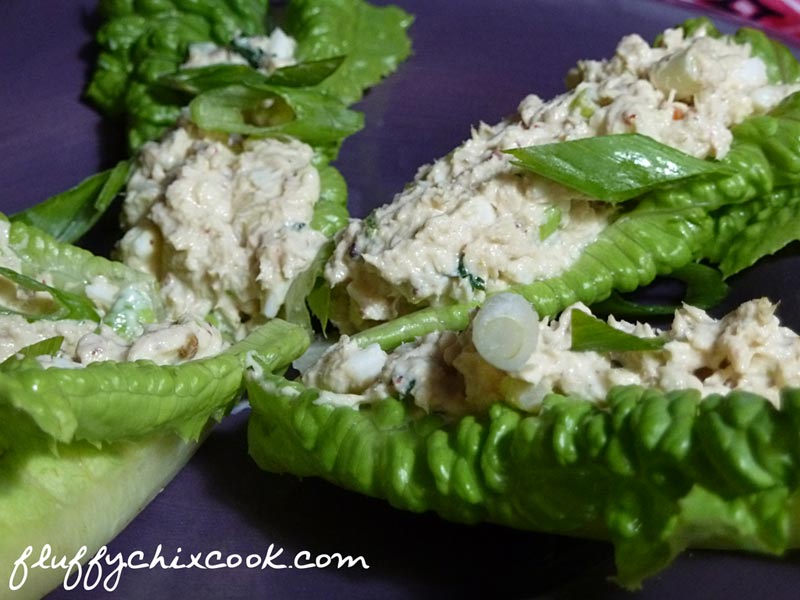 The good news about the Fish Family is that there are many sub-families and each sub-family is a separate entity. So on fish day, we just need to be sure to eat from 2 different families—which is why we had our rockin' Salmon Salad for lunch and had Pan Seared Barramundi with butter (no Hollandaise this time) for dinner. Remember? We made Pan Seared Barramundi and served it with our no-fail Hollandaise Sauce; an epic meal! This time however, trying to keep meals KISS, we served it with butter and a wedge of lemon. Hard to beat 7 minutes start to finish for a hearty meal of flaky, tender, and mild barramundi.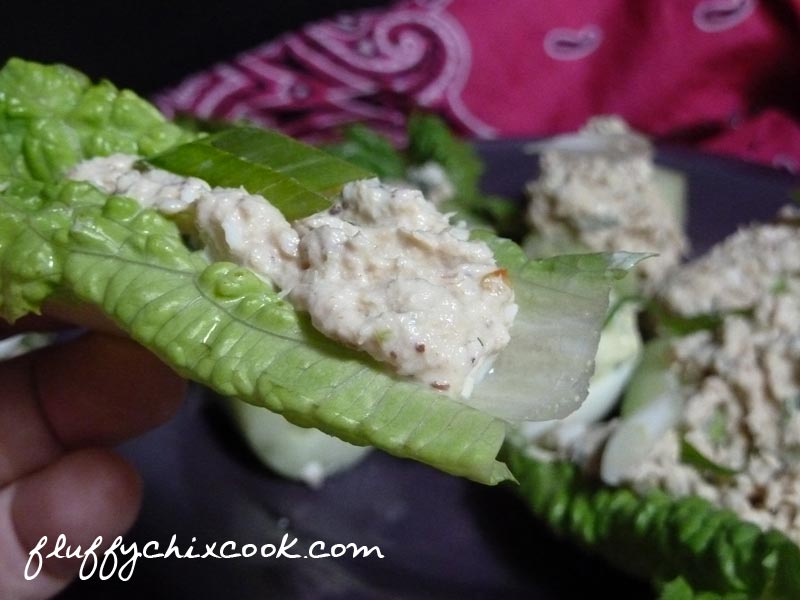 All told, we managed to navigate the day fairly cheaply too(canned pink salmon is surprisingly cheap), and with extreme KISS! And barramundi is also very reasonably priced. And both are dead simple to make—one low carb keto KISS recipe requires no cooking, the other recipe is ready in 7 minutes. See? I'm not kidding when I tell you the pan searing cooking technique is the key to the low carb keto KISS kingdom! I can't even think of a protein (other than those proteins that MUST be cooked in a moist heat environment, low and slow) that doesn't taste delish when cooked via pan searing or pan roasting. (Oh psssst! In order to make the Pan Seared Barramundi Allergy Rotation compliant, we omitted the granulated garlic and dried parsley and went for simple: fish, salt, pepper, oil, lemon.)
We also tried out a couple of tests: mold and chocolate. We used green onions (which are a root veggie) and Lindt Chocolate as a treat—suspecting that either might potentially cause a reaction. (Please note that green onions can be a potential source of food borne disease, especially if your immune system is under attack.) We're thrilled to report these ingredients did not cause tongue or lip swelling! Amen and AMEN!
Day 5 | Mr. Fluffy's Keto KISS Allergy Menu
B-Water
L-1/2 cup Salmon Salad
2 cups baby spinach, Taylor Organic, Sam's brand
2 ounces avocado
D-1 1/2 servings Pan Seared Barramundi (no hollandaise, omit granulated garlic and dried parsley)
1 tablespoon olive oil
1 tablespoon butter
3 ounces swiss chard
sea salt
freshly ground black pepper
1 tablespoon olive oil
1/4 serving Lindt 85 Extra Dark Chocolate (YIPPEE!!! Chocolate is ok for Mr. Fluffy!)
Day 5 Food Families (For those of you who want or need to Geek out…and btw, Day 5 is ACTUALLY the beginning Day 1 of the new rotation!)

Salmon (Salmon Salad)

Bass (Barramundi)

Pheasant (Eggs, Mayo)

Lily (Green Onion, Garlic)

Mustard (Country Dijon)

Goosefoot/Beet (Spinach, Swiss Chard)

Carrot/Parsley (Italian Parsley)

Non-Rotation Fats/Oil (Olive Oil, Kerrygold Butter, Ghee)

Chocolate (Chocolate)
If you really want to Geek Out! Here's the Chart of ALL the foods we could choose from for DAY 4 foods. Pretty hearty ingredients, right?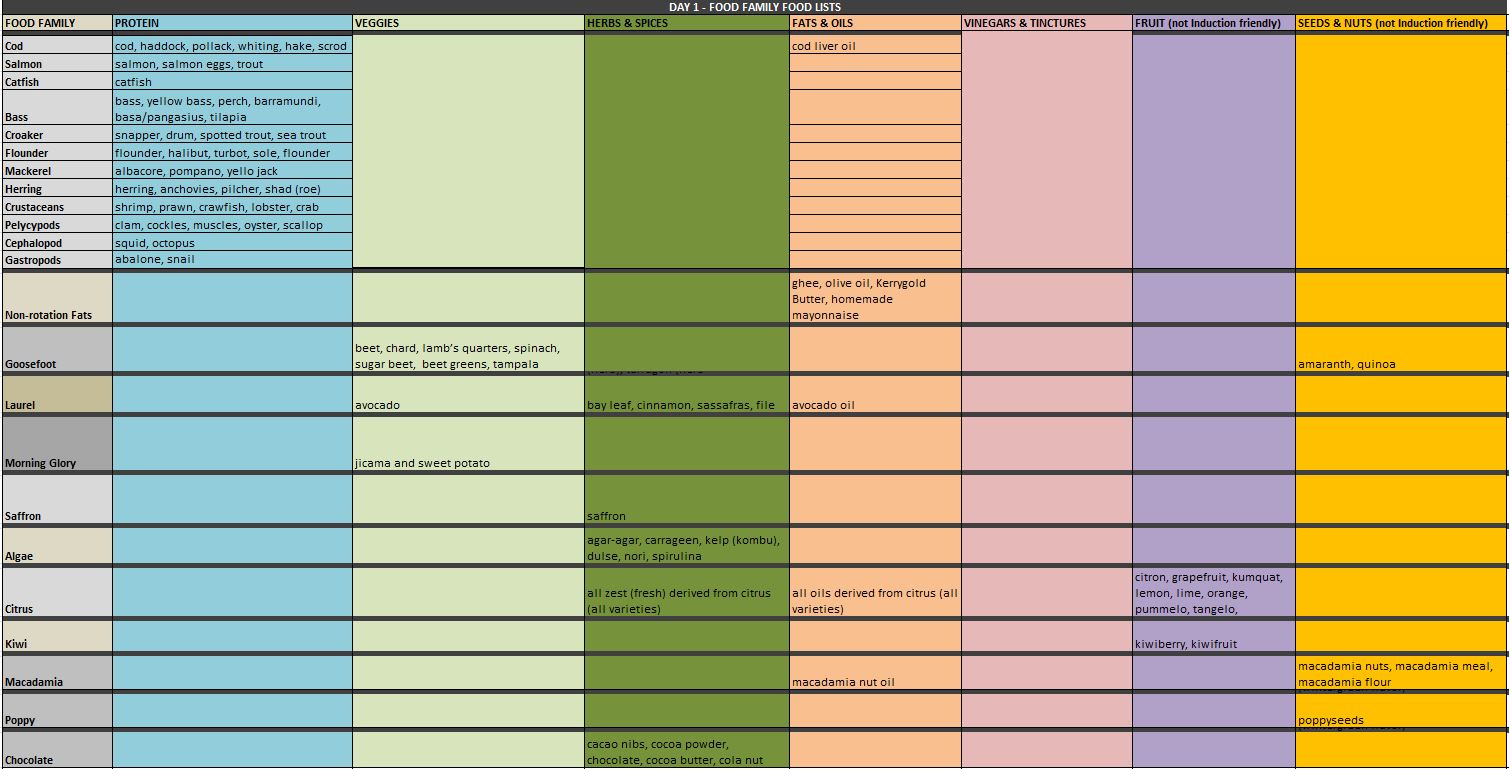 (Click to enlarge image.) Visit this pdf to see the full Food Family Allergy Rotation List and book by Lisa Lunde.
If you've missed the antics and travails of the previous 4 Days of Rotation catch them here:
Day 1 Keto KISS Allergy Rotation
Day 2 Keto KISS Allergy Rotation | Don't forget the Refried Pumpkin aka Pumpkin in Browned Butter
Day 3 Keto KISS Allergy Rotation
Day 4 Keto KISS Allergy Rotation
Salmon Salad – Keto Allergy KISS Day 5
Delicious and easy low carb keto KISS Induction meal, Salmon Salad is great on top of a bed of salad greens, in low carb sandwiches, as part of a veggie dippers. We love stuffing mini peppers, pepper chunks, and cucumber and lettuce boats with it for a quick meal—breakfast through dinner.
Ingredients
4 ounces boneless premium pink salmon pouch (Bumble Bee)—or 14.5 ounce canned pink salmon (Sam's Club)
2 green onions, chopped
2 large eggs, hard boiled, peeled and diced
1/3 cup mayonnaise (Hellmann's or Duke's)—or Basic Mayo
1 teaspoon Country Dijon Mustard
2 lemon wedges
1 tablespoon Italian parsley, chopped—or 1 teaspoon dried parsley
1/2 clove garlic, or 1/4 teaspoon granulated garlic
2 ounces snow pea pod, fresh, strings removed and blanched (optional)
Instructions
Flake salmon to fluff it off with a fork. Combine all ingredients and stir well with a spatula. Taste and adjust seasoning if necessary. Enjoy!
Remove strings from snow peas and blanch in boiling water for 1 minute (until al dente or crisp-tender). Plunge snow peas into ice water to stop the cooking. Remove and drain on paper towels. Cut each snow pea into thirds with a diagonal cut. (Omit this ingredient if doing an allergy rotation diet that does not include the legume family on the same day as the salmon family.)
Notes
Salmon Salad is such a refreshing salad. We find ourselves doubling this recipe and using it for quick breakfasts as well as lunches. Wild-caught salmon provides a great source of important omega-3 fatty acids in addition to nice levels of Vitamin A and E. We often use the wild caught canned salmon from Sam's Club. Simple discard skin, flake salmon and mash the bones up into tee-niny pieces. The bones are a great source of organic calcium as well as other trace minerals! The bonus is that the canned salmon is cheaper than the pouches.
Serving Ideas Serve on a big bed of mixed greens or in a wrap. Serve with your favorite veg.
Nutritional Information
Per 1/2 cup (without snow pea pods) 253 Calories; 22g Fat (76.9% calories from fat); 14g Protein; 1g Carbohydrate; trace Dietary Fiber; 1g Effective Carbs Per 1/2 cup (with snow pea pods) 261 Calories; 22g Fat (74.7% calories from fat); 14g Protein; 3g Carbohydrate; 1g Dietary Fiber; 1g Effective Carbs
Copyright © 2013 Fluffy Chix Cook. All rights reserved.
http://fluffychixcook.com/salmon-salad-keto-allergy-kiss/
Copyright © 2016 Fluffy Chix Cook. All rights reserved.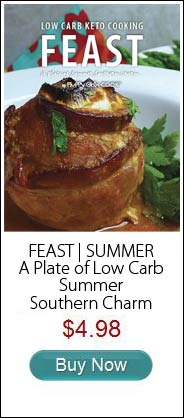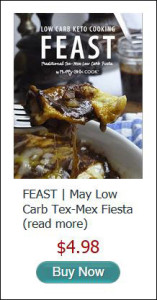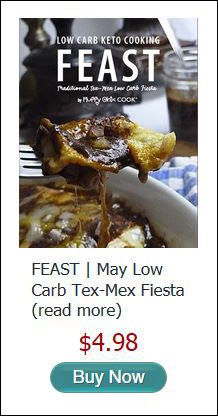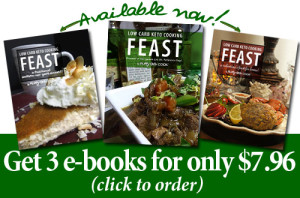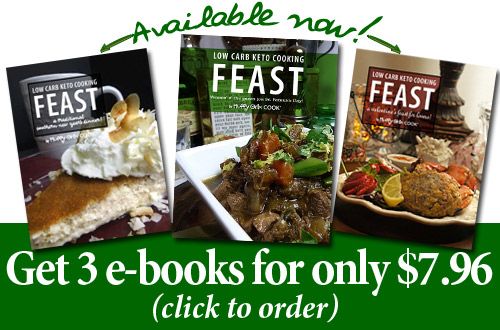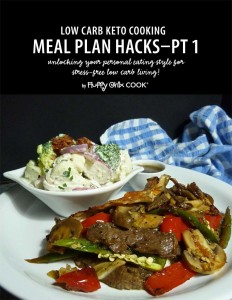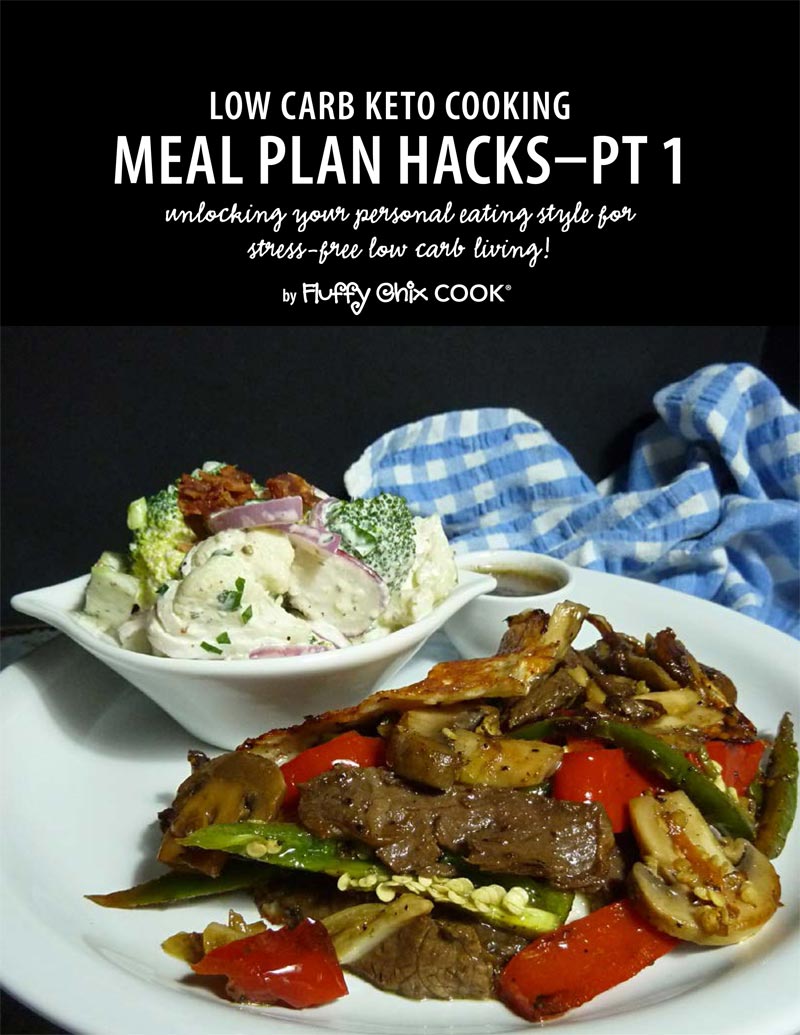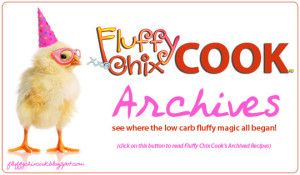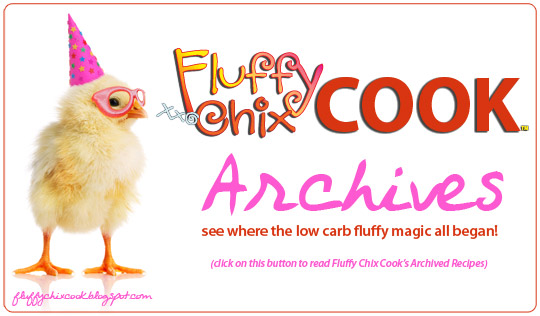 Copyright © 2015 Fluffy Chix Cook. All rights reserved.
We are not dieticians, nutritionists or medical professionals. The materials on this blog are for informational (and fun) purposes only. We do not fact check, nor do we worry about sources. Please do your own fact checking. We encourage you to look things up and check with your doctor or health care professional before acting on anything seen on Fluffy Chix Cook. xoxo