Salmon Salad Niçoise – Dr. Westman's No Sugar No Starch Diet – Week 2|Day 7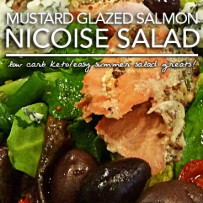 Fluffy Chix Cook prepares Day 14, or Week 2|Day 76 of Dr. Westman's and Duke Lifestyle Medicine Clinic's No Sugar No Starch Page 4 Meal Plan, featuring low carb Fluffy Chix hearty steak and eggs breakfast. On weekends, we love big brunches featuring pseudo-gourmet recipes we didn't have time to make during the week. Lunch aka Afternoon Snack (if we eat it) is an ounce of cheese or a cheese stick with veggies and Creamy Ranch. Dinner, a terrific use of the previous night's planned leftovers, Salmon Salad Niçoise. Amazing. Tears of low carb keto joy. There's even room for dessert, sugar free gelatin with homemade Whipped Cream. Keto, gluten free, low carb comfort. It's is also VERY diabetic friendly. Who would be hungry on this meal plan? The full Page 4 friendly day rings in at 20g total, non-netted carbs.
Week 2 | Day 7 of Dr. Westman's No Sugar No Starch Diet begins today. Week 2 has gone well, with little to no hunger, except for "that one day." It's also the end of the daily posting cycle for Dr. Westman's Meal Plans. I will still be continuing the weekly cycle of posts. They just may not always be up-to-date. You will still be able to pick up Week 1 as a self-contained unit and know that we will use up or plan to use up almost everything we buy for the week. You can depend that Week 2 will springboard from Week 1 and build on it, continuing to use up ingredients and recipes from Week 1. The same with Week 3. It will be a continuation of Weeks 1 & 2, it just may not occur in 7 days! Daily posting is grueling, in addition to keeping up with recipe posts!
In fact, there was a 1 day delay between Day 13 & Day 14! And although today I post the menu plan for Day 14, I'm actually beginning the first day of Week 3! Confusing, much?
SO in that vein, here are the official results! I'm down a total of (-)4.6lbs in two weeks. I was in light ketosis when I began, so I look at this as mostly fat loss (with a tiny bit of lean muscle and water). That's a huge success for me. My normal rate of loss is (-) 1/2 to 1 lb per week, if that. Some weeks I see no loss. Some weeks I see a pound or two gain.
Some of you may be gasping in appalled fascination. How can anyone bear to eat a diet plan and only lose 4.6 pounds in two weeks, without losing their minds at the tedium and boredom??? OMG? Gah!
But look at it this way. You're enjoying super healthy and delicious meals daily. You do not experience deprivation. You are healing your body from the inside out, perhaps even more than you are losing weight. (And by the way, I'm not making diet claims, that's what the research shows…you should google it, since I'm just some fluffy low carb keto food blogger flappin' my wings on the internet.) And I guarantee, those pants of yours will be getting loose in the waist and seat before long, if you stick with it and DO NOT cheat! So, (-) 3 pounds in about 2 weeks is FABULOUS! Thank you Dr. Eric Westman and thanks for your Page 4 No Sugar No Starch Diet. This old broad has new hope for health and weight loss.
Find the list of Page 4 friendly foods in Dr. Westman's publication. Cheap at amazon.com, along with his instructions.
Join fellow Page 4 Groupies in the Facebook group dedicated to following Dr. Westman's Page 4 plan. Learn more about the lifestyle and how to accurately implement it into your life.
Here's the link to the group: https://www.facebook.com/groups/DukeLowCarbSupportGroup/
GOALS FOR WEEK 2:

Begin taking advantage of the satiety offered by a ketogenic diet
Eat only when hungry and only until hunger is assuaged. Do not eat until full.
Begin dialing back and finding my personal sweet spot.
Keep fats high.

(By the way, the meal plans provided by Fluffy Chix Cook are the grand plans we make for ourselves each day. They represent the MAXIMUM amount of those combinations of food. They may not be 100% ideal for Page 4. We may fall a little shy of 2c leafy veg and 1c non-leafy veg a day. We may eat MORE leafy greens or non-leafy greens while staying within the 20g total carb window. We may go over slightly on cream consumption one day, or eat too much cheese one day, whatever. We may take a liberty or two with a non-Page 4 ingredient such as whole psyllium husks in place of Metamucil, or use a tiny bit of an almost-zero-carb protein powder in the low carb Revolution-ary Rolls in order to increase diet satisfaction and personal, long-term, sustainability–you may not want to do that. But these Page 4 Meal Plans can help inspire you to get the Page 4 food list on Amazon and look at the plan, then create a food roadmap that works for you in accordance with Dr. Westman's instructions.) Don't stress, be happy. Happy Page 4-ing!
2014 | WEEK 2 | DAY 7 | DR. WESTMAN'S NO SUGAR NO STARCH (PAGE 4) DIET MEAL PLAN | SALMON NIÇOISE SALAD (20g WHOLE CARBS)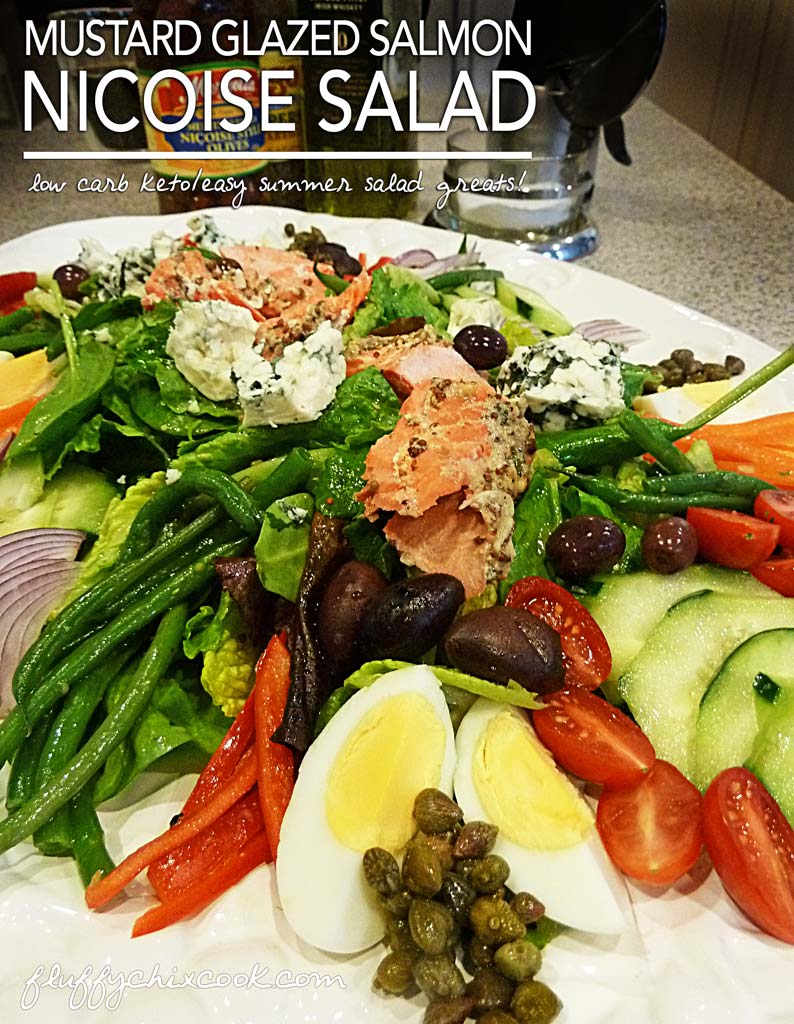 Brunch
Coffee or Tea with Heavy Cream
Steak & Eggs
Snack
String Cheese | Veggies & Creamy Ranch
Dinner
Salmon Niçoise Salad
Dessert
Sugar Free Gelatin with Whipped Cream
Daily Totals: 1428 Calories; 115 Fat (72.5% calories from fat); 78g Protein; 20g Carbohydrate; 4g Dietary Fiber; 16g Effective Carbs
20 grams of whole non-netted carbohydrate for the day!

Brunch:
coffee or tea and cream (103 Calories; 11g Fat (92.8% calories from fat); 1g Protein; 1g Carbohydrate; 0g Dietary Fiber; 1g Effective Carb)
2 cups decaff coffee, black, unsweetened
2 Tbsp heavy cream
1 serving Great Steak with Butter Sauce (about 3 ounces, cooked) (305 Calories; 22g Fat (66.2% calories from fat); 23g Protein; 2g Carbohydrate; trace g Dietary Fiber; 2g Effective Carbs)
2 fried eggs in bacon grease (266 Calories; 23g Fat (79.5% calories from fat); 13g Protein; 1g Carbohydrate; 0g Dietary Fiber; 1g Effective Carbs)
2 large eggs, fried
1 Tbsp bacon grease
Snack:
1 serving string cheese & veggies with Creamy Ranch (208 Cals; 19g F (70.5% calories from fat); 8g Protein; 4g Carbohydrate; 1g Dietary Fiber; 3g Effective Carbs)
1 ounce string cheese, or your favorite cheese
1 celery rib, cut into sticks
2 radishes, sliced thinly
3 Tbsp Creamy Ranch
Dinner:
1 serving Salmon Salad Niçoise (485 Cals; 35g F (64.3% calories from fat); 32g Protein; 12g Carbohydrate; 2g Dietary Fiber; 9g Effective Carbs)(Recipe to Come Soon)
Dessert:
1 serving sugar free gelatin with Whipped Cream (61 Calories; 6g Fat (87.8% calories from fat); 1g Protein; trace Carbohydrate; 0g Dietary Fiber; trace g Effective Carbs)
½ cup sugar free gelatin
2 Tbsp

Whipped Cream

(measure portion after whipping)
By the way, pre-order your copy of KETO CLARITY, the new, definitive book, on the ins and outs of low carbohydrate ketogenic diets written by Jimmy Moore of Livin' La Vida Low Carb and Dr. Eric Westman, internist, ketogenic bariatric specialist at the Duke University Lifestyles Medicine Clinic–two of the most visible and vocal ambassadors to the value of the LCHF (low carb high fat) lifestyle. This book is sure to be a best seller. Make sure you get your copy reserved in advance!
For more recipes visit Fluffy Chix Cook Recipes or visit Fluffy Chix Cook's Recipe Archive!
You may notice a discrepancy when adding the total carbs shown by line-item. Do not be overly concerned. MasterCook 9 rounds numbers, so when the individual recipes are combined in a daily meal, the total is calculated to include decimals points. This may result in a +/- difference of 1-2 g of carbs. The Daily Total value is the more accurate figure. Thanks and sorry for any inconvenience!
Copyright © 2014 Fluffy Chix Cook. All rights reserved.
We are not dieticians, nutritionists or medical professionals. The materials on this blog are for informational (and fun) purposes only. We do not fact check, nor do we worry about sources. Please do your own fact checking. We encourage you to look things up and check with your doctor or health care professional before acting on anything seen on Fluffy Chix Cook. xoxo