Simple Egg Fast Popper Puffs Put Excitement Back in Low Carb Keto Breakfasts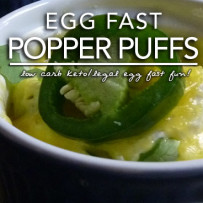 Explore Fluffy Chix Cook Egg Fast Popper Puffs and learn more about the Egg Fast, a modified, ketogenic, protein adequate, fat fast. Egg Fast Popper Puffs make perfect low carb keto breakfast food and are so convenient. You can make them in advance and take them with you, because they reheat like champs! You get all the flavors of a low carb keto jalapeno popper in each bite with the bonus that the recipe works perfectly for an Egg Fast.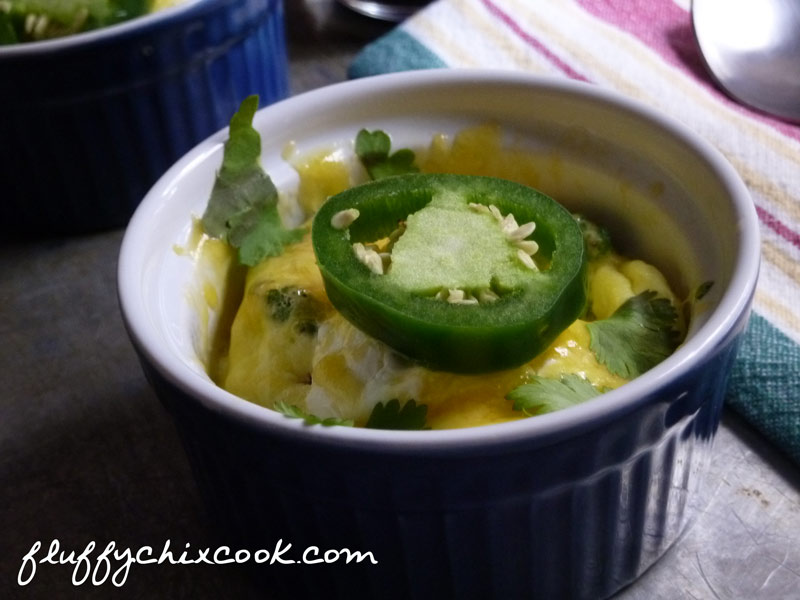 The Fluffys adore jalapeno poppers which are a perfect low carb dish. In their simplest variation, they're made of fresh jalapenos split and stuffed with cream cheese or cheese of some kind and wrapped with a piece of bacon. They are subsequently cooked until the cheese is melty and the bacon is gorgeously brown. Who wouldn't love these little bites of keto joy? They are pure spicy, creamy, salty, bacony bliss.
But sometimes you want to Egg Fast, so what do you do to get your popper fix when Egg Fasting? Enter the Egg Fast Popper Puffs! You get the bacon flavor from the bacon drippings (bacon grease) that lubricate the baking dishes. In fact, it's so pronounced, it's like eating gorgeous bacon and eggs in a perfect bite! And the creaminess of the cream cheese, the gooey cheddar, and jalapeno garnish just complete the perfect bite. With every bite.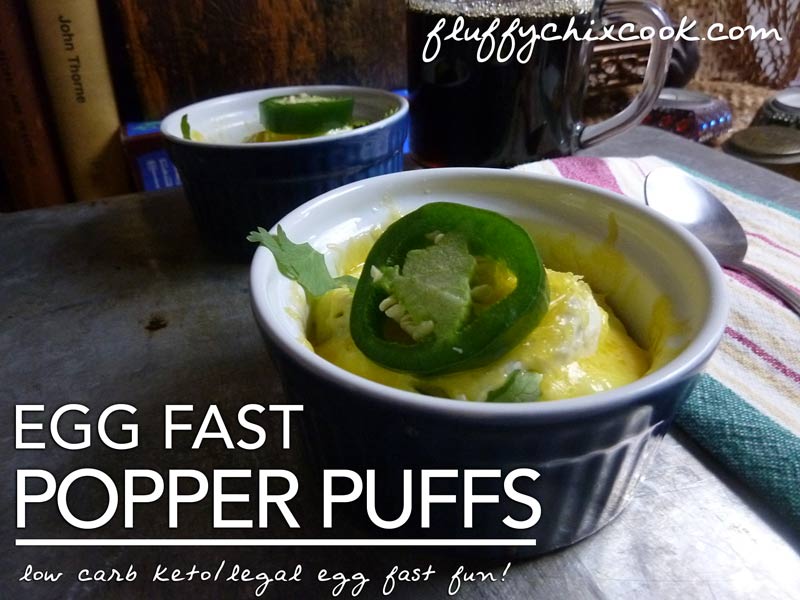 We love this Egg Fast recipe so much that we make these at least once a week—or pine with longing, even when we're not doing an Egg Fast. So what is an Egg Fast? An egg fast is a modified fat fast that features a certain combination of egg:fat ratio. For every one egg, you pair it with 1 tablespoon of a healthy fat. You can also use up to 1 ounce of cheese per egg. The Fluffys go a little farther and allow up to 1-2g of "condiment carbs" per meal, as long as the meal totals no more than 4g of total carbs. We're rebellious that way.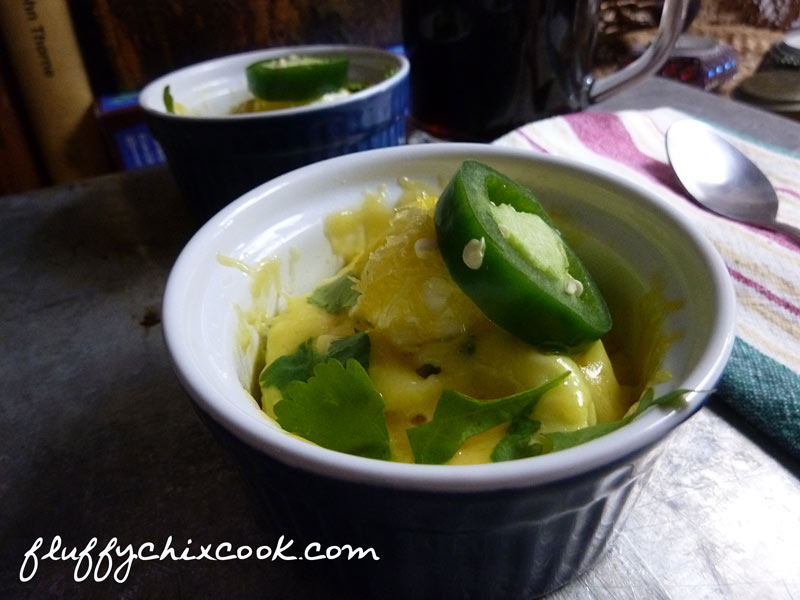 People undertake Egg Fasts for many reasons. If someone is very insulin resistant and needs to reduce carbs to a very low daily quantity, an Egg Fast represents a viable option. People also do it to break stalls or help lose better/easier, especially when they are slow losers. Egg fasts, unlike fat fasts which are very low in protein, provide adequate daily requirements of protein. They also reduce carbs to a super low ketogenic level (<8-10g total carbs daily) and they provide most of daily calories as healthy fats.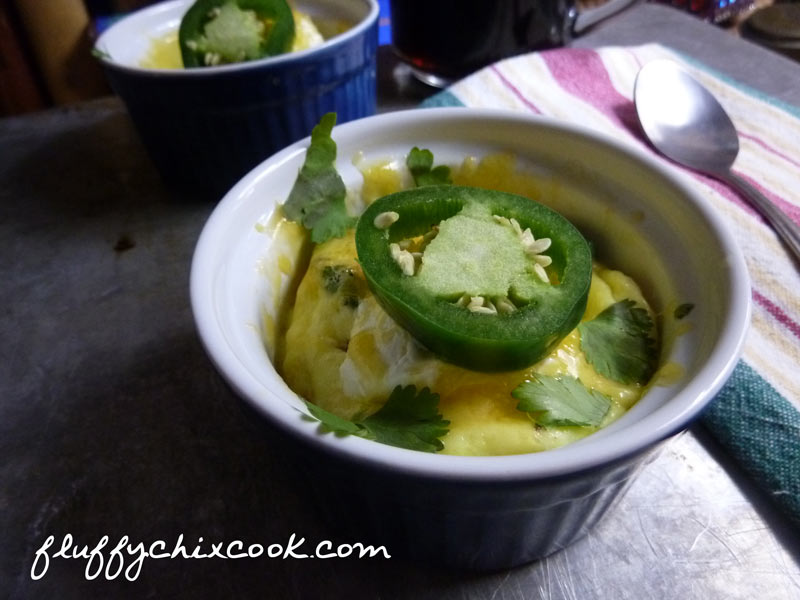 This style of ketogenic fat fast diet is usually of short duration and is often used to help people enter or reenter ketosis. (It's much easier to do an Egg Fast once you are already keto adapted or at least in ketosis, because the body already understands how it's supposed to use fat as fuel. Oh and like a fat fast, an Egg Fast is also a slightly calorie restricted type of diet (around 1000-1200 cals). So for this reason alone, it's a diet the Fluffys follow only in short bursts of 3-5 days intervals. We also sometimes do impromptu alternate day Egg Fasts (ADEF). (Oh, and btw, Egg Fasts are not appropriate for everyone, please make sure to consult your health care professionals if you decide to follow one.)
For the Egg Fast Rules please visit our Fluffy Chix Egg Fast Meal Plans section and scroll down to read the rules. You will also find 5 days of Sample Egg Fast Menus when you scroll down to the very bottom. We also have an Egg Recipe Section in the Recipe Index.
Maybe you'd like to join our group of merry Egg Fasters? There is almost always a group of people doing the Egg Fast any day of the week (although most of us take the weekends off).
And come join the Fluffy Chix Egg Fast Group on Facebook!
Simple Egg Fast Popper Puffs Put Excitement Back in Low Carb Keto Breakfasts
In 80 seconds (cooking time) you can have a filling, and poppin' delicious Egg Fast Meal. How's that for simple low carb keto convenience?
Ingredients
2 tablespoons bacon grease, divided
1/4 cup organic baby spinach, rolled and sliced thinly into strips (julienne), divided
granulated garlic
2 large eggs, beaten with water and spices, divided
1 tablespoon water
1 ounce Neufchatel cheese, divided
1 ounce cheddar cheese, shredded, divided
1/8 jalapeno chile pepper (2 slices)—or chopped, divided
Instructions
Add 1 tablespoon of bacon grease to the bottom of each 3 ounce ramekin. Add shredded baby spinach leaves to each dish. Divide egg batter between each dish.
Microwave on high, uncovered, for 20 seconds. Stir. Do this again two times, stirring or turning egg mass over between each burst. At 60 seconds, add a gloop of cream cheese to the top of each almost done puff. Add cheddar shreds and finish with either chopped jalapeno or a slice on top of each ramekin. Nuke just until cheddar melts (about 20 seconds). Serve immediately!
Notes
You get 2 ramekins per serving! Wha???? But, feel free to save one for later. They reheat fairly well! We actually prefer chopping the jalapenos because they soften a little more and if you really want them well done, add them in the beginning with the eggs and baby spinach.
Why Neufchatel? It is true it's naturally lower fat (about 1/3 less fat) than full fat cheese. But it's a NATURAL cheese, without a lot of additives and currently the carb count is 1 ounce = <1g of carbs. Now days, food manufacturers have bastardized full fat cream cheese! It's filled with junk ingredients and most of the common brands have 2g of carb per ounce. Blasphemy! So we will just use Neufchatel and equalize with added fats!
Serving Ideas Serve with a steaming cup of hot coffee.
Nutritional Information Per 1 EF Popper Puff 287 Calories; 26g Fat (82.5% calories from fat); 11g Protein; 1g Carbohydrate; trace Dietary Fiber; 1g Effective Carbs
Per 2 EF Popper Puffs 574 Calories; 52g Fat (82.5% calories from fat); 23g Protein; 2g Carbohydrate; trace Dietary Fiber; 2g Effective Carbs
For more low carb keto Egg Fast recipes please visit Fluffy Chix Egg Fast Meal Plans.
And come joined Fluffy Chix Egg Fast Group on Facebook!
Copyright © 2015 Fluffy Chix Cook. All rights reserved.
http://fluffychixcook.com/simple-egg-fast-popper-puffs-put-excitement-back-in-low-carb-keto-breakfasts/
Copyright © 2016 Fluffy Chix Cook. All rights reserved.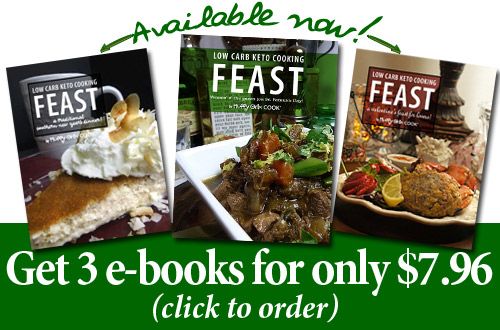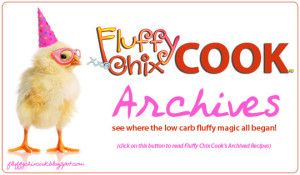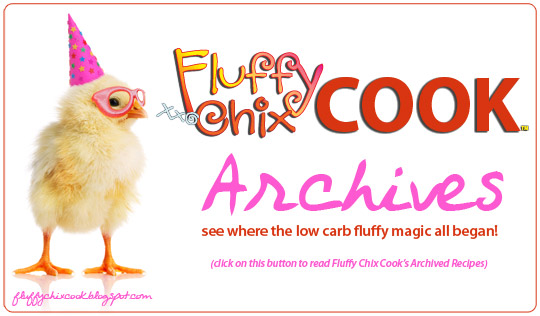 Copyright © 2014 Fluffy Chix Cook. All rights reserved.
We are not dieticians, nutritionists or medical professionals. The materials on this blog are for informational (and fun) purposes only. We do not fact check, nor do we worry about sources. Please do your own fact checking. We encourage you to look things up and check with your doctor or health care professional before acting on anything seen on Fluffy Chix Cook. xoxo