Skillet Beef Base 2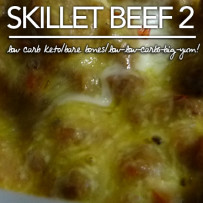 Are you looking for a base, low carb keto recipe for skillet beef to make ahead and portion for use in more complex meals? At only 2 grams of whole, non-netted carbs, Fluffy Chix Cook's Skillet Beef 2 is a no-nonsense low carb winner!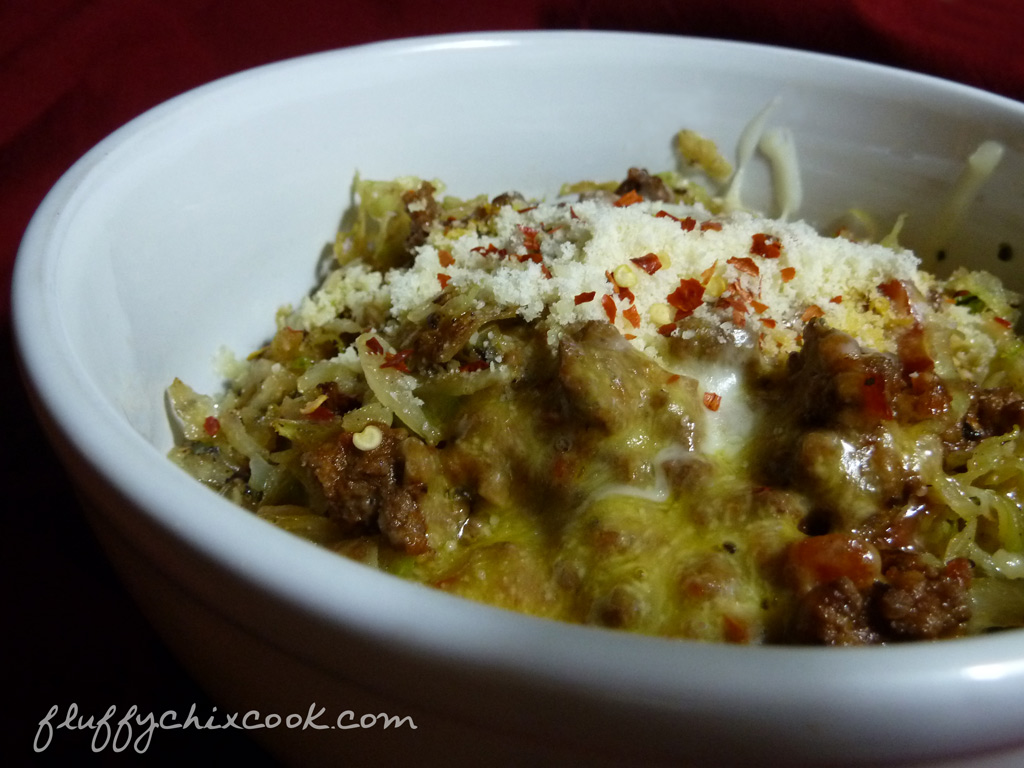 I want to apologize for the absence of photos of the actual Skillet Beef Base. I rarely think about capturing photos of this simple, low carb, keto meat base before it gets consumed or added to a recipe. It doesn't help that it's not distinctive looking. It's an almost invisible recipe! It just frankly looks like cooked ground beef. Pretty boring if pictures only tell the tale. Lucky for us, we have our other senses to confirm or deny such "boring" allegations.
Skillet Beef 2 is a bare bones recipe. It's purposely pared down so the "extras" don't make the carb count go up—for those of you who keep carbs to 20g of whole, non-netted carbs per day. If your meat base has 4-5 grams of carbs per serving, well hells! That won't work! By keeping the base neutral, but well-flavored, you can take the flavors of the dish it gets added to in any direction you want: Mexican, Italian, etc—for minimal carb costs. It's a minimalist recipe to be certain!
Using a heavy skillet for Skillet Beef isn't a necessity. Use what you have on hand! But we love using a big cast iron skillet or enameled cast iron, because it adds to the flavor of the dish and browns the outside without over cooking the inside. Fluffy Chix favorite pans are, of course, made by Le Crueset and Lodge (wouldn't you know, they'd be some of the most expensive, but lifetime investments…), but have been known to use cheap knockoffs of odd-sized enameled cast iron for a quick savings on the old pocket book. Enameled cast iron pans cook meats, soups, stews, casseroles, fish and seafood so well because they really hold the heat, allowing quick cooking with intense flavor at lower heat settings. The only drawback is that chipping can occur and if you cook at too high of a temp, discoloration may "happen." I adore this Caribbean blue skillet and have it on my wish list in case any of you would care to buy it for me? Wink, wink, nudge, nudge!
Give Skillet Beef Base 2 a try! This dy-no-mite recipe portions, freezes and reheats well.
THERE IS ONE RULE:

Don't over re-heat or there will be a reheated flavor. We've found if you heat the dish the meat is being added to until it's piping hot, then you only have to gently reheat the meat either on stove top or in the micro. We add the meat to the dish at the end. Super simple. Super easy and flavor preserved.
And if you want a little more jazz to your Skillet Beef, take quick look at Fluffy Chix Cook's Skillet Beef Base 1! In fact, take a look at the entire Recipe Gallery while you're here and maybe you'll want to tell two friends about us, and so on, and so on! Oh, dangit! And I s'pose you want the link to the Italian Skillet Helper too? Hmmpff. I see what you're like, "Marcia! Marcia! Marcia!"
This is a jumping off recipe that tastes great as is, but also is low carb keto-licious and great used in more complex dishes as a purposeful Lucky Leftover.
Ingredients
Instructions
Combine all ingredients in a large skillet and cook until meat is browned. Store in an airtight container. Makes 5 cups of cooked meat (30.6 ounces cooked).
(Pssst! Don't throw the juice and grease away. That stuff is awesome with great flavor. Use it in soups and stews or like we do; sautéed veggies in the drippings. Delish!)
Notes
You know by now, Fluffy Chix Cook loves making basic recipes capable of combining with other recipes in strategic partnerships in order to make bold, new dishes with little effort. By making bases, you can easily cook complicated dishes in single servings or even make a couple of servings. The recipes scale easily to feed a whole family or a "lonely only"—whichever the case.
Skillet Beef 2 is another of my beef bases. Bare bones, whittled down to extreme minimums and a full, 1 cup serving only has 2g of whole, non-netted carbs.
Serving Ideas Serve with your favorite veg or anywhere ground beef is used.
Nutritional Information
Per Serving: 549 Calories; 42g Fat (71.1% calories from fat); 36g Protein; 2g Carbohydrate; trace Dietary Fiber; 153mg Cholesterol; 2g Effective Carbs
Copyright © 2014 Fluffy Chix Cook. All rights reserved.
http://fluffychixcook.com/skillet-beef-base-2/
Copyright © 2016 Fluffy Chix Cook. All rights reserved.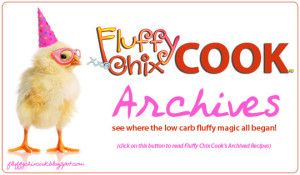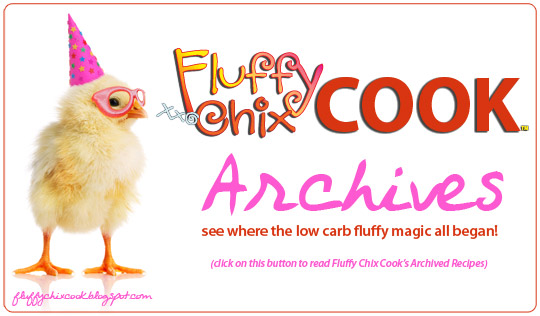 Copyright © 2014 Fluffy Chix Cook. All rights reserved.
We are not dieticians, nutritionists or medical professionals. The materials on this blog are for informational (and fun) purposes only. We do not fact check, nor do we worry about sources. Please do your own fact checking. We encourage you to look things up and check with your doctor or health care professional before acting on anything seen on Fluffy Chix Cook. xoxo