Skillet Beef with Zoodles – Low Carb Keto Hamburger Helper Goodness!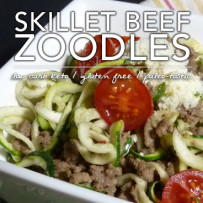 Do you think healthy low carb keto pasta is an oxymoron? And worse yet, do you still yearn for tasty low carb pasta, anyway? Fluffy Chix Cook has whirly twirly pasta-licious, low carb keto pasta that will fill you up, not fill you out, and will leave you happy and satisfied for hours. So embrace this low carb pasta alternative and come over to the "light" side of living low carb! Break-up with your high carb pasta and tell it you never want to see it, again!
(Oh and hat's off to my fellow blogger Martina Slajerova of Keto Diet App for reminding me with her inspiration recipe, Quick Beef Ragu with Zoodles, just HOW delicious Skillet Beef and Zoodles really is folks. Please be sure to visit Martina's website and come on over to Facebook and join the group I contribute to: Low Carb Keto Recipe Club. You'll find Martina's latest recipes along with our founder Carolyn Ketchum of All Day I Dream About Food, Maria Emmerich or Maria Mind Body Health, Leeann Teagno of Cut the Wheat, Ditch the Sugar, Kate Criswell of Kate's Healthy Cupboard and Adrienne Urban of Whole New Mom.)
As promised, you'd better hold onto your hat, because here comes a whole string of Bubba Gump-ed Skillet Beef recipes, just queued and waiting in the wings, poised ready for the very near future. Each low carb, keto-delight is big on taste and low on carbs, making it perfect for diabetics or metabolically impaired peeps, living a ketogenic diet. Heck, who are we kidding? You don't have to be metabolically impaired to benefit from replacing high carb, grain-filled pasta with Fluffy Chix Cook's low carb, grain-free, gluten-free, sugar-free versions. No! I am NOT kidding you!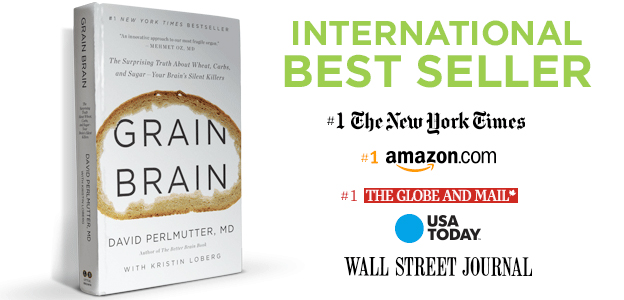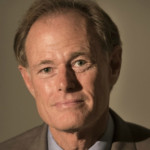 Living a low carb lifestyle, free from damaging grains, just might save your life one day, but don't listen to me. Listen to Dr. David Perlmutter, noted neurologist, researcher and author of the popular book, GRAIN BRAIN: The Surprising Truth About Wheat, Carbs, and Sugar—Your Brain's Silent Killers. According to Dr. Perlmutter and other leading researchers in the low carb ketogenic community, high glycemic carbs are destroying our bodies and our minds. In GRAIN BRAIN, Dr. Perlmutter discusses how even so-called "healthy whole grains," can cause dementia, ADHD, anxiety, chronic headaches, depression and auto immune disorders such as asthma and arthritis.
So let's ditch the grain and go healthy low carb keto, baby! Remember, "Your mind is a terrible thing to lose." In light of saving brain cells, one bite at a time, we bring you Skillet Beef with Zoodles as the first order of business. With Skillet Beef made in advance and either lurking in the fridge or freezer, this low carb Fluffy Chix recipe comes together in under 5 minutes. No. I am not tellin' a big fat whopper of a lie. Eat your heart out Rachel Ray! Less than 5 minutes!
But first we zoodle! To the zoodler, everybody!
Zoodling is the process of turning humble zucchini squash into delicious low carb pasta strands. And there are many ways to zoodle my friends. Let's start with Occam's Razor first. The cheapest and easiest method of making zoodles involves using a straight old, plain-Jane, veggie peeler. Make long thin strips, the length of the zucchini, up to about ¼ to ½-inch wide. When the strips get to the largest desired width, rotate the zucchini slightly and begin working the next area. Sounds laborious, but you can make tagliatelle zoodles in under 2 minutes. It probably costs nothing, since you already own the veggie peeler. Read about Fluffy Chix Cook adventures with Son of Zoodle.
The next method of zoodling involves using a julienne peeler. We got our julienne peeler at Tuesday Morning, on sale for $2.99, but you can also find them online. They work great on zucchini, yellow squash and cucumbers, but not so great on firmer veggies like daikon, turnips, or rutabagas. But by shaving long strips, you end up with linguine shaped zoodles, perfect for meat sauces and Alfredo sauce.
We found a Norpro Carrot Curler that makes gorgeously graceful swirls of ribbony zoodles—beyond the size of pappardelle. This size zoodle is perfect for slow-simmered ragouts. Our peeler cost about $9.00 or so from our trusted partner amazon.com. This peeler works great on long thin veggies like thinner zucchinis and cucumbers, carrots, parsnips, and very thin daikon (if you can find it). Because it limits the circumference of the veggie and because the noodles are so wide, you're limited on using it. There's also the GEFU Spirelli Spiral Slicer. Great for making sketti style zoodles, but limits by circumference.
By far the best results arrive from the most expensive methods of zoodling. Although more expensive, this method is far more versatile allowing you to zoodle most any veggie or fruit that hangs around long enough to let you near it (except leafy veggies). I'm talking about bonafide spiral slicers, of course. We like the Benriner Spiral Slicer, but there are also the Paderno World Cuisine and Joyce Chen models that have very solid ratings. They range between $25-$75 for a dedicated spiral slicing machine.
Each method of zoodling takes you from zero-to-zoodles in less than 1-2 minutes. Then all that's left is the singin'-of-the-praises from anyone lucky enough to get to enjoy your homemade low carb, keto-rific pasta and sauce. Now go getchasome and make the Skillet Beef with Zoodles. Then hurry back here and tell us all about how awesome and clever everyone thinks you are—cuz it's true!
For other zoodle recipes, please be sure to visit our Fluffy Chix Cook Recipe Archives. You can either click the link here or click the Archive button below the recipe. And be sure to watch for our other Fluffy Chix Cook recipes made out of Skillet Beef meat base morphs.
So spill it. What's YOUR favorite pasta dish you would like to see low carb and keto-fied?
Skillet Beef with Zoodles – Low Carb Keto Hamburger Helper Goodness!
Everyone loves low carb keto zoodles! Zoodles feel like a familiar pasta and even twirl on a fork. Skillet Beef and Zoodles is lean, mean Hamburger Helper-esque food at its best. The best part about low carb keto-licious beefy zoodles is they don't run your blood sugar or insulin up the ol' flagpole and make you hungry two hours later. And as a famous DFSW once said, "As God is mah witness, I shall nevah go hungreh agayun!"
Ingredients
Optional

1 grape tomato, sliced thinly crosswise
Instructions
Combine zoodles and Skillet Beef in a microwave safe bowl and nuke on high for 45 seconds. Stir and cook an additional 15-25 seconds. Taste and adjust seasoning, then top with grated Parmesan cheese. Serve immediately. Yum!
Notes
Super simple weeknight meal or lunch! Don't try freezing the zucchini zoodles, they go limp. You can zoodles and keep them raw on a damp paper towel in a zip top bag. They'll stay fairly fresh (minor wilting) up to 24 hours. It's best to make whatever sauce in advance and freeze or fridge that, then make the zoodles fresh to order, or go ahead and zoodle the entire zucchini and store remaining servings in a plastic bag for the next 2 recipes. A medium to large zucchini weighs about 10-12 ounces and will yield 2-3 servings (weight it raw), depending on your carb budget and serving size.
Serving Ideas Serve with a tall glass of sparkling water.
Nutritional Information Per Serving (About 1 1/3 Cups): 523 Calories; 38g Fat (67.2% calories from fat); 36g Protein; 6g Carbohydrate; 2g Dietary Fiber; 136mg Cholesterol; 4g Effective Carbs
Per Serving With Optional Tomato (About 1 1/3 Cups): 525 Calories; 38g Fat (66.8% calories from fat); 36g Protein; 7g Carbohydrate; 2g Dietary Fiber; 136mg Cholesterol; 5g Effective Carbs
Copyright © 2010 Fluffy Chix Cook. All rights reserved.
http://fluffychixcook.com/skillet-beef-with-zoodles-low-carb-keto-hamburger-helper-goodness/
Copyright © 2016 Fluffy Chix Cook. All rights reserved.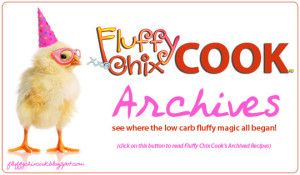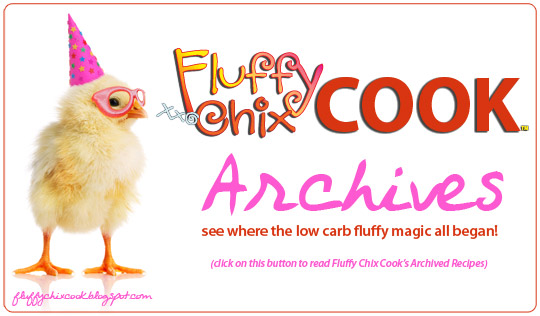 Copyright © 2010 Fluffy Chix Cook. All rights reserved.
We are not dieticians, nutritionists or medical professionals. The materials on this blog are for informational (and fun) purposes only. We do not fact check, nor do we worry about sources. Please do your own fact checking. We encourage you to look things up and check with your doctor or health care professional before acting on anything seen on Fluffy Chix Cook. xoxo