Slow Cooker Pulled Pork – Low Carb | Sugar Free Goodness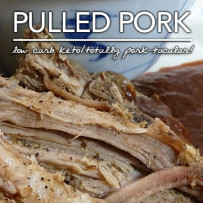 These days, pulled pork is all the rage. No longer confined to the South and specifically to the eastern borders of the south, low carb and ketogenic pulled pork gathers crowds from east to west. Fluffy Chix Cook pulled pork in the slow cooker for easy, hassle-free Lucky Leftovers. People are looking for easy healthy real foods recipes without a lot of prep, and that's even more true when living a low carb lifestyle. Slow Cooker Pulled Pork is our basic low carb recipe and it yields great "first run dinners" and super, or what we call, Lucky Leftovers too. Morph them to fit any flavor profile: barbecued pulled pork, pork roast and gravy, Tex-Mex pulled pork tacos or green enchiladas, so many variations!
Many of the "bulk protein recipes" at Fluffy Chix Cook could seemingly feed an army. But take note.
STRATEGERY
We use strategery to our advantage. Yes, even though it seems we have a Fluffy Chix army, there are only 2 adults and 5 sock monkey boys in residence at the fluffy nest. The 5 sock monkey boys talk a good game, but eat very little. So why on earth would we want to cook 8 1/2 pounds of meat—even if it is pork? Well, take pulled pork, for instance. A pork shoulder, aka pork butt, is sold whole, or in pieces. The smaller pieces may weigh 2-4 pounds each, and the full shoulder could weigh between 6-10 pounds or more. The thing to remember is pork shoulder has a lot of fat—as much as 30% shrinkage occurs between raw and cooked/finished meat, ready-to-eat: rendered fat, evaporation of moisture, and loss from waste (stringy fat and bone) account for the dramatic difference in raw versus cooked weight. So beginning with a full pork shoulder just makes fiscal sense. An 8 ½ pound full pork shoulder yields about 5 ½ pounds of pure edible meat and fat. And 5 ½ pounds of meat is easily portioned, B/T, and frozen, because it freezes and reheats like a world champ. But more importantly, it makes great use of energy. It takes just as much effort to make a half shoulder as it does to make a full one. So cook once, eat 14-22 times. Sweet, especially if you have a chest freezer, or as we call ours, DS9 (Deep Space 9).
Not only does Slow Cooker Pulled Pork fridge, freeze and reheat well, but it also morphs into splendidly delicious low carb dishes. COMPLEX, low carb dishes. These complex, keto marvels would take hours to prepare if making everything from scratch. But when you make a bulk meat up like our Skillet Beef or this Slow Cooker Pulled Pork and package them correctly, complex meals are ready in 10-20 minutes or less! Now that's what we call Lucky Leftovers! And Lucky Leftovers fit very nicely with our motto—Never Eat The Same Thing Twice. It also amuses us to buy 8 1/2 pounds of meat for less than $8.50 when it's on sale for $0.99/lb!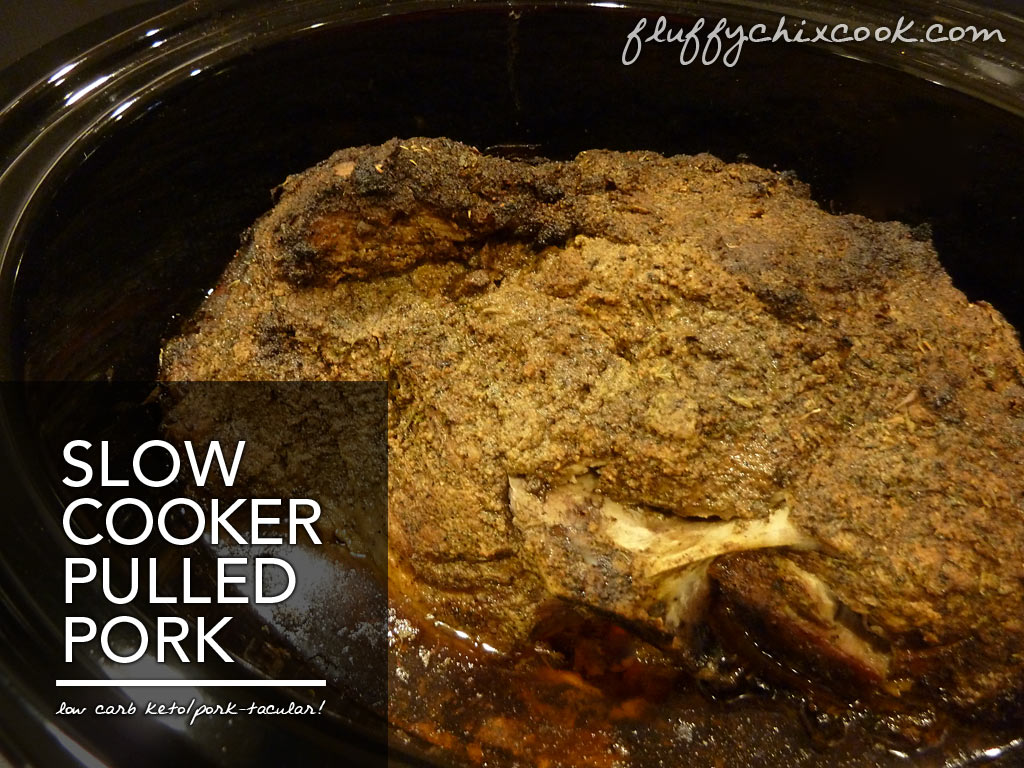 If you don't have a slow cooker, but have a huge roasting pan, you're still in business. Wrap the pan and seasoned pork shoulder tightly with foil and bake at 225-275° for about 8-10 hours or until bone comes out easily, when wiggled and pulled. We tump it over (DFSW-speak for turn it over) about half way through cooking to make sure the pork shoulder stays nice and moist. We have an 8 quart enameled cast iron and it works beautifully for this dish. Cover with the heavy lid and check it at 6 hours (250-275°).
IMPORTANT!

Even though pulled pork in and of itself it low carb and ketogenic, don't be swayed by pre-made barbecue pulled pork, especially anywhere in the South! There will likely be GOBS of sugars on the meat rub and in any sauces. And as we know, sugar is NOT keto friendly! The end.
Slow Cooker Pulled Pork – Low Carb | Sugar Free Goodness
Low and slow, for those days when you have time for the slow cooker and want barbecue flavor or plain, basic pork-tacular flavor without the hassle of cranking up the smoker. Makes great leftovers that freeze and reheat well. Pulled pork can be made one time a month and used in so many different recipes, it's well worth making a whole pork shoulder (usually 6-10 pounds), but if this seems like "too much" for one person, ask for a "half" shoulder which usually weighs about 3-1/2 to 4 pounds and scale the recipe in half.
Ingredients
Instructions
Wash whole pork shoulder under cold running water. Dry well with paper towels. Trim the exterior fat to your preference—since it isn't getting smoked). We trim it down to about 1/8-inch with some spots showing "bare meat". If we were smoking this cut, we would leave it untrimmed, since most of the exterior fat would render off during smoking.
Slather all sides of shoulder with yellow mustard and cover with granulated garlic, kosher or sea salt and fresh black pepper.
Place in a large slow cooker (7-8 quart). Cover and cook on high for 2 hours. Reduce to low heat and cook an additional 4-5 hours until bone wiggles and a fork easily twists when stuck into the thickest portion of the shoulder. The interior temperature should be somewhere between 175-185° when measured in the thickest part of the center muscle. Pork will shred easily at about 180°. It's also helpful (but not imperative) to turn the pork butt over halfway through cooking.
Discard bone, gristle and any stringy fat (located on the inside of the shoulder) before pulling pork into long strands using 2 forks. Mix the exterior fat ("soft fat") into the meat. Return shredded meat and fat to the slow cooker liner (which still contains all of the gorgeous pan juices and rendered "po'k fat" and stir it together to lovingly coat every morsel). Enjoy! (Pssst, the slow cooker liner should be pulled out of the hot slow cooker exterior so it doesn't continue to cook.)
Notes
Using smoked flake salt, available in your grocery store spice isle or online, is a great way to introduce a bit of smokiness without using liquid smoke or breaking out the smoker-in case you feel a little bit like barbecue. Portion and freeze the leftovers for countless meals based on this delicious pork butt.
Serving Ideas Serve with Low Carb Barbecue Sauce for a great pulled pork experience—or make a creamy pan gravy.
Nutritional Information
Per 4 oz Serving (Cooked, meat and fat eaten): 308 Calories; 20g Fat (60.8% calories from fat); 29g Protein; 1g Carbohydrate; trace Dietary Fiber; 111mg Cholesterol; 1g Effective Carb
Per 6 oz Serving (Cooked, meat and fat eaten): 484 Calories; 32g Fat (60.8% calories from fat); 45g Protein; 1g Carbohydrate; trace Dietary Fiber; 174mg Cholesterol; 1g Effective Carb
Copyright © 2016 Fluffy Chix Cook. All rights reserved.
http://fluffychixcook.com/slow-cooker-pulled-pork-low-carb-sugar-free-goodness/
Copyright © 2016 Fluffy Chix Cook. All rights reserved.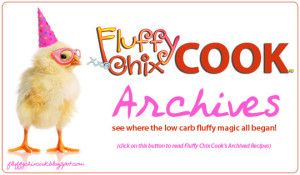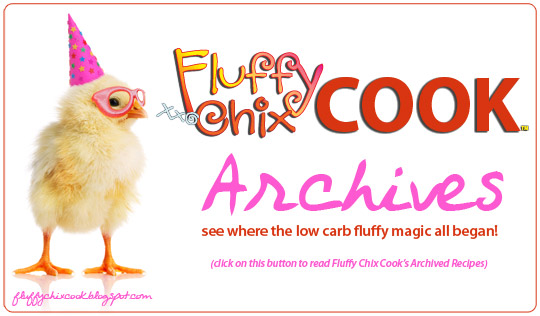 Copyright © 2013 Fluffy Chix Cook. All rights reserved.
We are not dieticians, nutritionists or medical professionals. The materials on this blog are for informational (and fun) purposes only. We do not fact check, nor do we worry about sources. Please do your own fact checking. We encourage you to look things up and check with your doctor or health care professional before acting on anything seen on Fluffy Chix Cook. xoxo