Spicy Sambal Green Beans – Low Carb & Gluten Free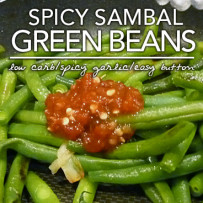 Do you cravy spicy low carb vegetable recipes or want to spice up and add a little heat to your keto green beans? Spicy Sambal Green Beans from Fluffy Chix Cook offers heat, garlic, and a healthy low carb side dish alternative sure to please. Pair keto Sambal Green Beans with any simple protein for a tasty and healthy low carb keto meal in under 20 minutes. How's that for low carb, diabetic friendly, Easy Button recipes and meals?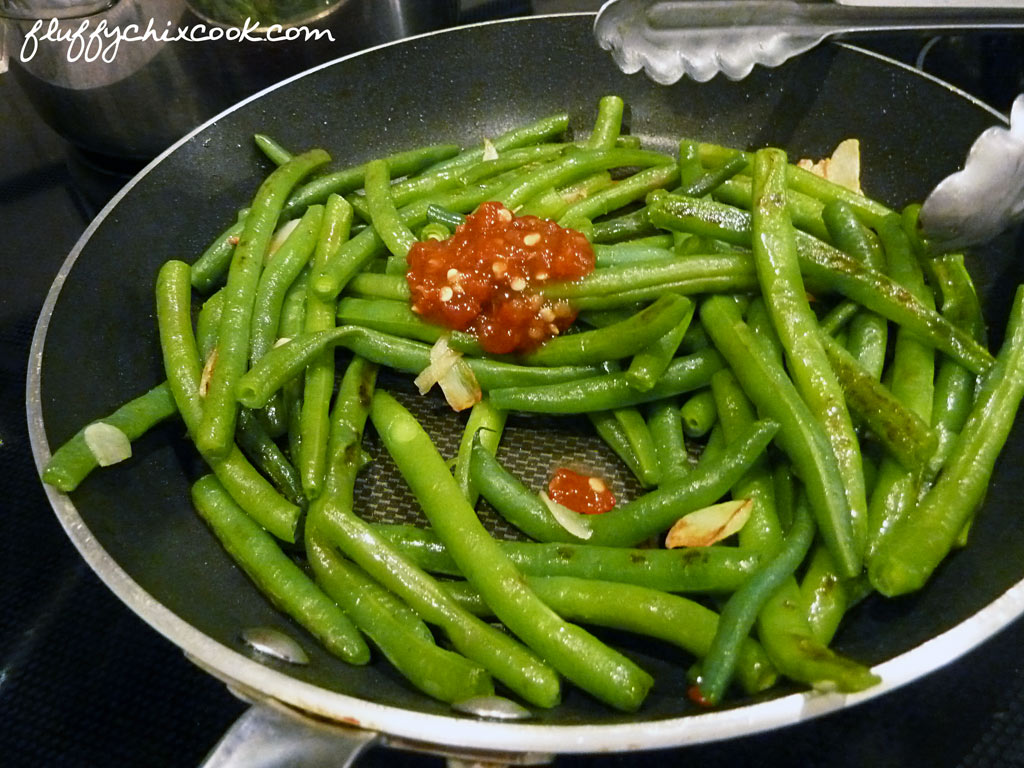 Why do you do it? Will you riddle me this, Riddler? Why do you INSIST on eating subsistence, boring low carb food, day-in and day-out? Why?
I would pull my hair out! Seriously folks.
A girl can only subsist on iceberg lettuce with bottled ranch and baked chicken for so long before succumbing to the call of the wild. Nature WILL prevail. White knuckle, willpower dieting will only get you about as far as the scene of the crash, I can assure you. (And thanks to Ron White for the last part of the imagery!) And in my vexed state at the inability to eat tasty, satisfying, fulfilling food, I would wind up face down in a plate of Texas-sized cheese enchiladas with chile gravy, served with a side of rice and borracho beans, and a great big ol' happy side of queso, green sauce, salsa and chips! Yes, all because I ate the boring old, dagged-nabbit, nancy-pants, low carb: 2 cups of salad greens and a cup of cooked veg, daily, ad infinitum, throughout my low carb diet (cuz with that kind of pedantic approach I gotta tell you…it IS a DIET). There "ain't" no lifestyle being lived in that scenario.
D-I-E-T
Diet.
There. I said it. Write it down. Diet.
Choices like those I described in the paragraph preceding this one do not a lifestyle make. I know. Yoda told me when we were in school together. So spice it up. Change things around. Eat something new for cripes sake. Take a stroll through Fluffy Chix Cook's Recipe Gallery or Recipe Index. Get inspired to fall in love with cooking and prepping and meal planning. Make it a game! Give yourself a Carb Budget (BFYCB = bang for your carb buck) and go to town. Play with your food! It doesn't have to be hard, or complicated or take a wad of ingredients or a long time. It doesn't take much energy. I should know. I have none! Taking simple, baby steps to increase food diversity and satisfaction with help you stop railing against your deprivation. Add a spoon of Sambal Oelek to your next pan of garlic green beans. See how happy that will make you!
End of tirade. Thanks for tuning in. 😀
About 20 years ago when I was still living in Dallas, we would eat lunch at this tiny hole-in-the-wall Asian place that specialized in quick Japanese/Chinese fusion. I to this day do not know how they got a simple bowl of stir fried chicken breast and steamed broccoli over rice to taste so dynamic and intriguing! I still dream of it. I would slather it with Rooster Sauce aka Sriracha Sauce, that brilliant orange-red sauce in the tall plastic bottle with the green cap, with a picture of a rooster on the front.
Sriracha is a smooth-textured chile garlic paste that has a tiny vinegar kick on the hind end, just like Sambal Oelek. I do often wonder if perhaps the Sriracha is nothing more than Sambal Oelek blended and whipped into shape for a bottle? Anyone know if that's true?
But whatever Sriracha Sauce is made from (and it is made from the same manufacturer of Sambal Oelek), I fell in love with that sauce. I fell heavily and hard for it. I found it in Asian grocery stores and that's where my love for Asian groceries came into effect.
Sambal Oelek is a paste made predominantly from a variety of chiles. Sambal means sauce and oelek means ground and sambal oelek is a ground paste eaten either cooked, raw or fermented. It usually includes ingredients such as fish sauce or sometimes dried baby shrimp, garlic, ginger, shallot, scallion, sugar, lime juice and rice wine vinegar. And you heard me. I said sugar. But remember, it's usually fermented (if you buy it from the grocery) and that fermentation process will likely use up most of that sugar. Each 1 tsp of Sambal Oelek contains 0.11g of net effective carbs—so quit your squaking to all the sugar Nazis. I just don't get caught up in that drama. I can assure you, I did not get fluffy because of eating too much Sambal Oelek.
So try the Spicy Sambal Green Beans—they're fresh and put a kick in your step. It's basically the Fluffy Chix Cook Garlic Green Bean recipe, with an addition of 1 teaspoon to 1 tablespoon of Sambal Oelek—depending on your degree of CHD (Chile-Head Disease). Then come back and tell me, you broke up with Boring! 😀
Break-up with Boring! Sambal Green Beans are a spicy alternative for veggie sides, sure to kill boring. Seriously. They will punch Boring's eyes clean out of its face! So spicy; so salty; so vinegary; so good!
Ingredients
1 1/2 pounds green beans
3 cloves garlic, peeled and sliced thinly
1 tablespoon olive oil
1 teaspoon to 1 tablespoon Sambal Oelek, to taste
Instructions
Wash and trim the ends off of green beans. Peel and thinly slice garlic cloves.
Blanch green beans in a pot of salted boiling water for 6-8 minutes until tender. Transfer beans into an ice water bath to stop the cooking. Drain and dry beans on a clean dish towel. Beans can be made ahead to this point, up to 2 days.
Heat 1 tablespoon of olive oil in a large nonstick skillet over high heat. Add slivered garlic and sauté for 30 seconds. Don't brown the garlic too much or it will turn bitter. Add green beans and quickly toss with the garlic to distribute garlic throughout the zoodles.
Add spices and continue to quickly sauté beans and garlic. Remove from heat when beans have been heated through and lightly sautéed. Cook for 1-2 minutes at the most. Don't over-cook or the garlic gets too browned and turns bitter. Add a big teaspoon to a heaping tablespoon of Sambal Oelek (aka Chile Garlic Paste, non-sweet). Toss to mix. Enjoy.
Notes
This dish is best when made fresh or quickly rewarmed as refrigerator leftovers the next day. They won't freeze well, so don't try this at home! These are great with any simple protein and taste awesome with scrambled eggs as a breakfast treat.
Sambal Oelek aka Chile Paste or Chile Garlic Paste is located on the Chinese food isle of your grocer's shelf right next to the soy sauce and Sriracha Sauce (aka Rooster Sauce)—made by the same company, Huy Fong—and it's fabulous! If you're grocery doesn't have it, you can purchase it online. Sambal Oelek has a salty heat with a bit of a vinegar bite and works great in Asian dishes, on meats and tossed with veggies or even salad dressings. We add it to everything from Asian to Mexican, and if you've never tried it in greens—well, you've never lived. Not REALLY lived. 😉
Serving Ideas Serve as a side to many different kinds of grilled meats. Serve with a salad or as part of a scrambled egg brekky!
Nutritional Information
Per 1/4 Recipe Serving: 80 Calories; 4g Fat (35.6% calories from fat); 3g Protein; 12g Carbohydrate; 5g Dietary Fiber; 0mg Cholesterol; 7g Effective Carbs
Per 1/6 Recipe Serving: 54 Calories; 2g Fat (35.6% calories from fat); 2g Protein; 8g Carbohydrate; 3g Dietary Fiber; 0mg Cholesterol; 5g Effective Carbs
Copyright © 2012 Fluffy Chix Cook. All rights reserved.
http://fluffychixcook.com/spicy-sambal-green-beans/
Copyright © 2016 Fluffy Chix Cook. All rights reserved.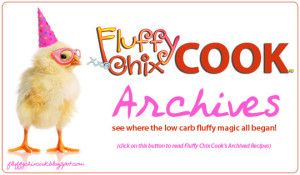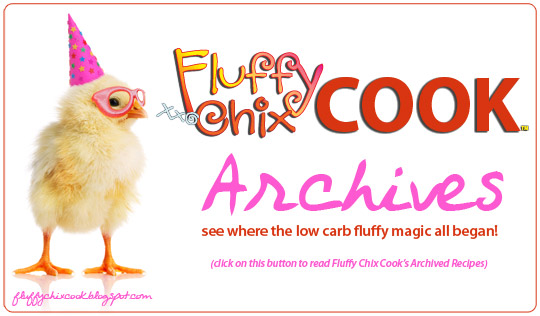 Copyright © 2012 Fluffy Chix Cook. All rights reserved.
We are not dieticians, nutritionists or medical professionals. The materials on this blog are for informational (and fun) purposes only. We do not fact check, nor do we worry about sources. Please do your own fact checking. We encourage you to look things up and check with your doctor or health care professional before acting on anything seen on Fluffy Chix Cook. xoxo