Spicy Tex-Mex Scramble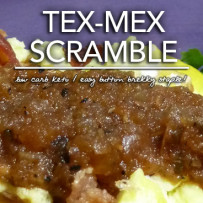 We all love easy low carb keto recipes. But how do we keep breakfasts quick and easy? Is there a secret to quick low carb breakfasts? We think Fluffy Chix Cook has many Easy Button keto-licious breakfast options. Having a plan and doing a bit of prep work on Sunday helps shave time off breakfast cooking, but join us to find a few more tips to make low carb breakfasts in a flash.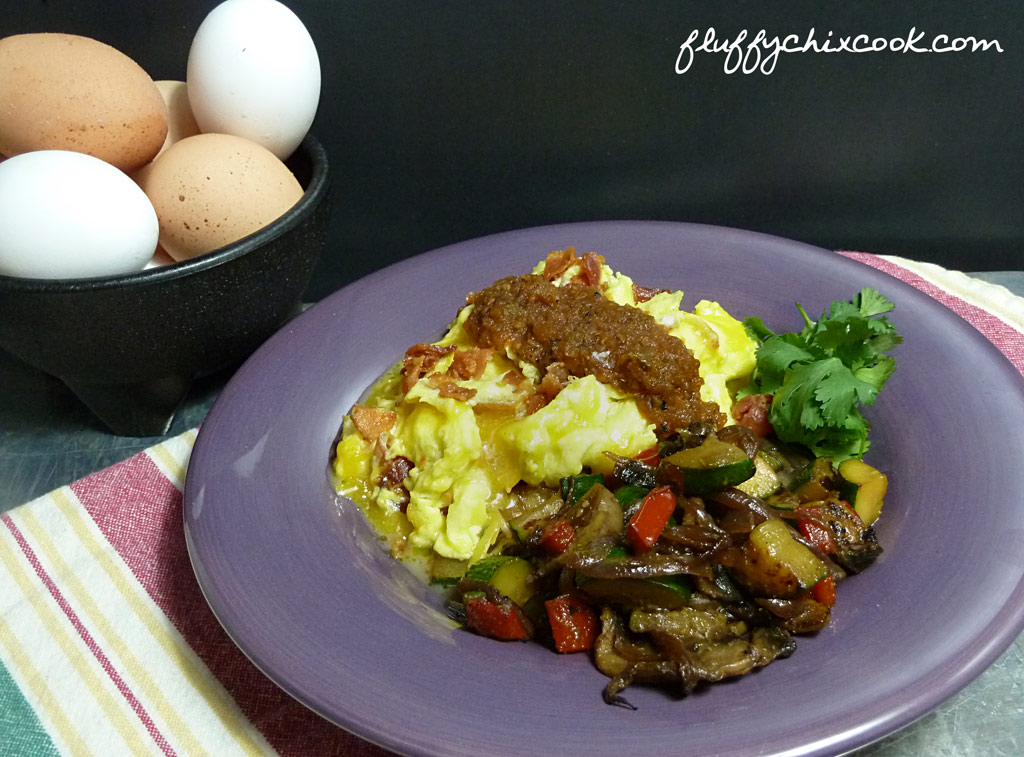 The key to low carb keto breakfasts is ease and simplicity. Certainly, it helps to enjoy eggs, butter, bacon and sausage—the quintessential low carb breakfast foods of champions! Cooking bacon and sausage in advance, B/T'ing, and having them ready equals pure convenience. Scrambled or fried eggs are done within about 2-3 minutes. Breakfast can be strategically quick and Easy Button good. But why not spice up the basic bacon or sausage and eggs with a little Tex-Mex flavor?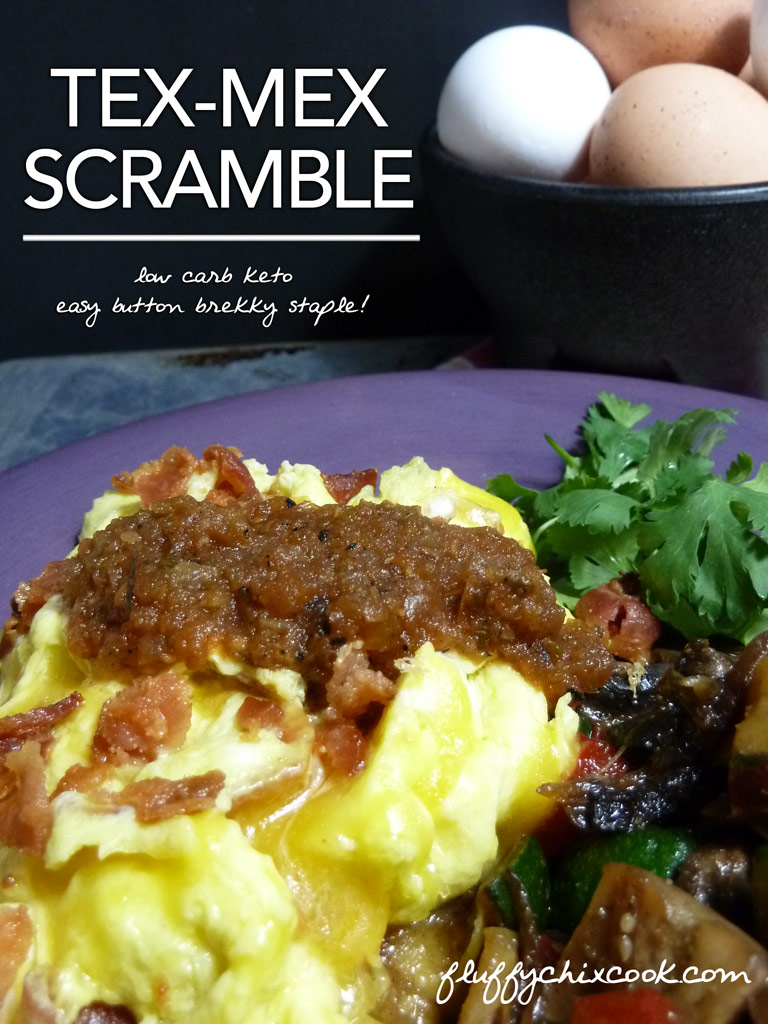 Easy Fresh Salsa tastes so great with scrambled eggs, you don't even miss the Psylli Wrap. (Psssst…a Texans favorite breakfast-on-the-run is a breakfast taco of any variety and Psylli Wraps make perfect low carb keto breakfast tacos.) Add shredded cheddar cheese and oh, my. Hold me. The salsa brightens the entire breakfast, gives a generous measure of nutrients: vitamin C from the tomatoes and lime juice, and provides great cancer fighting mojo from the onions, cilantro, and garlic.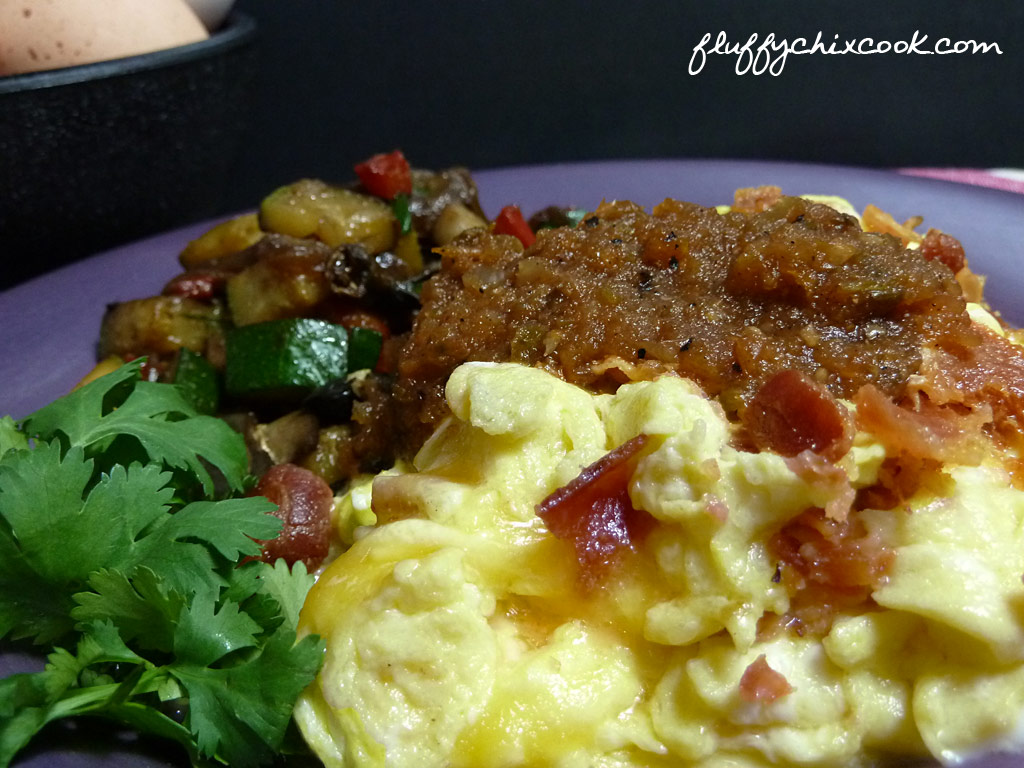 Fluffy Chix Cook always has fresh salsa in the fridge, ready for daily use in many different dishes. But you can always substitute salsa from a jar. Be sure to read the labels! Salsa should be between 1-2g of whole, non-netted carbs per 2 tablespoon serving and should never contain sugar. That would be a hangin' offense in Texas.
Simple and quick, this spicy egg scramble is delicious and ready in less than five minutes. Spicy Tex-Mex Scramble makes a perfect low carb keto weekday breakfast.
Ingredients
Variation

2 slices bacon, cooked until crispy and drained (sub for sausage crumbles)
Instructions
Heat bacon, or sausage grease, or butter, in a nonstick skillet over medium high heat, until hot. While pan heats, crack eggs into a bowl and add a tablespoon of water. Beat eggs with a fork until frothy, light and homogenized. Add salt and pepper.
Pour eggs into the hot pan. Gently shift eggs with a spatula, scraping the bottom, to scramble. When eggs are halfway done, add pre-cooked, sausage or crispy bacon crumbles (if sausage crumbles are frozen, microwave individual portions for 15-20 seconds on high heat to defrost). Cook until eggs are done to your preference. Top with optional shredded cheese and your favorite salsa. Enjoy. Olé!
Notes
We like to have simple meals ready during the week, so we spend part of Sunday afternoon prepping for the week ahead. One of the very simple things we prep is bulk breakfast sausage (the kind in the tubes like Jimmy Dean Hot Pork Sausage) and bacon. We crumble, fry and drain the sausage. Spread on a plastic wrap lined sheet pan and freeze until solid. Bag the crumbles after frozen. This enables us to easily and quickly measure out 1/4-1/2 cups of crumbles for various recipes. We also cook 1 pound of bacon for use throughout the week. That way it's all grab-and-go on the fly! These two preps save precious weekday breakfast minutes week-to-week.
Serving Ideas Serve with hot coffee with a splash of cream.
Nutritional Information
Per Serving with Sausage: 459 Calories; 38g Fat (76.2% calories from fat); 23g Protein; 4g Carbohydrate; trace Dietary Fiber; 483mg Cholesterol; 4g Effective Carbs
Per Serving with Bacon: 350 Calories; 29g Fat (77.0% calories from fat); 17g Protein; 3g Carbohydrate; trace Dietary Fiber; 448mg Cholesterol; 3g Effective Carbs
Add an extra 1/4 cup cheddar cheese shreds: 114 Calories; 9g Fat (74.0% calories from fat); 7g Protein; trace Carbohydrate; 0g Dietary Fiber; 30mg Cholesterol; trace g Effective Carbs
Copyright © 2010 Fluffy Chix Cook. All rights reserved.
http://fluffychixcook.com/spicy-tex-mex-scramble/
Copyright © 2016 Fluffy Chix Cook. All rights reserved.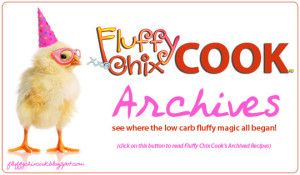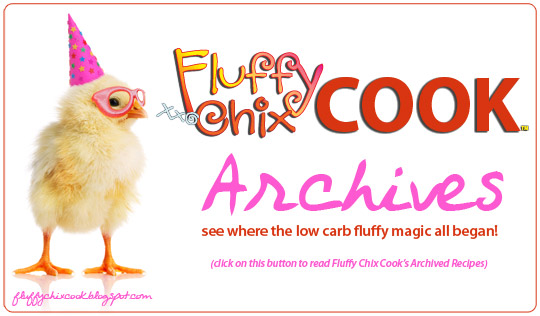 Copyright © 2010 Fluffy Chix Cook. All rights reserved.
We are not dieticians, nutritionists or medical professionals. The materials on this blog are for informational (and fun) purposes only. We do not fact check, nor do we worry about sources. Please do your own fact checking. We encourage you to look things up and check with your doctor or health care professional before acting on anything seen on Fluffy Chix Cook. xoxo