Want a Simple Recipe for Low Carb Hoecake Success?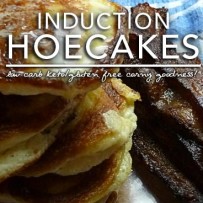 For years low carb cornbread and low carb hoecake success eluded the Fluffys and their low carb lifestyle was hoecake-less and sad. Follow Fluffy Chix Cook to learn how they developed a low carb cornbread recipe that works great for low carb hoecakes with only a minor tweak. They'll be the star of your hit parade in mere minutes. Bring "corny" back to your low carb life.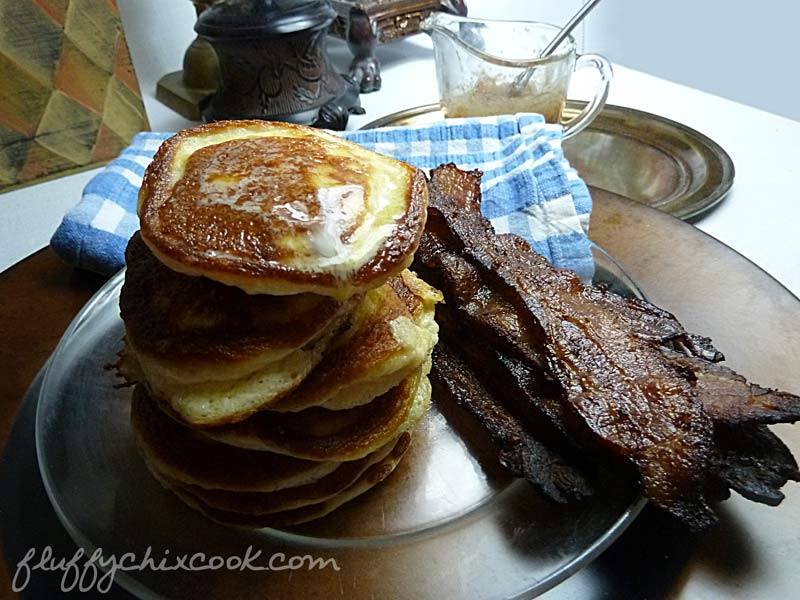 Hoecakes, as they are called in the South, have enjoyed a long ride on the popularity hit parade float. Some might even claim they've been the grand marshal of the parade for centuries, dating back to our Native American ancestors on the Eastern seaboard (Algonquians) and funneling down through the Southeast Native American tribes (Choctaw, Cherokee, etc). (Johnny cakes or Journey cakes in the north.)
In their most basic form they are cornmeal gruel, cooked by the spoonful, in pancake form, over a hot fire in a special pan called a hoe (not a real garden hoe). And hot off the fire, heaped with butter…well, I swear, you'd think you died and went to heaven. And eleventy billion people along the Atlantic seaboard, down through the South and into the Caribbean Islands and into South America can't be wrong, because they all jones for them and include them in their traditional, ancestral diets.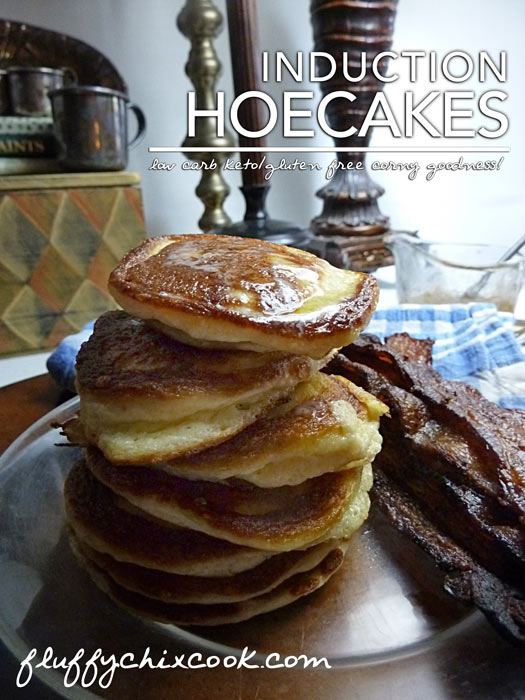 But, and it's a big butt…because hoecakes are made of corn, they are super high carb, high glycemic index too, and forbidden on a low carb diet. Wah.
Ring Ring
"Buh bye hoecakes. We have to break up with you. (It's not me; it's you.)" *Broken hearted sobbing ensues.*
In our house, growing up, we had grits, hominy, and hush puppies as regular, weekly staple, menu items (for many meals). We were no strangers to the beauty and wonder of corn, or maize as our ancestors called it. And although we never formally enjoyed hoecakes, the hush puppy was a very close counterpart. Oh boy howdy, did we "know" hush puppies!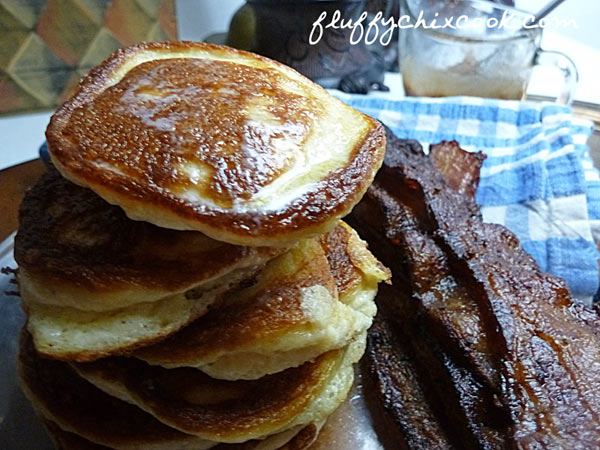 It wasn't until I hit my 20s and spread my culinary wings a little more that I found the Italian version of grits: polenta. Of course, true love followed immediately. And from there it was just a natural evolution from fried polenta (polenta set up into a loaf, sliced thinly, and pan fried in clarified butter or bacon grease) to hoecakes. What the hayull took me so long!!!?? And from there? Well let's just say "mischief happened."
If you've never tried using mini hoecakes as an "appetizer conveyance," then you've never lived. Blinis (yeast-risen buckwheat pancakes) are traditionally used as a bread to become the base for caviar, smoked salmon, oh sooo many good things. And hoecakes are the Southern equivalent to the blini, with a just a tiny bit of "Hey y'all, watch this," Southern swagger. Both Mr. Fluffy and I embraced hoecakes and celebrated their mighty position in our house and on our hit parade at any meal, or as part of any course.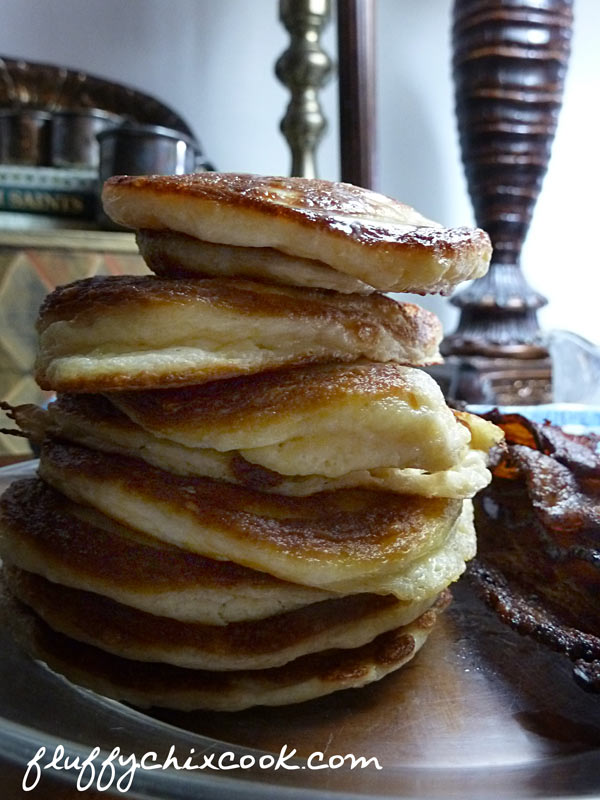 Hold me. I need a moment. So it was with a little wailing and gnashing of teeth that the Fluffys broke up with hoecakes (hush puppies and blinis) back in 2000.
Until today.
Over the past 15 years we've played around with several low carb cornbread recipes. But this past year, we developed a mighty little recipe that satisfies the cornbread itch like nobody's beeswax! It's made from simple, readily available ingredients and uses the optional, but delicious, Amoretti Popcorn Extract. Induction Cornbread bakes in 3 1/2-inch mini cast iron skillets, 5-inch cast iron skillets, or 3-4 ounce ceramic ramekins just like real cornbread.
Oh my. Thah craaaahhhhpppsss ahhhhhh sayyyuuvvveeed!!! And we knew it was only a matter of time to evolve back to our heroic hoecake. Back to Southern roots—low carb keto style.
The Fluffys are happy and content again. No more living in "deprivation" (hehe) without the foods of our people. We have one more low carb keto analog that is perfectly Induction legal, doesn't spike our blood sugar, nor cause insulin to take a trip to the stars. Our palates and habits are satisfied and we once more get to interact with our food in a personal historic manner (that's important for sustainability), enjoy a mini low carb hoecake heaped with butter and low carb salted caramel syrup, or topped with sour cream, onion, capers and smoked salmon. Life is good and we think Low Carb Hoecakes will do a lot towards furthering your long-term low carb satisfaction.
Please try our Low Carb Hoecakes in some form, at any meal—even, or especially as an appetizer bread base, then run back here and shout with wild abandon about how much you love the frick out of these tiny golden discs of joy. We believe you too will make Low Carb Induction Hoecakes the grand marshal of your personal hit parade.
(BTW, affiliate links help make the food blogging world go round at no extra expense to you. TIA in advance for your support and in helping us bring you more low carb keto recipes of shock and awe. 😀 )
Want a Simple Recipe for Low Carb Hoecake Success?
Low Carb Induction Cornbread is now in low carb keto yum in pancake form. Flavor them any way you want! Sometimes we just want to have plain ol' Southern Cornbread, so we tend toward Amoretti Popcorn Extract and a drop or two of liquid stevia concentrate.
Ingredients
2 tablespoons bacon grease
Instructions
Mix dry ingredients in a bowl. Stir to combine.
In a separate bowl, combine wet ingredients and stir until evenly mixed.
Add wet to dry ingredients and stir with a spatula until batter is smooth.
Heat a nonstick skillet over medium heat. Brush pan with melted bacon grease or lard. Drop by rounded spoonful (we use a tablespoon from the silverware drawer) onto hot skillet. Cook for 1 minute then flip. Cook on the second side until golden brown. Remove and top with extra butter. Serve immediately. Repeat with the rest of the batter.
Notes
Low Carb Hoecakes are a different spin on pancakes. The addition of the corn extract really boosts the experience! Pay attention and remove them when they are just golden. Overcooking makes the "corn" cakes turn tough and dry. We love serving these with salted caramel syrup (recipe to come).
Serving Ideas Serve with your favorite syrup and heaps of butter. They also work great as a bread slice for griddler breakfast sandwiches! Yumtastic!
Nutritional Information Per Hoecake: 55 Calories; 5g Fat (77.2% calories from fat); 3g Protein; 0.5g Carbohydrate; 0.2g Dietary Fiber; 0.3g Effective Carbs
Per 1/3 Recipe: 182 Calories; 16g Fat (77.2% calories from fat); 9g Protein; 2g Carbohydrate; 1g Dietary Fiber; 1g Effective Carbs
Per 1/2 Recipe: 273 Calories; 23g Fat (77.2% calories from fat); 13g Protein; 3g Carbohydrate; 1g Dietary Fiber; 2g Effective Carbs
Copyright © 2015 Fluffy Chix Cook. All rights reserved.
http://fluffychixcook.com/want-a-simple-recipe-for-low-carb-hoecake-success/
Copyright © 2016 Fluffy Chix Cook. All rights reserved.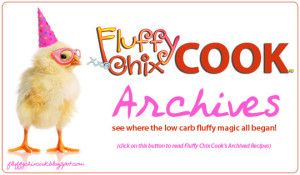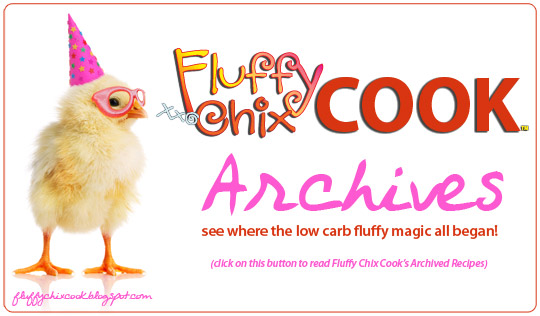 Copyright © 2014 Fluffy Chix Cook. All rights reserved.
We are not dieticians, nutritionists or medical professionals. The materials on this blog are for informational (and fun) purposes only. We do not fact check, nor do we worry about sources. Please do your own fact checking. We encourage you to look things up and check with your doctor or health care professional before acting on anything seen on Fluffy Chix Cook. xoxo