Whipped Cream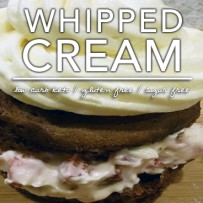 Making whipped cream can feel intimidating to beginning cooks. We invite you to explore and flex your low carb keto muscles and outwit the fear. The worst that can go wrong when whipping cream is that you create butter, but that's not such a bad thing, is it? Ketogenic diets and butter are a little like Batman and Robin, a dynamic duo. Once you realize just how easy making whipped cream can be, you'll end dependence on that stuff from a can, once and for all.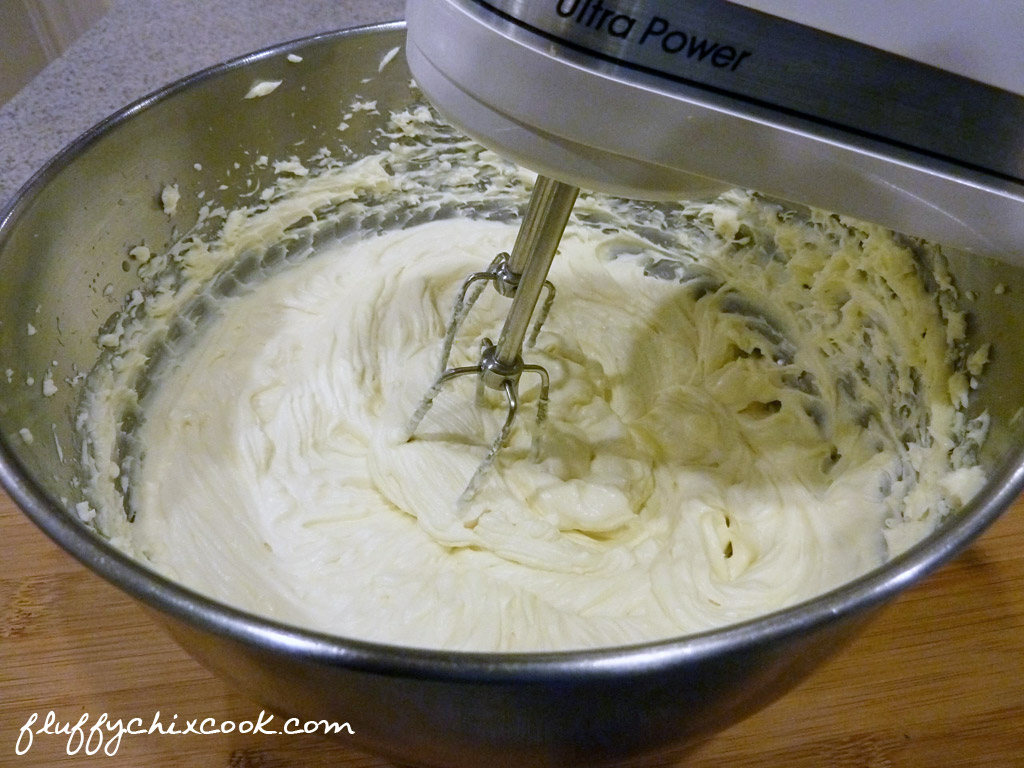 So why would you want to go to the trouble of whipping cream? It seems a little "fussy," especially when you have canned whipped cream at the grocery store, that says it has zero carb! And the sugar free version is made with sucralose. And don't forget about sugar free Cool Whip! How convenient, and pretty low carb, too. What a bargain! Right?. But not so fast…check the ingredients. ARL (always read labels)! The first lesson any of us should learn while living a low carb keto lifestyle is Always Read the Label! No exceptions, because the first time you fail, you'll bring a product home and poof! Sugar! Poof! Wheat or gluten! Poof! MSG. Poof! Soybean oil! Yuk! ARL!

And I don't mind telling you, even for this fluffy hedonist, some of the ingredients listed on the back of the "sugar free" whipped cream shout, "Hey, don't eat me. I'm really sketchy!" Maybe food manufacturers should explain why they bamboozle the American public? In the regular version which states zero carb on the nutrition label, sugar is the second ingredient, but because it falls under the USDA threshold for serving size, the food manufacturer still gets to label it "zero carbs" per serving. And if you read down a bit further, you see sorbitan monostearate. What the heck is that? Of course, you may recognize it by its other name. It's sometimes affectionately referred to as synthetic wax. And that's just in the whipped cream, don't get us started on the non-dairy whipped topping fond in the freezer department of the local HEB.
And the ingredients in the sugar free version are just as dubious: Heavy Cream, Contains 2% Or Less Of Each Of The Following: Nonfat Mil, Sorbitan Monostearate, Artificial Flavor, Carrageenan, Sucralose, Mixed Tocopherols (Vitamin E) To Protect Flavor, Propellant: Nitrous Oxide.
So is any wonder this DFSW (Delicate Flower of Southern Womanhood) prefers real live whipped cream? (And yes, you don't need to tell me about the additives in store bought cream…that it may not even bee real cream…I know, it's shameful.) There is one brand Schepps, that appears to be minimally processed with few additives. Whipped cream is simply sweetened cream. Some add vanilla extract or vanilla bean to it, but why? Just keep it simple and let the simple sweetened whipped cream do it's job.
There are tools to make whipping cream easy. Electric hand mixers, burr or immersion blenders aka stick blenders work incredibly well to produce almost "no fail" whipped cream. But the cream will break after a day or so and will begin to lose it's mojo within a few hours, unless you want to add stabilizers. If you want to do that, then you had better call on your friend, synthetic wax. I'd rather use one of Fluffy Chix Cook's favorite kitchen gadgets. We found it at a thrift store for $5. Yep, all the parts were there! It's an ISI Whipped Cream system. Of course, we had to buy the NO2 cartridges that prime each 2 cup batch (500mL) of cream. From that pint of cream, we get one quart of whipping cream. It has lasted as long as 3 weeks…yes, we were playing fridge roulette. But no gakking was involved. The cream was just as fluffy and fresh tasting, 3 weeks later!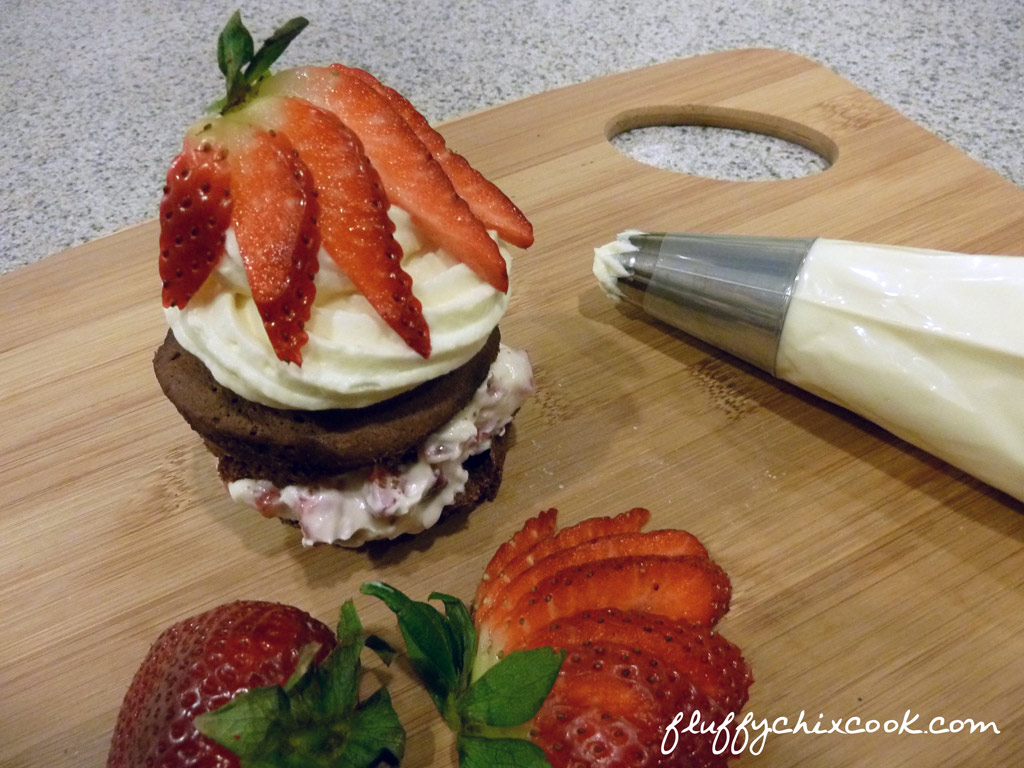 Seek out thrift stores and garage sales. We're hoping you score. In the meantime, if you want to go ahead and purchase the ISI whipper, or the deluxe stainless ISI whipper, just click on the link and it will take you to the Fluffy Chix Cook Amazon Store, where we've hand-picked our favorite gadgets and tools (and secret ingredients) that make it easy to live a low carb keto lifestyle.
Who needs whipped cream from a can? Make your own low carb keto whipped cream.
Ingredients
Instructions
Add 2-3 drops of concentrated vanilla stevia drops—or your favorite zero-calorie liquid sweetener, to heavy cream. Beat with an electric mixer, stick blender, until peaks form. Store whipped cream in an airtight container up to a week.
Alternately, use an ISI Whipper to make whipped cream. You would make around 2 cups of heavy cream with 2-3 drops of stevia, to taste, then place into canister, prime and voila! Whipped cream.
Notes
Delicious whipped cream only needs a touch of sweetener. Liquid sweetener works best because it doesn't have added carbs and combines better with the cream. You don't even need vanilla extract. We call this sweetened cream. Whipped cream roughly doubles from its liquid measure.
Serving Ideas Serve as a topping for your favorite desserts. It's great on sugar free gelatin and in hot coffee.
Nutritional Information
Per Tablespoon 26 Calories; 3g Fat (94.5% calories from fat); 0.13g Protein; 0.19g Carbohydrate; 0g Dietary Fiber; 10mg Cholesterol; 0.19g Net Carbohydrate
Copyright © 2012 Fluffy Chix Cook. All rights reserved.
http://fluffychixcook.com/whipped-cream/
Copyright © 2016 Fluffy Chix Cook. All rights reserved.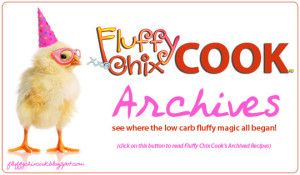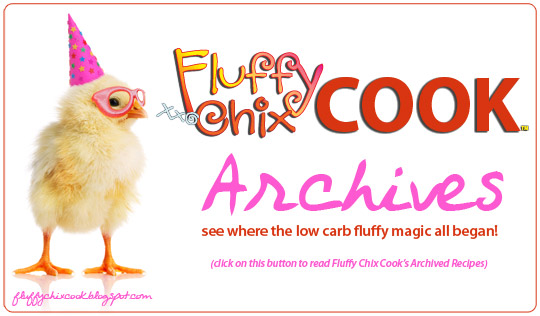 Copyright © 2012 Fluffy Chix Cook. All rights reserved.
We are not dieticians, nutritionists or medical professionals. The materials on this blog are for informational (and fun) purposes only. We do not fact check, nor do we worry about sources. Please do your own fact checking. We encourage you to look things up and check with your doctor or health care professional before acting on anything seen on Fluffy Chix Cook. xoxo