Wick Fowler's 2 Alarm Chili Copykat – Low Carb & Gluten Free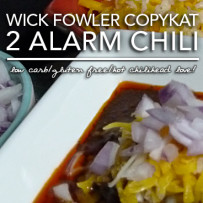 One of the easiest dishes you can make as a low carb keto lover is chili. Yes, chili is low carb as long as you leave out the masa flour thickener that's typically added at the end of cooking. Join Fluffy Chix Cook as they share the secret to award winning low carb keto chili. This is one of the Fluffys' TNT (tried and true) recipes for "quick chili."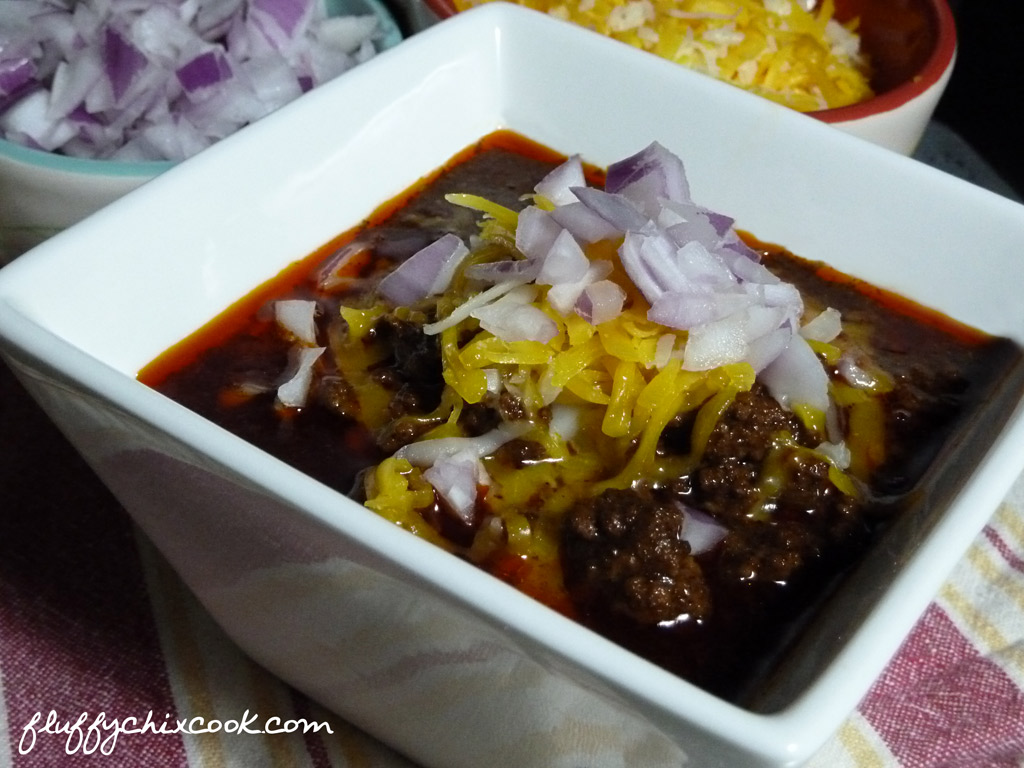 You can't grow up in Texas without having 3 chili recipes at minimum! We tend to collect them like others collect fine footwear. Oh, what are they? (And of course, none of these recipes include beans. That makes it into a "stew" and um, not a low carb keto option, either! In Texas, adding beans to chili is a hangin' offense.)  The three minimum chili recipes are: quick chili red—takes 45 minutes to 2 hours, traditional chili red (no tomatoes)—takes 2-4 hours, and green chili (actually, green chili is more of a gravy, but let's not split hairs)—takes 1 1/2 to 2 hours. We'll give you recipes for all three, in time…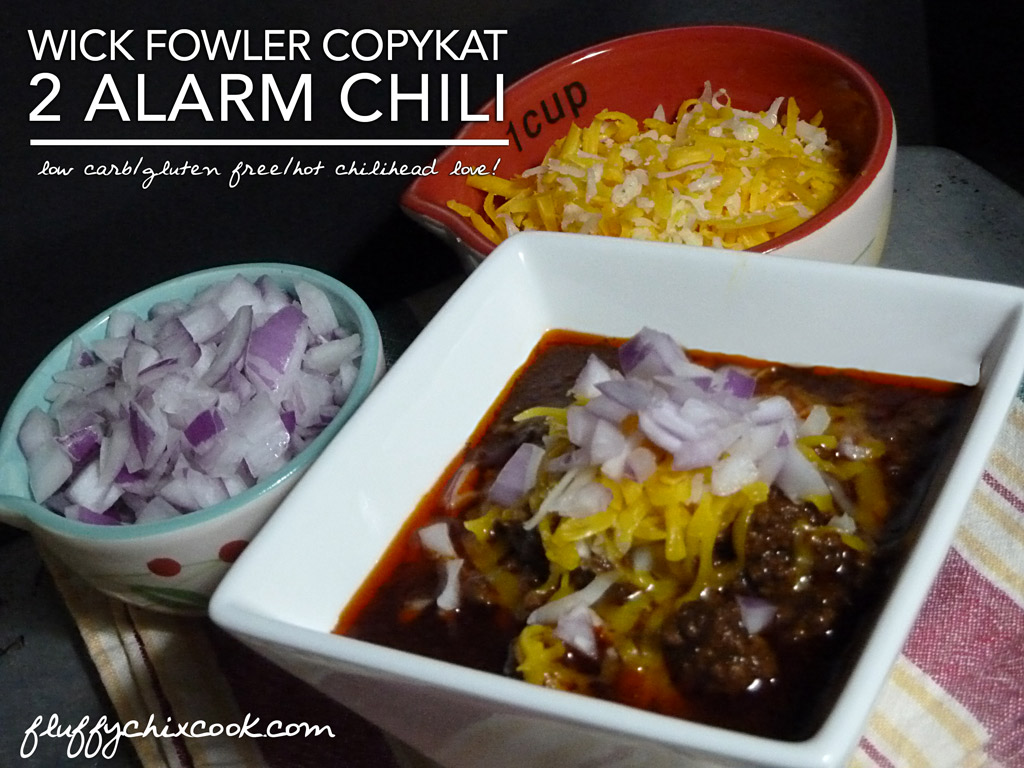 Now that the nights are turnin' chilly everywhere except south of the Mason-Dixon, and hell, why not go ahead anyway! We decided to roll-out our Fluffy Chix Cook's favorite TNT, time honored copycat recipe for a chili made famous by Wick Fowler at the Terlingua Chili Cookoff. In Texas, everyone knows about his chili mix, which used to be called Wick Fowler's 2 Alarm Chili Mix. Now, I think it's just called 2 Alarm Chili Mix. You can use it of course, omitting the masa flour (used as a thickener at the end). You will enjoy delicious, Texas chili, if you do—but we like homemade and since we have a spice cabinet filled with our staple spices, we make it homemade. It's so simple! In fact, this is our go-to "quick" chili recipe. Cook it for 30 minutes, or 2 hours. Your choice! Just add a little water here and there when the volume cooks down too low.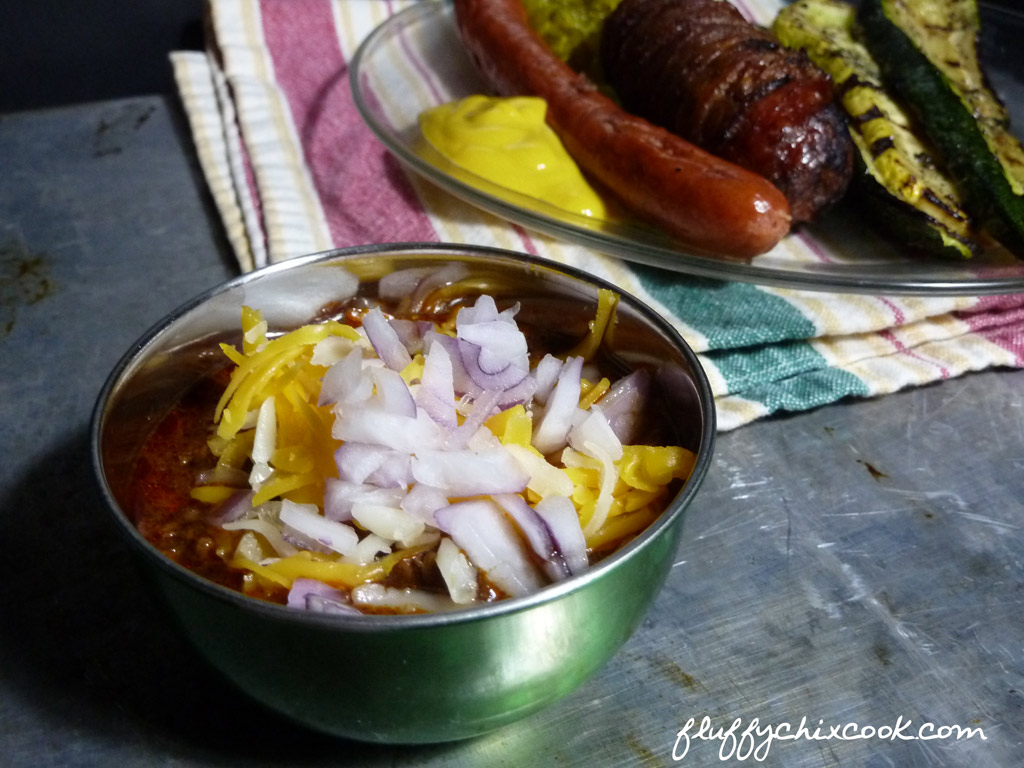 You might get a little scared by the number of ingredients. Do you want REAL, low carb keto Texas chili, or some namby-pamby, weak-wanna-be? So get to measuring. One short cut for the Wick Fowler's 2 Alarm Chili Knockoff is to go ahead and measure the ingredients for 2 to 3 recipes while you're making the current recipe. Seal them in zip top bags. Don't forget to B/T (Bag n' Tag), so you will remember the spice blend. Future chili recipes will only include you opening the bag and tumping half of it into the browning meat and onions and the remainder into the chili pot to simmer. Super duper fast at that point!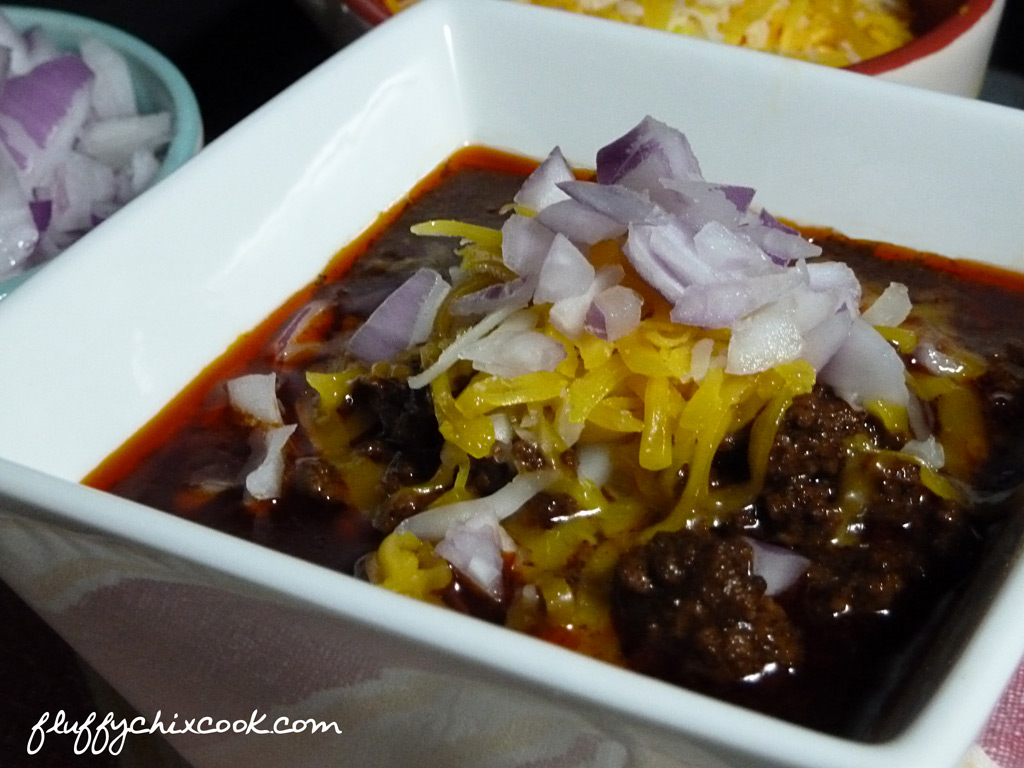 Oh and you might be tempted to scoop off the fat floating on top of the chili. Don't do it. Don't spoil it! Just stir it up and pretend you're in Kansas, Dorothy. Fat is our friend in a controlled carb keto lifestyle. And this fat is from the hamburger (which we hope is from a grass fed cow) and is packed with antioxidants from all the spices! And speaking of spices, make sure your spices are labeled "gluten free," because spices are an easy way to run into gluten contamination. We love Frontier Spices and Simply Organic.
We use this chili by itself, as part of other compound Tex-Mex dishes, and to top chili cheese coney dogs. Make it. You will be spoiled for any other chili!
Wick Fowler's 2 Alarm Chili Copykat – Low Carb & Gluten Free
Easy Weeknight Chili Recipe to warm your toes on those blustery winter nights, low carbed and spiced up! Freezes and reheats like a champ!
Ingredients
Toppings Per Serving (Optional)

1 ½ tablespoons sour cream
2 tablespoons cheddar cheese, shredded
1 tablespoon onion, chopped
Instructions
Crumble meat into a heavy skillet or Dutch oven. Add onion, and half of the spices, except cayenne. Sauté over medium high until meat is mostly browned and onion is tender –about 10 minutes.
Add tomato sauce and water and second half of spices. Add 1/4 teaspoon of cayenne pepper. Bring chili to boil and reduce to simmer. Cover and cook for 30 minutes to 1 hour or until meat is tender and flavors have developed. If necessary, add a bit of hot water if the chili cooks down too much and exposes the meat to air. You want the meat to be barely covered with water. You may add more cayenne in 1/4 teaspoon increments until you reach the heat level that suits you best.
(Optional thickening step: If you need to thicken the chili, add your choice of thickening gums, or corn bran. Oat fiber also works if you can eat oat fiber, as does glucomannan. We like the flavor and texture of this so much as it is, we don't usually bother with thickening it.)
Notes
This is a super easy Texas Chili. Use your preferred cut of beef - hamburger or chili grind and go to town. If you use chili grind, let the chili simmer longer to tenderize meat. Simmer from 30 minutes to 2 hours. The reason you add half of the spices while cooking the meat is because cooked or browned spices have a different flavor than spices added raw and cooked in a liquid. The two step addition of spices adds to the complexity of the flavors.
We also take an extra step. We like to slit a jalapeno and a habanero pepper, not listed in the ingredients. Skewer with a toothpick to make them easy to fish out after the chili is done. They add a little bit of heat but gives lots of extra flavor and don't add additional carbs. Remove them after cooking.
This chili makes great leftovers and makes a very authentic base for other low carb Tex-Mex dishes.
Serving Ideas Serve with chopped onion, shredded cheese, and a dollop of sour cream. A crisp salad with red onion and avocado makes a refreshing side.
Nutritional Information Per 6 Servings (without toppings): 440 Calories; 32g Fat (64.5% calories from fat); 28g Protein; 11g Carbohydrate; 4g Dietary Fiber; 7g Effective Carbs
Per 8 Servings (without toppings): 330 Calories; 24g Fat (64.5% calories from fat); 21g Protein; 8g Carbohydrate; 3g Dietary Fiber; 5g Effective Carbs
Toppings: 107 Calories; 9g Fat (76.8% calories from fat); 4g Protein; 2g Carbohydrate; trace Dietary Fiber; 2g Effective Carbs
Copyright © 2010 Fluffy Chix Cook. All rights reserved.
http://fluffychixcook.com/wick-fowlers-2-alarm-chili-copykat-low-carb-gluten-free/
Copyright © 2016 Fluffy Chix Cook. All rights reserved.
 Be sure to visit Fluffy Chix Cook's Recipe Index!
Copyright © 2010 Fluffy Chix Cook. All rights reserved.
We are not dieticians, nutritionists or medical professionals. The materials on this blog are for informational (and fun) purposes only. We do not fact check, nor do we worry about sources. Please do your own fact checking. We encourage you to look things up and check with your doctor or health care professional before acting on anything seen on Fluffy Chix Cook. xoxo