Beef Enchiladas in Red Sauce – Low Carb Keto & Grain Free | Gluten Free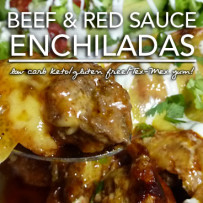 Think your favorite beef enchiladas in red sauce are off the menu now that you became a low carb keto diva or dude? Think again! Fluffy Chix Cook puts the Olé back into Tex-Mex with healthy low carb keto Beef Enchiladas in Red Sauce! These hearty and authentically Tex-Mex low carb keto enchiladas may just convince you to divorce your neighborhood cantina!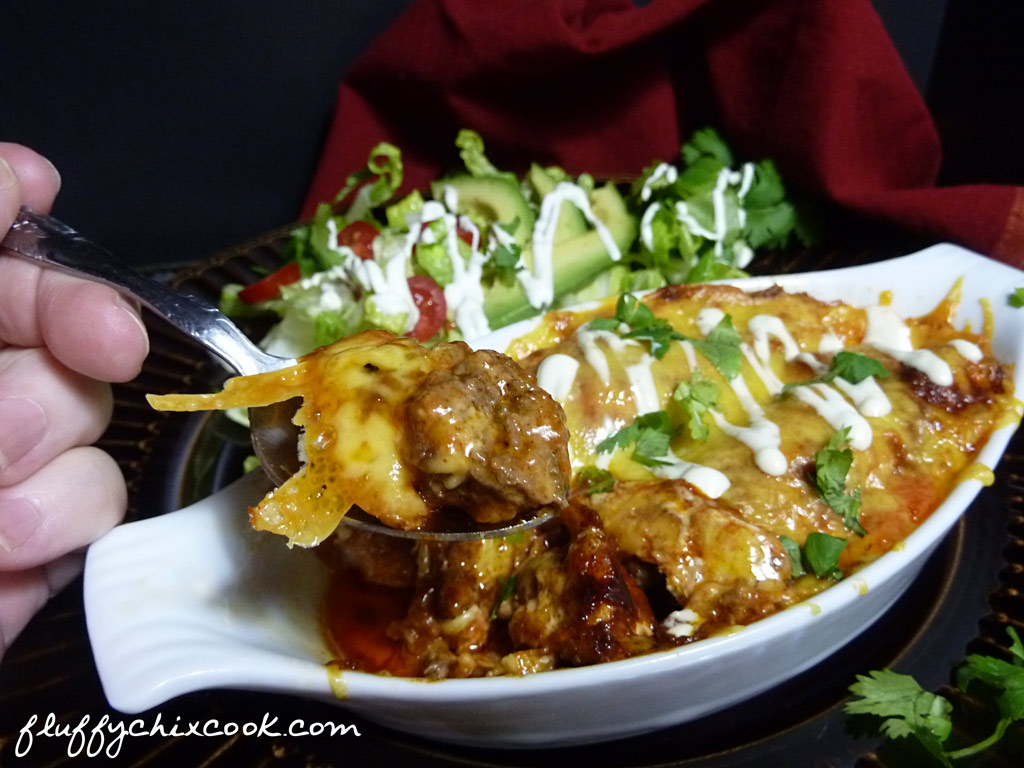 You might have guessed by now that Fluffy Chix Cook Tex-Mex for the health of it. Ok, maybe not for the health of it by normal definitions, but we love taking downhome Tex-Mex recipes we grew up eating and giving them a Duck-Dodgers-and-the-24th-and-1/2-Century low carb keto overhaul. We are happy to report not only that the new recipes are totally keto and diabetic friendly (often gluten free, as well) and have as much or more flavor as their high carb kissin' cousins.
Traditional high carbage Tex-Mex depends on sauce thickeners such as masa, or flour and most compound Tex-Mex recipes like our Beef Enchiladas in Red Sauce, require corn or flour tortillas. Yikes! Those are definitely not muy bueno in the Fluffys low carb keto book! In fact, they are outright deal-breakers. So what's a Fluffy to do???
Well lucky for us (and you), our friend DocP came up with a killer basic recipe called Psylli Wraps. Easy, versatile, and a low carbers best friend, these wraps or tortillas are made from very low carb friendly whole psyllium husks and egg whites (and some spices). Through the past year, Fluffy Chix have been going tweaker-geek on the original recipe and we now have 4 total spin offs of DocP's original recipe. Each one serves a different purpose and profile. The latest psylli wrap version, Lo Lo Wraps, are soooo very low in carbs, they're ideal for use in compound recipes such as the Beef Enchiladas in Red Sauce—a star is born!
The Fluffys also developed a recipe for super low carb keto friendly wraps, Page 4 Wraps, with only 1g Total Carbs!!! Yes! Exclamation points out the ying yang on this one! Page 4 Wraps, named for our favorite low carb doc, Eric C. Westman, MD, MHS, internal medicine physician, ketogenic diet researcher, founder and director of Duke University Lifestyle Medicine Clinic, and co-founder/director of HEAL Clinics, respected public speaker, NY Times best selling author, and author of A LOW CARBOHYDRATE, KETOGENIC DIET MANUAL: THE NO SUGAR, NO STARCH DIET, known simply as PAGE 4, around these parts. These wraps can be subbed for the Lo Lo Wraps in the recipe and taste divine. You won't believe these enchiladas are low carb!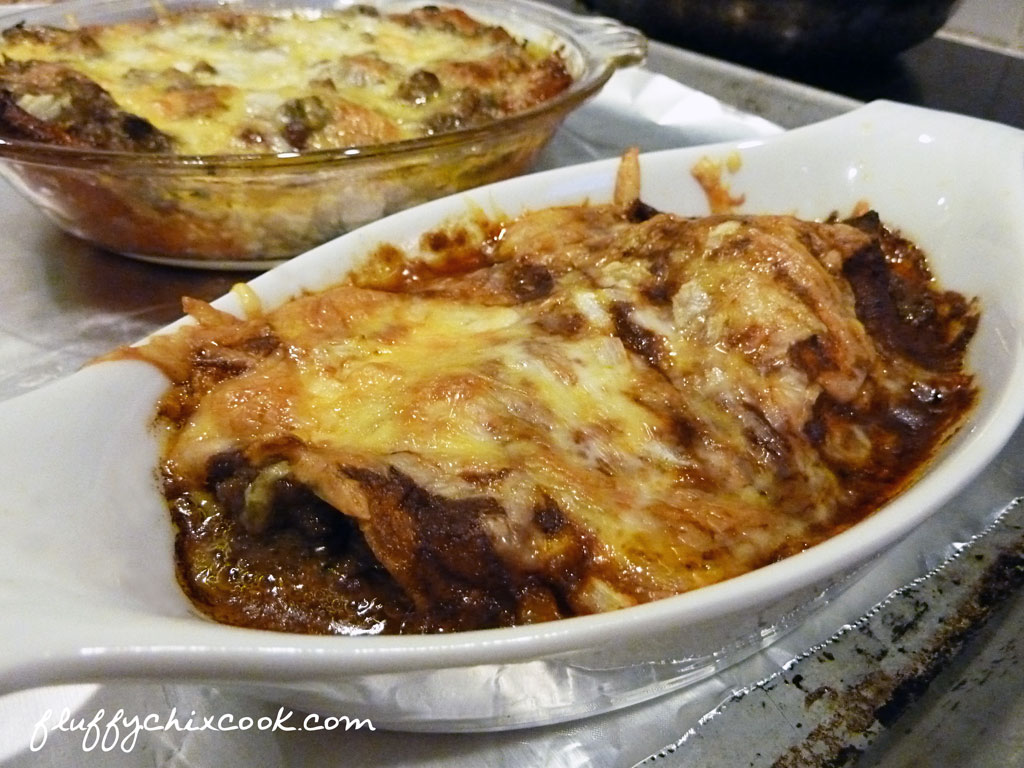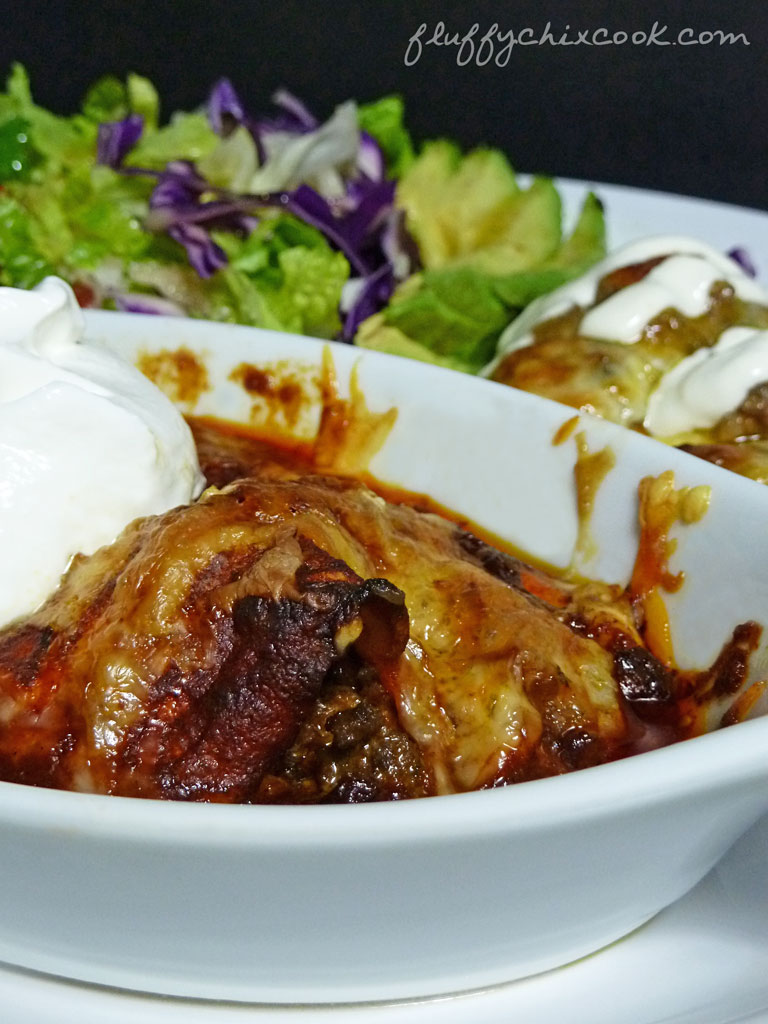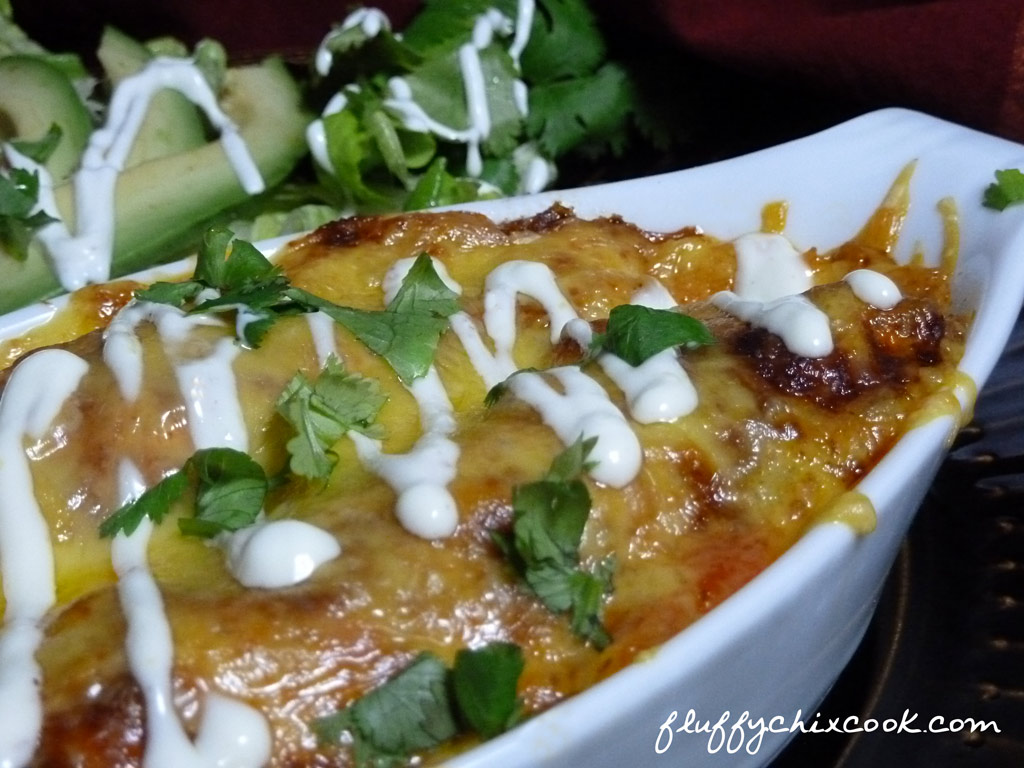 Fluffy Chix love developing compound recipes. They're like Garanimals for low carb keto recipes and food—Recanimals! Mix and match, create your own compound recipes. After all, the system works great for restaurants and caterers, why not adopt it for use in your house!?! Make a slew of easy, low carb bases, then pair and combine—add a slightly different spice to make a new twist. You can literally make hundreds of combos just from changing out one base for another. The payout is that you get to enjoy monstrously delicious low carb keto favorites without it taking tons of time. They serve 1 or 2 people—so built-in portion control! (And! You'll always know the ingredients. In fact, Fluffy Chix Low Carb Keto Recanimals make such Easy Button and tasty recipes, you might find yourself breaking up with restaurants and saving money by cooking en su casa!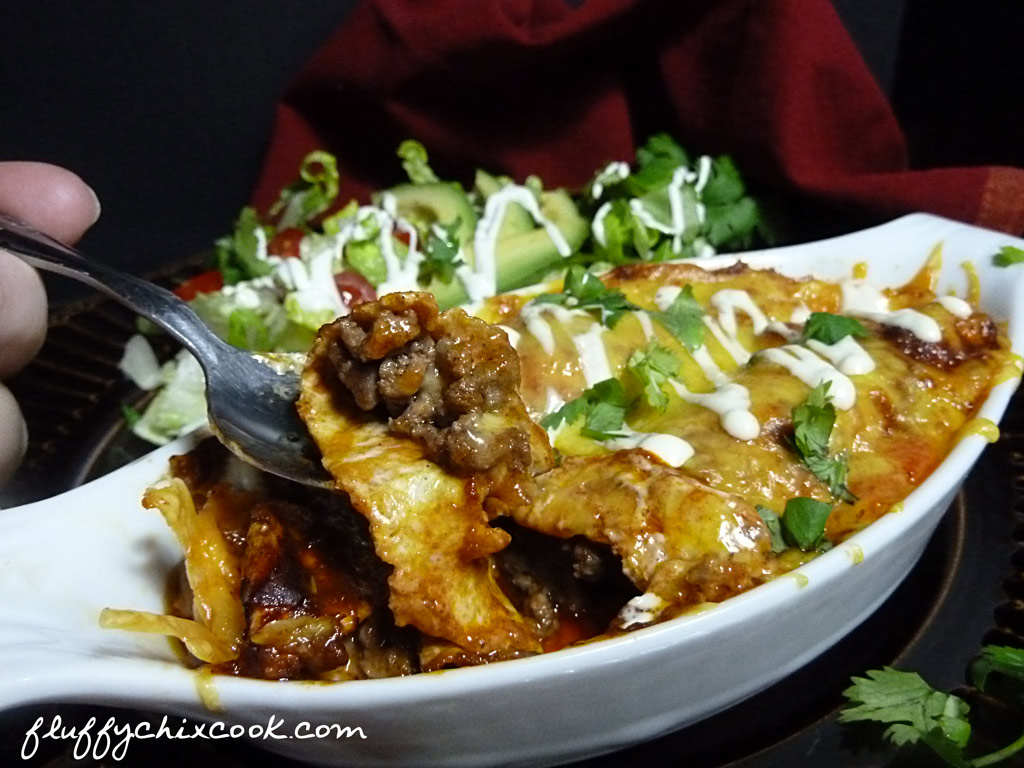 Two versatile bases we would be lost without are Skillet Beef 2 and 2 Minute Red Enchilada Sauce. (You may have already seen the Enchilada Sauce star in the Beefy Machaca Rellenos, earlier this month.) You could even sub the Skillet Beef 2 in the Beefy Machaca Rellenos for an authentic and super-tasty chile rellenos!
By the way, Fluffy Chix adore individual porcelain casseroles. The oval shape is called an au gratin casserole and is so versatile. Cook any kind of casserole designed to cook in a shallow dish in this easy-to-clean porcelain baking dish and get huge rewards. No messy portions. Easy clean-up is important, cuz let's face it, enchiladas are messy and hard on baking dishes and Fluffy Chix. Most go from freezer or fridge to the over without whining and most are microwave, oven and dishwasher safe, that's a must for the Fluffys. They are the perfect size dish to make 2 enchiladas (or 1 ginormous one). And the bonus is you insure that you get your own lion's share of the yummy sauces that collect in any casserole. No ending up with a dry, limp serving for the cook, after serving up the rest of the fam's portions! Hope you will give them a try!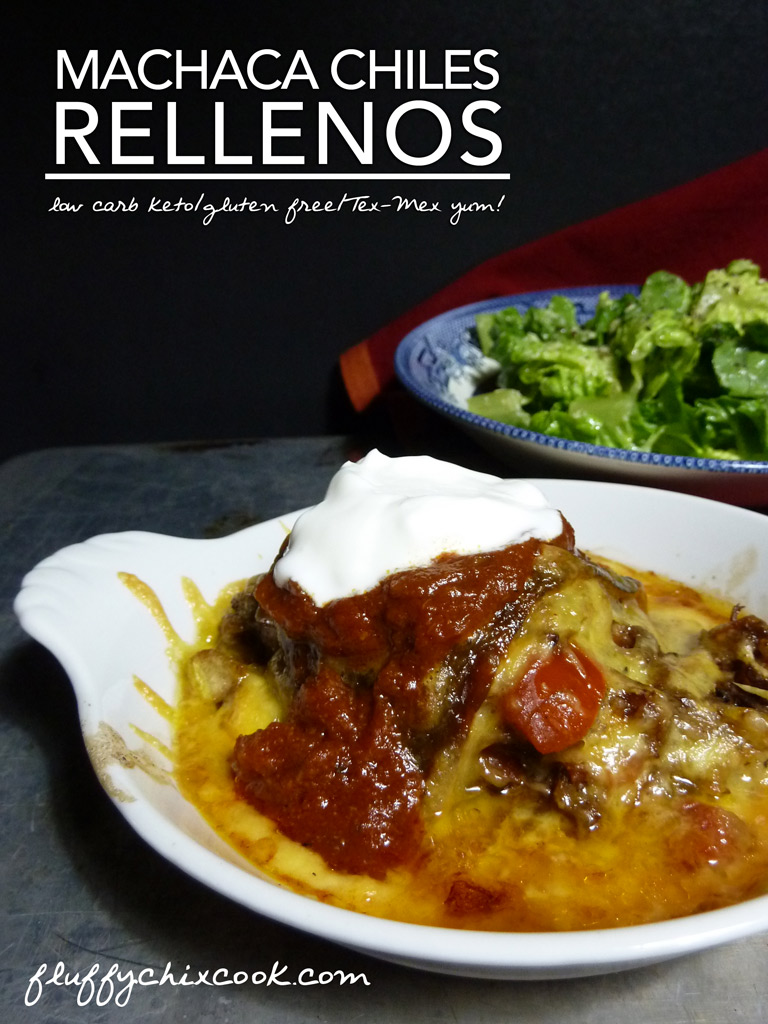 What's your favorite Tex-Mex food? Fluffy Chix wanna know!!! Please leave your favorite in the Comments below!
Beef Enchiladas in Red Sauce – Low Carb Keto & Grain Free | Gluten Free
Low carb keto Beef Enchiladas in Red Sauce taste so authentic you will wonder if they can possibly be low carb. They will quench any craving you have for the local Tex Mex cantina and won't spike your blood sugar!
Ingredients
Toppings (Optional)

1 tablespoon sour cream, mixed with water or heavy cream—or use Mexican crema
1 tablespoon fresh cilantro
Instructions
In a pie plate or plate, mix 1 tablespoon of 2 Minute Red Enchilada Sauce with 1 tablespoon of water until evenly combined. Dip both sides of the Lo Lo Wraps into the mixture to coat both sides. Place into individual casserole dish. Fill with 1/2 of the Skillet Beef 2 crumbles and 1 teaspoon of chopped onion. Add 1/8 cup (2 tablespoons) of cheddar shreds. Roll up into an enchilada and place seam side down. Repeat with remaining enchilada. Smear tops of enchiladas with Red Sauce. With a spatula, scrape any remaining Red Sauce off of plate and onto the enchiladas. Top with remaining cheese and chopped onion.
Bake 15-30 minutes until hot throughout and cheese is bubbly. Of course, if the ingredients are warm and freshly made, the enchiladas will cook much faster.
Mix sour cream with water or heavy cream until it's thin enough to drizzle over the enchiladas. Serve immediately.
Notes
This may be one of my favorite low carb keto dishes, ever. Seriously. As soon as we finished eating, we looked at each other and said, when can we have these again? Denny gave them a 9.5 out of 10 (and he never gives 10's...except that one time). If you have all the ingredients on hand, this dish takes only about 5 minutes to throw together and put in the oven!
Serving Ideas: Serve with a simple green salad and maybe some avocado and cilantro.
Nutritional Information:
Per Serving without Toppings: 597 Calories; 45g Fat (68.8% calories from fat); 40g Protein; 6g Carbohydrate; 3g Dietary Fiber; 3g Effective Carbs
Per Serving with Optional Toppings: 628 Calories; 48g Fat (69.7% calories from fat); 40g Protein; 7g Carbohydrate; 3g Dietary Fiber; 4g Effective Carbs
Page 4 Wraps Version without Additional Toppings: 646 Calories; 49g Fat (69.8% calories from fat); 43g Protein; 5g Carbohydrate; 1g Dietary Fiber; 4g Effective Carbs
Page 4 Wrap Version with Optional Toppings: 677 Calories; 52g Fat (70.5% calories from fat); 43g Protein; 6g Carbohydrate; 1g Dietary Fiber; 5g Effective Carbs
Copyright © 2012 Fluffy Chix Cook. All rights reserved.
http://fluffychixcook.com/beef-enchiladas-in-red-sauce-low-carb-keto-grain-free-gluten-free/
Copyright © 2016 Fluffy Chix Cook. All rights reserved.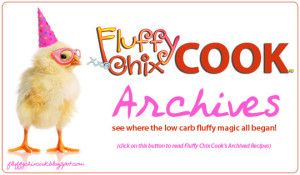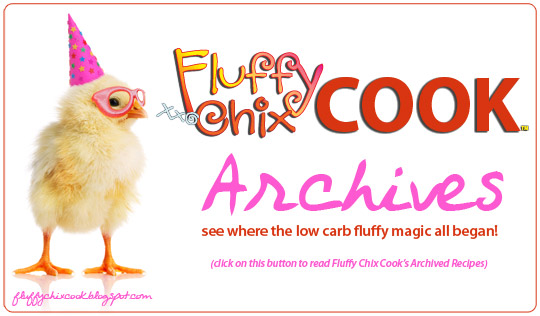 Copyright © 2012 Fluffy Chix Cook. All rights reserved.
We are not dieticians, nutritionists or medical professionals. The materials on this blog are for informational (and fun) purposes only. We do not fact check, nor do we worry about sources. Please do your own fact checking. We encourage you to look things up and check with your doctor or health care professional before acting on anything seen on Fluffy Chix Cook. xoxo