Steak & Chimichurri Salad – Easy Button Low Carb Recipes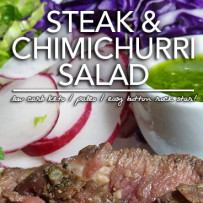 Everyone wants an easy button these days—especially when it comes to weeknight cooking and easy low carb keto recipes. We all want the instant gratification of the drive-through window or take-out place without all the unhealthy high glycemic carbs and bad fats that come with (and the hidden sugars) them, driving our blood sugar and insulin into oblivion and making us sick and fat. But with a little planning, Easy Button low carb keto recipes come together in 10-15 minutes or less and are perfectly diabetic friendly, thanks to Fluffy Chix Cook.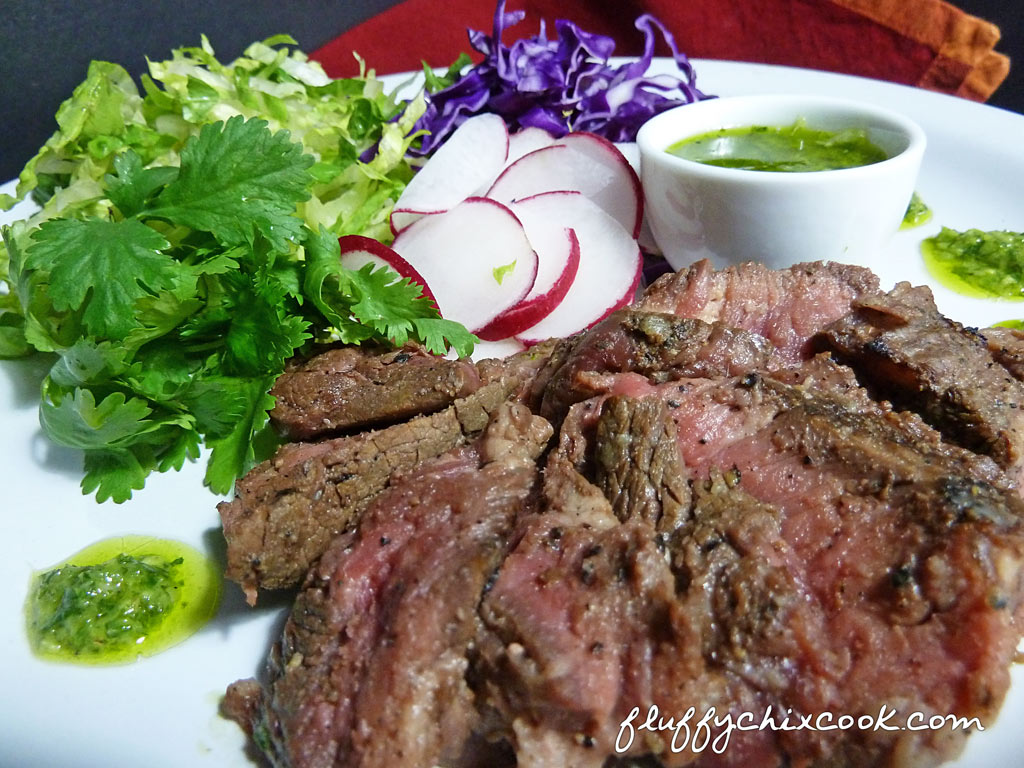 Easy Buttons and leftovers are best friends. In fact, they've been going steady in the Fluffy Chix Roost for as long as I can remember. They're such Steady Freddys that I call leftovers "Lucky Leftovers," because we're lucky (and blessed) to have them in the meal time arsenal. They have saved us from the dreaded pizza or Chinese delivery guy more times than you can imagine. We're pleased to report our permanent break-up.
The beauty of Lucky Leftovers is the ability to morph a base recipe into an entirely new dish (serving only 1 or 2 people), with a completely different flavor profile or completely different perception of what you're eating. You no longer eat leftover steak (as great as it is, it can get boring for 3-4 meals straight). Instead, combine Dad's Basic Steak aka Great Steak with sauce-tastic, Chimichurri Sauce and serve it with a crisp, crunchy, fresh salad—poof! It's another meal. Make Steak & Chimichurri Street Tacos by adding feta or Monterey Jack cheese, avocado and sour cream, tucked into very low carb keto-licious Induction-friendly Psylli Wraps! There's 2 new meals that don't resemble boring low carb leftovers. Get the idea?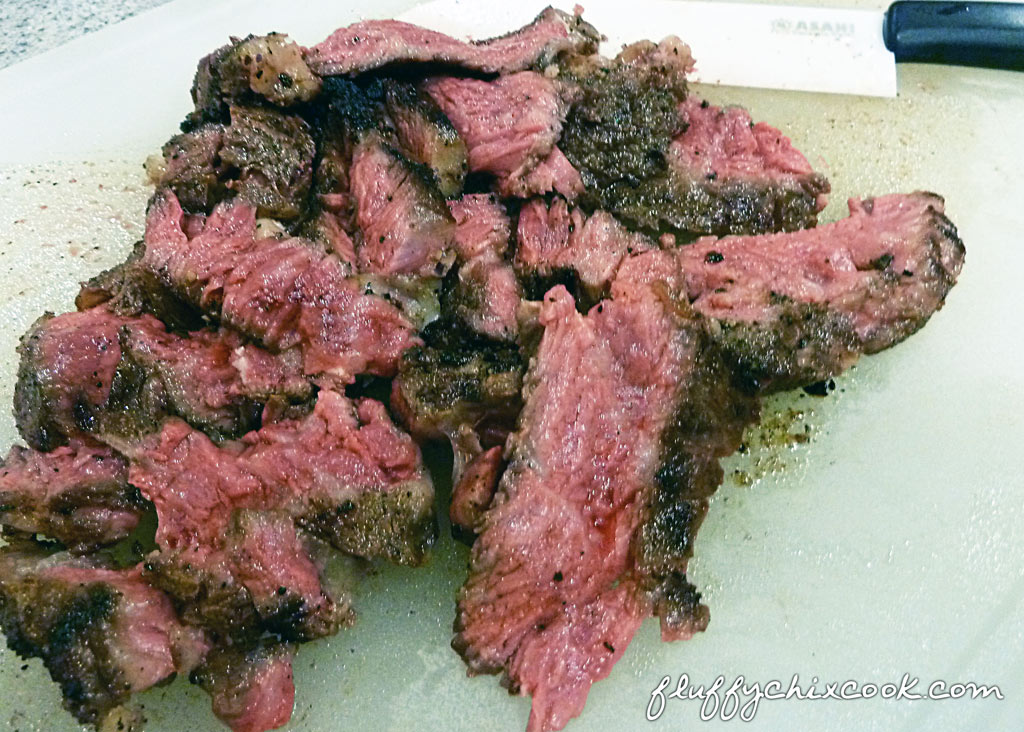 The key to Easy Button cooking is having the individual elements made ahead—and most times, those individual elements exist because they were used in a previous meal. It's like garanimals for food! Mix and match! Create fusion. Shake things up. This salad comes together in 10 minutes because it only takes me 5 minutes to make the Chimichurri Sauce, and all the veggies are washed and prepped. Oh and the main feature, Dad's Basic Steak aka Great Steak lives as Lucky Leftovers in the ice box, yearning to be set free in this quick, low carb, salad. A quick chop of the veggies and bang! This Steak and Chimichurri Salad looks like a low carb keto rock star—cuz it is! And it only took 10 minutes. In case you didn't get that the first 8 times, it took 10 minutes.
Now admit it. Wouldn't you rather have a gorgeous plate of this real food, than eat a soggy taco from a smelly, greasy, take-out bag? Listen to this Fluffy Chix. Don't eat SAD. Eat healthy and exercise your Easy Button! Courtesy of low carb keto living. Yeah, it's a biatch…I'm so bored.
Said no one. Ever.
Steak & Chimichurri Salad – Easy Button Low Carb Recipes
No one would ever believe this salad is the result of Lucky Leftovers! Leftover, grilled, rare to med-rare steak (your choice, any cut), and a quick Chimichurri Sauce make a recipe that feels brand new in less than 10 minutes! So good, this low carb keto recipe gets an Easy Button!
Ingredients
2 cups romaine hearts, shredded
1/3 cup red cabbage, shredded
2 radishes, sliced thinly
2 tablespoons fresh cilantro, coarsely chopped
1 tablespoon House Vinaigrette Salad Dressing
3 tablespoons [Chimichurri Sauce| http://fluffychixcook.com/chimichurri-sauce-naturally-low-carb-keto-love/
4 ounces Great Steak
Topping (Optional)

1 ounce blue cheese
Instructions
Toss the first five ingredients together with House Vinaigrette. Serve thinly sliced grilled steak on the side with Chimichurri Sauce for dipping!
Steak & Chimichurri Salad tastes great with blue cheese. Try adding an ounce of crumbles!
Notes
Making an easy protein for the previous night's dinner, then enjoying the leftovers the next day is so convenient and a real time saver. Make this gorgeous Chimichurri Sauce aka dressing the night before too, and have it ready to enjoy. The sauce is magic on chicken and seafood of all sorts—and don't get us started about how good it is on pork and lamb!
Serving Ideas Serve with a tall sparkling water with plenty of ice.
Nutritional Information
Per Serving without Blue Cheese: 438 Calories; 32g Fat (65.5% calories from fat); 30g Protein; 7g Carbohydrate; 2g Dietary Fiber; 84mg Cholesterol; 5g Effective Carbs
Per Serving with Blue Cheese: 538 Calories; 40g Fat (66.9% calories from fat); 36g Protein; 8g Carbohydrate; 2g Dietary Fiber; 105mg Cholesterol; 6g Effective Carbs
Copyright © 2012 Fluffy Chix Cook. All rights reserved.
http://fluffychixcook.com/steak-chimichurri-salad-easy-button-low-carb-recipes/
Copyright © 2016 Fluffy Chix Cook. All rights reserved.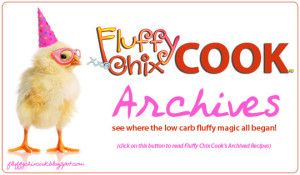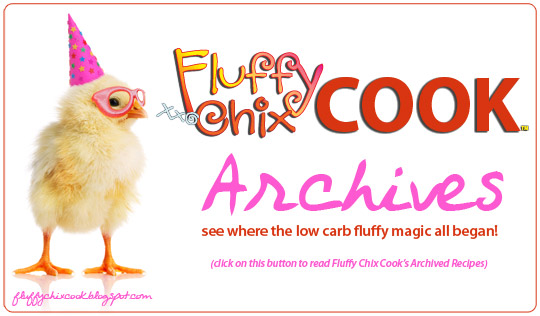 Copyright © 2012 Fluffy Chix Cook. All rights reserved.
We are not dieticians, nutritionists or medical professionals. The materials on this blog are for informational (and fun) purposes only. We do not fact check, nor do we worry about sources. Please do your own fact checking. We encourage you to look things up and check with your doctor or health care professional before acting on anything seen on Fluffy Chix Cook. xoxo