Sugar Free Dried Cranberries – Winning the Low Carb Craisin Wars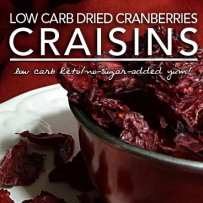 It doesn't take long to know that fruit often represents conflict and challenges in a low carb keto diet. Most fruit is pretty high in carbs, relatively speaking. But if you crave fruit on your low carb diet, Fluffy Chix Cook has a solution. Low carb, sugar free cranberries (really no-sugar-added-cranberries) add great fruit flavor and chewy texture to your diet. Low carb dried cranberries taste delicious in salads, on sandwiches, with proteins and side dishes. Enjoy sugar free craisins, again!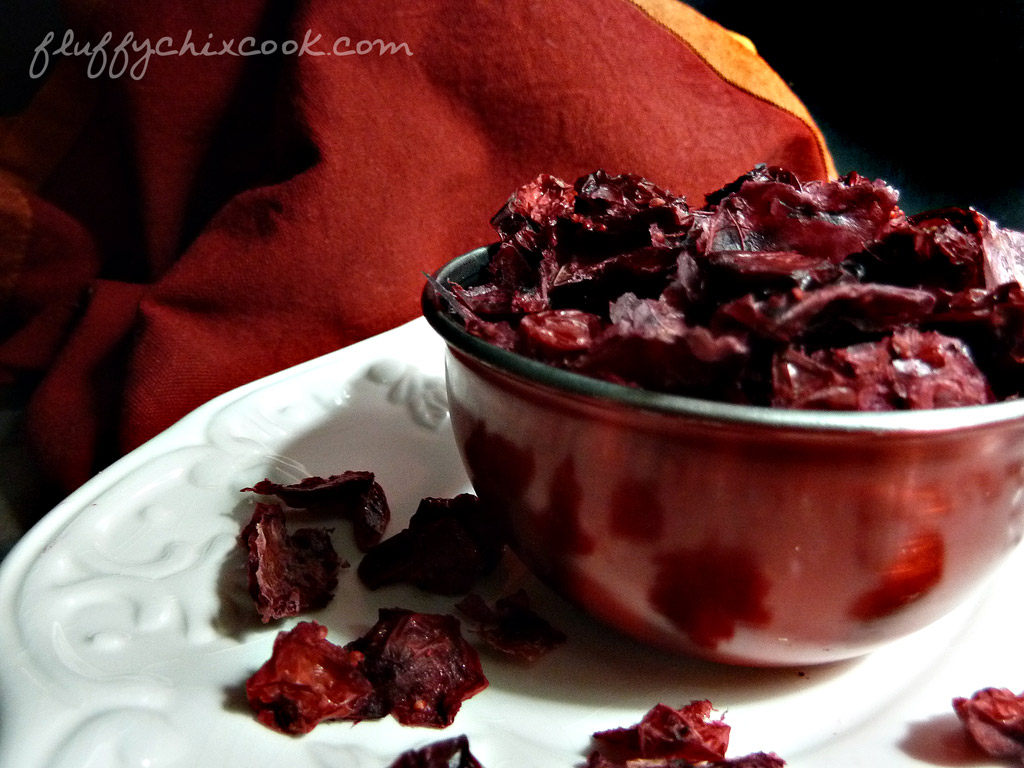 We've been enjoying low carb homemade cranberry juice and low carb, sugar free dried cranberries, craisins by any other name, for more years than we can remember. In the early days of the low carb Craisin Wars on LCF (a low carb support board), we went through incredible gyrations to get the perfect sugar free cranberry or craisin: cutting cranberries in half or quarters, oy veh (very time consuming), especially dear Kevin, an LCF dynamite cook who helped so many with his recipes. Kevin is cooking for the Lord, now and we all still feel his absence. He held a prime position in the low carb Craisin Wars.
But it was through sheer accident, I stumbled upon this current method, when I was going through  chemotherapy. I had such bad UTI infections and needed to drink cranberry juice. I knew I didn't want to drink the high sugar kind and couldn't have the concentrated stuff, so I made homemade juice from fresh or frozen cranberries (available year round). The docs don't want you taking any antioxidants, such as concentrated cranberries, during chemo. They think the antioxidants make the cancer resistant to the chemo. So homemade it was going to be! I was surprised how low carb the juice and berries turned out—not even kicking me out of ketosis when consumed in moderation. I would steep berries in water and strain the liquid, using the juice and then use the cranberries to make low carb cranberry sauce and low carb chutney. But you only need "so much" sauce and chutney! I decided I would try dehydrating them and see where it led.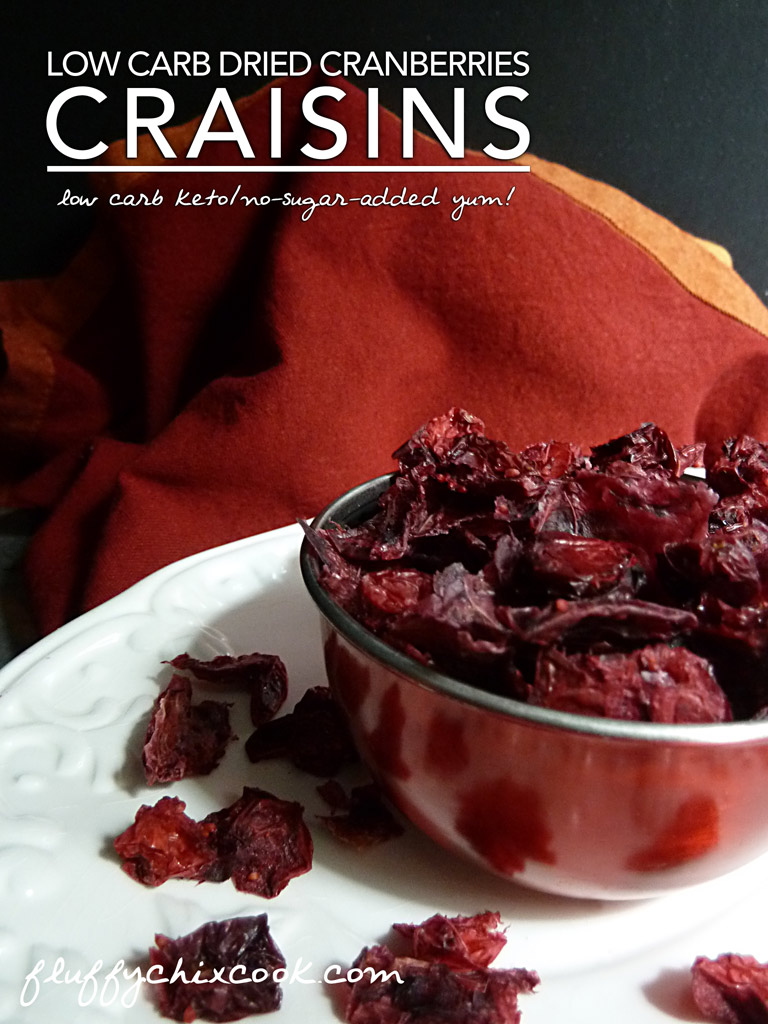 Learn More About Cranberry Nutrition
Fresh or frozen (find them with the frozen fruits) cranberries are naturally very low carb and high fiber. 
Cranberries are packed with nutrition
: lots of Vitamins C and K, among other nutrients. Cranberries also help fight urinary tract infectiong (UTIs) by preventing e Coli, one of the main bacteria that cause UTIs, from adhering to the walls of the urinary tract. Although we limit fruit in our low carb keto way of eating (WOE) because of carbs and fructose, cranberries are one fruit to try to keep in your diet—if the handy blood sugar meter allows.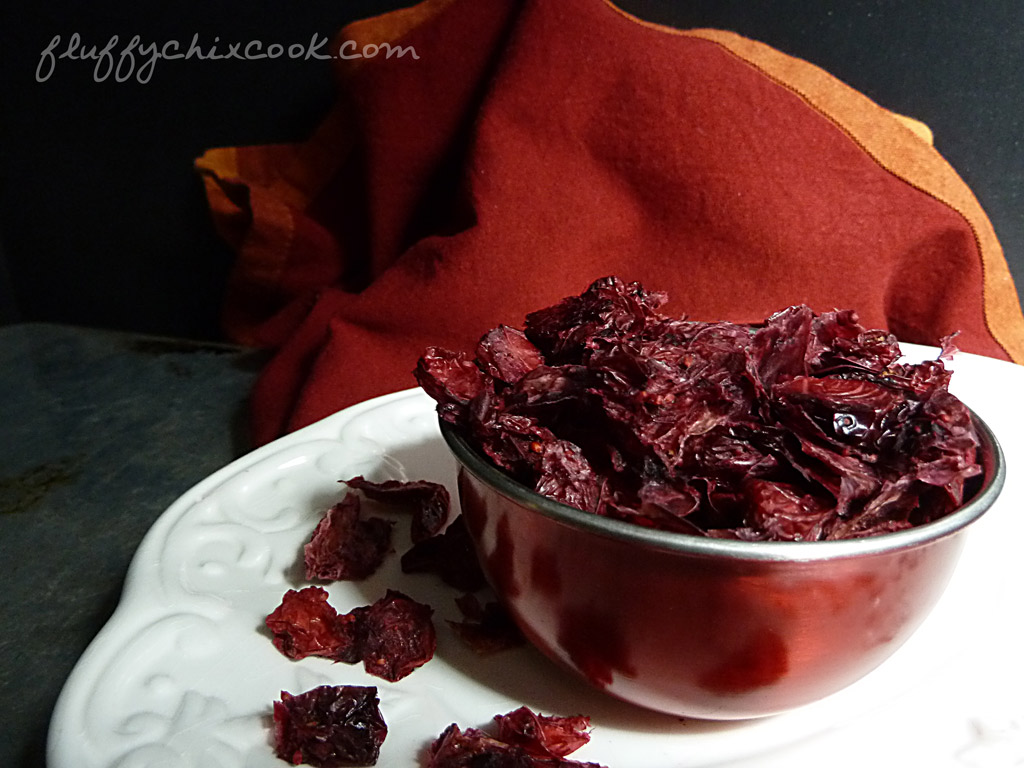 Through all the trials during the Craisin Wars, we never figured out that adding oil keeps berries moist—we knew glycerin was always an option, but since some think the carbs in glycerin do affect our blood sugar, that wasn't an option for us. Then I ran across a beautiful low carb sugar free craisin post by Carolyn Ketchum of All Day I Dream About Food. Carolyn broke the cranberry code! She started adding oil to her split cranberries, resulting in moist, plump, dried, sugar free cranberries. Can I get a, "Hallelujah!" please? So be sure to fly on over and check out Carolyn's Craisin Recipe! She does things a bit differently and I haven't tried it, but her sugar free cranberries and recipe look amazing.
I began adding just a teaspoon of expeller pressed coconut oil, a highly saturated fat able to withstand moderate adversity without getting rancid. And since there is so much air flowing over the berries for a long time, I didn't want the oil to get rancid. The coconut oil did the trick and the best part is, it didn't taste like coconut! The resulting berries were definitely more moist and retained nice chew, even a little fluffiness! Score!
So don't feel deprived because you lack low carb, sugar free dried cranberries! Embrace your kitchen! Make them yourself. So easy. So lovely. Enjoy them legally low carb keto and diabetic friendly.
Dehydrating Note If you don't have a dehydrator (you can find them at thrift stores for $5-$10 bucks) or purchase one online through Fluffy Chix Cook's trusted Amazon partner, simply dry the berries on a parchment or nonstick aluminum foil lined baking sheet on the lowest setting on your oven for much less time—start checking at about 1 hour. They will probably be done in 1 to 11/2 hours. You can also prop your oven door open with a wooden spoon of an aluminum foil "snake" to lower the temperature even further. You want a low temp to preserve the moisture and keep them from turning into little hard, crackly, shards.
Fluffy Chix Cook recommend a couple of different brands of dehydrators based purely on the amount of food you want to regularly dehydrate. We've used a Nesco American Harvest Food Dehydrator for years and its paid for itself many times over! We routinely make crispy nuts (of all varieties),  zucchini, yellow squash red bell peppers, green bell peppers, green onions, basil, parsley, cilantro and mint, sugar free cranberries, kale, radish, and spinach chips, sugar free berry fruit leathers, and jerkies of all varieties. The Nesco American Harvest FD-1018P-1000 Watt costs about $133, on sale. It will likely out-live the Fluffys and go on to serve the next generation. But it doesn't stop me salivating after the king of dehydrators, Excalibur.
Excalibur 3926TB costs about $100 more than the American Harvest dehydrator, but it also has WAY more drying space and I think it has a superior (more refined) method of drying. Many of my friends have the Excalibur (especially the ones who garden and have to handle so much produce) and rave about how well it works. It's absolutely divine for jerky, a Fluffy favorite. The main drawback of Excalibur is real estate. The dehydrator is big and takes up a lot of kitchen real estate!
Hope you will give sugar free cranberries a try, then come back and leave a comment to tell us what you thought!? We think you will be so thrilled to have sugar free craisins back in your life; and at only 2g of total carbs per 2 tablespoon serving, that's ginormous!
Find more Fluffy Chix Cook recipes in our Recipe Index! And learn how to make homemade sugar free cranberry juice from Fluffy Chix Cook's Archive Recipe Files.
Sugar Free Dried Cranberries – Winning the Low Carb Craisin Wars
Drying cranberries to make your own low carb craisins (low carb dried cranberries) is so simple once you know the secrets!
Ingredients
Instructions
Wash cranberries and discard bruised fruit. Fill medium sauce pan with 8 cups of water. Add cranberries and bring to a boil over high heat. Once the water boils, reduce to a simmer (medium). Slowly simmer cranberries until berries begin to pop. Turn heat to low and cook 5 more minutes. Remove from heat, cover pan with a lid and let cranberries steep for 10 minutes.
Drain the berries in a wire mesh strainer. Try not to squish or press the fruit. Let it drain over the sauce pan until most of the liquid has drained. Pour off all but 1/4 cup of juice. Don't throw the juice away! That is now low carb cranberry juice and it's perfect with a shot of it into sparkling water! Pour juice into Mason jars, seal and store in the fridge. You can read the full cranberry juice recipe in Fluffy Chix Cook's Recipe Archives.
Add sugar free syrup to the 1/4 cup of juice. Add coconut oil and let it melt.
Toss berries with the sweetened juice and let them sit a few minutes. Toss again and drain the berries one last time. You can add this drained liquid to the juice bottles! Don't waste a drop!
Place berries on the fruit leather/jerky tray included with your dehydrator. Spread them out and do what you can to keep them in a single layer. Dry on the fruit setting until berries are dry but still retain bite and chewiness. We do ours on 105° for about 4-5 hours depending on how wet the berries are, going into dry.
You will have to pry dried berries off the sheet and tear them apart into separate berries or in some cases, tear the cranberry fruit leather into small berry-sized pieces. Store in a zip top bag or jar in the fridge or freezer. We vacuum seal our jars to keep them fresh, longer. (Pssst! These must stay refrigerated to deter mold growth.)
Notes
Expeller pressed coconut oil does not taste like coconut. Expeller pressed coconut oil is still considered a "healthy oil" and will help keep the berries moist, instead of papery. Coconut oil can withstand the several hours of drying time in the dehydrator without turning rancid—unlike oils that are not mostly saturate. Olive and vegetable oils might go rancid with that level of oxidation.
The carb counts on both the low carb craisins and low carb cranberry juice are guestimates. There's no way to tell precisely how many of the carbs stay with the fruit and how many go into the juice; consumed separately. So for guestimating, we figured 3/4 of the carbs and fiber would go into the craisins and 1/4 would be figured into the juice. For the diabetics out there, please be sure to test with your meter the first couple of time your eat or drink our cranberry concoctions, ok? Our blood sugars have been fine with it, but we are all so different!
Serving Ideas Serve with salads and as a garnish on veggies!
Nutritional Information
Per Tablespoon: 4 Calories; trace Fat (25.1% calories from fat); trace Protein; 0.92g Carbohydrate; 0.36g Dietary Fiber; 0.56g Effective Carbs
Per 1/8 Cup Serving: 8 Calories; trace Fat (25.1% calories from fat); trace Protein; 1.83g Carbohydrate; 0.72g Dietary Fiber; 1.1g Effective Carbs
*Only count 3/4 amount 8oz towards dried cranberry totals. The other ¼ amount will go into calculating the nutritional information in the cranberry "juice."
Copyright © 2012 Fluffy Chix Cook. All rights reserved.
http://fluffychixcook.com/sugar-free-dried-cranberries-winning-the-low-carb-craisin-wars/
Copyright © 2016 Fluffy Chix Cook. All rights reserved.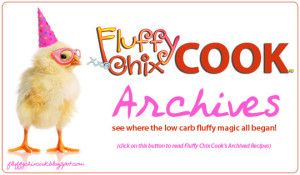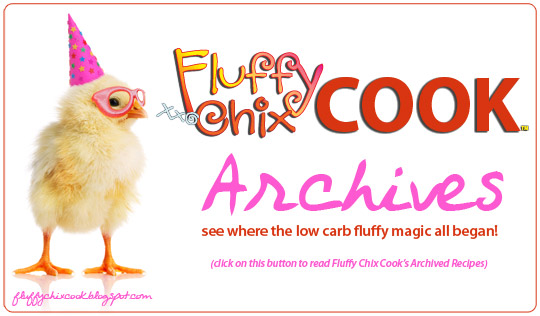 Copyright © 2014 Fluffy Chix Cook. All rights reserved.
We are not dieticians, nutritionists or medical professionals. The materials on this blog are for informational (and fun) purposes only. We do not fact check, nor do we worry about sources. Please do your own fact checking. We encourage you to look things up and check with your doctor or health care professional before acting on anything seen on Fluffy Chix Cook. xoxo