Best Keto BBQ (Barbeque) Wings – Low Carb Sugar Free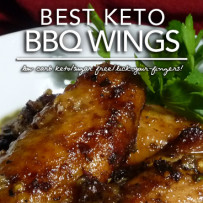 Ok, we're just gonna tell you. If you're calorie conscious, this low carb keto chicken wing recipe is not for you. Click to another page and walk away. Walk away. But if you love low carb chicken wing recipes, Fluffy Chix Cook would put Best Keto BBQ Wings recipe up against the best of the best of the best. They're filling, comforting and taste like you slaved over them for days.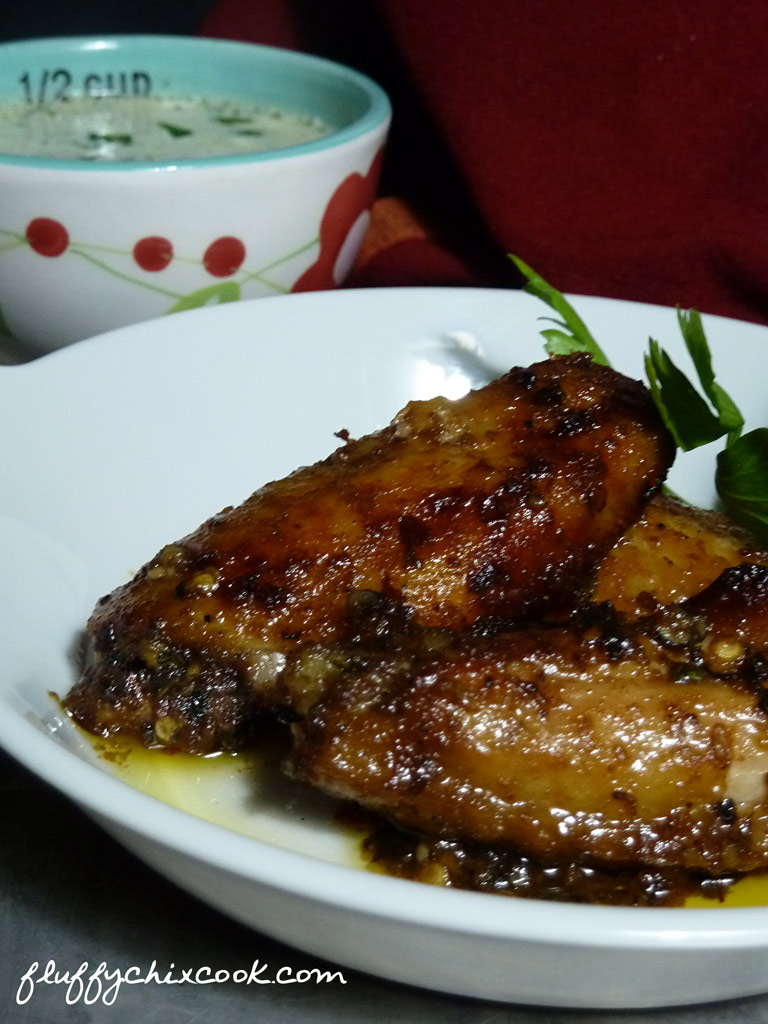 We make 5 low carb keto wing recipes in this Fluffy Chix nest and they all bear mention, because yes, Virginia, they are THAT fabotastic—no blushing, no dissembling or false modesty. Each recipe is better than the previous and any of them will blow your ever-lovin' low carb mind. I cain't make this stuff up.
Stick around and you will get all 5 keto wing recipes: Best Keto BBQ Wings (yes, we're talking about this recipe), Heroin Wings, Korean BBQ Wings, Asian Wings and Suicide Wings aka Blazin' Saddles Wings.
As amazing as any of these low carb chicken wings taste, sadly, not one is low calorie. So if that is an issue we have two suggestions:

1. Walk away. Just walk away. Seriously. Go read another Fluffy Chix Cook recipe that won't get your knickers in a twist.

2. Sub out the wings for boneless, skinless chicken boobs or frog legs or fish or shrimp. You will have to wait for Fluffy Chix Cook to make a recipe with these substitutions at some time in the future, that pleases our schedule, or get busy with your kitchen mitts, you culinary tweaker geeks! The timing and cooking instructs would be madly different and there will still be a bushel of butter and oil in the recipe—so quite likely, you'd do just as well counting this meal as a low carb indulgence, eat 'em and quit your belleh-achin' for one meal, and one meal only.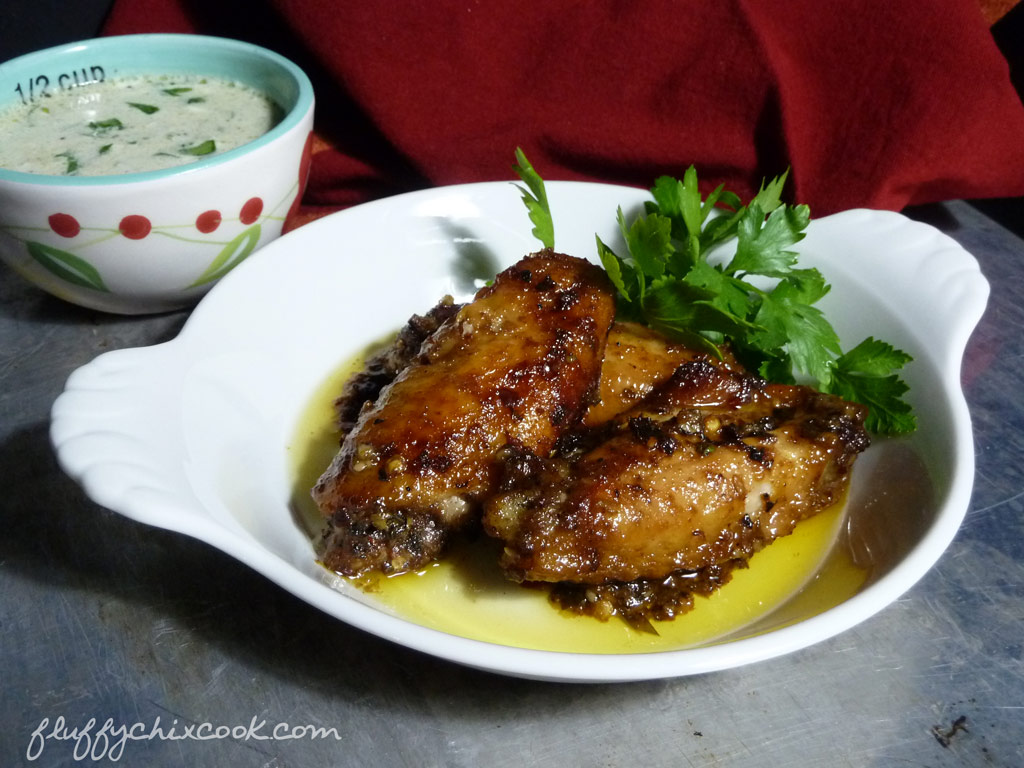 Even though fat is our friend, especially in a low carb keto lifestyle, we don't eat these monster BBQ Keto Wings every day. We wouldn't lose. Why? Cuz we're old! And we don't do cross-fit or Slow Burn for days on end, although we should and we do have our calendars marked to begin. We have metabolic issues that make losing difficult and slow-going; all the more reason to shake things up and get moving.
Dr. Atkins, nor Dr. Westman, nor any of the low carb keto doctor-gurus ever claimed calories didn't count, they just prefer we begin by trying to get in touch with our hunger and only count carbs (in the beginning). It doesn't mean that a calorie deficit isn't important. Dr. Peter Attia of NuSi and his personal blog, Eating Academy, answers the whole "do calories count" question much more eloquently than Fluffy Chix who love to cook but have no formal training in health or nutrition.
In the No Sugar No Starch Intro to Ketogenic Diets 101 video, by Dr. Eric Westman, noted bariatric specialist and internist, director of Duke's Lifestyle Medicine Clinic, Westman reminds us. ketogenic diets are a tool to help reduce and moderate quantity. And guess what happens when we moderate quantity? Calories naturally reduce, even eating high fat, low carb ratios. Ketogenic diets can often become defacto low calorie diets relative to our previously consumed personal caloric quantities.
While it is possible to be full after 4 of the Best Keto BBQ Chicken Wings, most likely you will want to eat about 1/3 of the recipe. Hey, I'm being realistic, not tellin' you what you'd like to hear. You'll probably want 6-8 of these bad boys. So that's why you probably want to eat Best Keto BBQ Wings only now and then, not every single night, day-in-day-out.
But we all need indulgent meals every-so-often, if to do nothing else than to give a small vacation from feeling like it's a diet, rather than a lifestyle. Don't get caught in the diet fatigue trap.
It's an easy recipe. Uncomplicated. But, it does take a little commitment. You must agree to go steady with these wings for about 70-90 minutes in order to achieve possible Harry-Met-Sally-delicatessen-scene-satisfaction. And believe me. We ALL want that from our BBQ wing recipes. Don't we?
 Tip Toe Through The Keto Kitchen with Fluffy Chix Cook & See The Time Lapse Journey of Best Keto BBQ Wing Romance!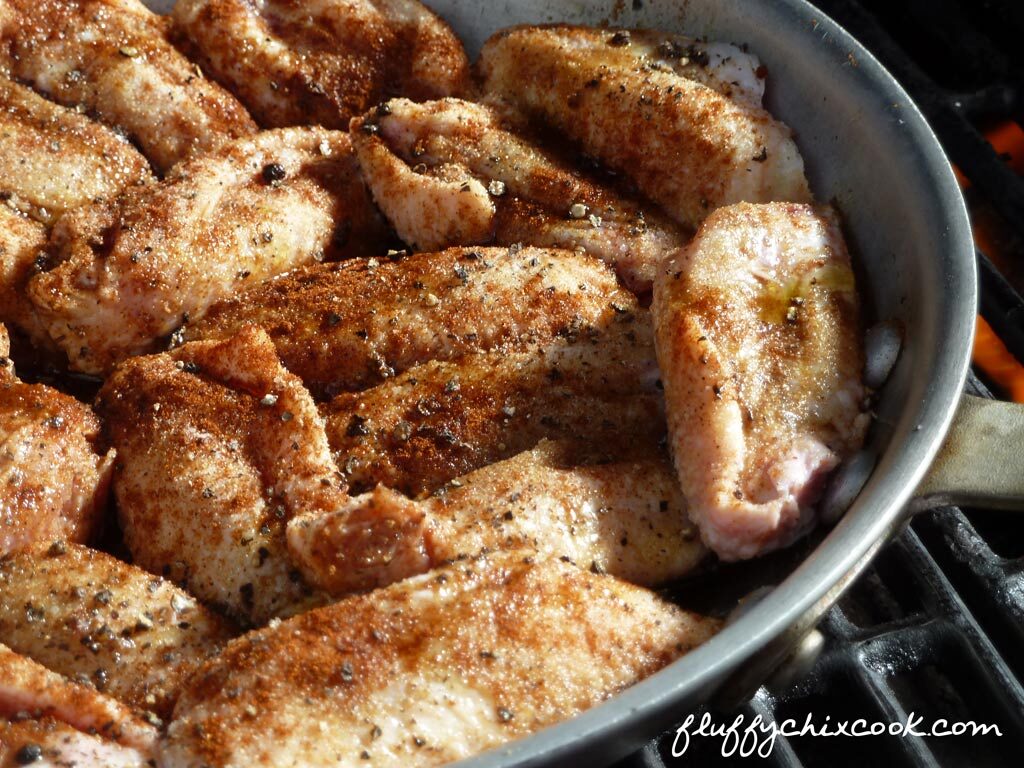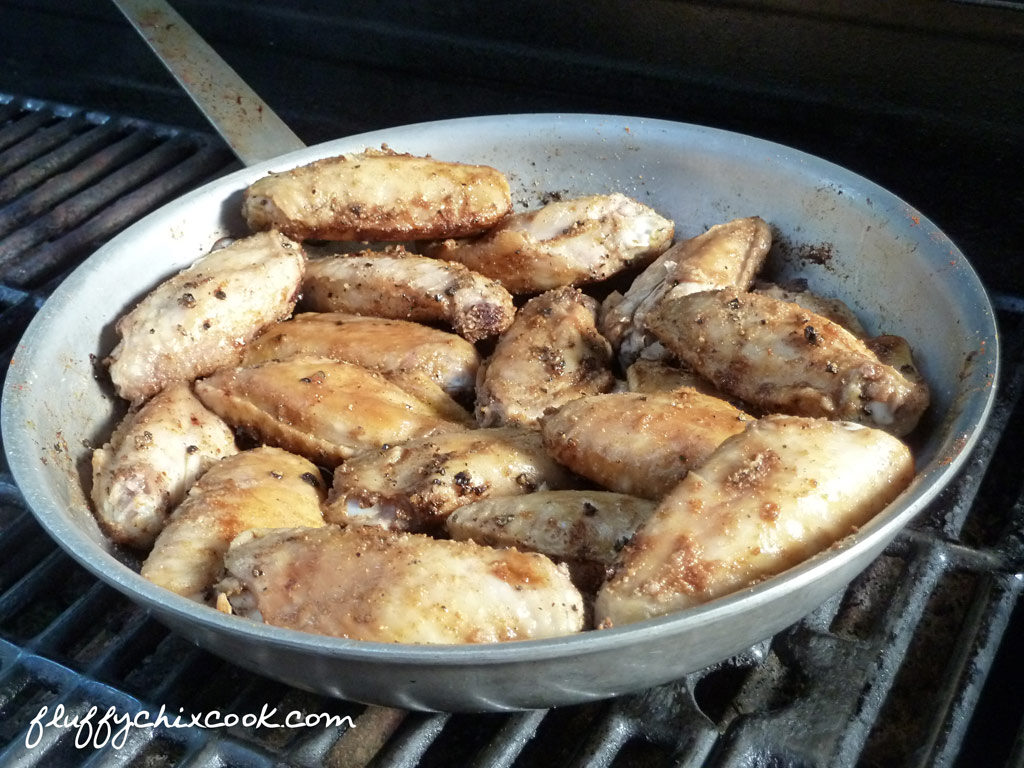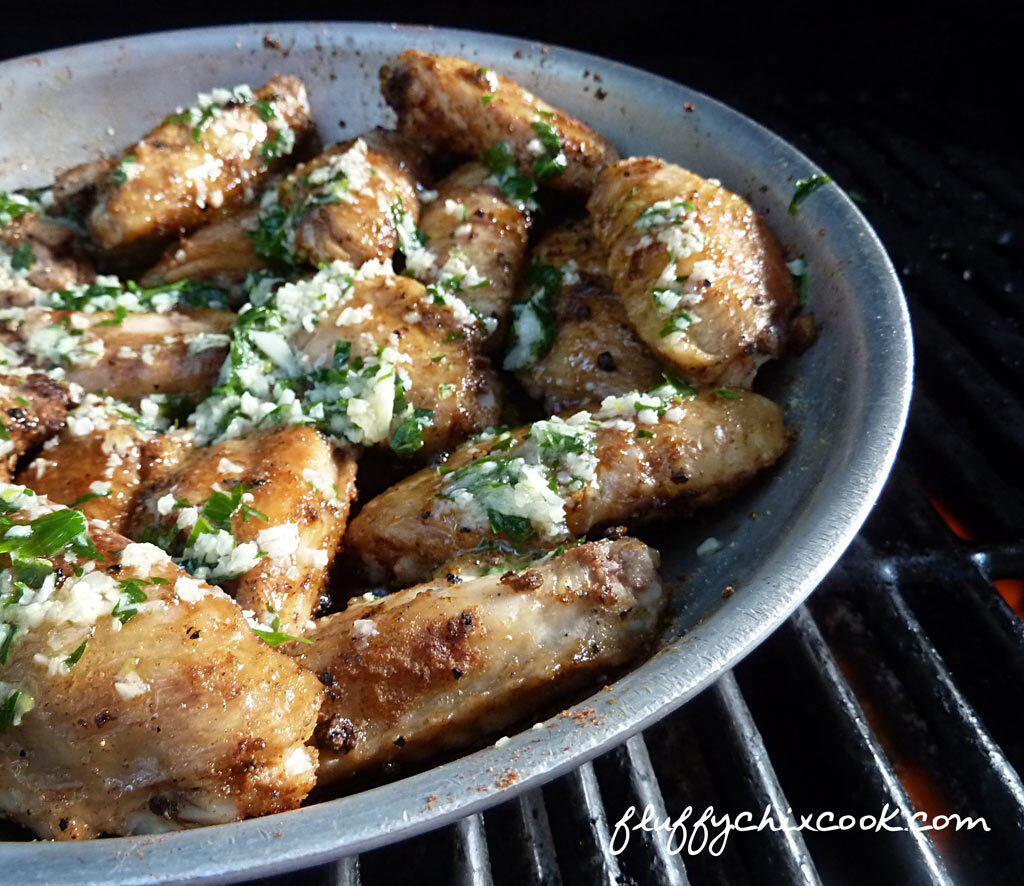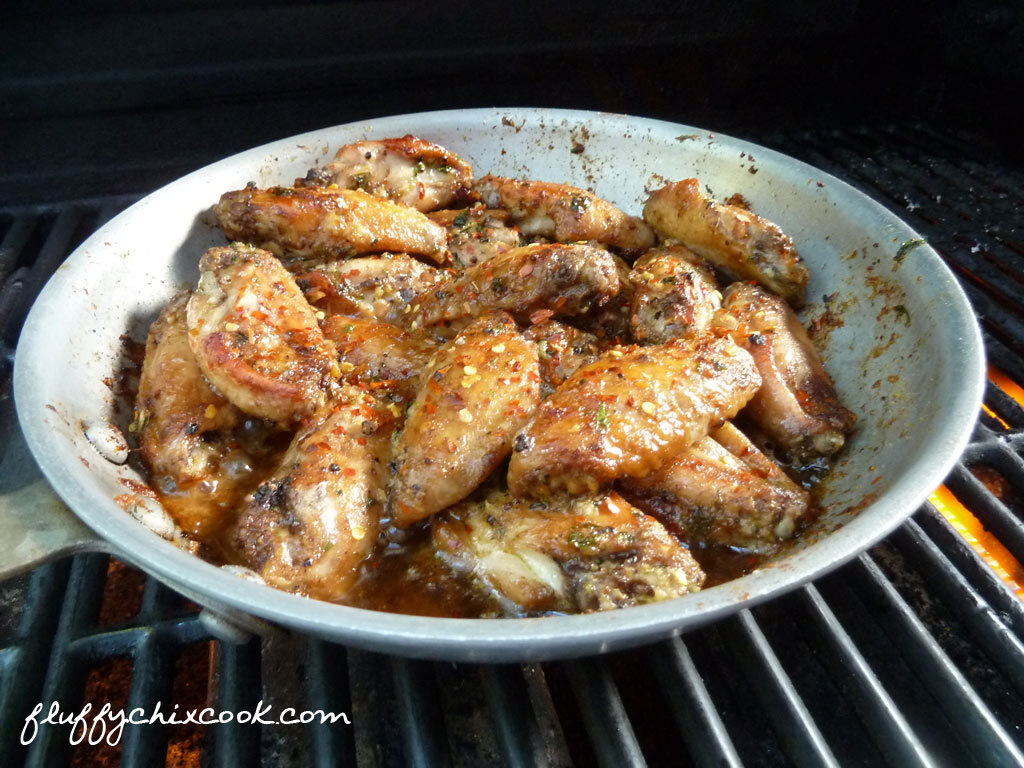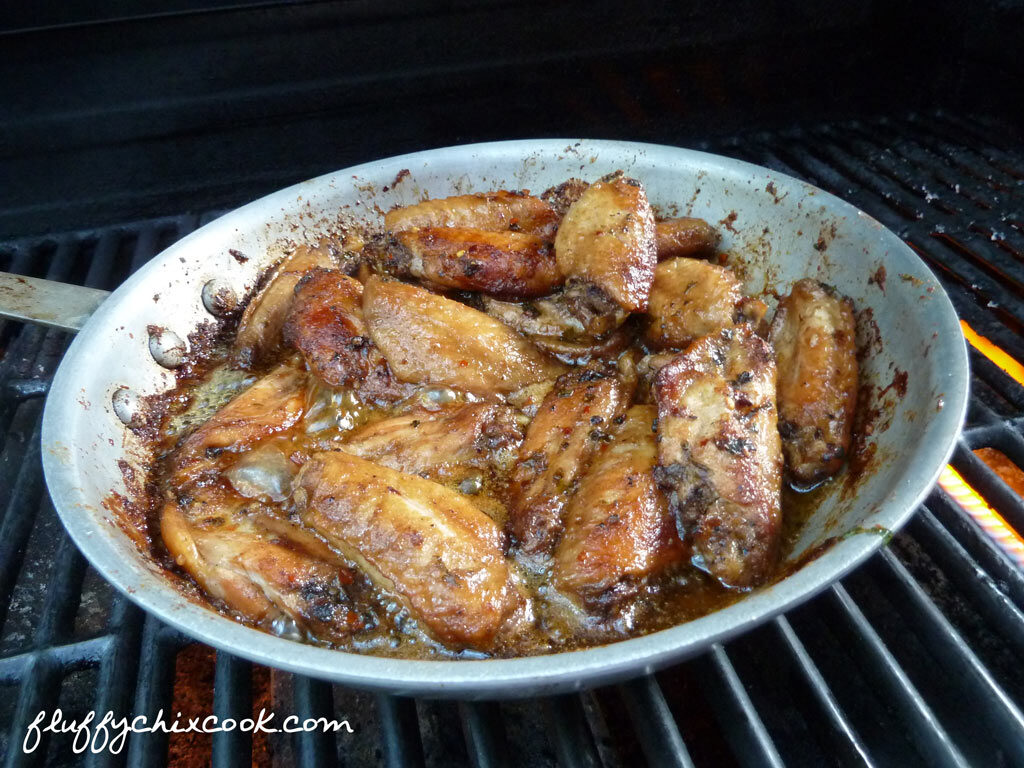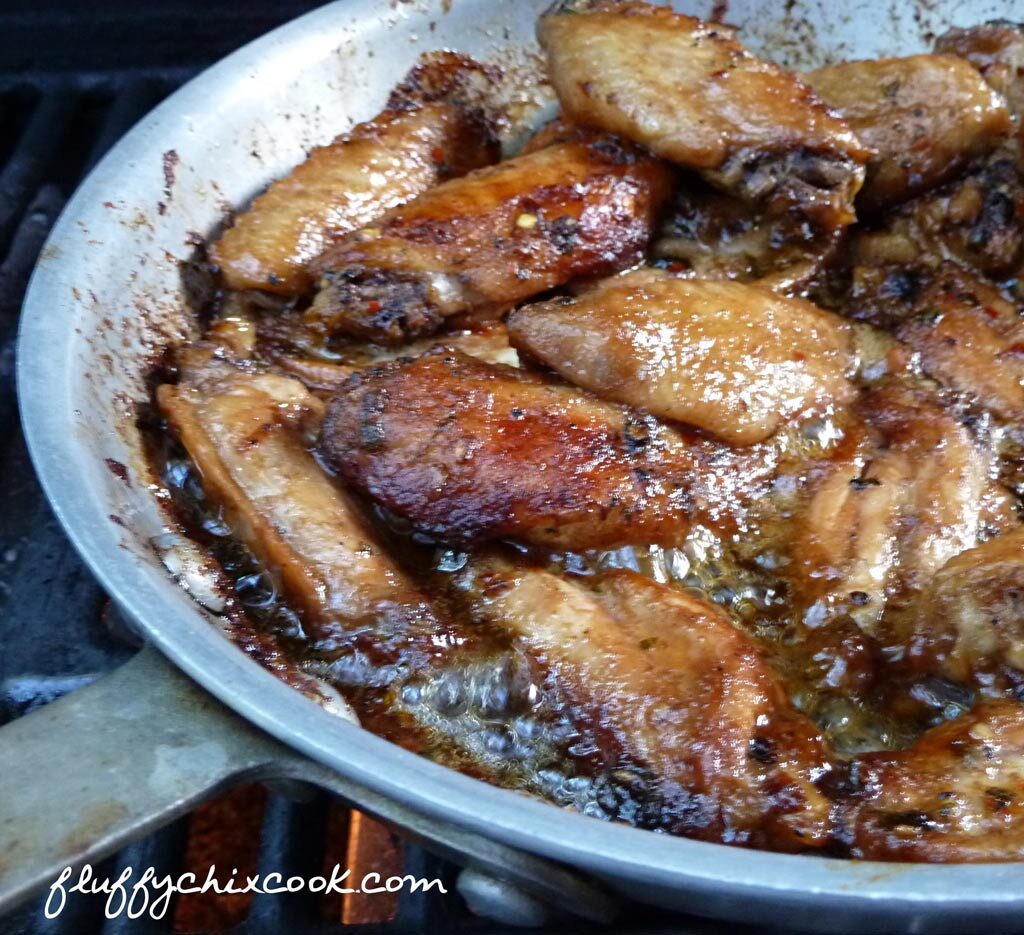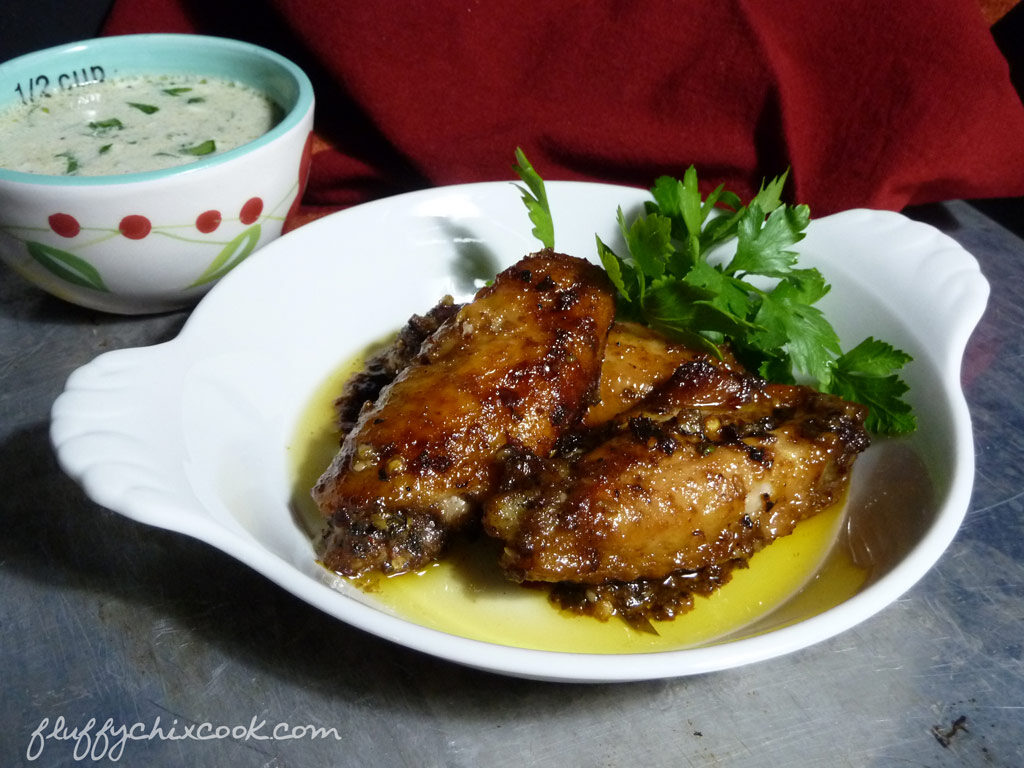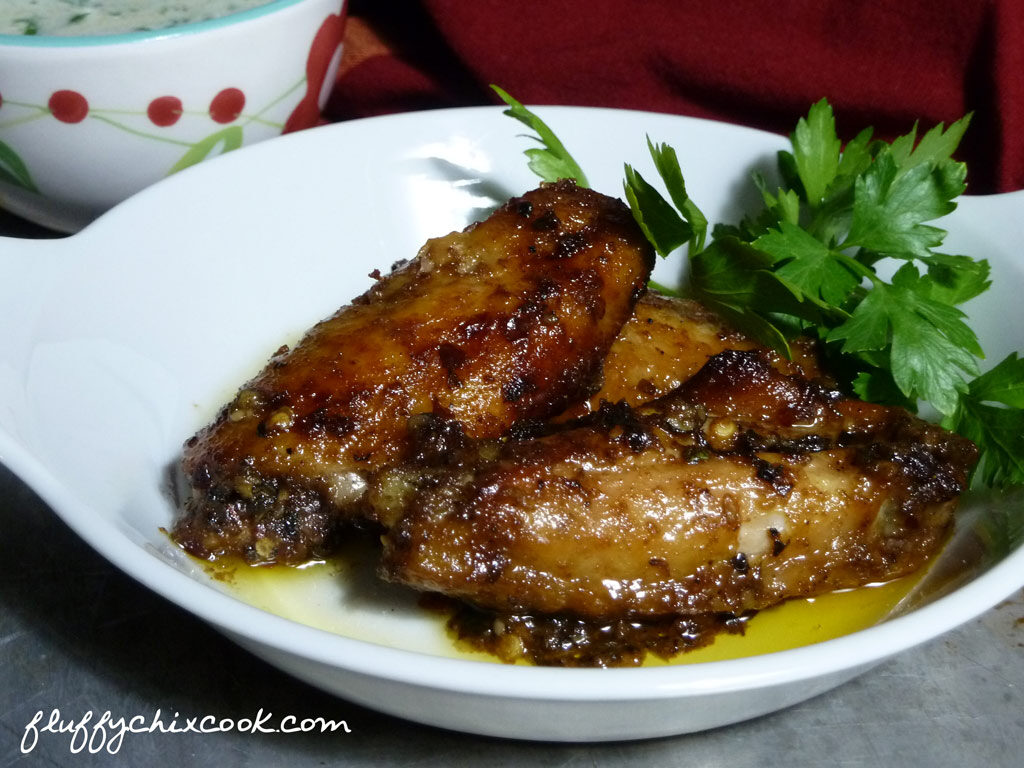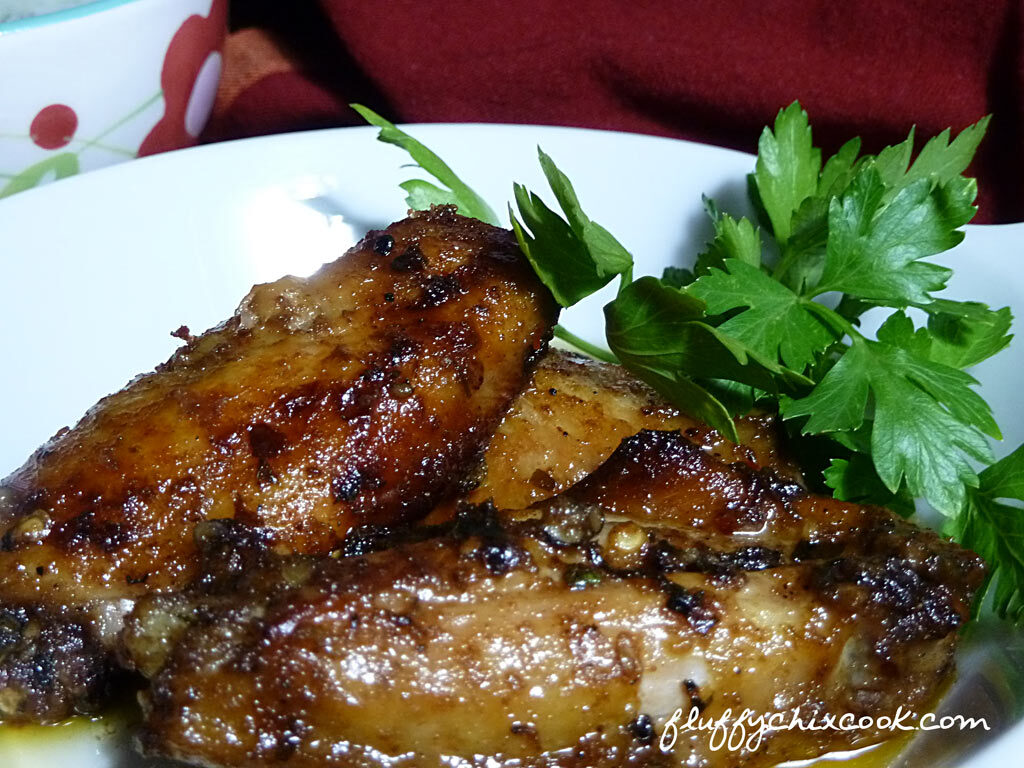 What's your favorite wing?
Name it! Declare your love for your favorite recipe with us!
Best Keto BBQ (Barbeque) Wings – Low Carb Sugar Free
Such a simple dish to bring intense flavor and meltingly tender texture. The wings aren't crispy, more like creamy-delicious, dissolve-in-your-mouth-awesomeness.
Ingredients
2-2 1/4 pounds chicken wing, raw (about 18-20)
1 1/2 teaspoons granulated garlic
1 teaspoon crushed red pepper flakes
1/2 teaspoon fresh ground black pepper
kosher salt
1/2 teaspoon paprika
3 tablespoons Worcestershire sauce
1 tablespoon extra virgin olive oil
Garlic Butter

1/4 stick unsalted butter
2 tablespoons dry vermouth—or dry white wine
4 cloves garlic, peeled and minced or pressed
2 tablespoons Italian parsley, chopped—or 1 tablespoon dried
Instructions
Rinse and dry wings portions. Place wings in a large skillet, big enough to hold all 18-20 wings, without too much overlap. Season liberally with granulated garlic, freshly ground black pepper, paprika (any kind), and coarse grain sea salt or kosher salt. Drizzle both sides with Worcestershire Sauce and olive oil.
While wings cook the initial thirty minutes, make the garlic butter sauce. Combine sauce ingredients and cook in the microwave on high for 60-90 seconds, stirring every 20 seconds until melted and garlic is cooked a bit. Reserve for wings at the 35 minute mark.
Preheat grill on ignite for five minutes with the lid down. Turn fire off on one side of the grill. We have a 5 burner grill and turn off the center section so there is indirect heat on both sides of the pan. Place pan on the area without the fire (aka indirect heat). Close lid and cook 15 minutes with the lid down, on highest setting. After 15 minutes, flip the wings and cook another 20 minutes with the lid down, on highest setting.
Flip wings again and cover with garlic butter mixture and red pepper flakes. Close lid and turn heat to low on the burners where you kept the fire lit. Cook 15 minutes. Flip and stir wings with a large spatula. Baste with the sauce. Close lid and cook 10 more minutes. Stir and baste wings at 10-15 minute intervals cooking over indirect, low heat with the lid down until wings are dark and caramel colored and the sauce gets thick with big bubbles. The skin should not be rubbery or thick. It should almost dissolve away when bitten. When the BBQ Wings look done to you, remove them, baste again, and serve with pan juices. Delish!!
Notes
This BBQ Wing recipe is simply prepared, but it does take a little attention—just like a good woman! So you have to commit to spending a little quality time with your grill (easier than using the oven), stirring as directed in the instructions. It's not a big deal, but to make them roast evenly and caramelize in the sauce, this method works the best.
And no, dry vermouth isn't strictly necessary, just omit it if you don't like wine, but it really does add to the flavor. We use dry vermouth because it's cheap, doesn't have to be refrigerated, is low in carbs and lasts a long time-and if it was good enough for Julia, it's good enough for us!
Serving Ideas Serve with a yummy salad and although sauces are overkill with these Best BBQ Keto Wings, blue cheese dressing never goes amiss.
Nutritional Information
Per Serving (1/2 Recipe): 1122 Calories; 79g Fat (65.7% calories from fat); 85g Protein; 9g Carbohydrate; 1g Dietary Fiber; 558mg Cholesterol; 8g Effective Carbs
Per Serving (1/3 Recipe): 748 Calories; 53g Fat (65.7% calories from fat); 56g Protein; 6g Carbohydrate; trace Dietary Fiber; 372mg Cholesterol; 6g Effective Carbs
Per Serving (1/4 Recipe): 561 Calories; 40g Fat (65.7% calories from fat); 42g Protein; 4g Carbohydrate; trace Dietary Fiber; 279mg Cholesterol; 4g Effective Carbs
Copyright © 2014 Fluffy Chix Cook. All rights reserved.
http://fluffychixcook.com/best-keto-bbq-barbeque-wings-low-carb-sugar-free/
Copyright © 2016 Fluffy Chix Cook. All rights reserved.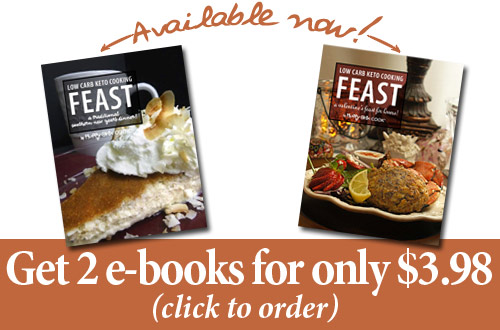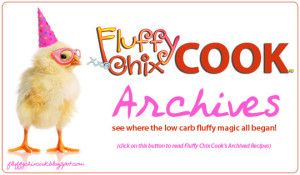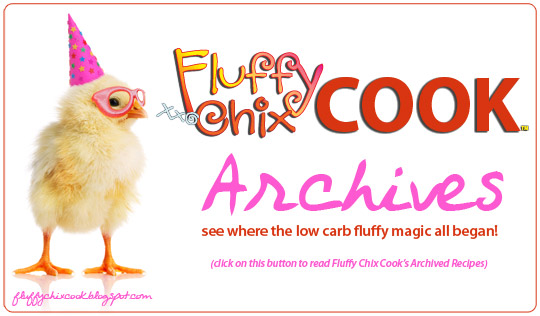 Copyright © 2014 Fluffy Chix Cook. All rights reserved.
We are not dieticians, nutritionists or medical professionals. The materials on this blog are for informational (and fun) purposes only. We do not fact check, nor do we worry about sources. Please do your own fact checking. We encourage you to look things up and check with your doctor or health care professional before acting on anything seen on Fluffy Chix Cook. xoxo