2 Minute Red Enchilada Sauce – Low Carb Keto|Grain Free|Gluten Free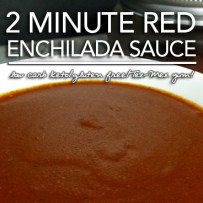 If you love Tex-Mex and are searching for a low carb keto enchilada sauce recipe, Fluffy Chix Cook has your answer! Not only is this 2 Minute Red Enchilada Sauce low carb keto friendly, it's also grain free (no flour thickener) and gluten free to boot, as long as you use your gluten free spices. Sugar free and diabetic friendly at 0.44g of effective carbs per tablespoon, this sauce stars in a low carb Tex-Mex recipe and meal!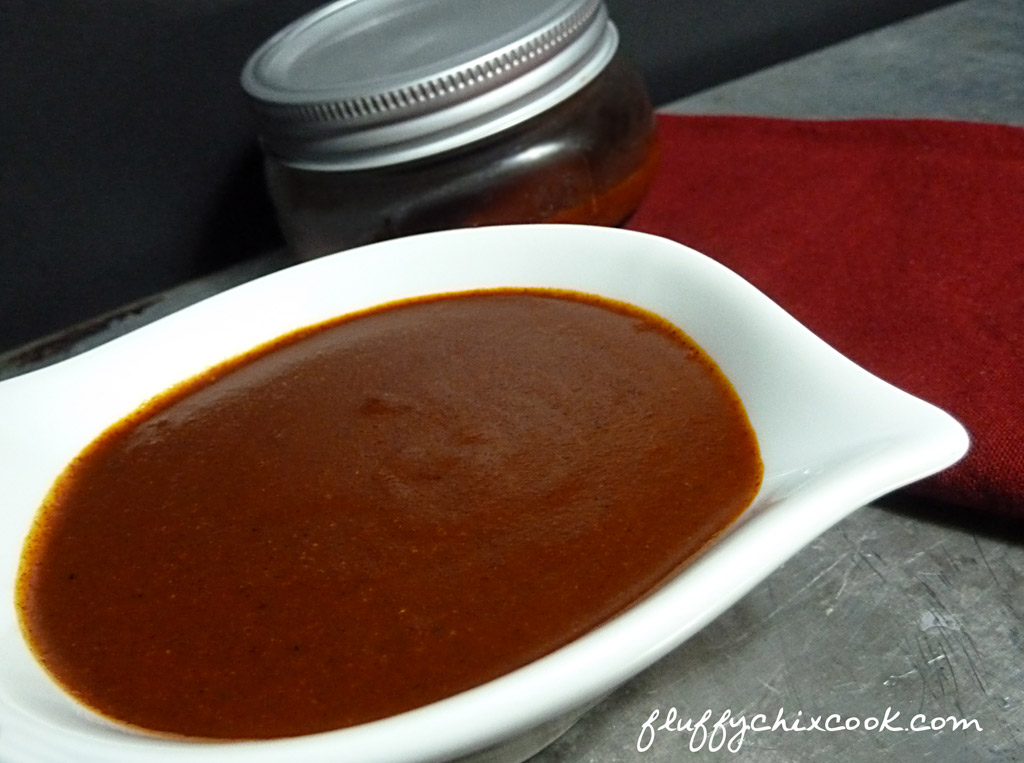 So I'm bringin' you this easy peasy lemon squeezy Tex-Mex rip-off recipe in advance of the main attraction—the Rags to Riches Chile Rellenos. I am trying to keep all the recipes separate since we use them as a component in several recipes. That way you can search Fluffy Chix Cook Recipe Index if you only want the sauce, without having to remember which main recipe it appeared in eighteen months ago!
Why is this recipe a Tex-Mex "imposter?" Cuz I'm a chilehead snob, that's why. Because I look at dried chili powder as a ho-ax, or as a speedy short cut to Flavor Town. You see dried chili powder isn't pure chile powder—notice the "i" and "e" at the end of the "chil". The "i" at the end signifies a blend of chiles or spices as in the dish chili. But an "e" at the end signifies the pure chile, unadulterated, a stand alone ingredient. Chili powder is usually a blend of chiles along with things such as garlic and onion powders, often cumin, salt and other things.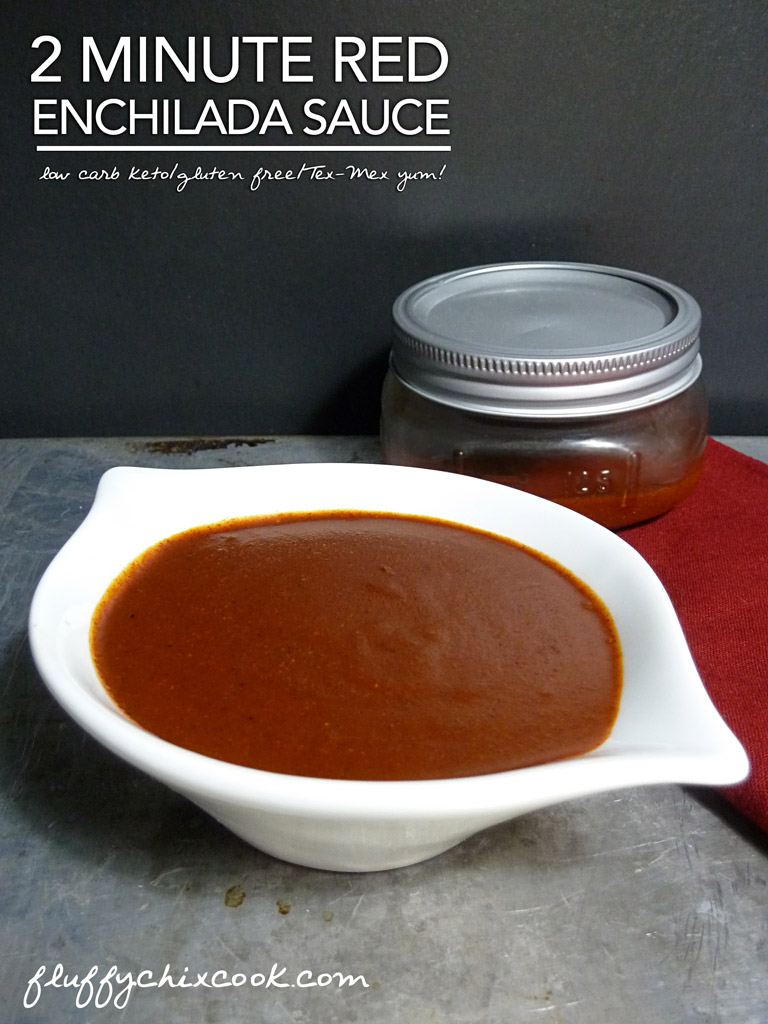 REAL authentic red chile sauce comes from a combination of dried chiles (ancho, guajillo, and pasilla), toasted until browned, then reconstituted with garlic and onion in a bone broth. Then it's into the blender and chile heaven is…oh Madre de Dios! Los ángeles cantar y llorar! (The Angles sing and weep!) The flavor! But making this sauce involves several steps, can takes about 45 minutes, or longer, to make and involves browning, blending and straining!
Not-so-ole! Especially when cooking for one—or two.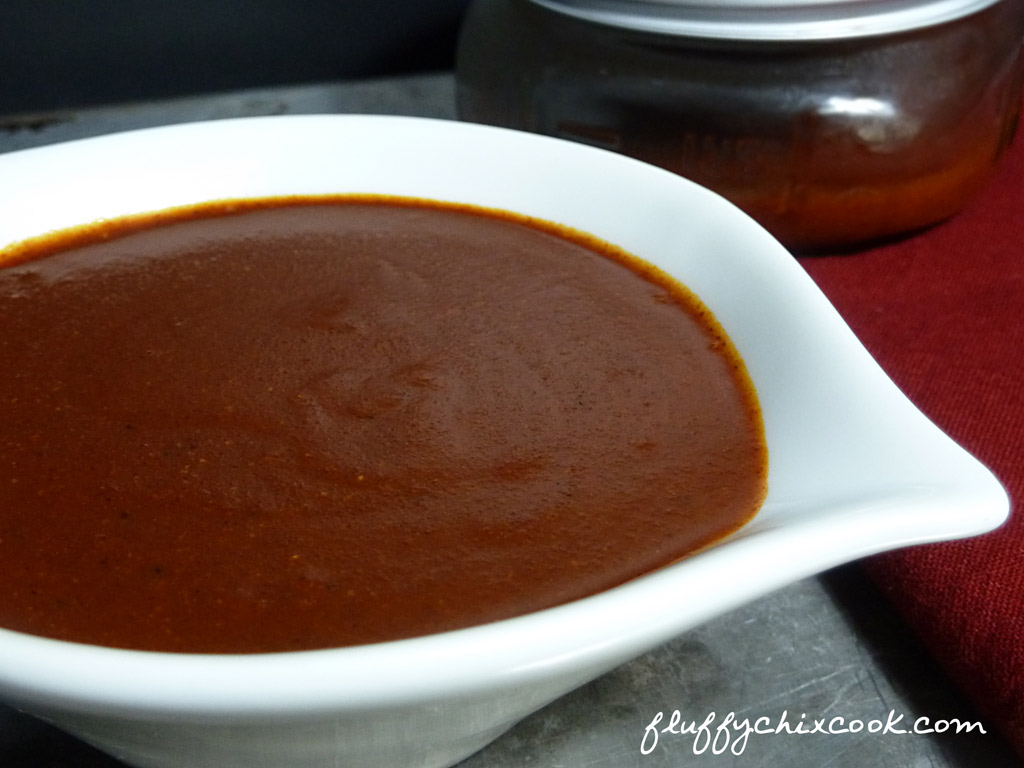 And the other piece of the equation is that sometimes, I can't get my lazy arse in gear. It's during those days when this 2 Minute Red Sauce comes in very handy. Use it on anything. Seriously…from over-medium fried eggs, or as a quick huevos ranchero base, to seasoning for taco meat, and more complex dishes such as beef or cheese enchiladas and the king—Rags to Riches Chile Rellenos (recipe coming up next). Oh Dios mi! Such flavor and versatility.
Now quickly, scurry into the kitchen and gitchasome!
2 Minute Red Enchilada Sauce – Low Carb Keto|Grain Free|Gluten Free
This sauce tastes like it took hours to make, but it's only a little measuring and poof, it's done—5 minutes of time invested for deep flavor, sugar free, gluten free, grain free and ingredients you can pronounce! It's so de-lish and low carb, you'll find yourself adding a splash here and there. It's the bomb on soft fried eggs! Double the recipe, it's so good!
Ingredients
Optional (if needed for thickening)

1/4 teaspoon xanthan gum
Instructions
Combine all ingredients in a microwave safe bowl. Stir until well combined. Cover and nuke 1 minute on high. Stir. Cover and nuke 30 seconds. Stir, scraping down the sides, well. Nuke another 30 seconds. Remove from microwave, stir and is the sauce too thin? If so, dust in the xanthan gum and stir like crazy to prevent clumping. Sauce should thicken up, perfectly. Ole! Enjoy!
Store in an airtight container up to a week or freeze up to 3 months.
Notes
Although our people are Tex-Mex Chile Gravy people, this 2 Minute Red Enchilada Sauce is the bomb on any Tex-Mex dish you can imagine! It's so simple. Sure it's a lot of ingredients, but you KNOW you have them just hanging out in the pantry. They're your basic spices! Everyone should have these in the pantry. Don't omit the hot sauce. Look for a brownish-red one with a LOT of heat, like Dave's Shear Insanity or some nutso chili-head hot sauce. If you don't think you can stand the heat, use regular tomato sauce instead of El Patos hot style. You can also omit or cut the cayenne, but keep the hot sauce!
Serving Ideas Use as a sauce on any kind of meat, especially great on pork and chicken! Top low carb enchiladas of all kinds with it or use in our favorite application, chile rellenos! Ole!
Nutritional Information
Per Serving: 22 Calories; 2g Fat (81.9% calories from fat); trace Protein; 1g Carbohydrate; trace Dietary Fiber; 1g Effective Carbs
Copyright © 2014 Fluffy Chix Cook. All rights reserved.
http://fluffychixcook.com/2-minute-red-enchilada-sauce-low-carb-ketograin-freegluten-free/
Copyright © 2016 Fluffy Chix Cook. All rights reserved.

Copyright © 2014 Fluffy Chix Cook. All rights reserved.
We are not dieticians, nutritionists or medical professionals. The materials on this blog are for informational (and fun) purposes only. We do not fact check, nor do we worry about sources. Please do your own fact checking. We encourage you to look things up and check with your doctor or health care professional before acting on anything seen on Fluffy Chix Cook. xoxo