Bacon Swiss Egg Muffins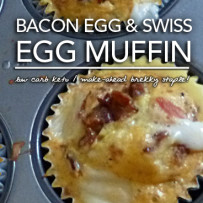 Keto egg muffins solve the breakfast dilemma—especially when you need easy and on-the-run meals for stressful weekday mornings. Fluffy Chix Cook exceptionally low carb and diabetic friendly Bacon Swiss Egg Muffins taste great, can be made ahead and are portable. And if you don't like Swiss cheese or bacon, simply mix and match ingredients to create your own version! (Who are we kidding here? It's Swiss cheese and bacon.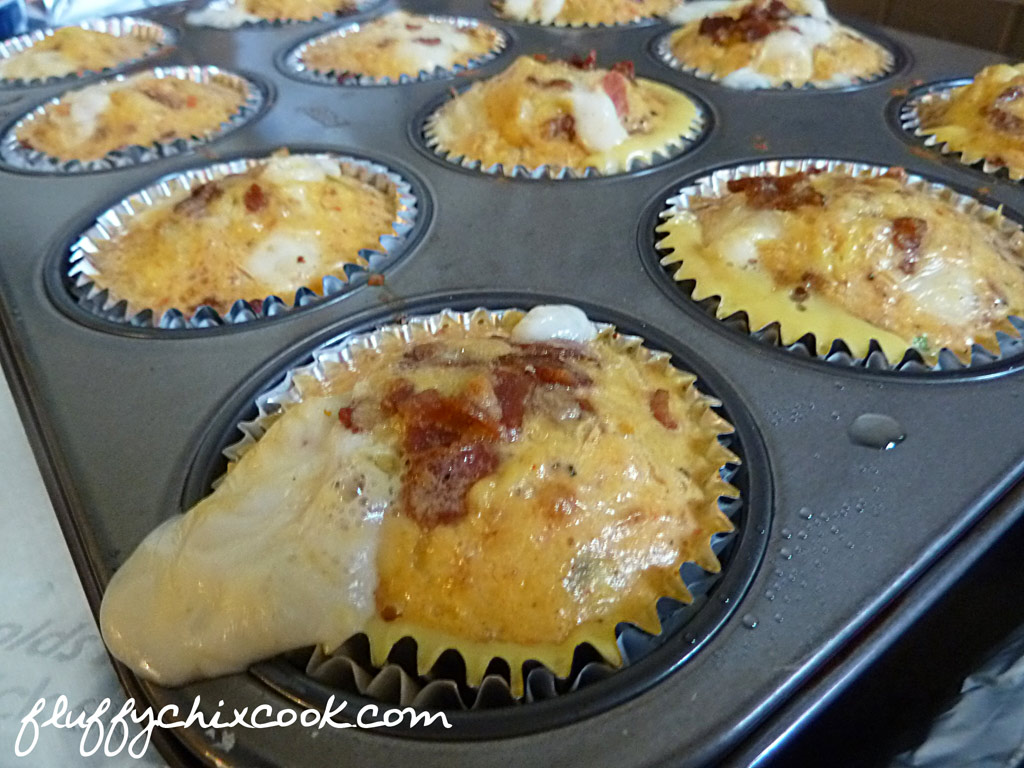 Some of the most frequently asked questions we hear as seasoned veterans of the low carb keto lifestyle involves breakfasts…
"Well what do you eat for breakfast?"
And the question is often followed by this statement.
"I don't have time to cook breakfast every morning!"
Fluffy Chix Cook's solution? Easy, make ahead, freezer, fridge and microwave friendly portable food, solves the "I-don't-have-time-to-cook objection to low carb breakfast meals. And if you need or want other breakfast solutions, we have those too! Take a look at Fluffy Chix Cook's Breakfast list in our Recipe Index (we're adding more recipes as quickly as our fluffy wings can flap) or visit Fluffy Chix Cook Recipe Archives.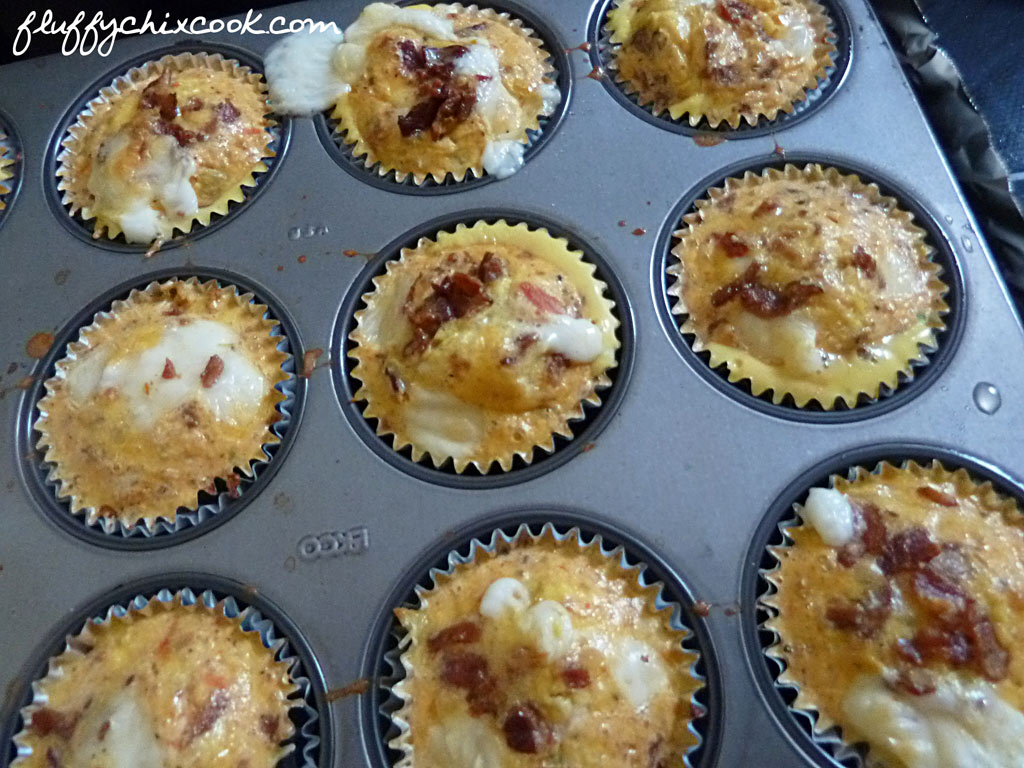 Now, in case you think we're super geniuses plotting to take over the world one breakfast entrée at a time, this might shock you. We did not INVENT low carb egg muffins.
Shew! Glad we got that out of the way!
There are scads of recipes for low carb keto egg muffins—and of course, if they are keto or low carb, they are also diabetic friendly and won't spike insulin or blood sugar. In fact, we believe it could be de rigueur (of necessity or expected by etiquette) to include a low carb egg muffin recipe or two, or three, on your food blog. So we succumbed to peer pressure and created our favorite version.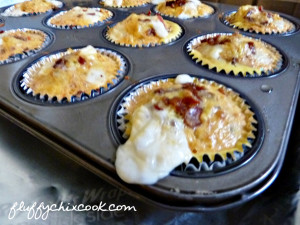 We hear you! These muffins are spicy! If you don't like spicy, no sweat. Make it your own! Omit the Sambal Oelek or trade it out for another heat source of your preference like Sriracha Sauce aka Rooster Sauce or Tabasco or just omit it entirely and go classic French. But, that bit of spice is very nice! Both of these sauces are most likely available in your grocery store on the Chinese food isle. If not, then click the links in the recipe and purchase them online through Fluffy Chix Cook's Amazon Store. (Psssst, did you know that through buying ingredients from our Amazon partner, you help support fluffy blogging efforts and help keep the lights on at Fluffy Chix Cook? And, the best part? It doesn't cost you anything extra! Thank you in advance for your gracious support!)
Make ahead Bacon Swiss Breakfast muffins are the keto bomb! Bake ya some! Seriously, these handy, portable, low carb breakfast muffins fill you up and taste great without spiking your blood sugar. Freezer, fridge and microwave friendly!
Ingredients
For the Eggs:

6 large eggs
1/4 cup heavy cream—or your favorite low carb equivalent milk-sub, equal to 1/4 cup volume
1/4 teaspoon kosher salt
1/4 teaspoon fresh ground black pepper
1 teaspoon mustard powder
1/8 teaspoon nutmeg
Assembly:

1/2 pound bacon
1 cup Swiss cheese, 1/4-inch dice
1 cup cheddar cheese, shredded
13 grape tomatoes, quartered
Instructions
Spray silicone muffin with olive oil spray. Use a pastry brush to distribute oil in tins. If not using silicone, use foil cupcake liners or use non-stick aluminum foil to line
muffin tin. Otherwise you will have difficulty removing egg muffins.
Whisk together eggs, cream, 1/4 teaspoon kosher salt, 1/4 teaspoon black pepper, dry mustard and nutmeg. Set aside.
Cook bacon until crispy, drain and chop. Cool to room temperature.
In a heavy skillet, add bacon grease or olive oil and add onions and garlic. Saute 1 minute. Add spinach. Season with 1 teaspoon sambal oelek, 1/4 teaspoon kosher salt, 1/4 teaspoon black pepper. Cook over medium high heat until spinach begins to wilt. Remove from heat and stir. The residual heat will finish cooking the spinach. Reserve and cool to room temperature. Use a strainer set over the bowl with the eggs and press spinach to remove excess liquid off of the spinach and into the egg mixture.
Shred cheddar and cube Swiss cheese. Mix cooled chopped bacon with shredded cheddar and cooled spinach mixture.
Layer each muffin tin with bacon mixture. Top bacon with 2-3 cubes of Swiss cheese and 1 quartered grape tomato. Pour egg mixture over bacon mixture and cheese cubes.
Preheat oven to 350. Bake for 20-25 minutes on a foil lined baking sheet (in case of spill-overs). Remove and let muffins rest for 5-10 minutes before trying to pop out of
muffin tins.
Serve warm or cool and store in an air tight container for up to a week in the fridge. Freeze for up to 3 months.
Reheat thawed egg muffins in microwave for 1 minute.
Notes
These muffins reheat and freeze very well. The texture is very creamy and makes a filling and nourishing breakfast. Be sure to press out as much liquid from the spinach
as you can and combine with the egg mixture. The eggs will still set up with the extra liquid and you will have a return of very delicious flavor and nutrients.
Serving Ideas Serve with a hot cup of coffee and few berries. They're also great with pico de gallo and chopped avocado or a handful of grape tomatoes.
Nutritional Information
Per Muffin: 232 Calories; 19g Fat (72.9% calories from fat); 13g Protein; 2g Carbohydrate; 1g Dietary Fiber; 1g Effective Carbs
Copyright © 2010 Fluffy Chix Cook. All rights reserved.
http://fluffychixcook.com/bacon-swiss-egg-muffins/
Copyright © 2016 Fluffy Chix Cook. All rights reserved.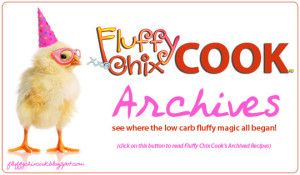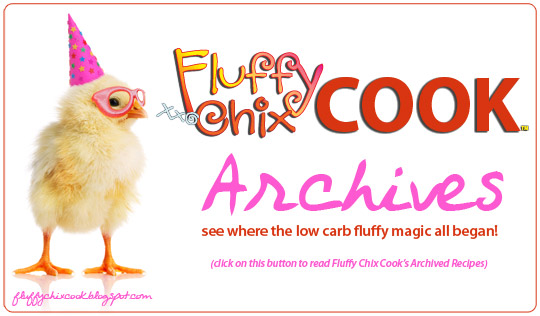 Copyright © 2010 Fluffy Chix Cook. All rights reserved.
We are not dieticians, nutritionists or medical professionals. The materials on this blog are for informational (and fun) purposes only. We do not fact check, nor do we worry about sources. Please do your own fact checking. We encourage you to look things up and check with your doctor or health care professional before acting on anything seen on Fluffy Chix Cook. xoxo