Basic Keto Mayonnaise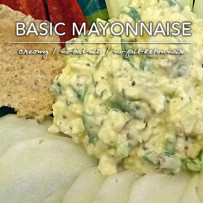 So you're looking for a healthy low carb keto-licious mayonnaise that tastes great, is "no fail" and easy? You want an easy homemade mayonnaise that's a complete no brainer and you're probably askeered of making homemade mayo, too—worried about the raw eggs. Hmmm. Is homemade Keto Mayonnaise for you? How can you possibly bear breaking-up with your beloved Hellmann's or Duke's?
Well, first off, congratulations for taking this momentous step! It is a serious break-up with tears, wailing and gnashing of teeth. But you're finally ready to progress out of hedonism (A complete dietary disregard to potentially or reputedly toxic food ingredients, additives, and "shady oils—ahem—trans fats? And by the way, hat's-off the good Drs. Eades for coining this awesome word in reference to dietary frivolity in PROTEIN POWER LIFEPLAN.)
Fluffy Chix Cook's Basic Keto Mayonnaise is so much more than "basic." It's a life-saver—one luscious spoon at a time. Basic Keto Mayo morphs into many different versions from Garlic Aioli to Sriracha or Wasabi Mayo. Use Basic Keto Mayonnaise in any creamy salad like Fluffy Chix Low Carb Salmon Salad, or Deviled Eggs and in low carb sandwiches and wraps. Use it in creamy salad dressings and as the "wet dredge" for oven-fried breading. Delish! Just promise you'll use it. Because, falling in love with homemade keto mayonnaise is one of the healthiest things you can do for your heart.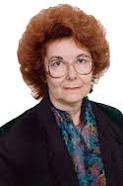 Most prepared mayonnaise begins with soybean oil. Most soybean oil in the US is made from GMO soybeans and is also partially hydrogenated (aka highly processed). Food manufacturers need to partially hydrogenate soybean oil because it goes rancid very quickly. The partial hydrogenation causes formation of trans fats and trans fats are unanimously touted as "lousy fatty acids." Dr. Mary Enig, renowned fat researcher and author of several books: KNOW YOUR FATS, and EAT FAT, LOSE FAT, describes the artery-blocking, pro-inflammatory, trans fat as being dose dependent. That means, EVERY time you eat trans fats, the damage done to your body is directly proportional to how much you ingest. Every time! She declares soybean oil to be scurrilous oil.
Pox upon you, partially hydrogenated soybean oil. You are a menace!
Buy KNOW YOUR FATS by Dr. Mary Enig
If you have a few spare dollars laying around,
KNOW YOUR FATS
by Mary Enig, PhD, is the low carbers' and keto dieters' primer on fats. We give it two fluffy wings-up, for providing clear information about fat metabolism.
Replacing partially hydrogenated oils (i.e. soybean oil—the first ingredient in both Hellmann's and Duke's mayonnaise) with healthy extra virgin olive oil is a HUGE step along the path of what Fluffy Chix Cook likes to call, the low carb keto continuum. It may be the first step. The low carb keto continuum is a path or timeline filled with baby steps and jumping-off detours.
The Low Carb Keto Continuum describes the process involving migration from complete, wet-behind-the-ears, low carb keto noob to seasoned veteran of the carb wars (by the way read my good friend, Judy Barnes Baker's book by the same name: CARB WARS—it's as close to a low carb bible as you can get). As a seasoned veteran, you practically wouldn't be caught dead eating mayo from a jar, or eating prepared salad dressings from a bottle. At least you wouldn't confess to consuming those convenient fiends.
STEP 1 – Living the Low Carb Keto Continuum—Fluffy Chix Cook-Style
Replace the stinkin' bad fats with better choices: extra virgin olive oil, extra virgin coconut oil, grass fed oil, extra virgin palm oil, tallow, lard, schmaltz, avocado, olives, walnuts and pecans.
The raw eggs in mayonnaise pose potential health risks to children, pregnant mamas, your grandparents and to anyone with a compromised immune system. If you have one of those issues, use pasteurized eggs (they have some brands pasteurized in the shell). You can also use a version, we'll post later, that uses hard boiled egg yolks—pretty tasty. Using the freshest, truly pastured eggs from foraging hens present the least risk from salmonella and the other beasties that will make you very ill, if consumed. Cooking helps kill the bugs lurking in your mayo. Acid (from the lemon) helps kill some forms of bacteria and presents an unpleasant environment for culturing bacteria; but it won't kill salmonella—one of the deadliest around. We probably would not be caught using factory or battery eggs in raw applications. Well, almost never. There was that one time—at band camp…
Fluffy Chix Cook loves making Homemade Basic Keto Mayonnaise, inspired by Alton Brown. Know every ingredient in your mayonnaise and know you are eating healthy fats instead of highly poly-unsaturated fatty acids that disrupt your ideal fatty acid balance and promote inflammation.
Ingredients
Instructions
Stick Blender: Combine all ingredients in a glass mason jar (a pint jar). Insert immersion blender (aka stick blender) into the jar making sure to place blender tip at the bottom of the jar. Turn the stick blender on and slowly work it up and down to mix everything (about 10-15 seconds). Then position the blender with the burr at the bottom of the jar and blend—slowly—lifting up on the stick blender as the mayonnaise comes together and thickens or emulsifies. Gradually and slowly work your way up the jar until every bit of the oil is incorporated. It sounds contradictory but don't mess around. Try to work fairly quickly to keep the heat from the burr blender to a minimum.
This is an almost foolproof method, and Fluffy Chix Cook's personal favorite. Remove burr blender. Stir with a clean, sterilized spoon to make sure everything is evenly mixed.
Seal tightly and according to Alton Brown, it's time to let the mayo sit out on the counter for one to two hours, to let the acids in the mayonnaise kill any beasty-bugs. Store in the refrigerator up to 1 week.
Food Processor or Blender Method: Place first 6 ingredients into container. Pulse 5-7 time to mix ingredients and make the liquid frothy. With the processor or blender running, slowly drizzle oil into the mixture in a thin stream (about the size of a piece of butcher's twine or string. When a smooth emulsion has formed and about half of the oil has been accepted, it's safe to pour the oil in a bit faster, in a bigger stream.
If the mayo breaks, where oil begins to stand on top, stop adding oil. Try pulsing 2-4 times. If the emulsion doesn't come back into a smooth and even paste, try turning the machine back on and drizzling in a tablespoon or two of ice water until an emulsion forms. Then continue adding the remaining oil.
Mix in additional elements for your desired variations. Cover and refrigerate up to a week.
Notes
The taste of your oil is a highly personal preference. We've come to love the flavor of unfiltered extra virgin olive oil. We work quickly with a the stick blender to keep the heat as low as possible. Heat will turn olive oil bitter! Ick! But other oils or oil blends will work, should you object to extra virgin olive oil. Half extra virgin olive oil and half extra virgin coconut oil is a delicious blend (as are bacon drippings). Both the coconut oil and bacon drippings should be liquid and as close to room temperature as possible without solidification.
Note for the immune-compromised: Those of you who are immune compromised, please use pasteurized eggs in the shell available at your grocery store. We do not recommend using raw eggs due to potential risk of contamination. To lessen risk, choose true, free range chickens in place of battery eggs. The food police made me say this.
Serving Ideas Serve on hamburgers and sandwiches, as a dipping sauce for chicken fingers and as a salad dressing.
Nutritional Information Basic Mayonnaise Per Tablespoon: 75 Calories; 8g Fat (98.7% calories from fat);0.15g Protein; 0.1g Carbohydrate; trace Dietary Fiber; 11mg Cholesterol; 0.1g Effective Carbs
Copyright © 2012 Fluffy Chix Cook. All rights reserved.
http://fluffychixcook.com/basic-keto-mayonnaise/
Copyright © 2016 Fluffy Chix Cook. All rights reserved.
Check out Alton Brown's mayonnaise video on YouTube. Gosh, Fluffy Chix Cook just loves this guy!
READ MORE FROM FLUFFY CHIX COOK!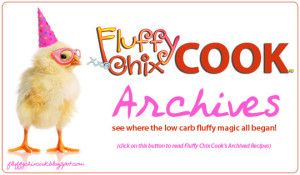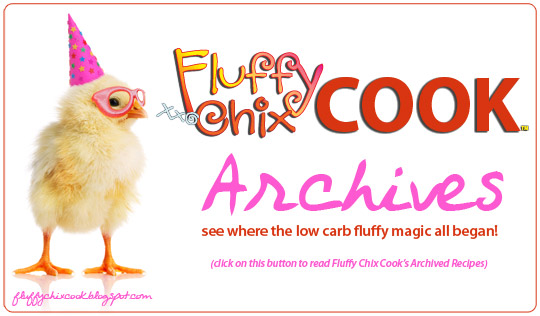 Copyright © 2012 Fluffy Chix Cook. All rights reserved.
We are not dieticians, nutritionists or medical professionals. The materials on this blog are for informational (and fun) purposes only. We do not fact check, nor do we worry about sources. Please do your own fact checking. We encourage you to look things up and check with your doctor or health care professional before acting on anything seen on Fluffy Chix Cook. xoxo