Brown Butter Pumpkin Spice Syrup – Low Carb | Gluten Free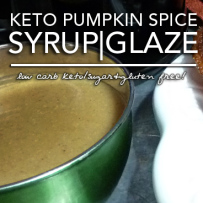 Dang if you are looking for low carb brown butter caramel syrup that tastes like pumpkins and fall, you've found us! Fluffy Chix Cook brings you this keto pumpkin spice syrup that's a winner and sure to please the entire family. The best part about it is it's sugar free, gluten and grain free and totally diabetic friendly.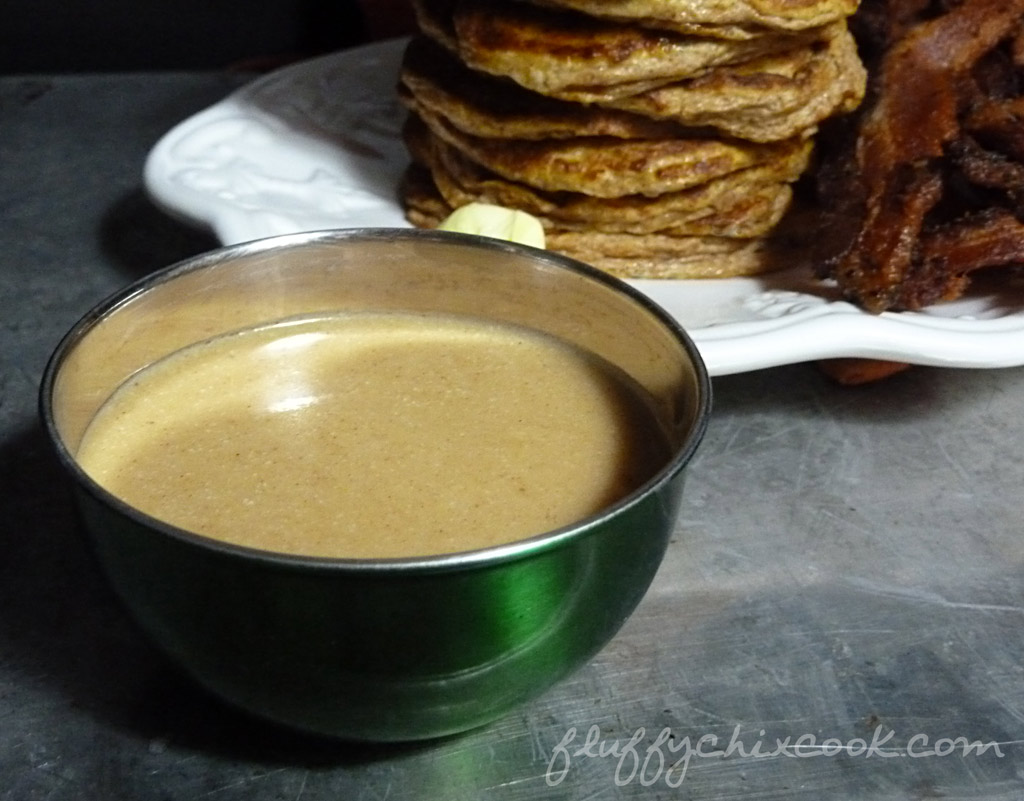 Hey chickens! Here's a low carb keto pumpkin syrup you will NOT believe. First up, I want to warn all low carb keto purists, please leave the building now, mkay? Cuz there will be no pretending you're in Kansas with Dorothy. It will be just too painful for you. So leave. For your protection.
Have you left?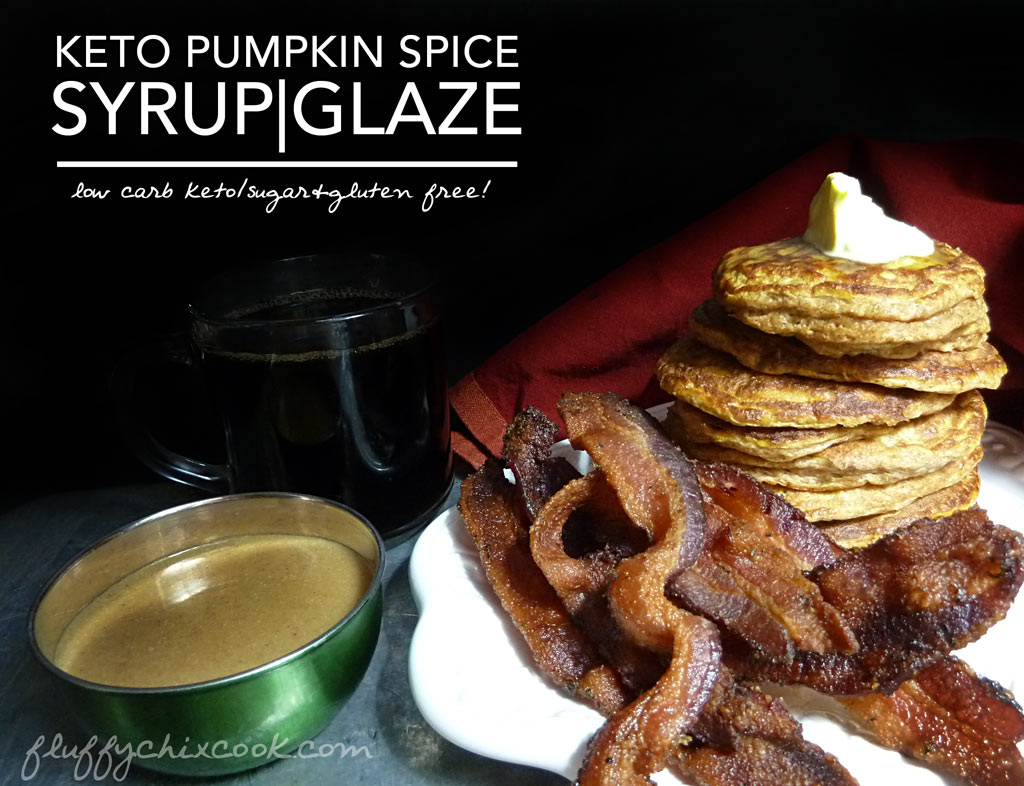 Ok, so let's get to the nitty gritty! In honor of fall, I developed this sugar free, gluten free, and amazingly diabetic friendly, low carb keto syrup to go with the new Psylli Pumpkin Pancake recipe. You see, Carolyn Ketchum of All Day I Dream About Food is throwing a Pumpkin Party over in our group tomorrow, Low Carb Keto Recipe Club. Everyone will be able to post 1-2 recipes with their best pumpkin-laden offerings. And you are invited! It's Tuesday, September 9, from 7am-9pm EST. So put your best fall frock on (you too, guys), and join in the merriment! Thanks Carolyn for being the hostess with the mostest!
Anyway, I think you will really dig this syrup. It's intensely caramel-buttery with pumpkin overtones, and it doesn't get crunchy! It's very creamy—almost a glaze. Wait! Is it a glaze? Hmmm, is it a syrup? Only your tummy will know for certain. But I do know that 24 hours in the fridge wasn't enough to make it get crunchy. It's still as smooth and delicious today as it was yesterday.
I think the Brown Butter Pumpkin Spice Syrup would be awesome on anything from cake pops, to muffins, to doughnuts and donut holes, and even as a dip for low carb biscotti!  So I hope you will make it and drop a comment to let us know how you made out with it!!!
(Oh and props to Carolyn Ketchum, and Maria Emmerich for Maria Mind, Body, Health blog for the inspiration to make brown butter before caramelizing the Swerve granular sweetener. It really adds depth of flavor to the salted caramel profile. We grew up eating brown butter on all sorts of delish veggies, but I never thought of doing it to make a low carb caramel, until I first read their blogs. I know you know them already, you must! What? Do you live in a cave? Go visit and sign up to follow them immediately! I've always just browned the butter and sugar when I made it in those former high carbage caramel days. I used to make a pretty mean caramel and toffee!)
Brown Butter Pumpkin Spice Syrup – Low Carb | Gluten Free
Is Brown Butter Pumpkin Spice a glaze or syrup? It's a rich, buttery blend of the two, perfect on pancakes and doughnuts. Deliciously low carb keto and diabetic friendly.
Ingredients
Instructions
Melt and brown butter in a small sauce pan, over medium high heat. Watch and stir to keep butter from burning as it browns. Add Swerve granular to the butter and stir until dissolved and syrup begins to get a little more browned. Remove from heat and stir in cream cheese. Keep stirring or whisking until cream cheese completely melts. There may be tiny white flakes in the syrup from the cream cheese. But we'll deal with those in a minute.
Whisk in sweeteners, cinnamon, and salt off the heat. Syrup should be thick and rich like a glaze. Serve immediately.
If you want silky syrup, press and stir the syrup through a small mesh strainer. If the white flecks don't bother you, enjoy it right off the stove! Best when warm.
Notes
This syrup does not re-crystallize like other erythritol-based syrups. It stays buttery and creamy even overnight in the fridge! You do need to take care reheating. Don't reheat quickly or the syrup/glaze will break. Gently reheat over a tepid double boiler until syrup warms up. The chilled syrup is very smooth, and creamy, almost like icing, with a pronounced pumpkin flavor.
Please note Fluffy Chix do not count the carbs in Swerve since it is made mainly from non-GMO erythritol and fructooligosaccharides. It passes through the gut without changing blood sugar, in most people. Therefore we treat it as 100% fiber and do not figure it into the nutritional totals.
Serving Ideas Serve with your favorite pancakes or as a dessert or breakfast dip for doughnuts.
Nutritional Information
Per Tablespoon (including Swerve): 52 Calories; 5g Fat (72.5% calories from fat); trace Protein; 4.25g Carbohydrate; 3.92g Dietary Fiber; 0.33g Effective Carbs
Per Tablespoon (not-including Swerve): 52 Calories; 5g Fat (92.9% calories from fat); trace Protein; 0.5g Carbohydrate; 0.17Dietary Fiber; 0.33g Effective Carbs
Copyright © 2012 Fluffy Chix Cook. All rights reserved.
http://fluffychixcook.com/brown-butter-pumpkin-spice-syrup-low-carb-gluten-free/
Copyright © 2016 Fluffy Chix Cook. All rights reserved.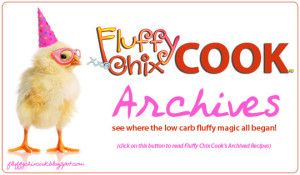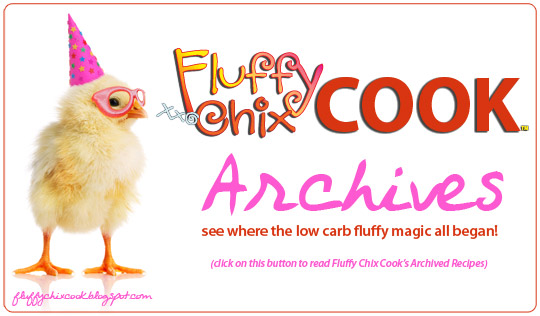 Copyright © 2012 Fluffy Chix Cook. All rights reserved.
We are not dieticians, nutritionists or medical professionals. The materials on this blog are for informational (and fun) purposes only. We do not fact check, nor do we worry about sources. Please do your own fact checking. We encourage you to look things up and check with your doctor or health care professional before acting on anything seen on Fluffy Chix Cook. xoxo