Coconut Flour & Oat Fiber Psylli Buns and Wraps from Shannon Harding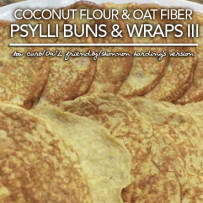 Susie T. Gibbs and Fluffy Chix Cook bring you the saga of the healthy low carb keto Psylli Wraps and a third version from her Facebook friend, Shannon Harding. Yes, we do need three Psylli versions! The third version in the low carb keto-lovely Psylli Wrap story is the trifecta.
I can't guarantee it will be the last version, because with any great recipe, spin-offs and variations occur. It's the circle of life and cooking. In fact, I can guarantee there will be at least one more Psylli Wrap version from Fluffy Chix Cook…all we will tell you right now is that pumpkin is involved. So keep your psylli-selves tuned and listening for the new recipe coming soon. Swearsies.
Here are the links to the different versions of low carb keto Psylli Wraps
Many of you are asking, why there are 3 versions of low carb Psylli Wraps and what makes each Psylli Wrap version unique? And that's a reasonable question. We touched on the differences, in depth, in version 2: Coconut Flour & Oat Fiber Psylli Wraps by Susie T. Gibbs of Fluffy Chix Cook. But let's explore the differences more.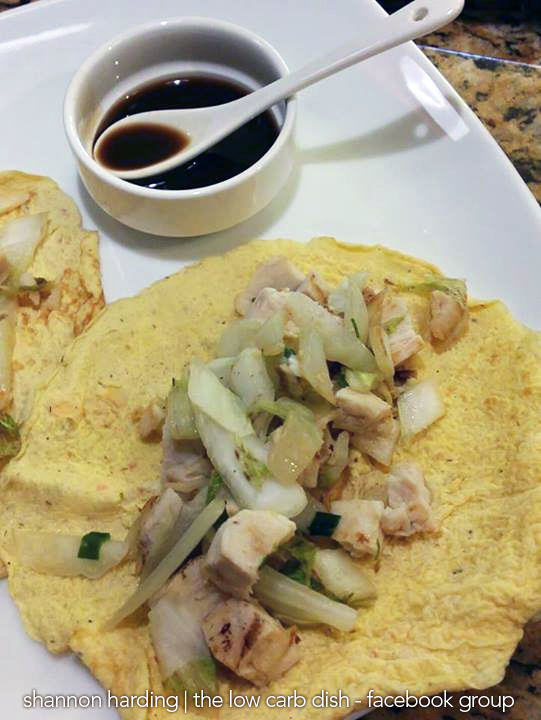 Between versions 1, Basic Induction Psylli Wraps, and version 2, Coconut Flour & Oat Fiber Psylli Wraps, the ingredients change to include added "fiber flours" that take them from being Atkins Induction friendly (and Dr. Westman's No Sugar No Starch Page 4 friendly) to being Atkins OWL (Ongoing Weight Loss friendly). Coconut flour and oat fiber are ingredients that appear further along in the Atkins low carb lifestyle. Most people tolerate them well, but it's a YMMV (your mileage may vary) situation.
Between versions 2 & 3 (Shannon's version), the differences are more subtle, but have a big impact on the texture of the recipe. Shannon increased the oat fiber and switched the egg component to the Southwest Style Egg Beaters version to add more flavor and to be able to omit carb-costly spices (granulated garlic and onion powder). She also added water and changed the kosher salt to NoSalt, a potassium salt blend.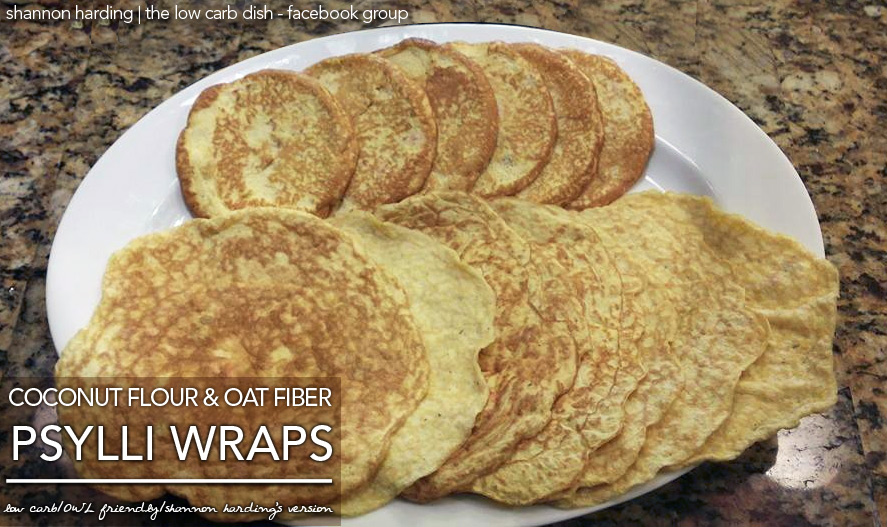 The results? Well heck fire! Shannon made buns out of the batter. You heard me. Buns! By golly! She also made tortillas. Both are delicious and very bread-like. We know you'll love them. They're super easy to whip up and store great in the fridge.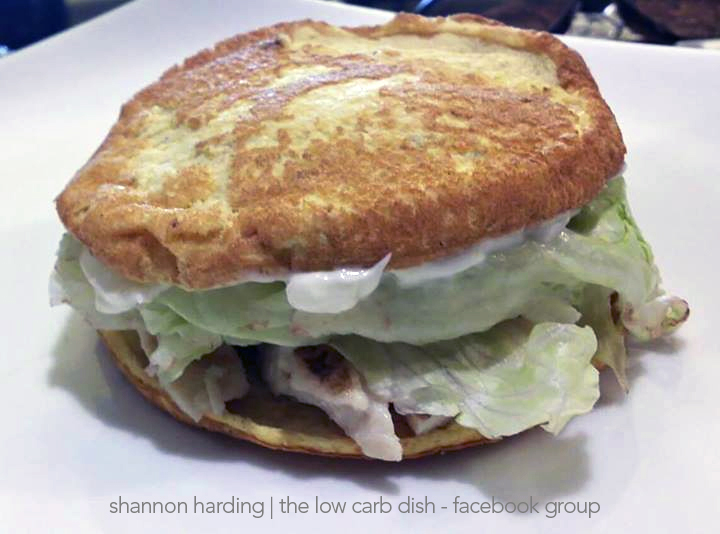 If you are one of the cooks without a muffin top pan, you're probably scratching your head right now. What the heck is a muffin top pan? Muffin top pans are baking pans with shallow wells for baking things like whoopee pies or…you asked for it…muffin tops, those golden delicious tops of the muffins popularized by Elaine in a Seinfeld episode. Click on the link to see the YouTube video. Hysterical. But we digress. Fluffy Chix Cook recommends the Chicago Metallic Original Non-stick Muffin Top Pan with 6 wells. We like that it has 6 wells. But don't be fooled. It WILL stick. So be sure to line it with parchment or nonstick aluminum foil to be on the safe side. We're currently experimenting with a few silicone pans and will report back to you soon, we hope. You can find the Wilton varieties in various stores around town or you can buy them from our trusted partner, Amazon.com. Simply click on the image of the pan and you'll be taken to purchase it (you'll help support our blogging efforts by purchasing through this link and it won't cost you any more.
Also, for those of you who don't know Shannon Harding is the creator behind the wildly popular low carb ketogenic Facebook group: The Low Carb Dish. You'll find fabulous recipes, ideas, tips, tricks and generous support in the group. I've been a long-time member and fan of the group and never fail to get low carb inspiration for meals and recipes. Please stop in and ask for membership. The group is growing like wildfire!
By the way, use 2 buns per sandwich and 1-2 wraps per meal with your choice of tempting and tasty fillings. My mouth is watering as I write this, so I think I had better go make breakfast…hmmm, big dilemma; will it be a BOB (Breakfast in a Bun) or a Breakfast Taco?
What's your favorite, convenient, low carb keto breakfast?
Coconut Flour & Oat Fiber Psylli Buns and Wraps from Shannon Harding
Shannon Harding tweaked Susie T's Coconut Flour & Oat Fiber Psylli Wraps to make them even lower calorie and make them substantial enough to become low carb Psylli Buns!
Ingredients
Instructions
Combine dry ingredients, stirring to mix well. Mix wet ingredients and pour into dry ingredients. Stir with a spoon or small spatula until you have an even, lump free batter. Add unfiltered apple cider vinegar at the end. It helps it rise and adds flavor. Batter should be very pourable, like a thin crepe batter.
For Tortillas (Makes 8):
Heat nonstick skillet over medium high heat. Spray pan with olive oil spray. Measure 3 Tbsp of batter into a small cup. Pour batter into the pan all at once. Swirl quickly to distribute batter like a round crepe. Cook until set on one side. Edges will begin to curl slightly. Flip and cook on the second side. Each tortilla takes about a minute to 90 seconds to fully cook. Cook, flipping back and forth until you see brown spots on each side and until the disk dries out like a tortilla. Cool on a clean dish towel.
If the remaining tortilla batter has thickened too much by the time you make the 6th or 8th tortillas, thin it with more egg whites. Store cooled tortillas in an airtight container in the fridge up to a week, or freezer up to 1 month.
For Buns or Rolls (Makes 6):
Preheat oven to 350 °. Line muffin top pan with parchment paper (parchment paper is different than wax paper—do not use wax paper) or nonstick aluminum foil. Divide batter between 6 wells. Bake for 15 minutes until set and puffy. Remove and cool completely on a wire rack. Store between sheets of parchment, in a zip top bag in the fridge.
Notes
This is an UPDATE to Susie T's Coconut Flour & Oat Fiber Psylli Wrap recipe. Shannon's tweaks increase the bread-like factor and also decreases the calories a little bit. We LOVE the changes and thank Shannon for making the recipe even better.
Serving Ideas Serve with your favorite filling. Great with sandwich fillings and with taco guts! Enjoy breakfast, lunch, or dinner!
Nutritional Information
Per Bun (6 Buns per Recipe): 24 Calories; trace Fat (2.5% calories from fat); 4g Protein; 4g Carbohydrate; 3g Dietary Fiber; 0mg Cholesterol; 1g Effective Carbs
Per Tortilla (8 Tortillas per Recipe): 18 Calories; trace Fat (2.5% calories from fat); 3g Protein; 3g Carbohydrate; 2g Dietary Fiber; 0mg Cholesterol; 1g Effective Carbs
Copyright © 2014 Shannon Harding. All rights reserved.
http://fluffychixcook.com/coconut-flour-oat-fiber-psylli-buns-and-wraps-from-shannon-harding/
Copyright © 2016 Fluffy Chix Cook. All rights reserved.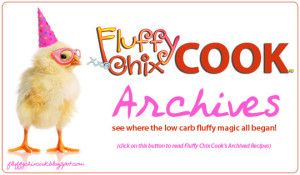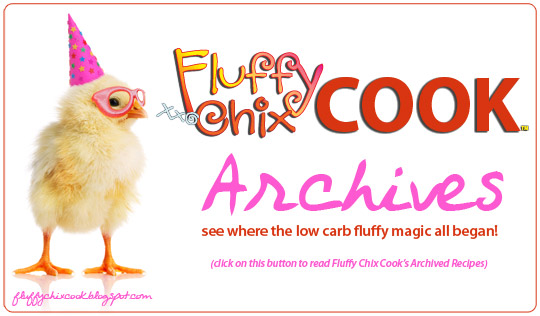 Copyright © 2014 Fluffy Chix Cook. All rights reserved.
We are not dieticians, nutritionists or medical professionals. The materials on this blog are for informational (and fun) purposes only. We do not fact check, nor do we worry about sources. Please do your own fact checking. We encourage you to look things up and check with your doctor or health care professional before acting on anything seen on Fluffy Chix Cook. xoxo