Deviled Eggs – Low Carb | Devilishly Delicious!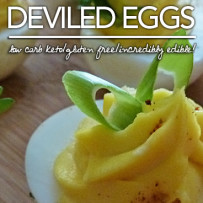 Basic Deviled Eggs are so much more than a basic food. Deviled eggs are deliciously ketogenic and as long as you use a pure mayonnaise, preferably Fluffy Chix Cook's Basic Mayonnaise, deviled eggs are naturally gluten free. These babies have great ratios of fat to protein and carbs and are a "near perfect" food.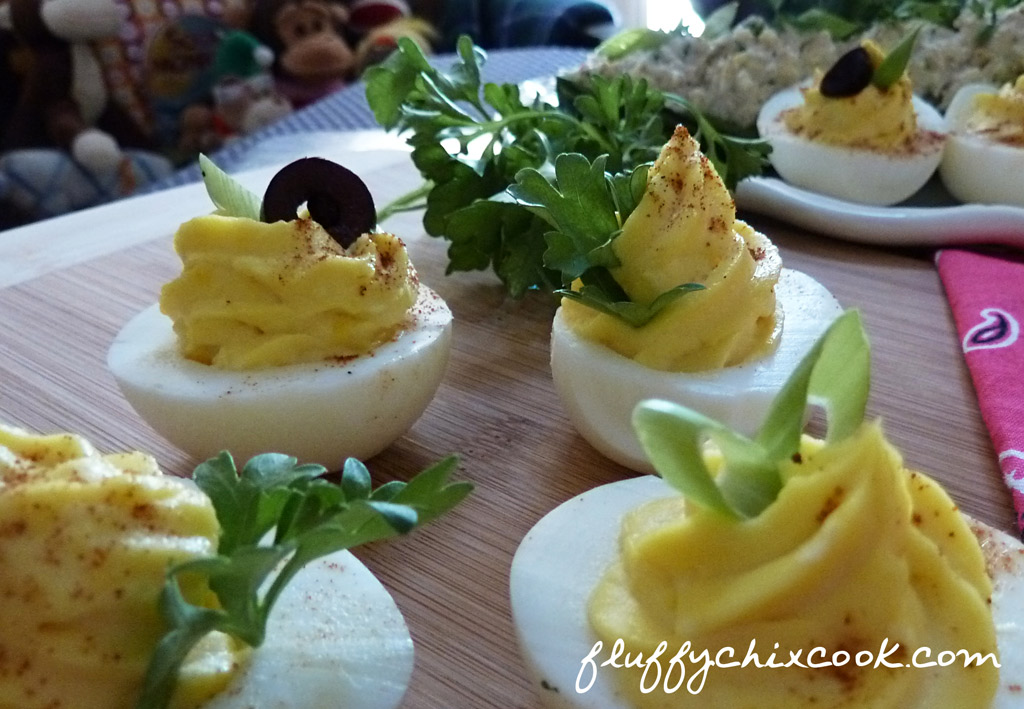 When I start feeling jaded with new low carb ketogenic recipes and want something that reminds me of the good times growing up, I turn to simple, yet classic family recipes like chicken salad, pimiento cheese and deviled eggs. And oddly enough, these recipes are low carb dreams! Nothing makes me feel more comforted than the memories of Mama, Wawa, Khakki and Aunt Rea in the kitchen, whipping up some delicious concoction involving our beloved Hellmann's or their homemade mayonnaise. True. Each of these dishes were easy and almost nothing more than a MDS (mayonnaise delivery system). Little did we know, how food manufacturers were plotting to take over the South—even in the good old days—by killing off DFSWs, one deviled egg and one chicken salad finger sandwich at a time.
A WORD ABOUT STORE BOUGHT MAYONNAISE
A Word About Store Bought Mayonnaise Tread warily around prepared mayonnaise. One of the first ingredients listed in mayo from a jar is soybean oil.
Most soybean oil in the US is GMO
and has been partially hydrogenated and deodorized, because it's so highly polyunsaturated. That means the oil goes rancid quickly. So the manufacturers are already using crappy, rancid oil that we can't smell due to the deodorization, but it gets worse. Partial hydrogenation forms trans fats. Oh boy are trans fats bad. Each bite you take. How much you eat. Every time. Directly correlates with inflammatory response and is widely accepted to be
dose dependent with atherosclerosis—plaque build-up in the arteries and arterial hardening
. Read
Fluffy Chix Cook
Basic Mayonnaise
post for more details. Mkay?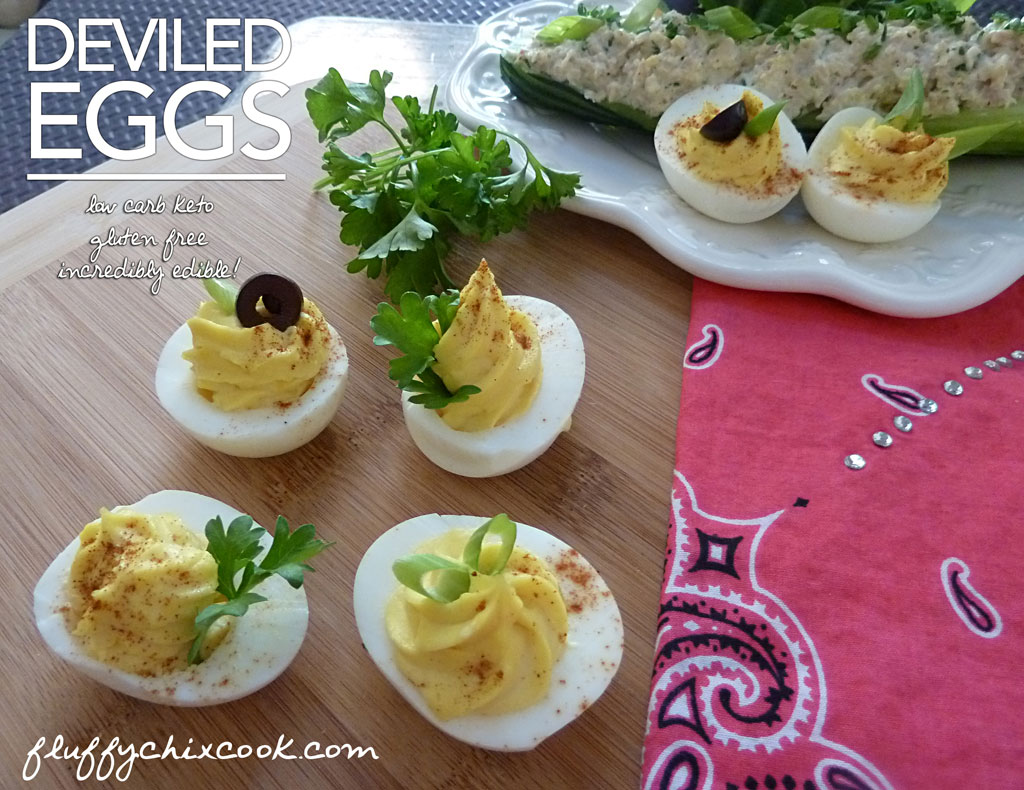 But we make our own Basic Mayonnaise these days, using healthy oils (unfiltered extra virgin olive oil) and we love deviled eggs for another reason. Eggs are still relatively inexpensive—and yard eggs (with their deep orange-gold hue), the most magnificent of all—deliver a great nutritional bargain. Eggs offer deep nutrition. And as we just said, if you can stretch your budget to include pastured eggs, do so because, the nutrition is even higher—or so says Mother Earth News in their Pastured Egg studies. You'll get Vitamins A, D, E, beta carotene (the good kind) and healthy doses of omega-3 fatty acids. So not only do you get rich fat soluble vitamins, but you also get a targeted delivery system to help absorption of their vitamins and minerals.
Please don't get me wrong. I KNOW deviled eggs are made throughout the entire universe and are not strictly a Southern food. But we do claim them among our own. Sure, you don't have to be a DFSW to make perfect deviled eggs, everyone has a family recipe. But you've got to admit, Southerners have taken the family chicken salad, pimiento cheese and deviled egg recipes—oh, so naturally ketogenic, and turned them into an institution—or at the very least, an low carb art form.
So put on your white hat and gloves and make like your inner
DFSW
! Make a batch of Deviled Eggs today…the Tabasco is the secret ingredient, and if you have smoked paprika—well that is just sinfully delicious, but any type of paprika will be awesome. They go great with
Aunt Rea's Southern Chicken Salad
stuffed into cucumber boats or romaine boats.
TIP FOR EASY EGG FILLING
Tip for Piping Eggs: If you find stuffing the mixture back into the eggs, try this nifty trick. Put filling into a zip top baggy. If you have a star-shape cake decorating tip, great! If not, no worries hon! Cut the end off one corner of the bag. Squeeze from the top and gather all the filling to the cut end. Squeeze filling into egg centers. Then throw the bag away. Done! (Don't forget to save the decorating tip if you're using one.)
Deviled Eggs – Low Carb | Devilishly Delicious!
These traditional Southern Deviled Eggs have been passed down from our grandma through our aunt, mama and older sissy, Khakki and are a classic favorite.
Ingredients
Instructions
Fill a medium sauce pan with cold water. Add eggs in their shell. Bring water to a boil over high heat. When water boils, reduce heat to medium and boil for 8-9 minutes. When done, pour out boiling water and run cold water over eggs. Carefully remove shells and dry eggs with paper towels.
Split eggs lengthwise. Pop out egg yolks, being careful not to tear the egg whites. Smash egg yolks with a fork or grate them with a cheese grater. Mix yolks with mayo, mustard, Tabasco and spices through black pepper. Divide filling between 12 halves. Fill eggs and dust tops with paprika. (Smoked paprika or paprika mixed with cayenne is delicious.) Serve immediately or store in an airtight container in the refrigerator and eat within 3 days.
Variation - Mix dill pickle relish in with the mayo, mustard, Tabasco and spices. Stir to thoroughly combine. Proceed as above with remaining instructions.
Notes
Southern Deviled Eggs are not sweet! No Miracle Whip for this fluffy chix. With or without the tablespoon of dill relish, the recipe is a basic Southern classic. The nutritional information is so close that Mastercook couldn't even distinguish a difference in the numbers; not even with "rounding" to the next nearest whole number or decimal. So pick which version you prefer and go to town! Serving Ideas Serve as an appetizer, snack or side dish. Filling and nutritious!
Nutritional Information
Per 2 Halves without Relish: 195 Calories; 18g Fat (85.7% calories from fat); 6g Protein; 1g Carbohydrate; trace Dietary Fiber; 219mg Cholesterol; 1g Effective Carbs
Per 2 Halves with Vlasic Dill Relish: 195 Calories; 18g Fat (85.7% calories from fat); 6g Protein; 1g Carbohydrate; trace Dietary Fiber; 219mg Cholesterol; 1g Effective Carbs
Copyright © 2012 Fluffy Chix Cook. All rights reserved.
http://fluffychixcook.com/deviled-eggs-low-carb-devilishly-delicious/
Copyright © 2016 Fluffy Chix Cook. All rights reserved.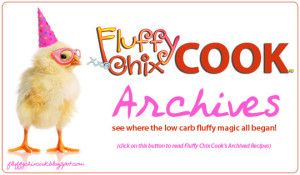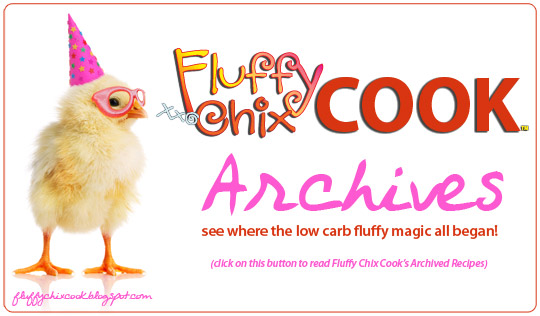 Copyright © 2012 Fluffy Chix Cook. All rights reserved.
We are not dieticians, nutritionists or medical professionals. The materials on this blog are for informational (and fun) purposes only. We do not fact check, nor do we worry about sources. Please do your own fact checking. We encourage you to look things up and check with your doctor or health care professional before acting on anything seen on Fluffy Chix Cook. xoxo