Easy Alfredo – Low Carb | Induction Friendly | Page 4 Legal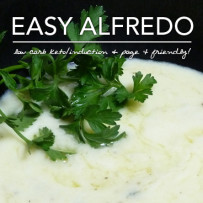 Looking for a way to enjoy healthy low carb ketogenic Alfredo Sauce, but you're following a ketogenic diet like Dr. Westman's No Sugar No Starch Diet (Page 4) religiously and you have a limit to how much cream you eat each day? Well the wait is over! Fluffy Chix Cook came up with a super healthy low carb Alfredo to solve the problem.
Let's talk cream. Heavy cream. We love it in our low carb keto diets, but heavy cream really adds up fast; and each tablespoon of costs a whopping 0.44g carbs, in what for many is a very limited 20g total daily carbs budget. To make it even more tricky, many of us have a daily cream budget of 4 tablespoons (aka 2 ounces). Dr. Westman's No Sugar No Starch Diet aka Page 4 Diet, limits heavy cream, cream cheese and sour cream. Atkins Induction also sets cream limits. Additionally, many of us like cream in our coffee and use up 2 tablespoons in the blink of an eye, it's not rocket science to realize, we don't have much room for creamy sauces by the time lunch or dinner rolls around.
So where do we get a low carb keto, totally Induction friendly and Page 4 compliant Alfredo Sauce made with "real food" that doesn't break our heavy cream bank? Simple. Make Fluffy Chix Cook's Easy Alfredo a la NSNS Diet. It fits into both types of diets: Atkins Induction and Westman's Page 4 Diet. We use a little "musician's math" to skirt the cream budget, supplementing chicken broth with a splash of heavy cream, a bit of cream cheese for thickening power and a dab of sour cream to help add to the roundness of the sauce. The result, an entirely credible, creamy dreamy, Alfredo-Induction and Page 4-legal!
Do you have a favorite sauce or gravy you would like to have Fluffy Chix Cook morph into an Atkins Induction and Dr. Westman's Page 4 Legal sauce? Please leave your comment and request below! Your request just might be the next sauce we transform!
Easy Alfredo – Low Carb | Induction Friendly | Page 4 Legal
Don't be semifreddo of making this low carb keto Alfredo! It's a snap and tastes amazingly delish! The chicken broth helps keep carbs down and makes it Atkins Induction friendly and Dr. Westman's Page 4 No Sugar No Starch Diet friendly. Score!
Ingredients
Instructions
Microwave cream cheese for about 20 seconds to soften it slightly. Add chicken broth to a small nonstick skillet or saucepan and heat over medium high. Add garlic and spices through nutmeg. Stir and let simmer to reduce by about a little more than half. Add softened cream cheese, whisking to remove lumps. Add cream and grated Parmesan cheese. When ready to serve, remove from heat and add sour cream. Taste and adjust seasoning. Does it need more cheese, black pepper, salt? Add it and adjust your totals. Serve immediately. (Adding sour cream while the stove burner is on, will make the sauce curdle.)
Store covered in the refrigerator up to 2 weeks in the fridge. We've never frozen it, there may be a little curdling from the sour cream, but I'd try it. You could also cut the recipe in half, but it's very handy to have it hanging around.
Notes
OK, so technically speaking this sauce is not a true Alfredo. What is it then? This sauce is a credible approximation to Alfredo and is dedicated to Dr. Westman's No Sugar, No Starch Diet (aka NS2 - since we love to shorten things around here). It's a creamy delight! No gums or thickeners! No super big quantities of heavy cream that violate our daily cream limits. Nothing but genuine, real food.
This is an easy way to make a creamy Alfredo when you need to limit the amount of cream per day. Because I much prefer having my cream in coffee and saving the rest for minimal appearances in sauces like this Easy Alfredo. You can now have creamy Alfredo again—guilt-free!
Serving Ideas Serve over zoodles or your favorite veggie or meat.
Nutritional Information
Per Tablespoon: 36 Calories; 3g Fat (79.9% calories from fat); 1g Protein; 0.45g Carbohydrate; trace Dietary Fiber; 10mg Cholesterol; 0.45g Effective Carbs
Per 1/3 cup (about 1/4 Recipe): 180 Calories; 16g Fat (79.9% calories from fat); 7g Protein; 2g Carbohydrate; trace Dietary Fiber; 48mg Cholesterol; 2g Effective Carbs
Copyright © 2012 Fluffy Chix Cook. All rights reserved.
http://fluffychixcook.com/easy-alfredo-low-carb-induction-friendly-page-4-legal/
Copyright © 2016 Fluffy Chix Cook. All rights reserved.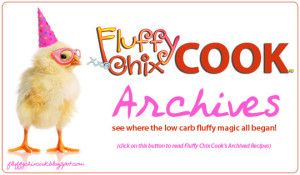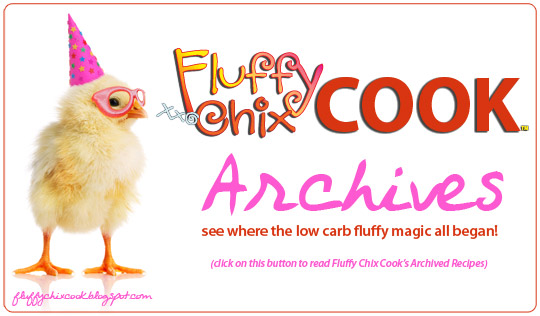 Copyright © 2012 Fluffy Chix Cook. All rights reserved.
We are not dieticians, nutritionists or medical professionals. The materials on this blog are for informational (and fun) purposes only. We do not fact check, nor do we worry about sources. Please do your own fact checking. We encourage you to look things up and check with your doctor or health care professional before acting on anything seen on Fluffy Chix Cook. xoxo