Easy Bacon Gravy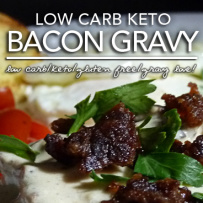 Do you dream of low carb keto comfort food? Does bacon or sausage gravy float your Southern boat, but you don't know how to make it low carb? Well congrats, because you've come to the right place. Fluffy Chix Cook knows how to make thick, rich, low carb keto bacon or sausage gravy that will put the spin back in your low carb lifestyle. You won't believe you are eating a keto diet with this delicious plate of healthy low carb comfort food in front of you, decarbified and perfect. Oh and guess what? It's Induction and diabetic friendly and gluten free, too! (You're welcome!)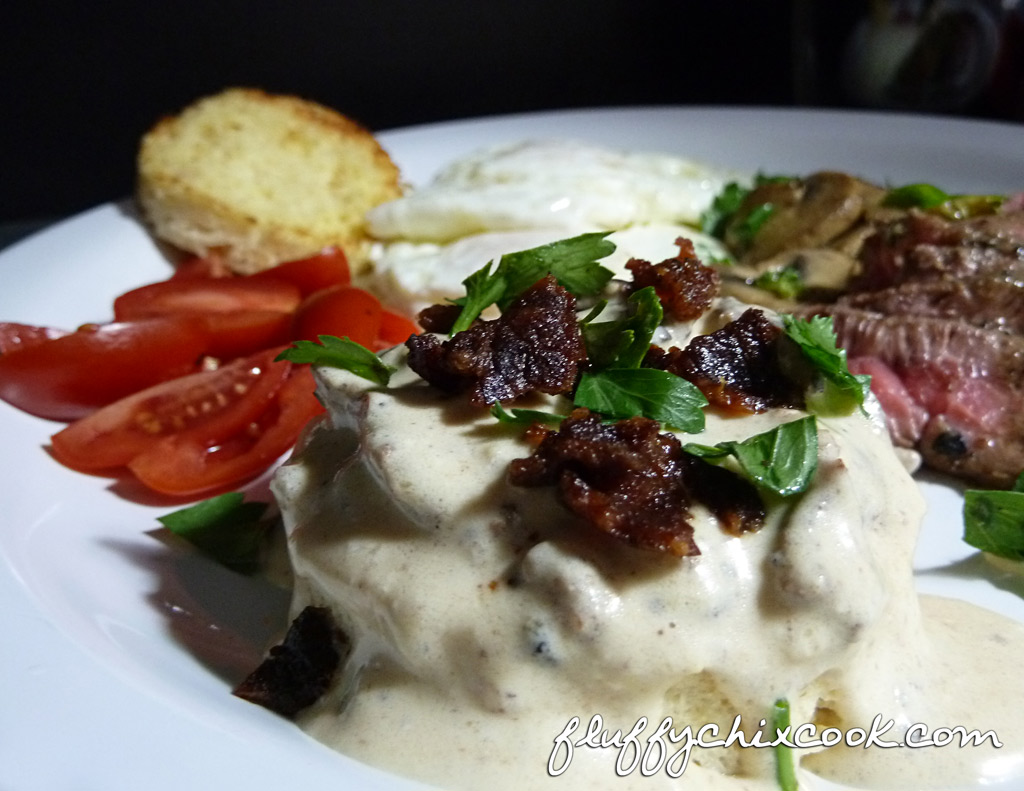 Fluffy Chix Cook are DFSW cheaters. Please mark your calendars and note that today we "outed" ourselves. We should probably be relieved of our DFSW cards (delicate flower of Southern womanhood). We play fast and loose with recipes, making complex recipes into shortcut recipes ready in minutes, instead of hours. And some of our changes are downright sacrilegious to true Southerners.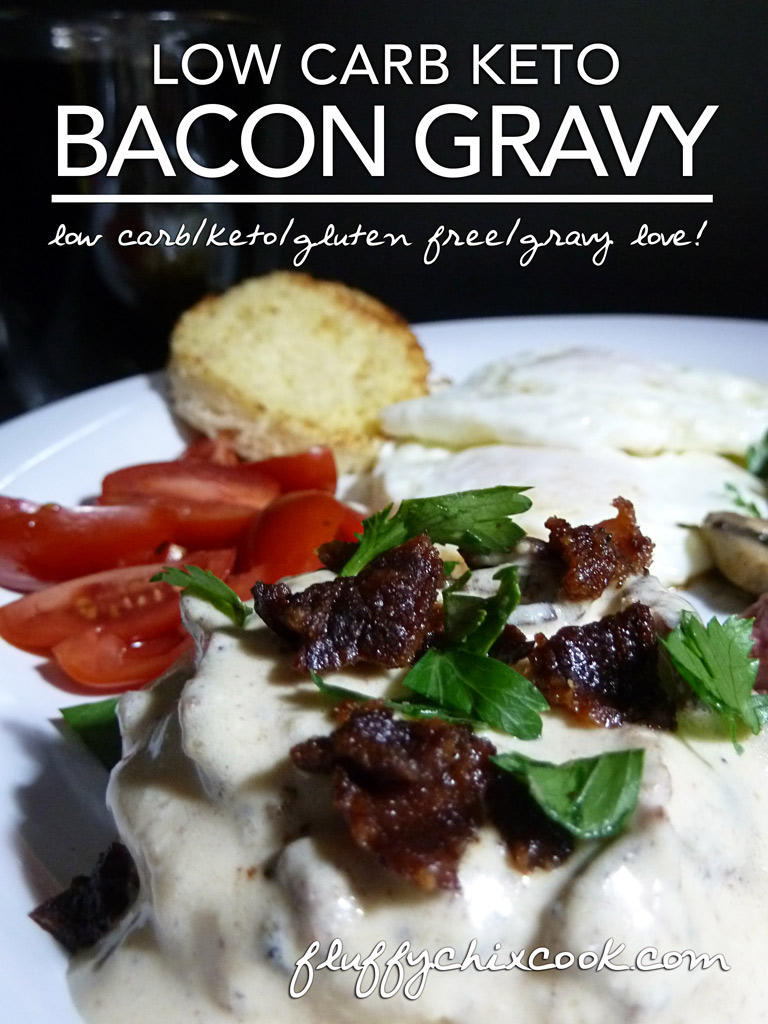 Take this Easy Bacon Gravy for instance. It's low carb ketogenic, bombastically good stuff. But it isn't "truly" Southern and any Southern chix worth her salt would be scandalized at the liberties we took! Real Southern cream gravy is made with a white or blonde roux, which is nothing more, and nothing less, than butter, or meat drippings and high carbage flour cooked for a minute or two to get out all the lumps and cook off the "raw" flavor from the flour. Milk gets added to the roux and the sauce cooks until thick and creamy. This sauce (base), called a béchamel, can be flavored in many different ways and can be used to form other sauces. It's actually NOT a Southern invention, it's really a French invention and is one of five of classic French mother sauces. If you want to learn all about mother sauces, just crack open your Joy of Cooking, by Irma s. Rombauer, the cook's kitchen bible since its first publication in 1931, and spend a few days practicing them!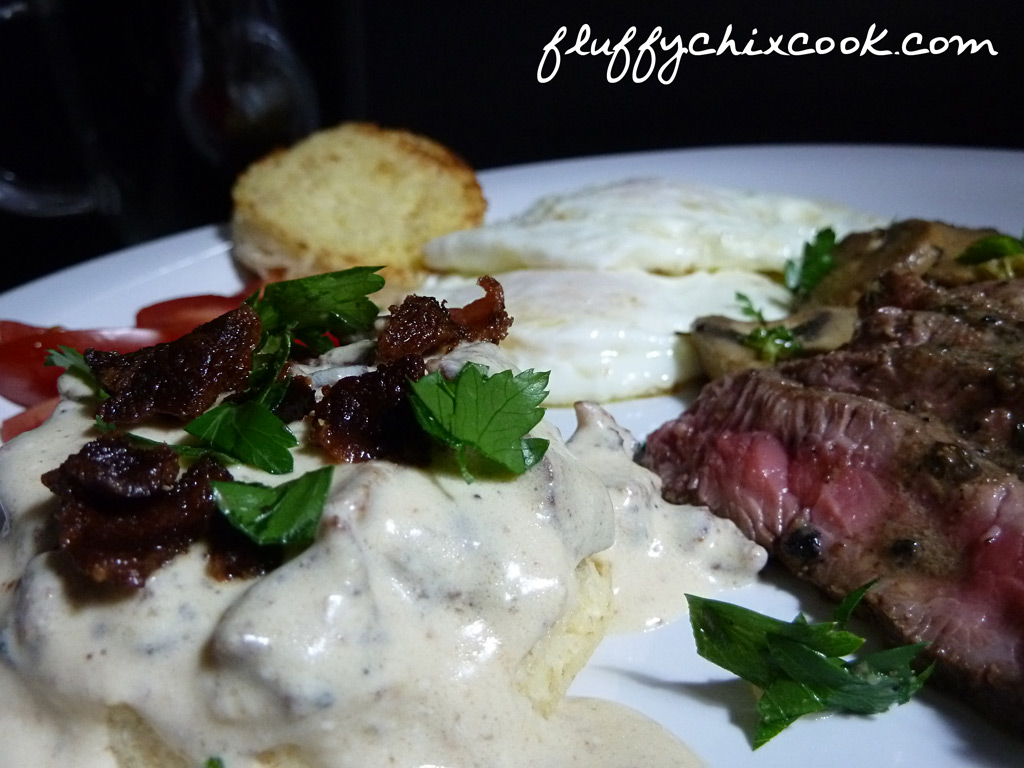 But, you know, all purpose flour is a no-no in a low carb keto lifestyle. Oh, we still make béchamel sauces with coconut flour and oat fiber (since we're not purists)m and glucomannan powder, to thicken. It's plenty low carb and yummy, too, but today we wanted fast and easy. And the Egg Fast Alfredo comes together in under 2 minutes and is made ridiculously from cream cheese and water! Can you believe that? But ohmahgersh! Is it delicious—and then when you factor in the bacon nonsense…well just twist and shout, baby. It's THAT good!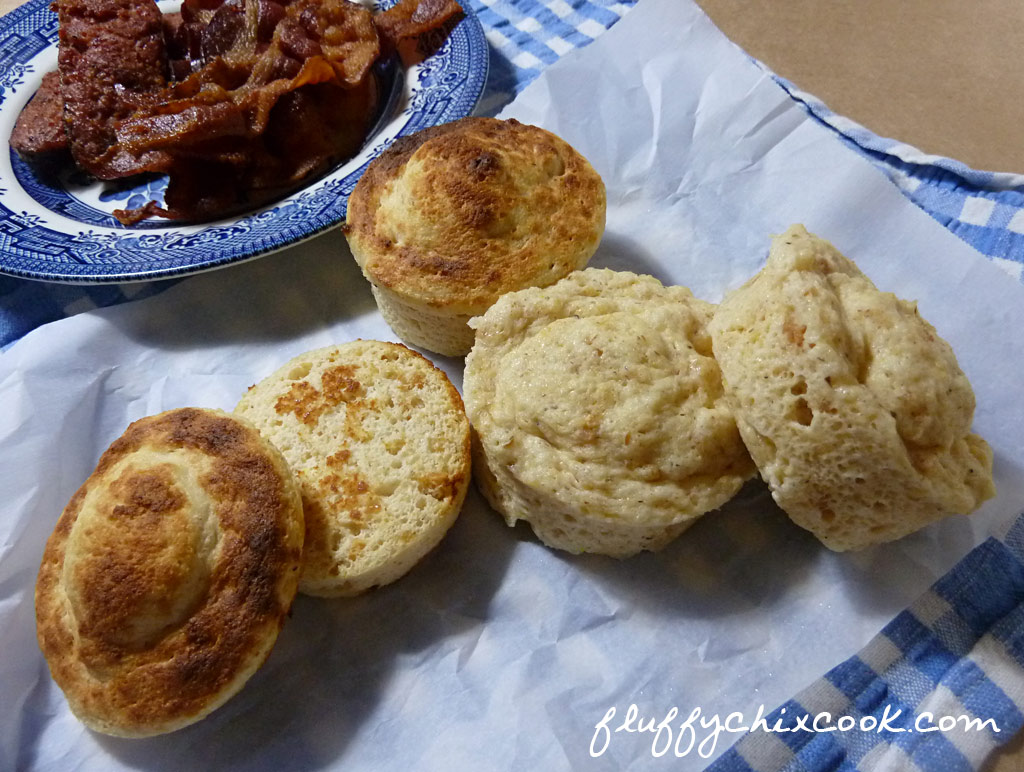 We serve Bacon gravy over split, buttered and toasted Fluffy Biscuits (perfectly Induction Friendly), or English Muffins (OWL friendly). They make incredible healthy low carb keto meals and if you don't tell, no one will know of your shortcut shenanigans, and you too will be able to keep your card carryin' DFSW status.
These are our go-to ramekins for making the Fluffy Biscuits. If we use a slightly smaller diameter ramekin, the rise is just that much higher and fluffier! The straight sides also make them look and feel more biscuit and also assist in the rise. We love that these ramekins are microwave safe, oven safe, and can go from freezer to oven without a problem. Clean-up is super easy as well. If anything sticks, then just a quick soak and poof, it comes right out. If you don't have the budget for new ones, keep your eye out at thrift stores and resale shops. We see them at our thrift stores often!
Ingredients
5 tablespoons Egg Fast Alfredo Sauce
2 bacon slices, crispy and crumbled
1/2 green onion, chopped fine (optional)
Instructions
Make Quick Egg Fast Alfredo Sauce per instructions, except reduce the Parmesan by 1/2 the amount. Optionally, you can stir in a 1/4 teaspoon of Better than Bouillon - Beef Base if desired (it will give it a deeper flavor, but isn't necessary for good flavor.) Substitute 1/2 of the butter in the Alfredo recipe for the same measurement of bacon drippings (made while cooking bacon). Adjust seasoning with kosher salt and plenty of freshly ground black pepper.
Stir in 1/2 of the crumbled bacon. Microwave on high for 15-20 seconds until piping hot. Spoon Easy Bacon Gravy over your choice of low carb bread, biscuits, or English muffins. Top with remaining bacon and optional chopped green onions.
Notes
We still make traditional Southern style cream gravy (decarbified of course), but this Egg Fast Alfredo Sauce is so quick, easy and versatile, we find ourselves turning to it again and again! This basic recipe can be used with sausage to make sausage gravy. You really won't believe it's low carb!
Serving Ideas Serve over low carb biscuits and English muffins.
Per Serving: 311 Calories; 30g Fat (85.9% calories from fat); 9g Protein; 2g Carbohydrate; trace Dietary Fiber; 2g Effective Carbs
Copyright © 2013 Fluffy Chix Cook. All rights reserved.
http://fluffychixcook.com/easy-bacon-gravy/
Copyright © 2016 Fluffy Chix Cook. All rights reserved.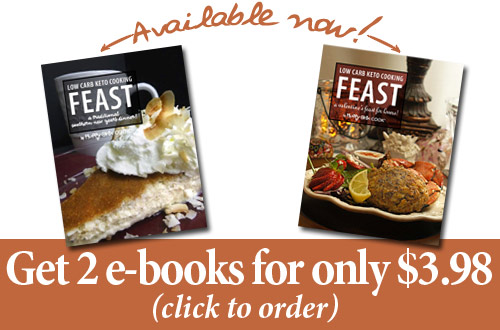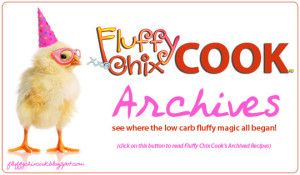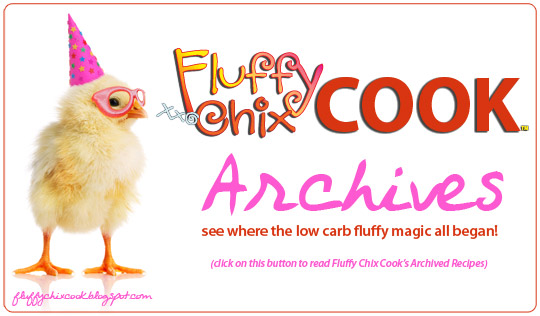 Copyright © 2010 Fluffy Chix Cook. All rights reserved.
We are not dieticians, nutritionists or medical professionals. The materials on this blog are for informational (and fun) purposes only. We do not fact check, nor do we worry about sources. Please do your own fact checking. We encourage you to look things up and check with your doctor or health care professional before acting on anything seen on Fluffy Chix Cook. xoxo