Egg Fast Alfredo Sauce – Low Carb Keto Nirvana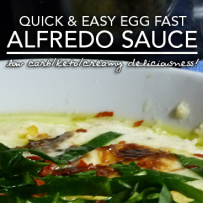 Whether you are doing an Egg Fast or simply living your every day, healthy, low carb keto lifestyle, and are looking for a quick and easy, down and dirty recipe for Alfredo sauce, makes no difference! This 2 minute Alfredo Sauce from Fluffy Chix Cook is the low carb bomb! You'll find yourself looking for ways to use this simple sauce again and again: veggies, over meats, over low carb Psylli Induction Pasta, on Beefy Alfredo Noodles, on eggs. (Yes, eggs!) Use it often, it's a winner recipe. You'll find yourself using it weekly.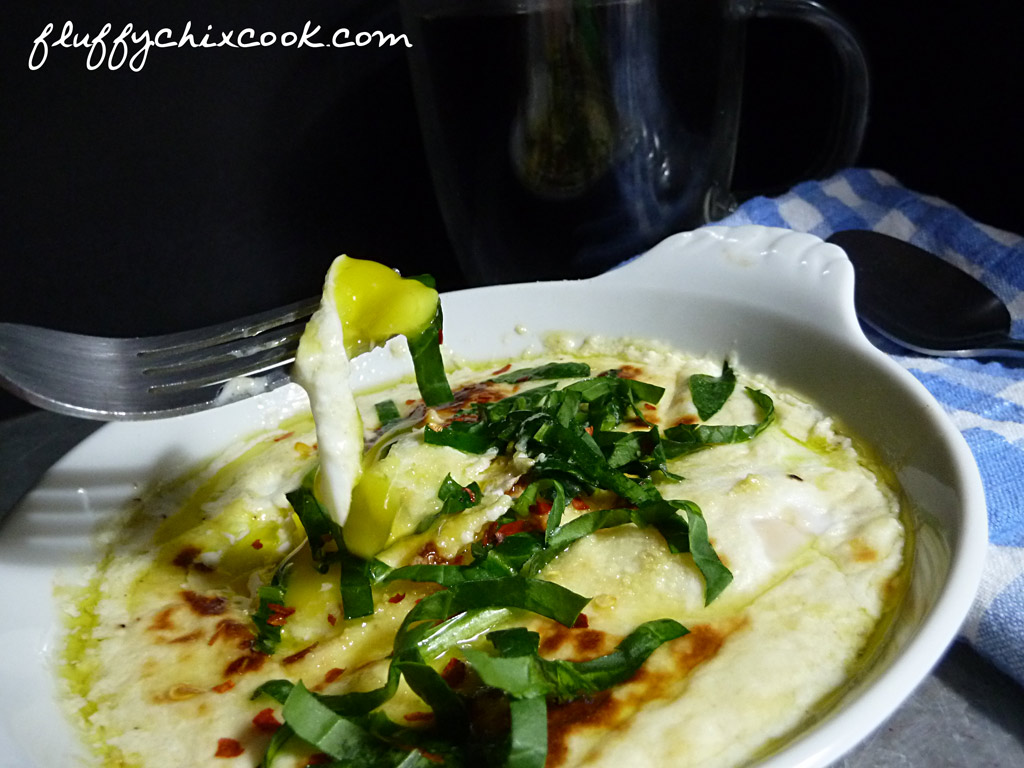 We've known since our old LCF days (a low carb support forum), and Linda Sue days (Linda Sue is a low carb living recipe legend), that the secret to creamy sauces was cream cheese and heavy cream. And we have lived long and prospered on that one trick, alone.
It didn't take long to switch over to using chicken broth in place of cream, when wanting to cut the calories in a recipe. (Relax, you may be one of the fortunate ones who only have to count carbs, not count calories…this fluffy chix does not share your good fortune. Calories, in addition to carbs, do count.) So we've been adding broth to thin out cream cheese for a long time. (It makes a super quick cream of chicken soup base for all kinds of dishes)!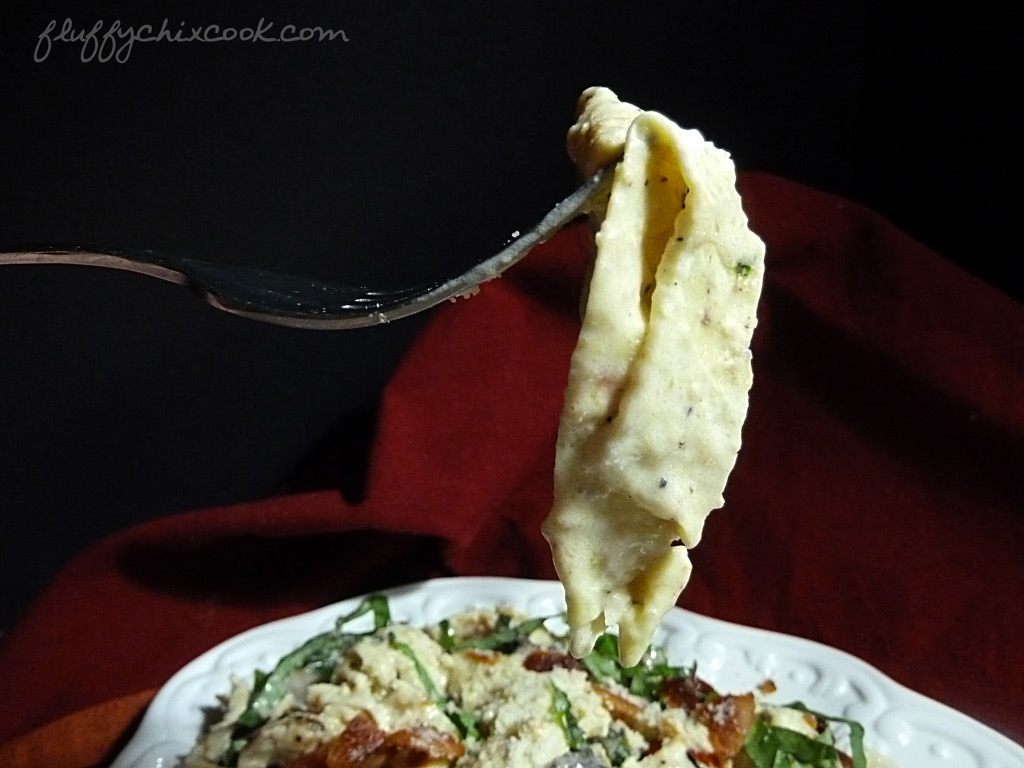 But a big round of applause goes out to Mellissa Sevigny, of I Breathe, I'm Hungry blog. Most of you know my friend's recipe and photography prowess! Thanks to her inspirations from the Egg Fast dishes (Mellissa and the Fluffys Egg Fast from time-to-time): Fettuccine Alfredo and Egg Fast Frozen Custard, where she made cream out of cream cheese using only cream cheese and water. Incon-theib-able (said with my best "Catheelian" aka Castillian accent)! Mellissa used mascarpone cheese and butter to achieve a drool-worthy Alfredo and used cream cheese, water, egg yolks and flavorings to make a frozen custard (which I'm totally wanting to do now)!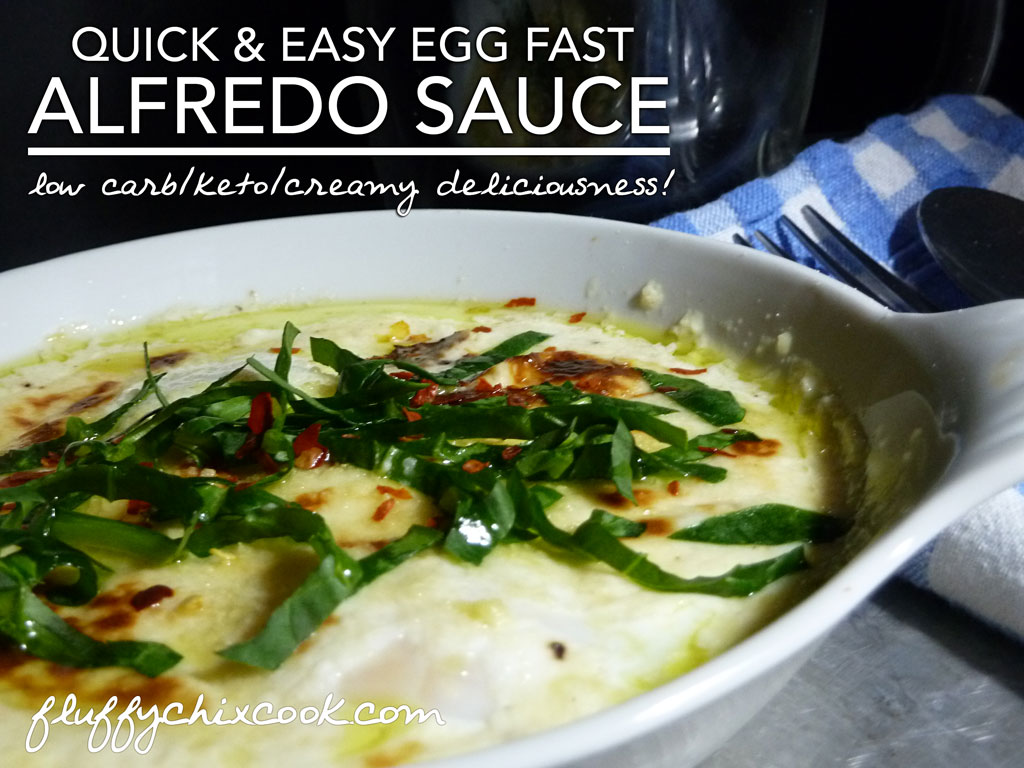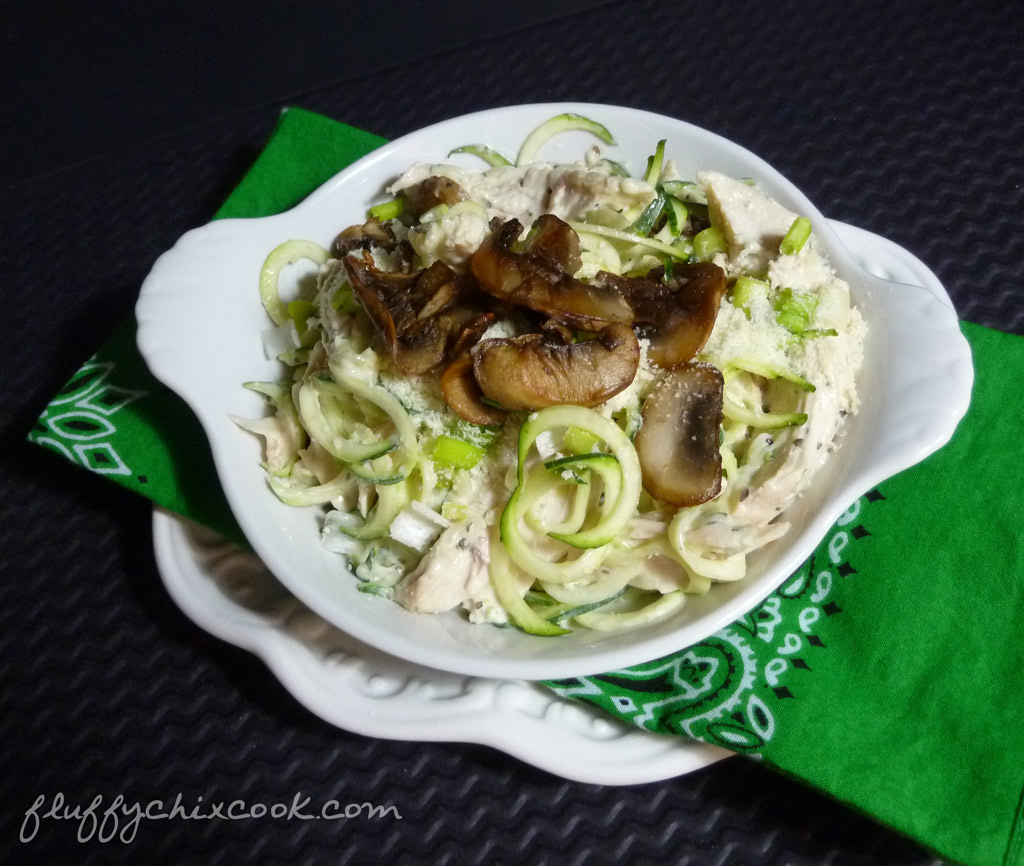 We couldn't resist. We HAD to know. Could it be done? We threw caution to the wind to see if cream cheese and water really do thin down to anything remotely resembling a classic Alfredo. And it does! It does! It so freaking, does! The reward? A boat load of Alfredo Sauce (about 5 tablespoons) only costs you 2g of carbs and 228 calories. Sweet! And the recipe doubles, triples and quadruples like a little champ.
We love this sauce on low carb keto Psylli Induction Pasta and on Eggs Florentine, or used anywhere a delicious Alfredo Sauce or white sauce would come in handy. We can think of so many applications! (Hello steamed broccoli! My, aren't you the pretty today?)
Egg Fast Alfredo Sauce – Low Carb Keto Nirvana
This Alfredo is an amazing Egg Fast friendly recipe. You won't believe how delicious Egg Fast Alfredo Sauce tastes. You'll simply be looking high and low for the cream. Now, it's completely possible to enjoy Alfredo in under 2 minutes flat!
Ingredients
1 ounce cream cheese, softened
2 tablespoons water
2 pinches granulated garlic
1 tablespoon unsalted butter
1 1/2 tablespoons Parmesan cheese, grated
1 pinch ground nutmeg
Toppings (Optional)

1 tablespoon Italian parsley, or fresh basil chopped
Instructions
Place cream cheese, water, granulated garlic, and freshly ground black pepper in a microwave safe bowl. Nuke on high for 12 seconds. Remove and add butter. Stir with a fork or spatula until butter melts and sauce is smooth. Add a pinch of nutmeg, allspice, and Parmesan cheese. Enjoy!
Notes
I know! I was as startled as you. Who would think, you could make creamy, authentic tasting, Alfredo sauce in less than a minute? With water! WATER! And cream cheese! Try the addition of nutmeg and a tiny pinch of ground allspice. It elevates the sauce to a new level.
Serving Ideas Serve over low carb pasta or over your favorite veggies or proteins. It's even great on Eggs Florentine.
Nutritional Information
Per Tablespoon: 48 Calories; 5g Fat (88.2% calories from fat); 1g Protein; 0.4g Carbohydrate; trace Dietary Fiber; 0.4g Effective Carbs
Per Recipe: 238 Calories; 24g Fat (88.2% calories from fat); 6g Protein; 2g Carbohydrate; trace Dietary Fiber; 2g Effective Carbs
Copyright © 2014 Fluffy Chix Cook. All rights reserved.
http://fluffychixcook.com/egg-fast-alfredo-sauce-low-carb-keto-nirvana/
Copyright © 2016 Fluffy Chix Cook. All rights reserved.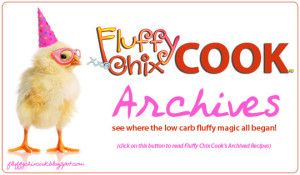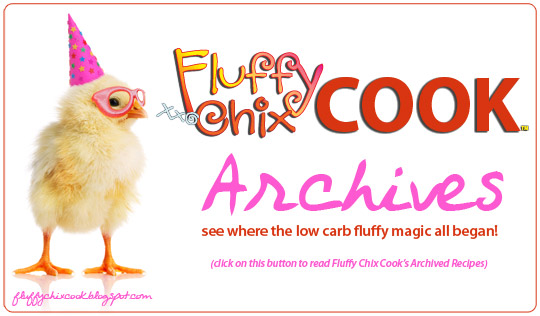 Copyright © 2014 Fluffy Chix Cook. All rights reserved.
We are not dieticians, nutritionists or medical professionals. The materials on this blog are for informational (and fun) purposes only. We do not fact check, nor do we worry about sources. Please do your own fact checking. We encourage you to look things up and check with your doctor or health care professional before acting on anything seen on Fluffy Chix Cook. xoxo