Egg Fast Breakfast Biscuit – Low Carb Keto Breakfast Yum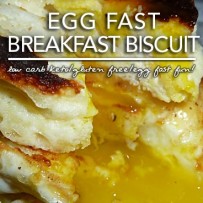 Learn why Fluffy Chix Cook thinks Egg Fasts should never bore anyone with monotony. Do you want new and exciting healthy low carb keto breakfast sandwich recipes? The Egg Fast Breakfast Biscuit makes a delicious low carb meal any time of the day and fits perfectly into an Egg Fast plan which is a modified Fat Fast. Join the Fluffys to discover more about eggs and Egg Fasting, the near perfect super food.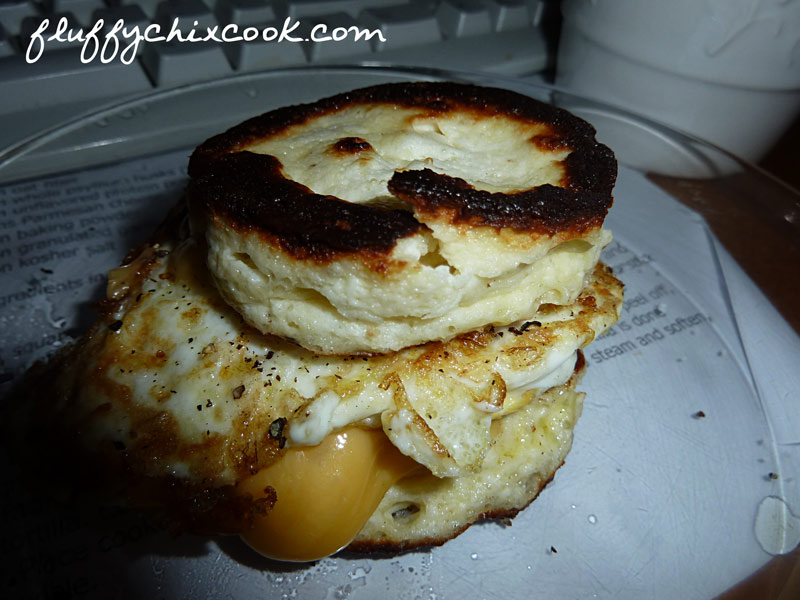 Eggs are a near perfect food, maybe a super food, because they contain nearly every essentially vitamin and mineral, plus all the essential amino acids, plus healthy fats in the ratios necessary for optimal absorption! They are a protein and fat powerhouse positioned to deliver the fat soluble vitamins: A, D, E, and K directly into the nucleus of your cells. So is it any wonder the Fluffys enjoy Egg Fasts now and then?
Many people who are yet unfamiliar with Egg Fasting ask, "Well, how can you eat "only" eggs day in and day out? Don't you get sick of them? I could NEVER eat eggs as my only food!" The short answer is "NO;" resoundingly "NO." Am I shouting, cuz I feel like I am shouting! Why? Because Egg Fast recipes are more, much more than boiled eggs, scrambled eggs, and fried eggs. Far from it!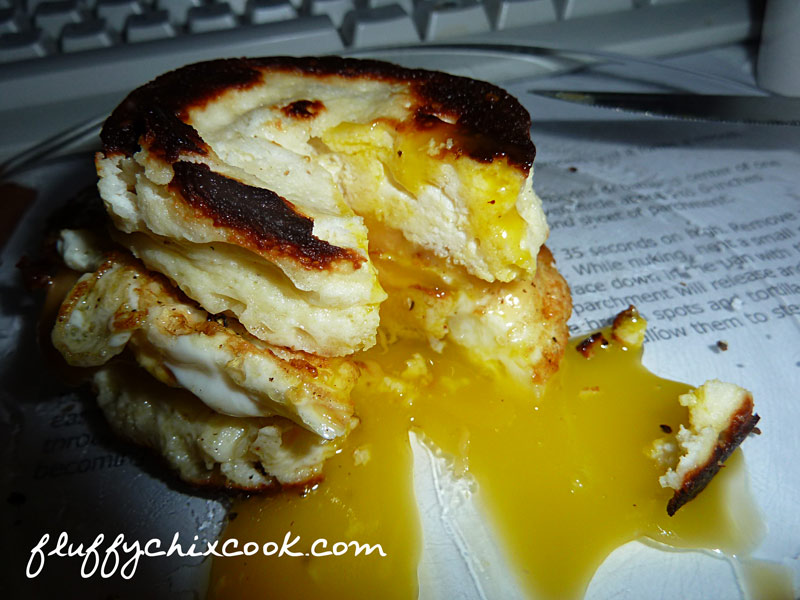 The truth is that a proper Egg Fast, which is a form of a modified ketogenic fat fast is very balanced: 1 egg + 1 tablespoon of healthy fat + 1 ounce of cheese (or less). That ratio yields about 19% Protein, 1% Carbs, and 80% fat; a super duper ketogenic ratio. And there is so much variety and so many recipes that can be made through the combination of these ratios of ingredients. (Oh and don't forget, the Fluffys are mid-hedonists and need a little fiber for occasional irregularity…so our rules state you can have up to 2 teaspoons of whole psyllium husks daily. Remember, you can use ANY healthy fat, and ANY healthy cheese in addition to your eggs.
Mr. Fluffy woke up jonesing for a Breakfast Biscuit sandwich, you know, the kind you get at Mickey D's (i-a-b-e-t-e-s) fast food joint? And we're having an alternate day egg fast this week (ADEF) where you Egg Fast for 3 meals every other day and then on alternating days Egg Fast for 1-2 meals of the 3 meals per day. So we got to thinking…what if? And the Egg Fast Breakfast Biscuit was born!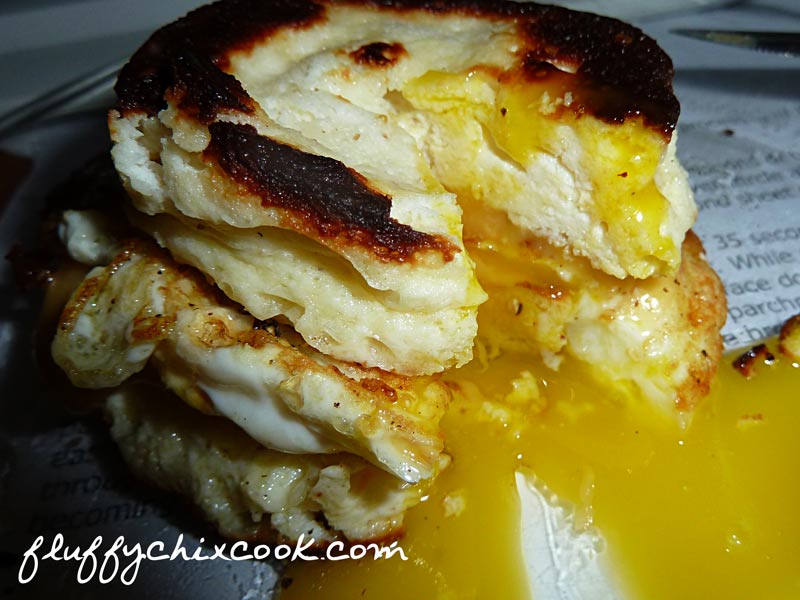 We already make an Egg Fast Pumpkin Spice Pancake, so this is an evolution from that idea, making the "biscuit halves" in ramekins (2 halves per sandwich) in the microwave, then pan toasting in a nonstick skillet. Perfection! No, they don't have the bready texture of a true biscuit, but as a GDS (Guts Delivery System), with a pleasing texture, they're magnificent! Just perfect to deliver a runny fried egg with melted cheese!
We don't mind telling you, we were amazed, beyond pleased, and stuffed after one of these little Egg Fast beauties. Egg Fast Breakfast Biscuits will become a staple in the Fluffy House, so move over Mickey, there's a new clown in town!
If you want more exciting Egg Fast recipes please scroll down to the Egg Recipe section in the Recipe Index, or visit the Fluffy Chix Egg Fast Meal Plans section to see the Egg Fast Rules and to see 5 Sample Menus (located at the bottom of the page). Also, feel free to join them in their confidential Egg Fast Group!
Egg Fast Breakfast Biscuit – Low Carb Keto Breakfast Yum
The Egg Fast Breakfast Biscuit is a complete and filling meal any time of the day! For only 2g Effective Carbs you get a hearty sandwich that will keep you satisfied for very little time in the kitchen. Make the "biscuits" in advance and keep them in the fridge to pan toast while making the eggs.
Ingredients
Instructions
Soften cream cheese. Blend with Parmesan, psyllium, baking powder, apple cider vinegar, granulated garlic, kosher salt, and the egg whites from one egg. Add 1/2 teaspoon of olive oil to each of 2, 3-ounce ramekins. Divide batter and nuke one at a time for 35-40 seconds in the microwave. Centers should be done in the middle.
Add 1/2 teaspoon olive oil to a nonstick skillet. Transfer egg biscuits to the pan and cook until toasted on both sides. Remove from hot pan and top each half with a quarter slice of American Cheese. Let it melt while you fry the egg.
Add remaining oil to nonstick skillet. Add 2nd egg plus the egg yolk from the first egg. Fry until whites are firm and yolks are still runny (over medium).
Add egg to bottom of biscuit and top with the second biscuit. Serve immediately to smiles and rave reviews!
Notes
The Egg Fast Breakfast Biscuit is so filling and comforting feeling it takes us from breakfast to late afternoon with no hunger—zero hunger! If we squint a little bit we'd get all the way through to dinner. We're calling this an EF meal even though I go over by 1 tablespoon on cheese. That's not a deal breaker, is it?
Serving Ideas Serve with a hot cup of coffee and a smile!
Nutritional Information Egg Fast Breakfast Biscuit 572 Calories; 53g Fat (83.2% calories from fat); 21g Protein; 3g Carbohydrate; 1g Dietary Fiber; 2g Effective Carbs
Copyright © 2015 Fluffy Chix Cook. All rights reserved.
http://fluffychixcook.com/egg-fast-breakfast-biscuit-low-carb-keto-breakfast-yum/
Copyright © 2016 Fluffy Chix Cook. All rights reserved.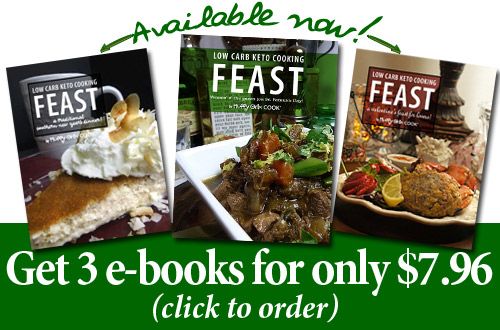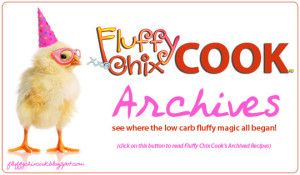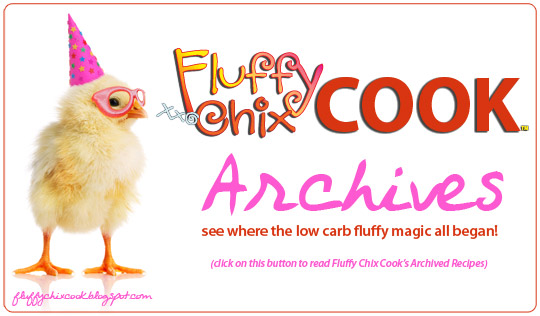 Copyright © 2014 Fluffy Chix Cook. All rights reserved.
We are not dieticians, nutritionists or medical professionals. The materials on this blog are for informational (and fun) purposes only. We do not fact check, nor do we worry about sources. Please do your own fact checking. We encourage you to look things up and check with your doctor or health care professional before acting on anything seen on Fluffy Chix Cook. xoxo