Egg Fast – Day 4 – Featuring Lo Lo Egg Salad Psylli Wrap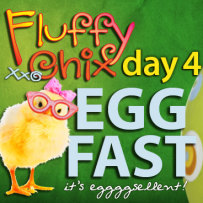 DAY 4 – Fluffy Chix Cook's Egg Fast Meal Plan | Egg Fast meals don't have to be boring! Fluffy Chix Cook loves inventing new recipes designed to make the incredible edible egg, the true star of the show! You know they're no purists and stretch the edge of the envelope! Fish eggs-caviar-they're eggs! Why not? Caviar for breakfast, followed by the Lo Lo Psylli Wrap stuffed to the brim with Egg Salad. Dinner is a comforting plate of gooey Tex-Mex wonder: scrambled eggs with butter, melted longhorn cheddar and salsa.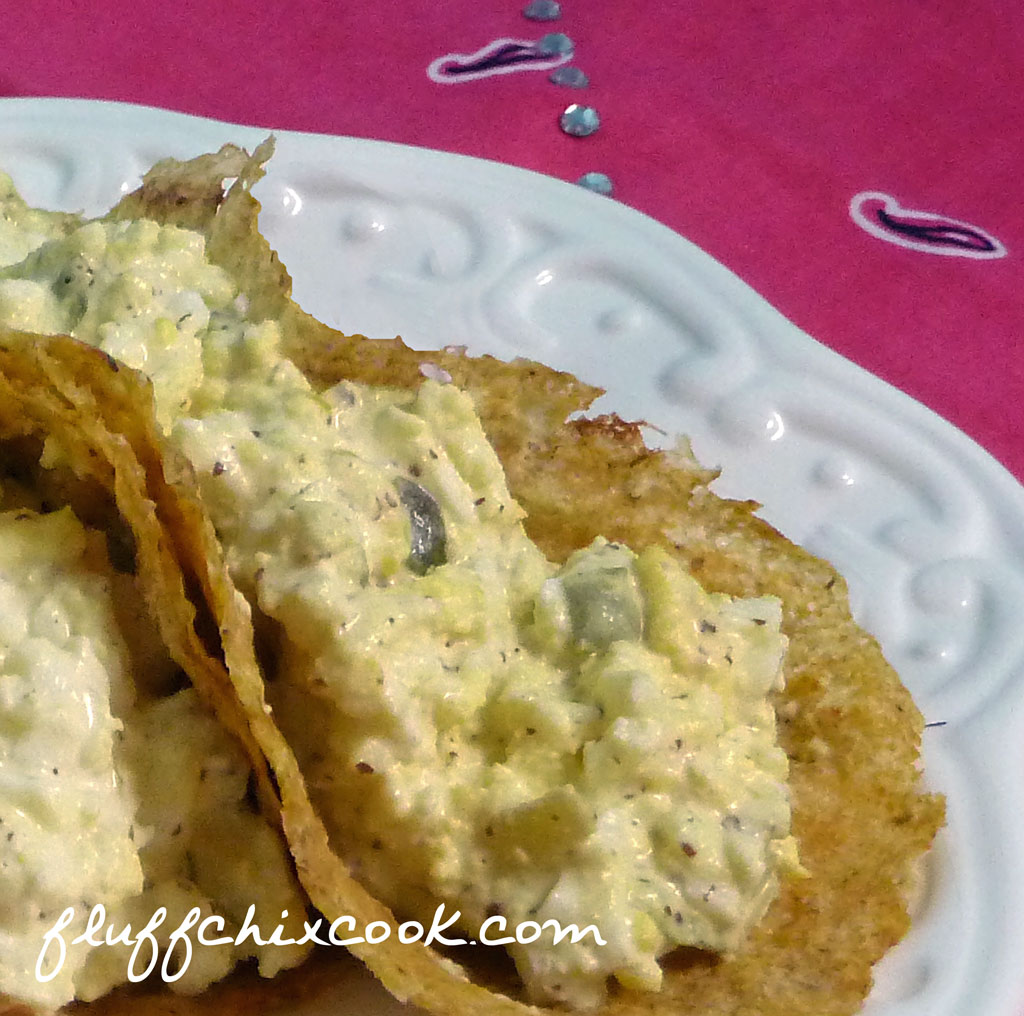 NOTE FOR THE DAY: If it's eggs we're doing, why wouldn't fish eggs work? Fish eggs are PACKED with nutrients: Vitamin B-12, vitamin D3, omega-3 fatty acids, and nutrients that feed our brain (nutrients not found in as high a ratio as other foods). Caviar is nutrient dense, dude! And delicious! Caviar is high in sodium, but it helps to rinse them gently in a cold water bath. Rinsing makes them taste more natural and rinses away much of the dyes used to color the caviar. It's simple to rinse it: gently place in a fine hand held mesh strainer and dunk in and out of cold water (filtered). Change the water frequently and dunk until no more color leaches into the water. Place caviar and strainer on top of a bunch of paper towels and let it drain. Use immediately! So if not using and entire jar, only rinse the amount of caviar for that meal. Caviar goes great with eggs cooked many ways, especially scrambled, soft boiled and hard boiled. It's great garnished with a little cream cheese, sour cream (for the Egg Fast, thin cream cheese with water until it's a sour cream consistency and add a drop of unfiltered apple cider vinegar). (Sodium Word: We're not too worried about sodium when Egg Fasting because it is a highly diuretic type of modified fat fast and the Fluffys actually need a little more sodium during those days we Egg Fast.)
Daily Totals: 1421 Calories; 128g Fat (81.1% calories from fat); 60g Protein; 7g Carbohydrate; 1g Dietary Fiber; 6g Effective Carbs
Breakfast – 544 Calories; 51g Fat (82.9% calories from fat); 20g Protein; 3g Carbohydrate; trace g Dietary Fiber; 3g Effective Carbs
2 cups black coffee or tea
scrambled eggs with caviar
2 large eggs
2 tablespoons butter
1 teaspoons capers, drained
1 tablespoon red onion, minced-or green onion, finely chopped
1 tablespoon black lumpfish caviar
Lunch – 349 Calories; 30g Fat (79.3% calories from fat); 16g Protein; 2g Carbohydrate; 1g Dietary Fiber; 1g Effective Carbs 1 serving
Lo Lo Psylli Wrap with Basic Egg Salad
2 large eggs
2 tablespoons Basic Mayonnaise
1/4 teaspoon dill relish
1/4 teaspoon Country Dijon Mustard
Dinner – 527 Calories; 47g Fat (80.4% calories from fat); 24g Protein; 2g Carbohydrate; 0 g Dietary Fiber; 2g Effective Carbs
scrambled eggs with cheese and salsa
2 large eggs
2 tablespoons butter
1 1/2 ounces longhorn cheese (red rind cheddar), shredded
1 tablespoon picante sauce
Here's the Fluffy's favorite cheap, black lumpfish caviar from Romanoff. Once you rinse it as describe in the note above, it's just darned tasty! Be sure to check out Fluffy Chix Egg Fast Rules and our other Fluffy Chix Cook Meal Plans.
We are not dieticians, nutritionists or medical professionals. The materials on this blog are for informational (and fun) purposes only. We do not fact check, nor do we worry about sources. Please do your own fact checking. We encourage you to look things up and check with your doctor or health care professional before acting on anything seen on Fluffy Chix Cook. xoxo