Egg Fast Fried Egg Fundido – Low Carb Keto Fandango!
Are you looking for quick, easy, and cheap low carb keto recipes? Maybe you're Egg Fasting and are looking for new and innovative Egg Fast recipes? Fluffy Chix Cook has you covered either way! Follow them to find out how to make Egg Fast Fried Egg Fundidos so tasty and easy, you'll want them meal after meal. This recipe works any meal of the day too, and tastes so great you don't have to be Egg Fasting to enjoy them. Fried Egg Fundidos make a quick and healthy meal in any low carb keto meal plan.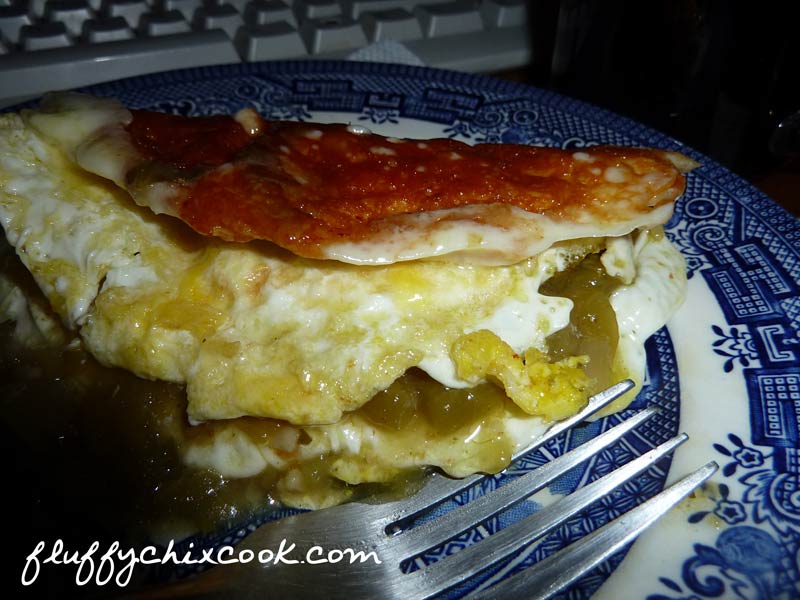 We truly adore this way of eating (WOE). It's versatile, convenient, and can be fairly cheap. Especially when you shop those sales. We just finished Easter week, so guess what we had coming out the ying yang? Yeppers…eggs. Hence all the Egg Fast Egg Recipes. See? We do have a cunning plan now and then. And eating with the seasons, taking advantage of loss leader sales at the grocery and with your suppliers is the way to eat economically as a low carb ketoneer.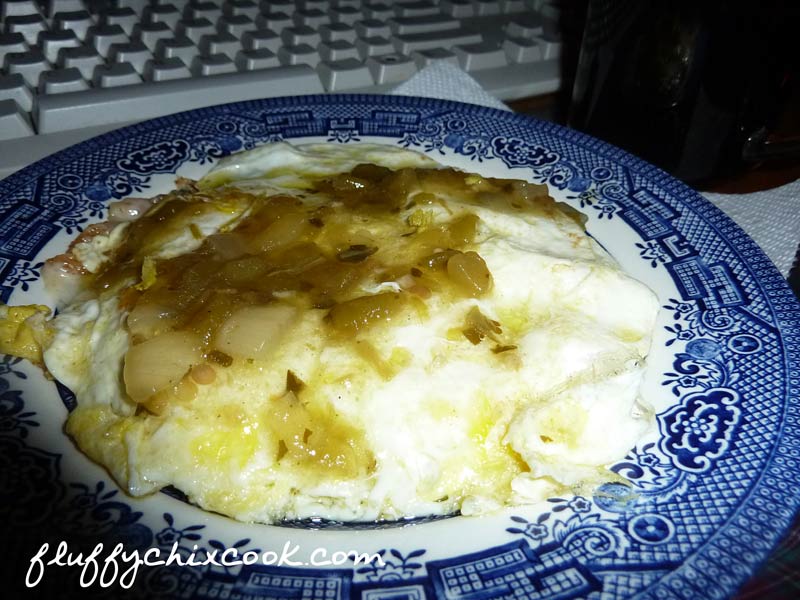 Egg Fast Fundido are cheap, quick, and easy. It's almost a non-recipe because there's no right or wrong about what kind of cheese, how much cheese, how many chiles, seasonings, sauces. It's a concept recipe and represents more of an idea than a hard-fast exacting recipe. Use red salsa, green salsa, no salsa, chimichurri, Panola, Cholula, whatevs baby!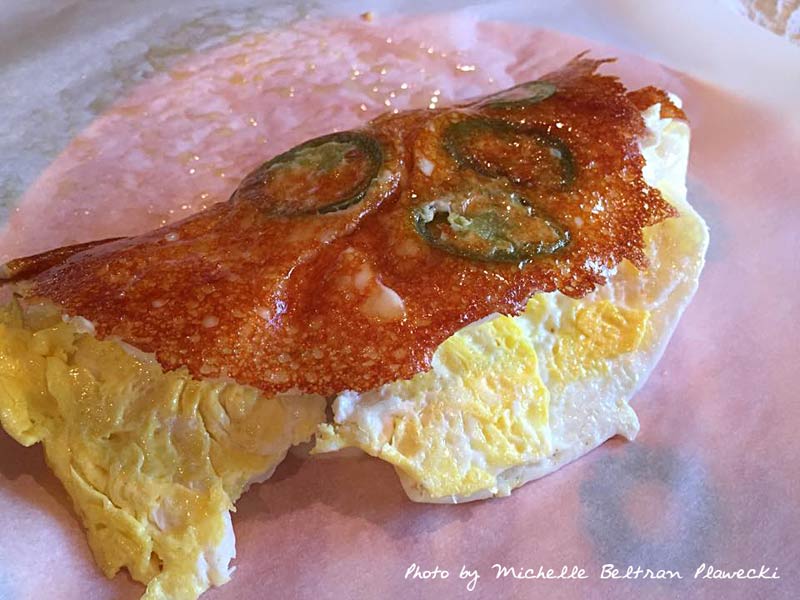 In fact, a sweet friend of mine, Michelle makes her fundido quite differently. She actually uses cheddar and cooks the eggs with the cheese still in the pan. She turns the heat down, pops a lid on that bad boy and cooks it until the egg whites are done and yolks are partially set (see she doesn't like runny eggs). You could even scramble your eggs if you prefer them scrambled rather than fried.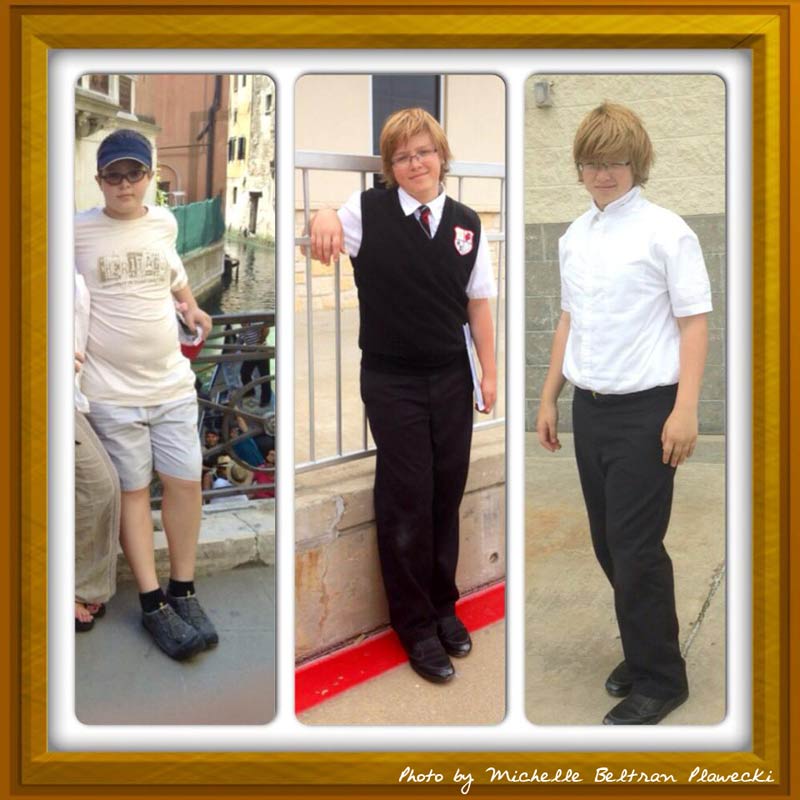 Michelle has such a great success story to share. She began doing low carb when she noticed that her family needed a little trimming down in the waistline department. Her sons were filling out rather than up, so she decided to start cooking differently and put the entire family on a low carb WOE. Yeeeehaaawww! Just look at the before and after photos of her handsome son (who also grew 3-inches)!
She uses many Fluffy recipes and her family heartily endorses them. I'm so happy for their success and improved health! Her son's self-esteem blossomed and he's so much happier. This reinforces that change is possible for everyone and if you're the mommy in your house, then you decide how to feed and influence your children's understanding about nutrition and what makes us fat and sick.
Michelle and the Fluffys are Egg Fasting, which is a modified ketogenic fat fast. We're actually doing the Alternate Day Egg Fast (ADEF), which is much easier to comply with and has almost identical results. This is a diet we use to break our stalls or to bring us back into ketosis in order to get back in touch with our individual carb level for losing (CLL), to learn exactly how many carbs are optimal for us to ingest each day. Too many carbs and we quit losing, lose the ketogenic advantage, and grow hungry and munch. Too few carbs and we personally don't feel as great as when we are "in the sweet spot" for us as individuals. On alternating days we eat the proper ratio of eggs to healthy fats and include a bit of cheese and condiments, making sure no meal goes over 4g of total carbs. We aim for 6-8g or less of total carbs each day that we Egg Fast.
Hope you will try this dy-no-mite Egg Fast Fried Egg Fundido recipe, such an awesome low carb keto recipe, that's perfect for any meal—even if you aren't Egg Fasting. Please come back and let us know how you like it. Drop a comment!!!
For more Egg Fast ideas visit the Egg Fast Meal Plan section where we talk about the Fluffified Egg Fast Rules and give 5 days of sample meal plans. For more Egg Fast Recipes visit the Recipe Index and scroll down to the Eggs section.
Egg Fast Fried Egg Fundido – Low Carb Keto Fandango!
Egg Fast Fried Egg Fundido is one of those super simple dishes you dream about again and again. Yes it packs a little heat, but also delivers a whole lot of satisfying yum!
Ingredients
1/4 jalapeno chile pepper, sliced thinly with seeds
1 ounce Monterey jack cheese
1 ounce mozzarella cheese—or sub 2oz mozzarella for the mixture of Monterey jack and mozza
2 tablespoons bacon grease
2 large eggs
1 1/2 tablespoons Mrs. Renfro's Green Salsa
Instructions
Slice 1/4 of a jalapeno thinly. Keep the seeds in for extra heat. Place in a small nonstick skillet. Thinly slice cheeses, or grate it on top of jalapenos. Cook on medium to medium high until cheese melts and turns golden on the bottom. It must be cooked enough to be firm enough to move. Do not flip. Transfer cooked molten cheese to a plate.
Fry eggs in bacon grease. The Fluffys prefer over-medium. Flip eggs in the pan and gently press egg where the white and yolk comes together. This will ensure the whites are cooked. Be gentle. Don't let the yolks burst. Flip again and place eggs on top of melted cheese. Top with green salsa. Enjoy!
Notes
Ok, true Fundido (Mexican queso), is simply a mixture of sautéed veggies, some kind of protein and wads of gorgeous melted cheese. It usually does not have a well-cooked crusty bottom. So this is somewhere between fundido and frico (cheese cracker) or cheese quesadillas. Whatever you choose to call this gorgeous dish, just make sure you call it often, because it's fabulously delish and will beckon you again and again. Oh and did we mention, this Fried Egg Fundido is Egg Fast friendly by Fluffy Rules?
Serving Ideas Serve with hot coffee and a smile.
Nutritional Information per 2 egg fundido 589 Calories; 52g Fat (80.0% calories from fat); 26g Protein; 3g Carbohydrate; 1g Dietary Fiber; 2g effective carbs
Copyright © 2013 Fluffy Chix Cook. All rights reserved.
http://fluffychixcook.com/egg-fast-fried-egg-fundido-low-carb-keto-fandango/
Copyright © 2016 Fluffy Chix Cook. All rights reserved.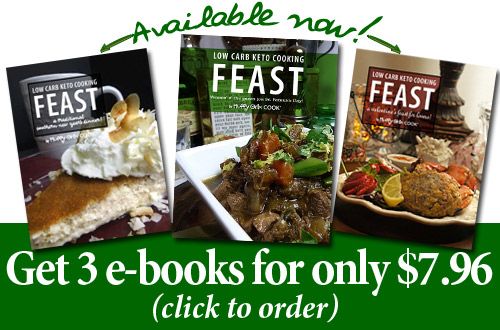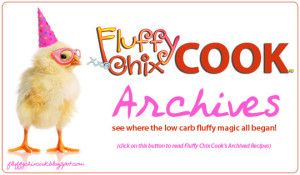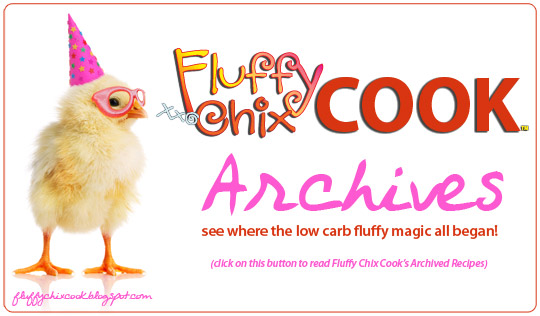 Copyright © 2014 Fluffy Chix Cook. All rights reserved.
We are not dieticians, nutritionists or medical professionals. The materials on this blog are for informational (and fun) purposes only. We do not fact check, nor do we worry about sources. Please do your own fact checking. We encourage you to look things up and check with your doctor or health care professional before acting on anything seen on Fluffy Chix Cook. xoxo