Egg Fast Recipe | Eggs Florentine – Induction Friendly & Gluten Free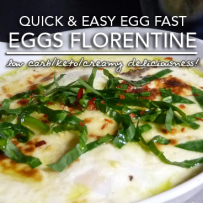 Egg dishes just became exciting again. You don't have to fall into a bacon and egg rut (unless you just love them that much). Branch out. Expand your tastes. Experiment and live a little. Eat garlic and Alfredo Sauce for breakfast. Eggs Florentine brings a taste of the Tuscan table to your table, any time of the day. Pair low carb keto Eggs Florentine with a salad and enjoy an elegant, Induction friendly lunch or dinner that's a step above the ordinary.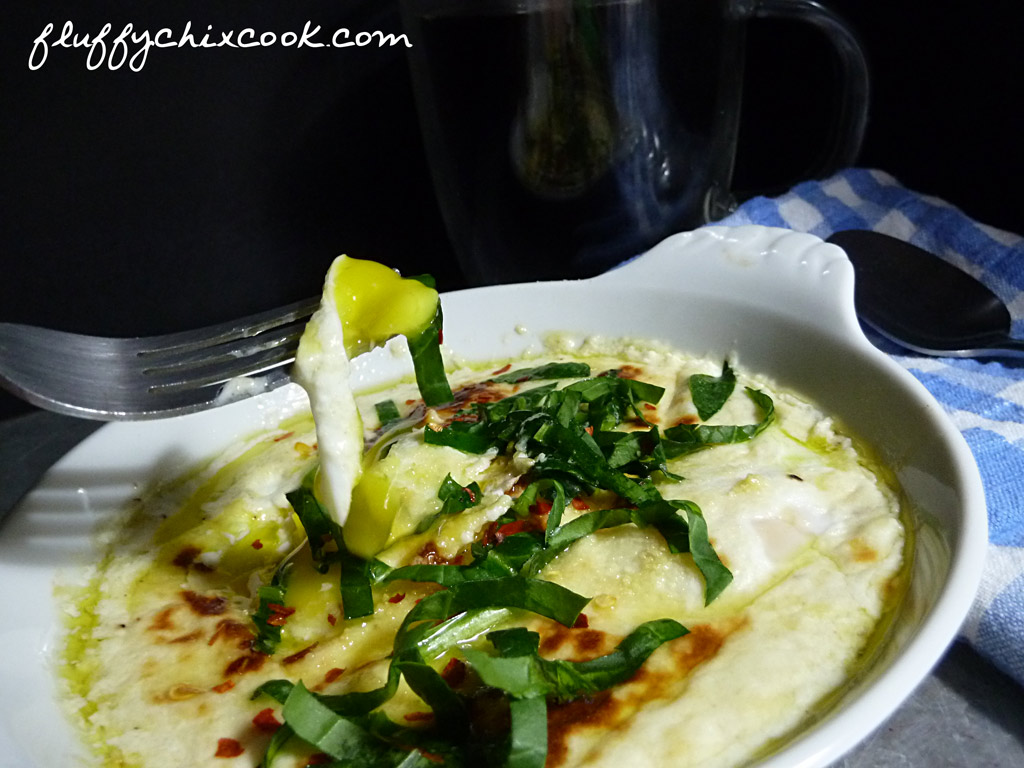 Fluffy Chix Cook loves eggs any time of the day. That's partly why we enjoy Egg Fasting here and there. Eggs are nutritious, delicious, healthy and make sound low carb budgetary sense! But some low carb keto-neers claim they get bored with eggs. We think all you need to do is expand and broaden your horizons. Think about going to Tuscany. Enjoy creamy Alfredo Sauce and eggs softly poached in extra virgin olive oil. Grate flavorful Parmesan over the top and see if you're still bored with eggs after enjoying Eggs Florentine—a perfect Egg Fast meal.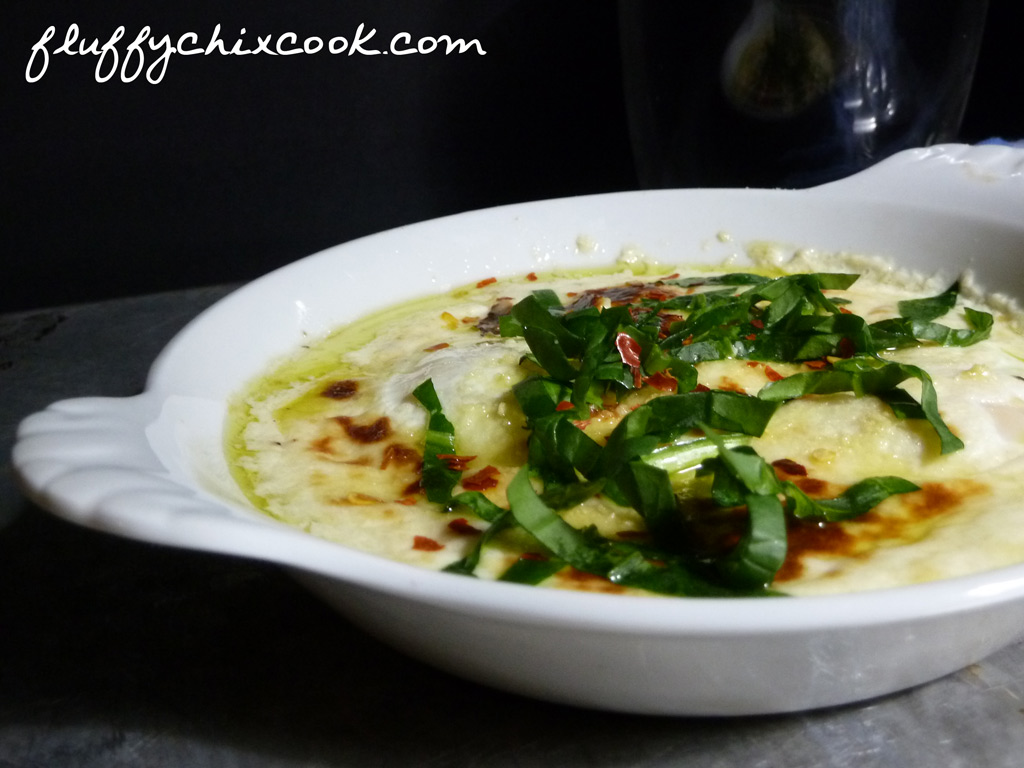 Let's face it. We all love creamy-dreamy comfort food. Unless someone is so uptight they can't allow themselves to experience pleasure from food, it's unanimous: food pleasure is back! Survey says, "Show us Pleasure!" ding ding ding ding ding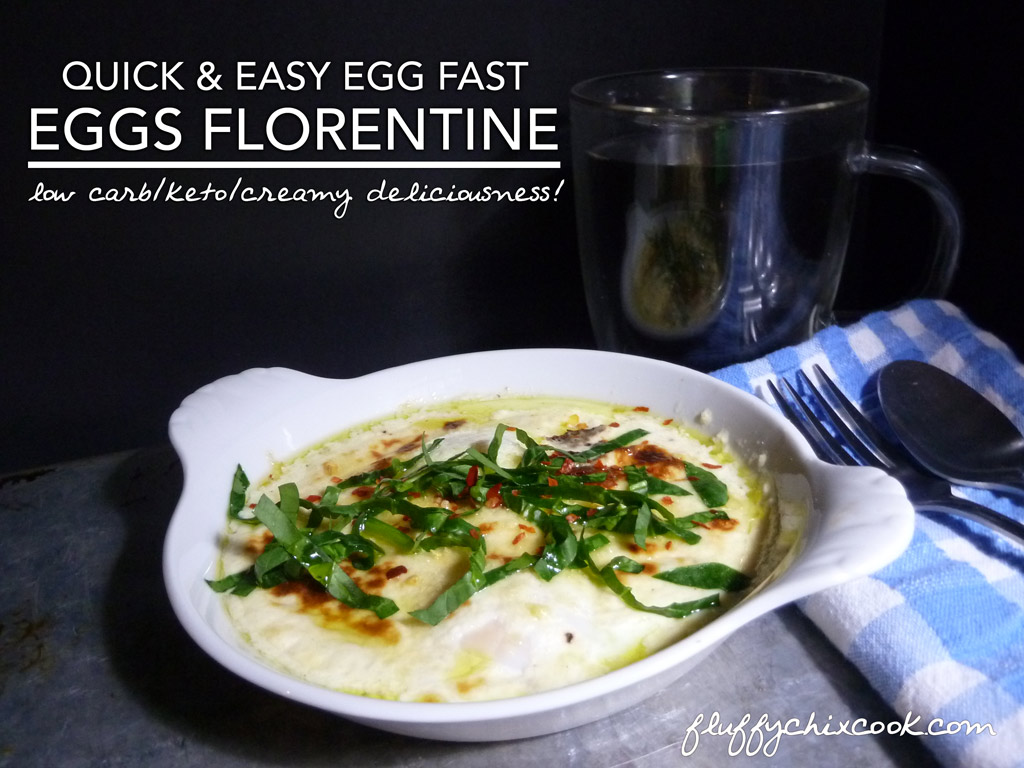 And yes, pleasure tops the list, in our low carb keto Family Feud. It happens, that creamy-dreamy falls pretty close to the top of the pecking order under Food Pleasure. Some of the most popular low carb recipes on Pinterest and Facebook are packed with creamy sauces, or are topped with major, gooey, cheese-tastic nonsense. How can you ignore the allure? Lucky for us all—we don't have to ignore the pull. We get to embrace it.
Eggs Florentine is a perfect Egg Fast dish: super low carb, super high fat, made from only eggs and healthy fats and a just a tiny bit of organic baby spinach for color. The spinach falls into our "condiment" category, since it's only 1g of carbs. You really won't believe this satisfyingly rich Alfredo sauce is made from cream cheese, butter, water and Parm with a bit of garlic and herbs. You may just decide to throw away that bottled Alfredo sauce lurking in your pantry. (Yes, we DO see it in your pantry. We've got our eyes on you. You're tricky.) The sauce takes about 2 minutes from start to finish, so you can't claim it's too difficult to make.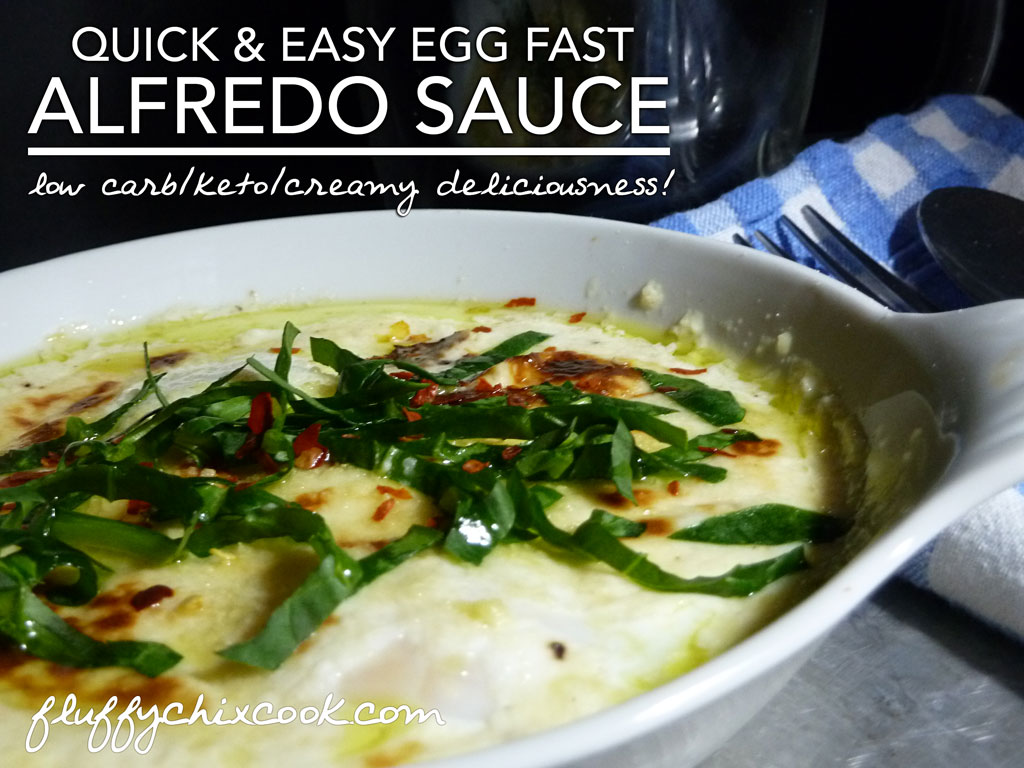 You may not understand how eggs and a cream sauce really "go" together. We almost doubted it ourselves. But, one of our readers, Kathy Brune Iosue, happened to mention they bake eggs in the oven with heavy cream and Parmesan. And that got the hamsters back on the wheel and our old noggins cranking. We began thinking about how delicious Mornay Sauce is and how yummy Alfredo tastes when slathered all over Psylli Induction Pasta. And we thought, wow, what if we treat the eggs like we do our Kentucky Hot Browns? Why not run it under the broiler and char the sauce a little…brown up the Parm? Well, we did, and the results are nothing short of moan-worthy. This is not hyperbole. We cain't make this stuff up!
We adore these little 7 1/2-inch round au gratin dishes from BIA. Made to withstand the fridge, micro, oven and broiler, they take a beating and keep on performing. They are made of porcelain to withstand high temperatures and are so easy to clean up. The little au gratin dishes are wonderful because they are shallow so you have the largest surface area to brown the top, which makes the Alfredo and Parmesan divine. Each casserole holds 14 ounces and is 7 1/2 inches in diameter. They come six to a set and are available on Amazon Prime through Fluffy Chix Cook's trusted Amazon partner.
Try Eggs Florentine, and then scramble back here PDQ to leave a message. Let your voice be heard! Do you love Eggs with creamy cheesy Egg Fast Alfredo? Or are we telling a tall, Texas tale? You be the judge.
Egg Fast Recipe | Eggs Florentine – Induction Friendly & Gluten Free
Elegant and sophisticated, yet dead simple! A perfect Egg Fast recipe, or perfect low carb keto recipe for any meal, any day, and for almost anyone!
Ingredients
Instructions
Place oven rack on the top level closest to the broiler. Preheat broiler.
Heat nonstick skillet with olive oil over medium high heat. Add eggs. Fry eggs gently, over medium heat, until whites are mostly set but still raw near the yolk (about 3-4 minutes). Do not flip eggs to easy over. Meanwhile, prepare the casserole.
Spray individual casserole pan with olive oil cooking spray—or drizzle with olive oil. Place half the Alfredo sauce into the bottom of the casserole. Gently slide almost-done-eggs on top of sauce. Top eggs with remaining Alfredo and a 1/2 tablespoon of Parmesan cheese. Place casserole under broiler and broil until the eggs have set and top is golden in spots and bubbly (about 2-3 minutes). Remove and top with julienne (thinly sliced) baby spinach leaves, remaining Parmesan and a pinch of red pepper flakes. Serve immediately to rave reviews!
Notes
If you've never tried eating garlic and Alfredo sauce for breakfast, you should drop everything you're doing right now and do it immediately. This dish is so good, you'll finish first, then look covetously at your partner's dish and beg for more with your eyes. Whoever came up with using cream and Parmesan with eggs was GENIUS! BTW, remember this works great as an Egg Fast Dish. It's super low carb, the spinach contributes 1g of carbs to the dish and is basically there for color and appeal. Egg Fast Eggs Florentine would be perfect at any meal. (Oh and the Alfredo takes less than 2 minutes to make from start to finish!)
Serving Ideas Serve on its own with a cup of hot coffee or tea, or pair with a small green salad with vinaigrette for an elegant and satisfying meal.
Nutritional Information
Per Serving: 529 Calories; 49g Fat (82.7% calories from fat); 20g Protein; 3g Carbohydrate; trace Dietary Fiber; 3g Effective Carbs
Copyright © 2014 Fluffy Chix Cook. All rights reserved.
http://fluffychixcook.com/egg-fast-recipe-eggs-florentine-induction-friendly-gluten-free/
Copyright © 2016 Fluffy Chix Cook. All rights reserved.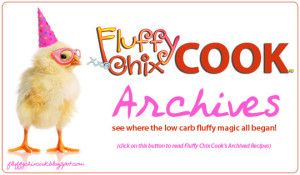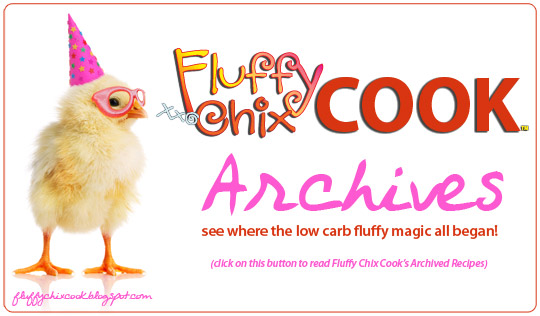 Copyright © 2010 Fluffy Chix Cook. All rights reserved.
We are not dieticians, nutritionists or medical professionals. The materials on this blog are for informational (and fun) purposes only. We do not fact check, nor do we worry about sources. Please do your own fact checking. We encourage you to look things up and check with your doctor or health care professional before acting on anything seen on Fluffy Chix Cook. xoxo