Egg Fast Recipe – Lo Lo Psylli Wraps – Version 4 | Induction | Grain Free & Gluten Free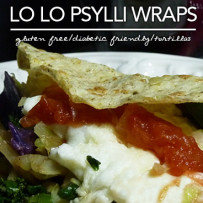 Do you want a delicious recipe low carb tortillas that will fit into your low carb Induction or Egg Fast Routine? Fluffy Chix Cook Lo Lo Psylli Wraps (yes it's the 4th version) to break-up monotony. Lo Lo Psylli Wraps combine egg whites (to cut down on eggi-ness) and whole psyllium husks (NOW! brand) to make a convincingly good wrap, sturdy enough to stand up to any filling.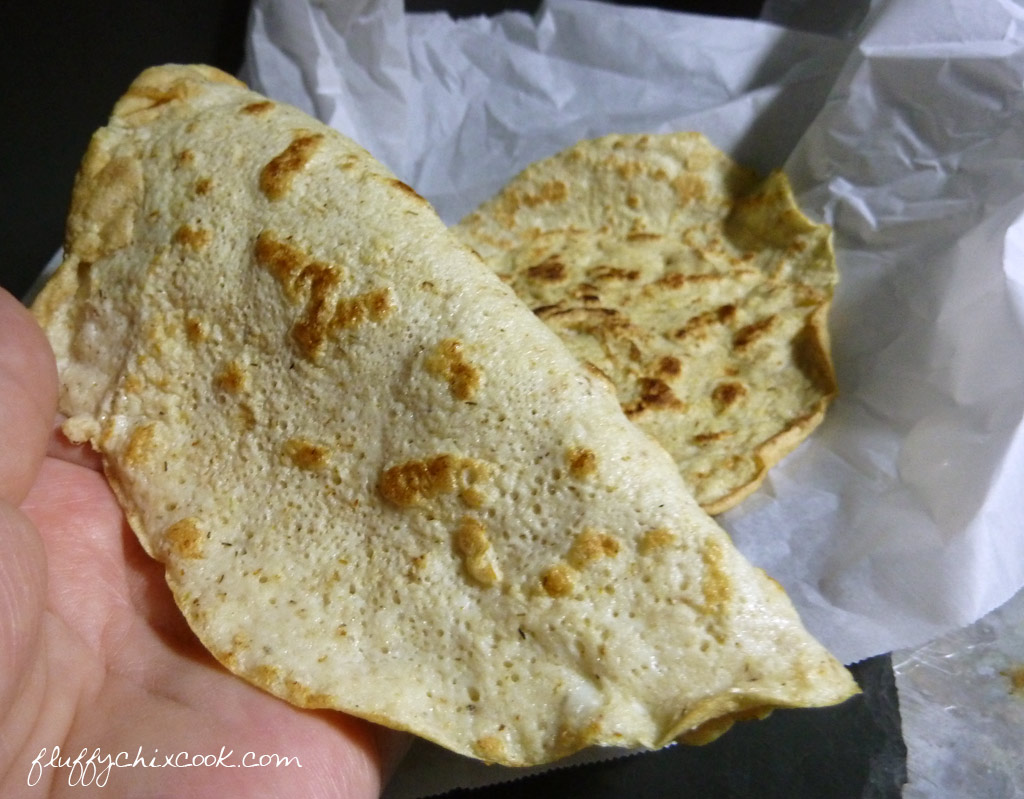 Special thanks and credit goes out to my friend DocP for creating the original Psylli Wrap found on our Fast Days Healing Days website, a website dedicated to IF (Intermittent Fasting aka Alternate Day Fasting with caloric restriction). It's an amazing recipe, but Fluffy Chix are tweaker geeks and must mess with a good thing! We added a few spices and upped the egg white ratio to really cut the carbs! Sure, there is a little loss in texture this way, but they are still darned good! And at 0.125g of effective carbs who can seriously argue?
No. We're not kidding. It's ANOTHER version of Psylli Wraps—Version 4 to be exact. And why? Cuz we needed another version that is even lower carb than the Original or Basic Version Psylli Wraps. It helps to make them even lower carb for use in complex recipes—to keep the carbs of the total recipe low. It's also important to have them super low carb for use in special stall breaking plans such as the Egg Fast, or in plans that do not "net" carbs and use total carbs such as Dr. Wesstman's Page 4 Diet. And although psyllium husks are not on Page 4, we're gonna keep pushing the envelope to add them, since Metamucil IS on Page 4. We simply prefer to chew our fiber instead of drink it from a glass, especially when Metamucil uses some sketchy ingredients in it.
As noted earlier, the texture changes a little bit. But they are dy-no-mite used as tortillas for enchilada recipes and as dividers for lasagna. We don't even mind them used in soft tacos. Yes, they are a bit more egg-white-ish (um, we made that word up). But that's ok. It's a compromise.
Nuke each one for 40 seconds in the microwave on high and they become crispy and light chips. It's a big win-win!
What's that? You say you want to see the other 3 versions of Psylli Wraps? Duh! Well, ok, then!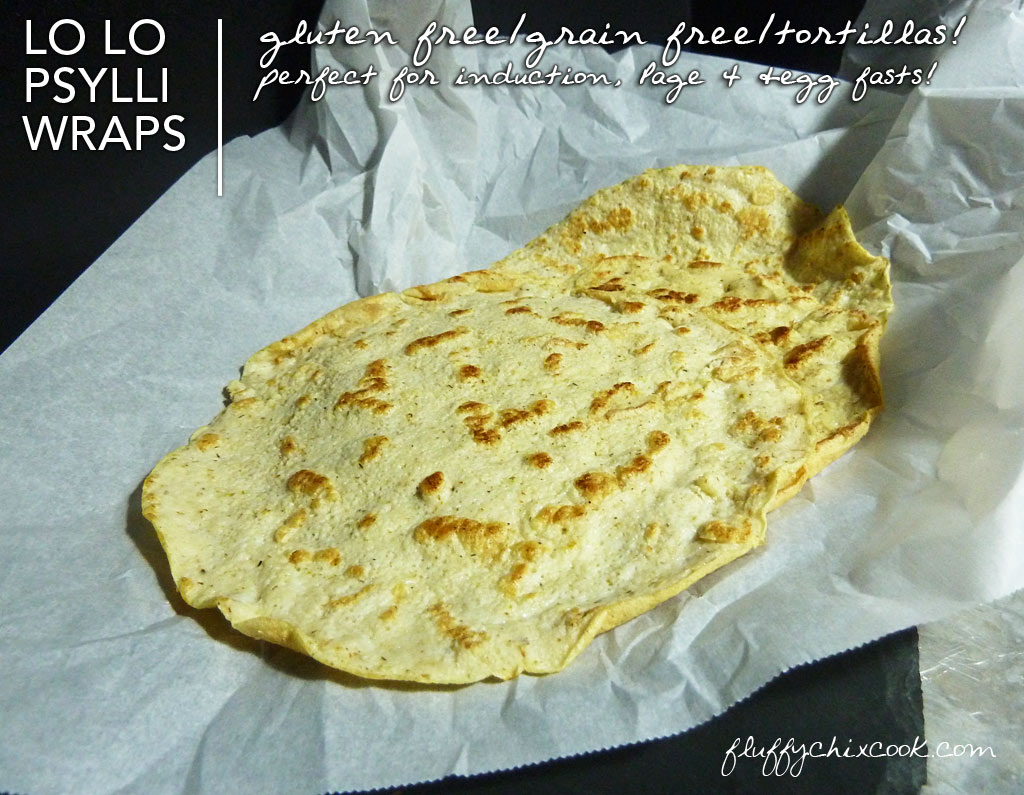 Version 1 – Basic Psylli Wraps-Induction Friendly, Semi Page 4 Friendly
Version 3 – Shannon Harding's Version
Version 4 – Lo Lo Psylli Wraps – Induction Friendly, Semi Page 4 Friendly, Egg Fast Friendly  (this version-recipe below)
Egg Fast Recipe – Lo Lo Psylli Wraps – Version 4 | Induction | Grain Free & Gluten Free
This is DocP's psylli wrap recipe, tweaked a good deal, to make them even lower carb. We so appreciate DocP's original contribution to low carb keto fulfillment! This recipe is perfect for Egg Fast, Induction and semi Page 4 Diets.
Ingredients
Instructions
Combine dry ingredients, stirring to mix well. Pour egg whites into dry ingredients. Stir with a spoon or small spatula until you have an even, lump free batter. Batter should be very pourable, like a thin crepe batter.
Heat nonstick skillet over medium high heat. Spray pan with olive oil spray. Measure 2-3 Tbsp of batter at a time, into a small cup. Pour batter into the pan all at once. Swirl quickly to distribute batter like a round crepe. Cook until set on one side. Edges will begin to curl slightly. Flip and cook on the second side. Each tortilla takes about a minute to 90 seconds to fully cook. Cook, flipping back and forth until you see brown spots on each side and until the tortilla dries out like a tortilla. Cool on a clean dish towel.
If the remaining tortilla batter has thickened too much by the time you make the 6-8th tortillas, thin it with more egg whites. (I used up to 1/4 more egg whites, because as the batter sits, it thickens.)
Store cooled tortillas in an airtight container in the fridge up to a week, or freezer up to 1 month.
Notes
This is yet a 3rd spin-off of DocP's Original Psylli Wrap as posted on the Fast Days Healing Days website. We wanted to see if we could complicate her great recipe and give it a little different flavor while keeping it Induction friendly and almost Page 4 friendly. We also wanted a recipe perfect for use in Fluffy Chix Cook's version of the Egg Fast. It's still a quick, easy (and super low calorie and low carb tortilla option). Make them ahead and chill until ready to use. If you can make pancakes or crepes, these have your name all over them!
This recipe works great for any meal! It doubles and triples well. Make only enough for the week. It's a great way to get your psyllium in without drinking Metamucil—for those who are challenged by occasional irregularity!
Serving Ideas: Serve with your favorite filling. Notes: We really love these tortillas.
Nutritional Information:
Per Serving: 20 Calories; trace Fat (0.0% calories from fat); 3g Protein; 0.75g Carbohydrate; 0.625g Dietary Fiber; 0.125g Effective Carbs
Copyright © 2013 Fluffy Chix Cook. All rights reserved.
http://fluffychixcook.com/egg-fast-recipe-lo-lo-psylli-wraps-version-4-induction-grain-free-gluten-free/
Copyright © 2016 Fluffy Chix Cook. All rights reserved.
Copyright © 2013 Fluffy Chix Cook. All rights reserved.
We are not dieticians, nutritionists or medical professionals. The materials on this blog are for informational (and fun) purposes only. We do not fact check, nor do we worry about sources. Please do your own fact checking. We encourage you to look things up and check with your doctor or health care professional before acting on anything seen on Fluffy Chix Cook. xoxo