Egg Fast Recipe | Quick Keto Egg Drop Soup – Induction & Page 4 Friendly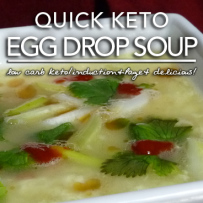 Need a hot soup that tastes big on flavor, like you spent hours in the kitchen, but only takes 10 minutes or less to make? Do you yearn for a healthy low carb keto version of egg drop soup, devoid of high carbage corn starch and thickeners? You've come to the right place, because Fluffy Chix Cook makes Quick Keto Egg Drop Soup that's both Induction and Page 4 Friendly. Diabetics rejoice, because this soup will light up your taste buds without lighting up and elevating blood sugar or insulin. Oh and don't forget, this soup makes a perfect Egg Fast meal, for those of you participating in the modified fat fast known as the Egg Fast.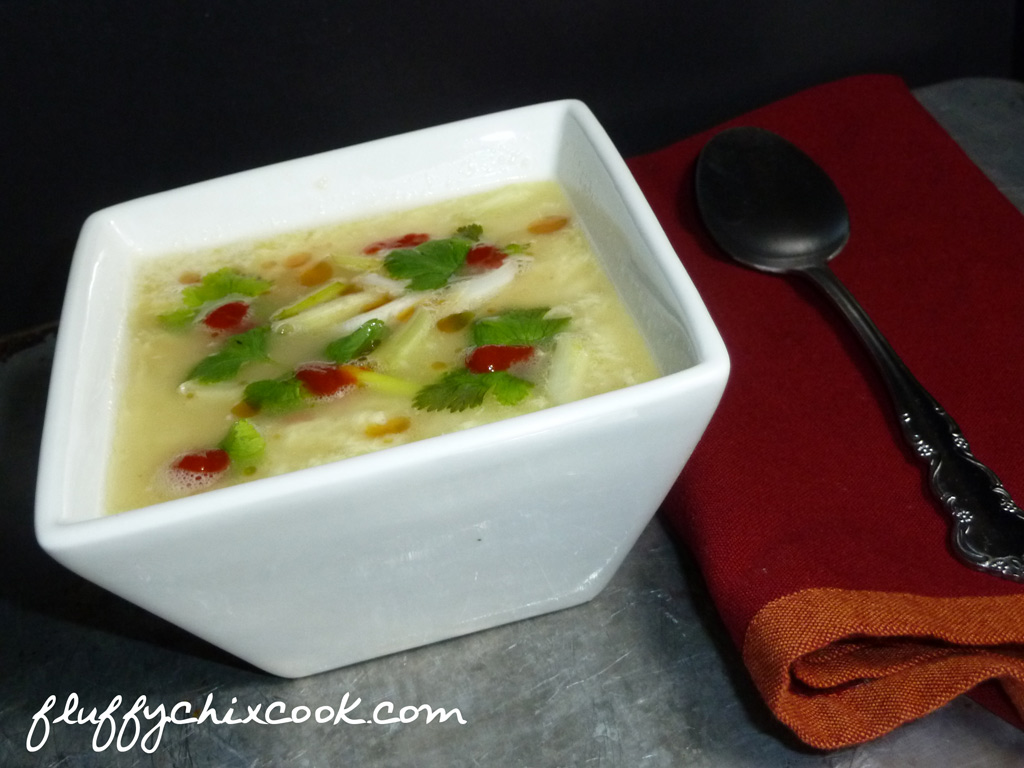 The Fluffys are soup nuts. In the winter, nothing satisfies us like a hot, steaming bowl of liquid elixir. Doesn't matter what flavor profiles, or ingredients. As long as it's super hot, made from bone broth, and rich, we're in like Flynn. Typically most of the Fluffy Chix Cook soups take 10-20 minutes to cook. Wha What???? "That's in-con-theib-able," as they say in Princess Bride! Even though we do not think that word means what you think it means, it IS true! Most of our soups fall into the quicky, throw-down variety and are seldom made the same way twice. We prefer thin "stocky" soups over creamy, thick soups. And stocky soups lend themselves well to a quick version.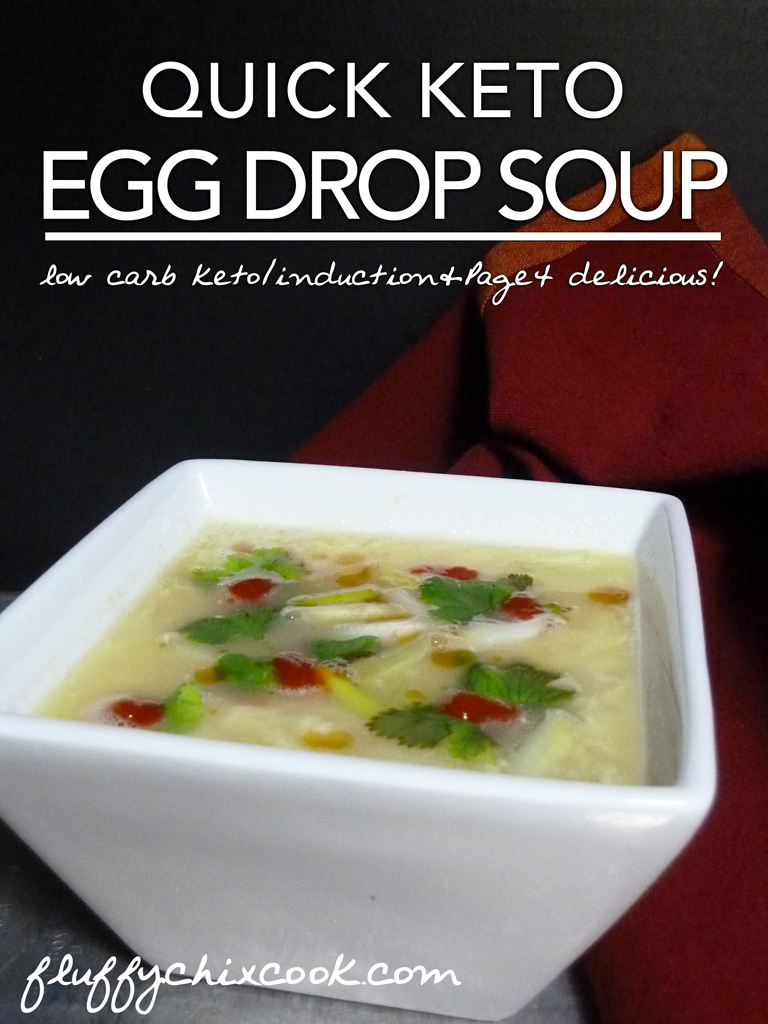 The Fluffys also happen to be nutso about Asian flavors and love Chinese Egg Drop Soup. But oh my, did you realize that thick and creamy, unctuous, Chinese favorite is packed with carbs? And it SOOOO doesn't need to be carb loaded! Who says egg drop soup has to be thick and gloopy? Not these chix. That's for sure! If you absolutely must have a thicken egg drop soup, it's easy to thicken with either xanthan gum or glucomannan powders to replace the corn starch. Both thickeners are perfectly low carb and made almost entirely of fiber, but neither are Page 4 friendly. Just be sure to count all carbs and if you net, then subtract fiber from your carb total. Truly, we no longer bother to thicken Quick Keto Egg Drop Soup. It tastes so rich on its own with the butter in the bone broth, who needs thickeners? Plus, eaten without thickeners, QKED Soup makes a great Egg Fast recipe, with great keto macros!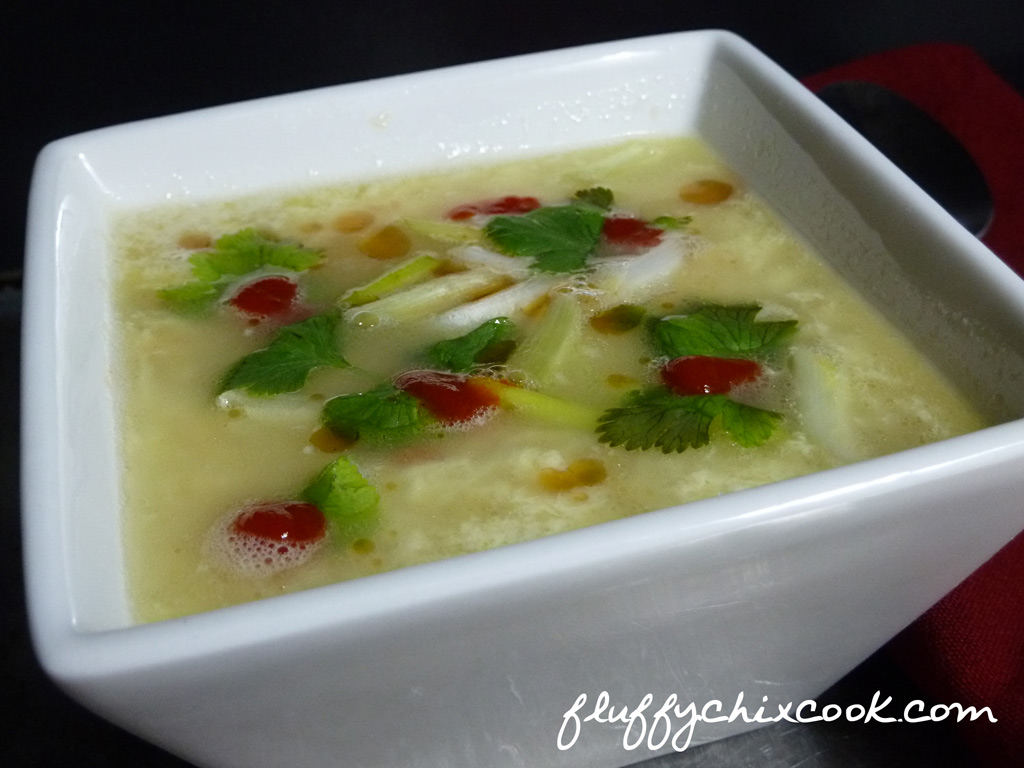 The secret to hearty soups in seconds is a "not so quick" bone broth. It's the "mother" of all soups, if you will. That is a 10-15 minute prep (for poultry) and a little bit more for beef, followed by an 18-24 hour slow simmer in a slow cooker or in a sturdy stock pot turned to low. We use our much loved Hamilton Beach 7 Quart Slow Cooker to make bone broth that yields liquid gold. We mostly make poultry bone broth from roasted, deboned, and picked carcasses. We store the carcasses until we have enough to make a batch of soup. Each batch of soup yields about 3 quarts of deeply flavored, thick, vitamin and mineral rich broth, thanks in part to the carcasses, but also to any stray wing tips, necks, backs and chicken feet that get thrown "into the drink." The bone broth is cooked using passive cooking time, so we don't really count that as cooking effort, since we get on with our life as the cook simmers in the background. Once finished, a simple strain and storage in Mason jars means quick soup variations are at our finger tips. (Don't worry, we'll give you the recipe for our TNT (tried and true) Bone Broth in another post-soon, we promise!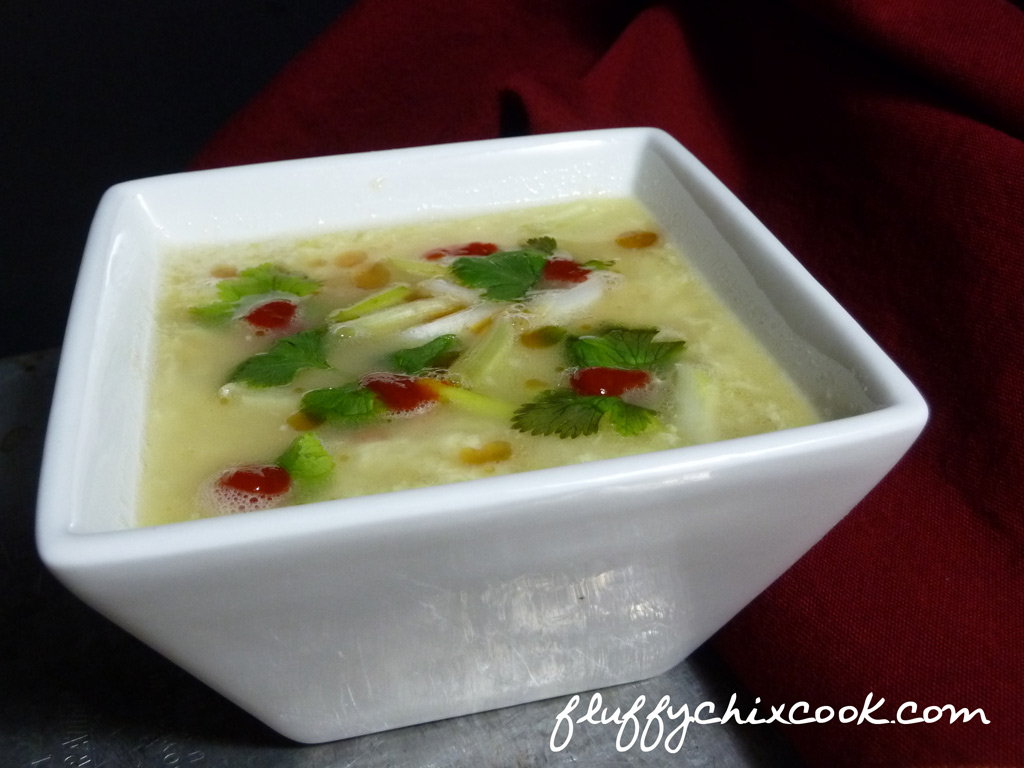 Hope you will try this luscious, but Quick Keto Egg Drop Soup and then come leave us a note to tell us how it worked out! If you want other Egg Fast Recipes, be sure to check out the Fluffy Chix Cook Recipe Index and scroll down to Egg Fast Recipes, or check out the Fluffy Chix Egg Fast Meal Plan section for 5 days of Egg Fast Meal Plans (with more coming soon).
Egg Fast Recipe | Quick Keto Egg Drop Soup – Induction & Page 4 Friendly
Quick Keto Egg Drop Soup is ready in minutes, when you have bone broth made and on hand. It fills you up without spiking blood sugar and is a great option for the Egg Fast, Induction, or Page 4 plans.
Ingredients
1 cup organic chicken broth, or bone broth
1 tablespoon butter
1 large egg
1/2 teaspoon toasted sesame oil, divided
granulated garlic
ground ginger
1/2 teaspoon tamari, or coconut aminos, divided
Non-Egg Fast Additions (Optional)

1 large mushroom, sliced thinly
1 cup organic baby spinach
Instructions
Combine broth and butter in a small saucepan over medium heat. Add garlic powder, ginger and half the tamari or coconut aminos.
Beat egg with 1/2 of the sesame oil and tamari. Add granulated garlic and ginger.
Stir super hot broth in a circle. Drizzle in egg and stir until egg rags appear (about 45 seconds).
Pour into a bowl and top with green onion, cilantro, sriracha and sesame oil..
Notes
Feel free to simmer a sliced mushroom and a handful of spinach in this rich, eggy broth. It may no longer be Egg Fast friendly, but will still be pure d-lish and perfectly Induction and Page 4 friendly.
Serving Ideas Enjoy as a stand-alone meal or pair with a small salad for a light but satisfying meal, super low in carbs
Nutritional Information
Per Serving (no toppings) 208 Calories; 19g Fat (80.4% calories from fat); 9g Protein; 2g Carbohydrate; trace Dietary Fiber; 2g Effective Carbs
Per Serving (with toppings) 217 Calories; 19g Fat (79.2% calories from fat); 9g Protein; 3g Carbohydrate; trace Dietary Fiber, 3g Effective Carbs
Per Serving (with toppings, mushroom, baby spinach) 229 Calories; 19g Fat (75.1% calories from fat); 10g Protein; 5g Carbohydrate; 1g Dietary Fiber;, 4g Effective Carbs
http://fluffychixcook.com/egg-fast-recipe-quick-keto-egg-drop-soup-induction-page-4-friendly/
Copyright © 2016 Fluffy Chix Cook. All rights reserved.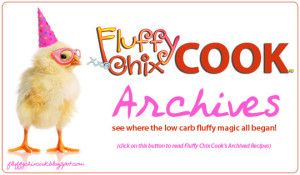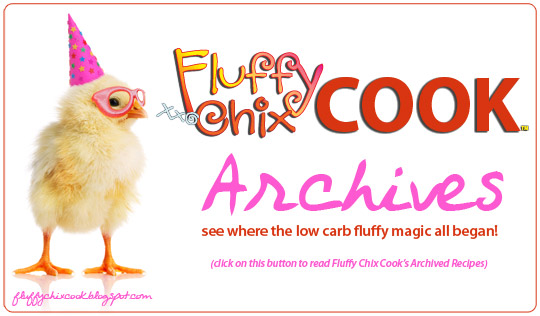 Copyright © 2014 Fluffy Chix Cook. All rights reserved.
We are not dieticians, nutritionists or medical professionals. The materials on this blog are for informational (and fun) purposes only. We do not fact check, nor do we worry about sources. Please do your own fact checking. We encourage you to look things up and check with your doctor or health care professional before acting on anything seen on Fluffy Chix Cook. xoxo