Egg Fast Recipe – Tuscan Basted Eggs – Low Carb Keto & Gluten Free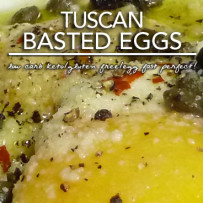 Often when low carb keto folks undertake an Egg Fast, they settle for plain-Jane meals. And no one argues about simplicity. But simple doesn't have to equate to deprivation! The next time you are looking for exciting low carb keto (and high fat) Egg Fast recipes, remember Fluffy Chix Cook and Tuscan Basted Eggs; elegant, simple, ready in under 5 minutes, and packed with flavor. In fact, don't limit this low carb recipe rock star to Egg Fasts, Tuscan Basted Eggs make a delicious and simple egg recipe any meal of the day, any day of the week.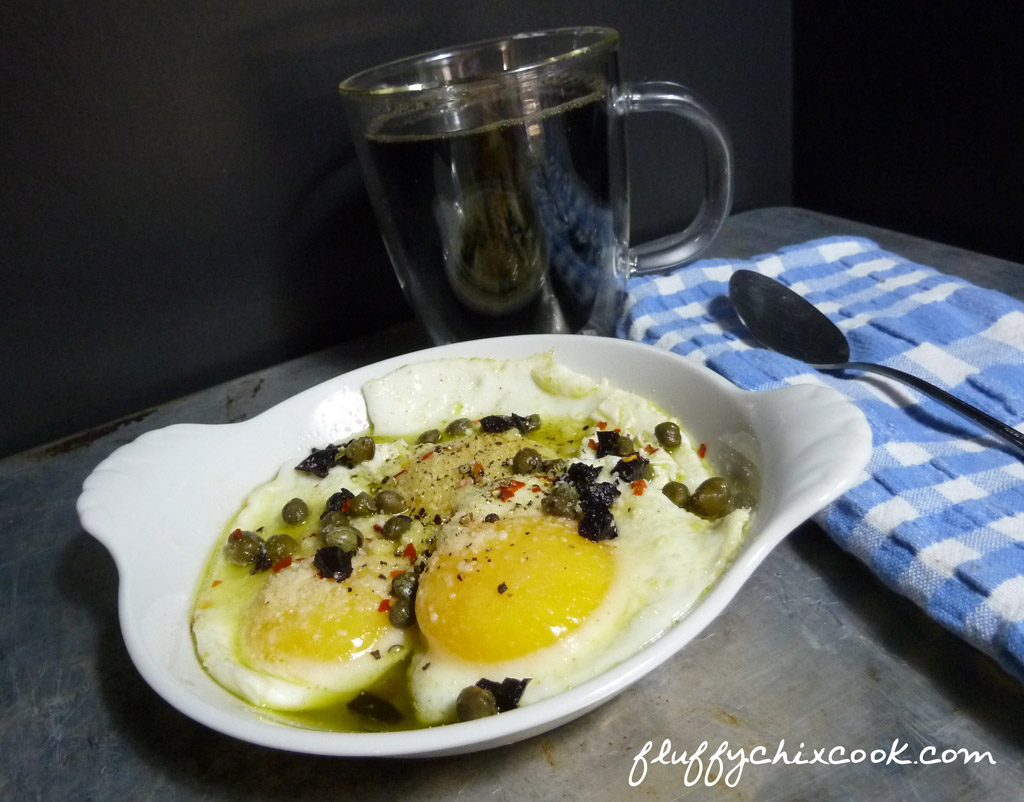 Egg Fast or no Egg Fast, if you don't dream of eating this delightful Tuscan egg dish at least 1 time a week, we shall doubt the validity of your soul. And although Tuscan Basted Eggs are a powerhouse Egg Fast meal, any time of the day, morning-noon-night, the beauty of the dish is its simplicity and how ingredients blend together to form a perfect bite.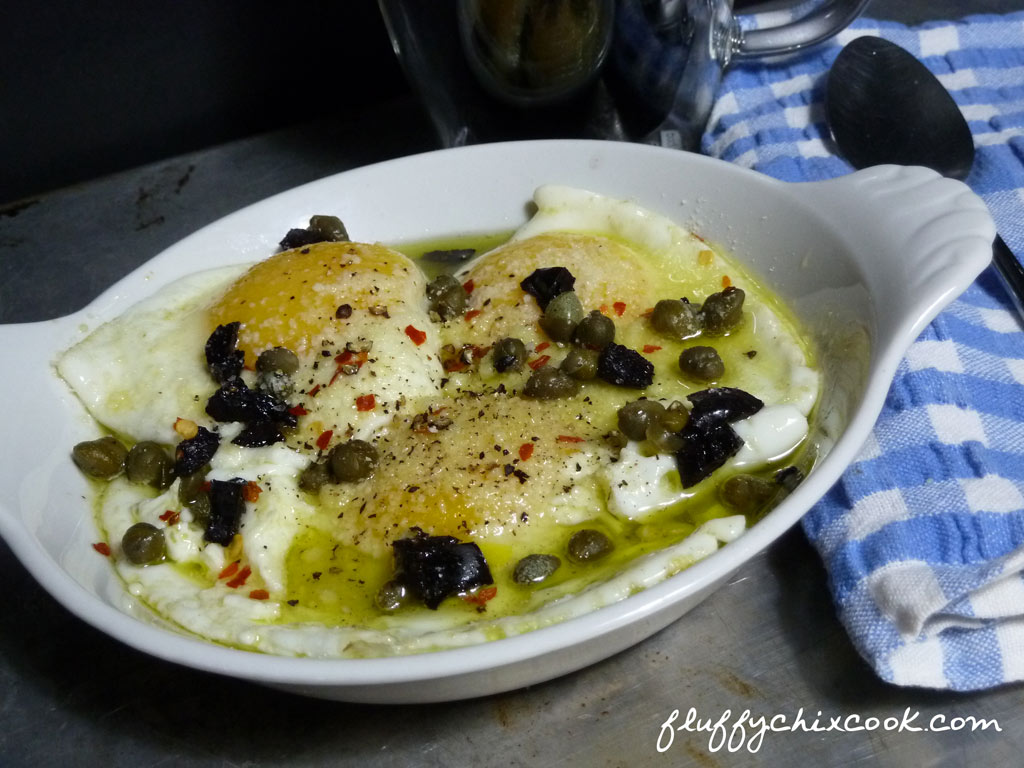 You know I made this up, right? I have ABSOLUTELY zero idea if folks in Tuscany wake up in the morning dreaming of eggs, slowly cooked in unfiltered extra virgin olive oil, then topped with shaved or grated Parmigiana Reggiano, capers, kalamata olive (or a nice Italian olive variety), red pepper flakes and truffle salt. But if they don't. They should. And I envision these lucky Tuscans, dine al fresco, sipping their cappuccino or pinot grigio or other light white wine, while eating this sophisticated dish. It takes me right out of the South and smack into a Room with a View, or Under the Tuscan Sun, or Enchanted April. And let's face it, I'd much rather be eating Egg Fast-tastic Tuscan Basted Eggs in a tiny trattoria in Tuscany, than sweltering in the August heat of the Texas Gulf Coast!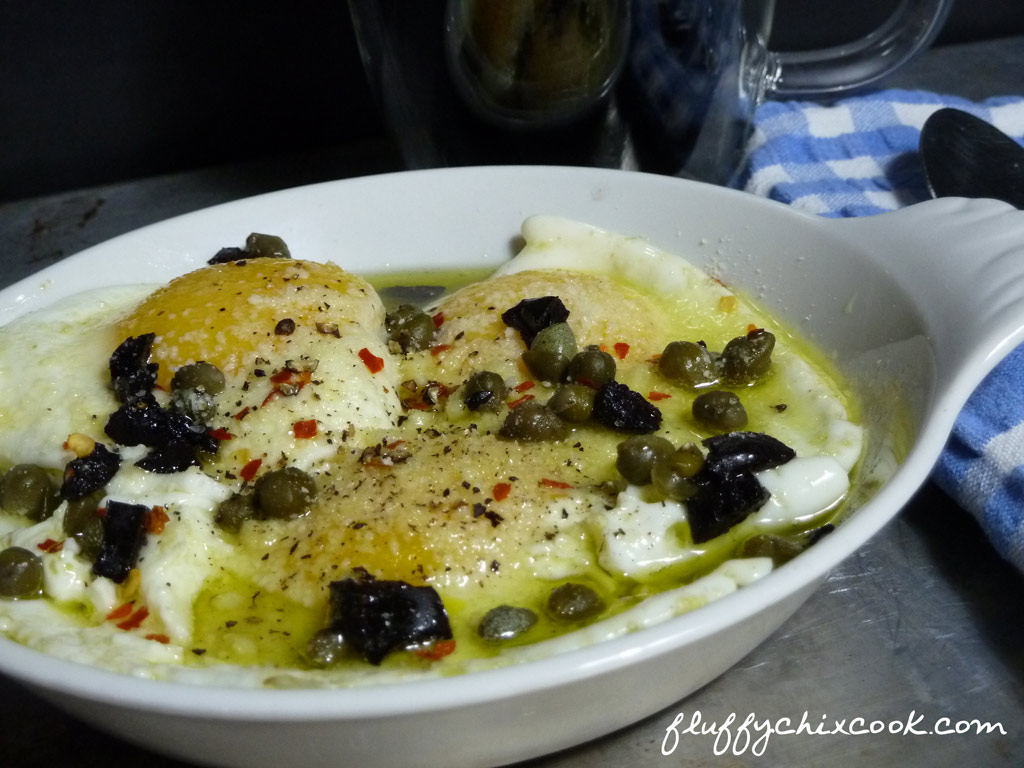 Tuscan Basted Eggs starred in the Egg Fast Breakfast Show on Day 3. We enjoyed them with mug after mug of steaming black coffee and I dreamed of Tuscany. To be fair, though, these are elegant enough to become the centerpiece of any meal. Simply by adding a fresh, crisp, leafy salad tossed with our House Vinaigrette, you transform breakfast eggs into a light meal. Heck enjoy a glass of sparkling Pelegrino, flavored with a sliver of citrus (orange would be the bomb), or if you're in the states, pop open a can of orange flavored La Croix water over ice!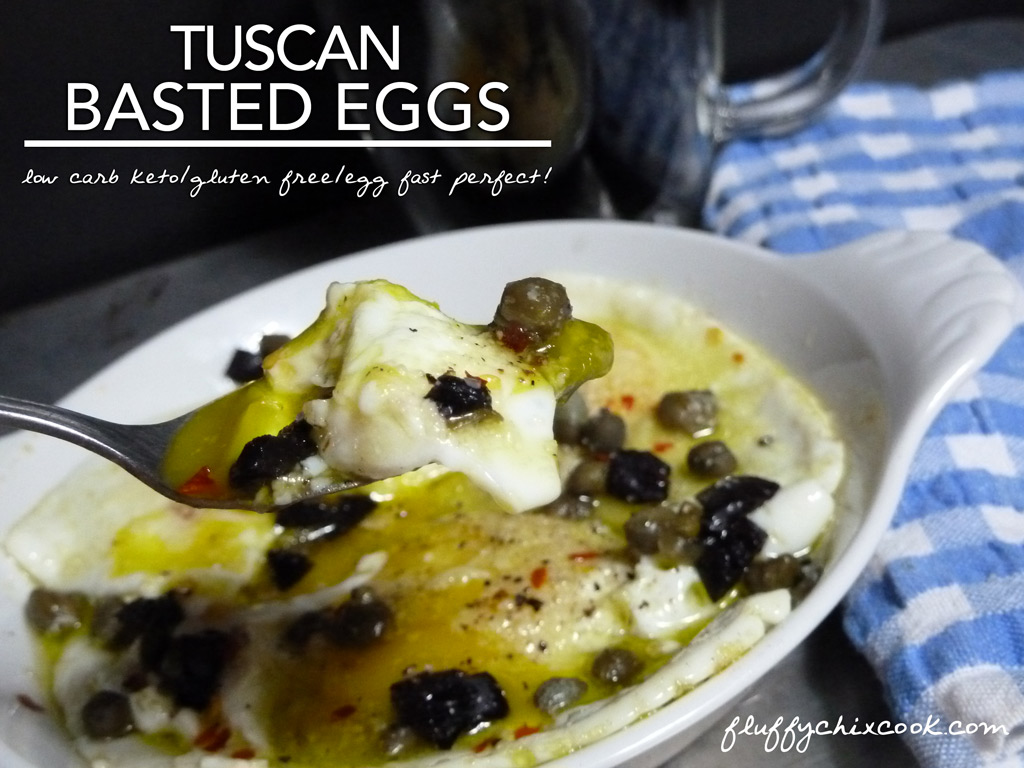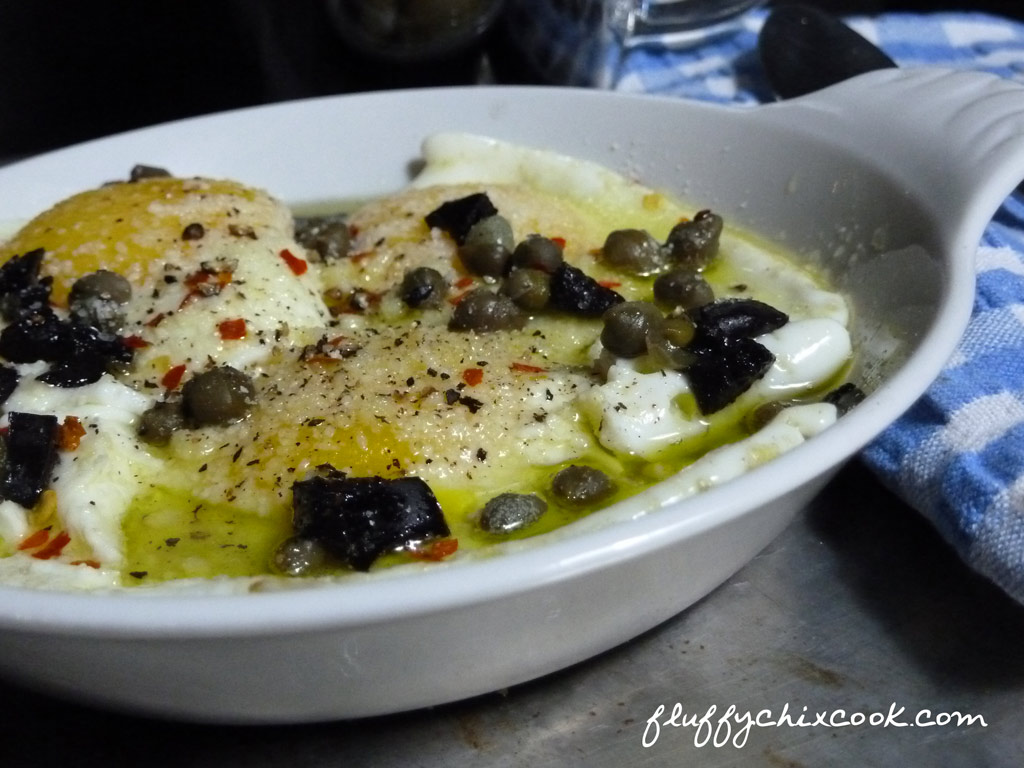 Go ahead. Pretend you dine with Sophia and Marcello Mastroianni tonight! I dare you to make these perfect Egg Fast friendly Tuscan Basted Eggs, today. Then be sure to leave a love note, moaning about how DELISH they tasted, and how much your family raved about your kitchen rock star, mad skills.
Learn More About Basted Eggs
Basted eggs are slowly cooked in an oil—
extra virgin olive oil
(we prefer unfiltered) works great in this application, because the heat never really goes past medium to low, maintaining the integrity of the olive oil. Basted eggs differ from fried eggs, in the cooking temperature. Basted eggs are cooked on low heat with a lid, or you can cook them on medium heat with the lid off and continually basted with a spoon. We like letting basted eggs steam in the olive oil with the lid in place. The lid helps capture the steam and delicately cooks the eggs so the whites remain cooked through and the yolks stay runny. They're so tender, like butter.
The difference between basting and poaching is the depth of the cooking medium, in this case, the EVOO. Poaching requires much more olive oil—and most of that cooking oil is left behind once the eggs are removed. But basting allows a much lower quantity, 1:1 eggs to oil ratio, and allows you to enjoy the extra virgin olive oil poured over the eggs in all its glorious beauty.
Be sure to watch for more fast-tastic Egg Fast Recipes and Egg Fast Meal Plans coming soon from Fluffy Chix Cook. If you love this recipe, you might also enjoy Perfect Soft Boiled Eggs with Grass Fed Butter and Truffle Salt.
Check out Fluffy Chix Cook's Convenient Recipe Index!
Egg Fast Recipe – Tuscan Basted Eggs – Low Carb Keto & Gluten Free
Tuscan Basted Eggs are a perfect Egg Fast Meal and are a hit at any meal--morning to night. Such a grown-up taste, elegant and only takes 4 minutes start to finish. Can't be beat!
Ingredients
Instructions
In a small nonstick skillet (omelet-size), over medium high heat, add olive oil. When oil begins to shimmer (you can see this from the side), reduce heat to low. Add raw eggs without breaking the yolks. Cover and cook 3-4 minutes, checking at 2 minutes. Cook to your desired firmness. We prefer cooked whites and runny yolks. This happens on our stove at 3 minutes 20 seconds. Transfer to a bowl and be sure to pour the hot olive oil over the eggs!
Top with capers and chopped kalamata olive. Sprinkle with Parmesan, red pepper flakes, truffle or sea salt and freshly ground black pepper. Enjoy!
Notes
Such a simple dish and it's a star during an Egg Fast! It takes less than 5 minutes to put this rock star together. I encourage you to use the best Parmesan you can afford and grate or shave it yourself. Canned Parm is very salty, as are the capers and kalamata. So be sure to only use 1/2 of a kalamata and take the time to rinse and drain the caper. I encourage you to buy the truffle salt. Just a tiny pinch goes a long way—again, because not to get this over-salted! By the way, you can certainly reduce the eggs quantity to 2; just reduce the olive oil quantity to 2, also. It's a 1:1 ratio.
Serving Ideas Serve with a cup of coffee or tea, or as a light meal with a simple green salad with House Vinaigrette. So elegant, yet simple.
Nutritional Information
Per Serving: 597 Calories; 57g Fat (85.7% calories from fat); 20g Protein; 1g Carbohydrate; trace Dietary Fiber; 1g Effective Carbs
Copyright © 2010 Fluffy Chix Cook. All rights reserved.
http://fluffychixcook.com/egg-fast-recipe-tuscan-basted-eggs-low-carb-keto-gluten-free/
Copyright © 2016 Fluffy Chix Cook. All rights reserved.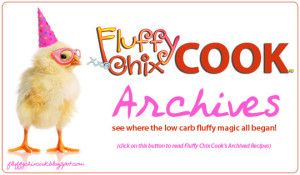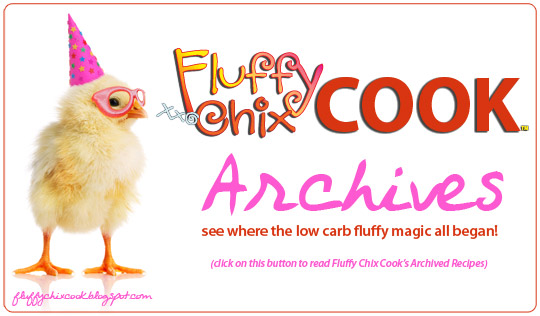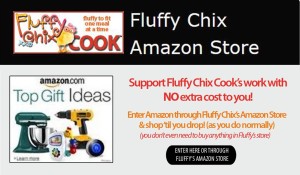 Copyright © 2010 Fluffy Chix Cook. All rights reserved.
We are not dieticians, nutritionists or medical professionals. The materials on this blog are for informational (and fun) purposes only. We do not fact check, nor do we worry about sources. Please do your own fact checking. We encourage you to look things up and check with your doctor or health care professional before acting on anything seen on Fluffy Chix Cook. xoxo