Horseradish Sauce – A Super Addition to Any Low Carb Keto Christmas Roast Beef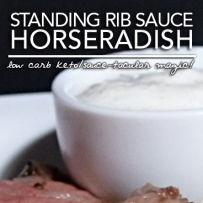 Big Christmas dinners are often synonymous with a big cut of standing rib or luscious Christmas roast beef with all the trimmings. This year, make health low carb keto "trimmings," or side dishes like Fluffy Chix Cook's spicy Horseradish Sauce. It's sugar and gluten/soy free and has no hidden chemicals or fake flavors and is a perfect addition in your low carb keto lifestyle.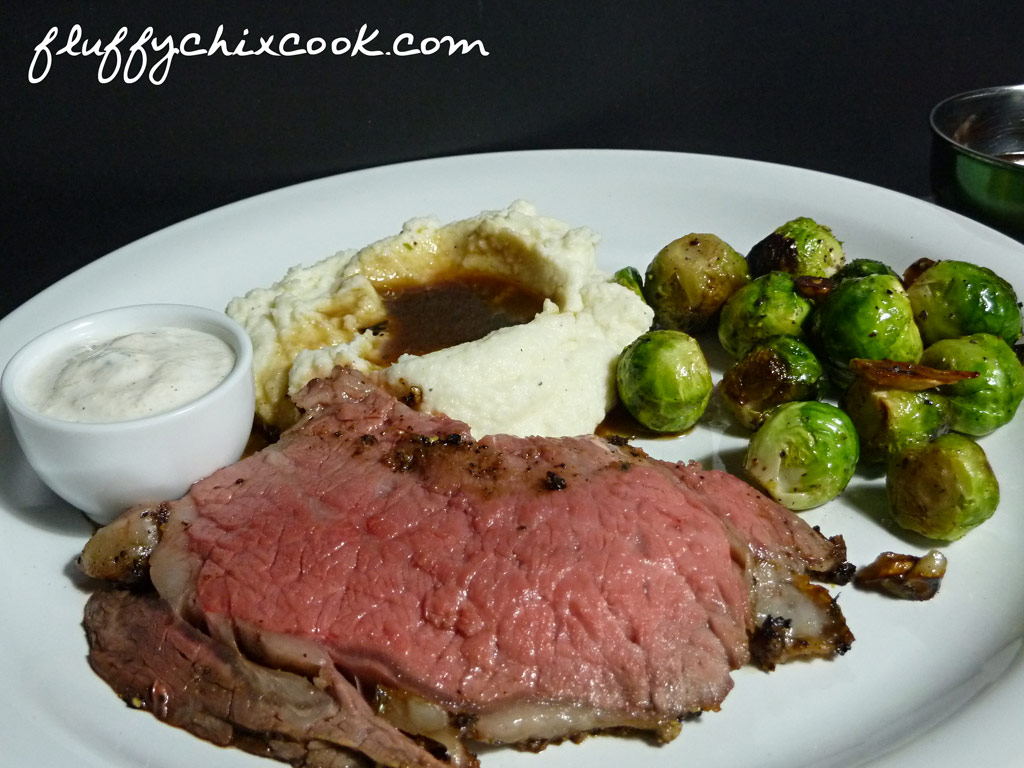 When you mention Christmas "roast beast" to the Fluffys, our minds immediately jump to, "Yeah, but what will you serve with it?" Now, you might know the roast beast by its non-Whoville name, Standing Rib Roast or even prime rib, but we all know when we talk about a hearty and posh Christmas dinner of rare roast beef, we're talking about "all the trimmings." We are going to expect au jus, horseradish sauce, mushrooms in sherry butter and Yorkshire pudding. Yes, we said Yorkshire pudding! And even though we live a low carb keto WOE (way of eating), we make low carb Yorkshire Pudding that will make you cry the Hallelujah Chorus! (And we will bring you that recipe next week, so stay tuned!) Chances are we will also expect perfectly whipped mashed cauliflower and/or Pan Roasted Brussels Sprout With Garlic Chips.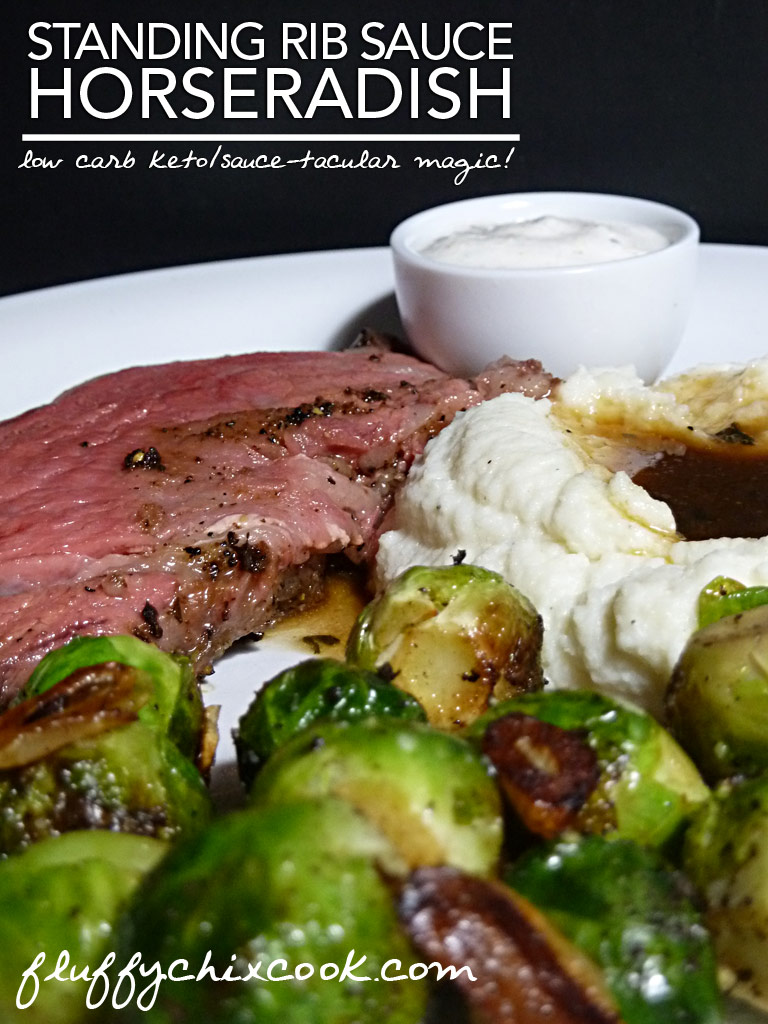 This is a HUGE meal, folks! Although it doesn't get as much air-time as Thanksgiving, this meal is more important to the Fluffys than Thanksgiving could ever hope. We eat our big feast meal on Christmas Eve after services. That reserves Christmas dinner for Texas Chili and Tamales (for the carb monkeys in the fam) or Texas Chili Dogs (totally low carb legal).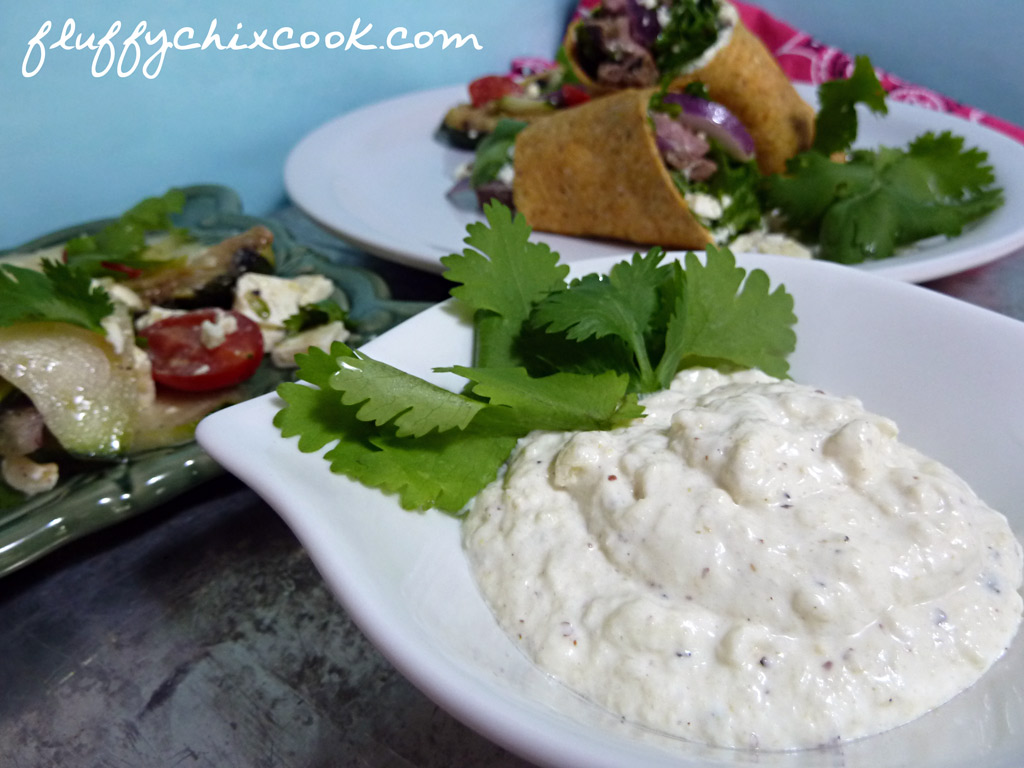 Making a huge meal can be a hassle for the cook—so be sure to kiss him or her! And offer a glass of dry red wine if given the chance! But there are time-saving steps that can be done ahead of the big event that will save you headaches and swollen ankles the day of celebration. Many of the side dishes can be prepped ahead, and some can be made ahead by 1-2 days. Horseradish Sauce is one of the troopers in the side dish brigade. It holds beautifully, when made ahead.
We prefer fresh horseradish, because every other brand we've found has either added sugar or parsnips, or soy. Oy veh! But if you MUST use prepared horseradish use Boar's Head brand of prepared horseradish, because it's predictable; it won't be too hot nor too mild (as sometimes happens when using fresh horseradish root). It's widely available, but the down side is, it DOES have a tiny bit of sugar in it and a tiny bit of canola oil–both ingredients are ICKY in a low carb lifestyle. It is also soy free, so at least there is that bonus! Not as widely available, but much cleaner ingredients is Gold's.  Gold's Prepared Horseradish  is very clean, but sadly, isn't available in Texas. We love the "HOT" version. Hair singer! hehe. If your market carries it, you'll find it next to the eggs and sour cream in the dairy case. (Note to self: place order for Gold's Hot Prepared Horseradish from Amazon, STAT!)
Fluffy Chix Horseradish Sauce is easy to make. The sauce is a no-brainer, an Easy Button recipe. Throw everything into a bowl, mixy, mixy, and store. Bam. Done!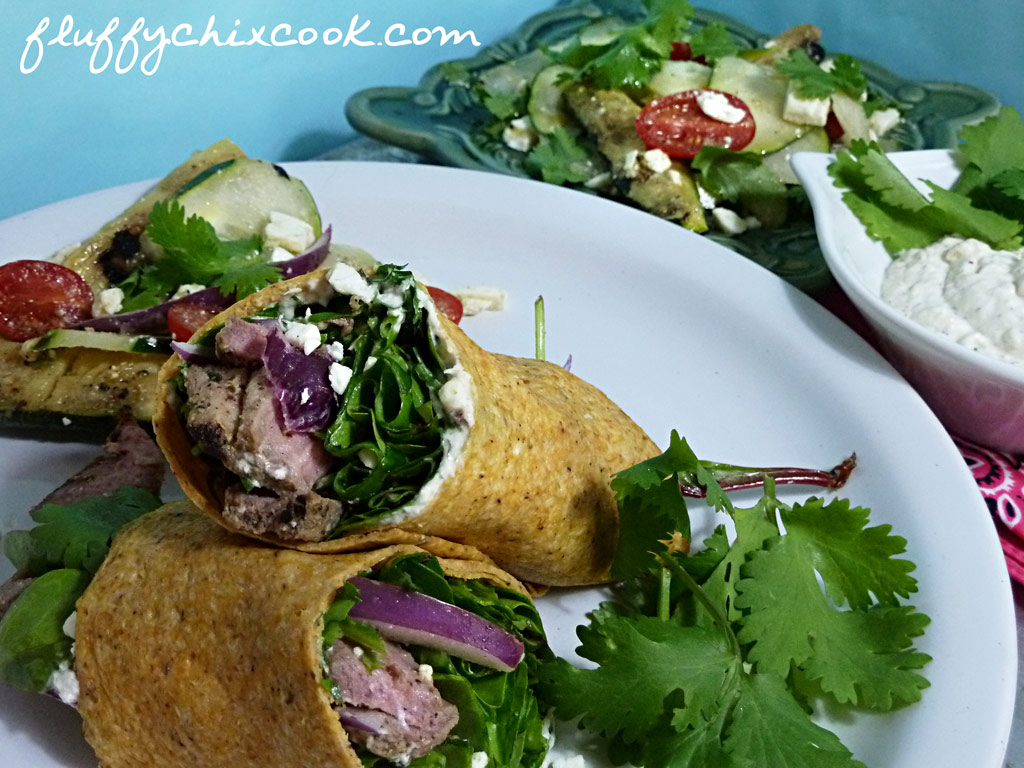 And it's great with leftovers! But don't underestimate what dreamy low carb keto Horseradish Sauce brings to the table. Seriously low carb, it's bold with a tangy flavor and a bit of heat at the end. It works great with rare roast beef, warm from the oven, or as a lucky leftover, used in wraps and salads. And it's a perfect accompaniment to savory au jus. Dip the bite of moist beef into the jus, then place a little dab of Horseradish Sauce on top. Now be careful to get it from plate to mouth without dripping that unctuous Christmas dinner goodness down the front of your ugly Christmas sweater from Aunt Edith. Perfection. Be sure to make enough for leftovers.
Horseradish Sauce – A Super Addition to Any Low Carb Keto Christmas Roast Beef
A delicious accompaniment to any meat dish. It's even great on fish!"
Ingredients
Optional

¼-1/2 teaspoon Country Dijon Mustard
Instructions
Combine horseradish, sour cream, cream, salt and pepper in a non-reactive bowl and stir like crazy until smooth and creamy. Cover and refrigerate until ready to use. Refrigerate in an airtight container for up to 7-10 days.
Notes
Easy. Peasy. We love this sauce with all cuts of beef and lamb. It is terrific as a sauce and as a sandwich spread for leftovers using Fluffy Chix Cook Low Carb Focaccia bread, or Revolutionary Rolls. It's especially awesome with Great Steak, prime rib and Sunday roasts!
Serving Ideas: Serve with any meat or even firm, steak-like fish. Great with salmon and tuna!
Per Tablespoon: 30 Calories; 3g Fat (85.3% calories from fat); trace Protein; 0.75g Carbohydrate; 0.063 Dietary Fiber; 0.69g Effective Carbs
Per Tablespoon (with Dijon): 31 Calories; 3g Fat (85.2% calories from fat); trace Protein; 0.75g Carbohydrate; 0.063 Dietary Fiber; 0.69g Effective Carbs
Copyright © 2010 Fluffy Chix Cook. All rights reserved.
http://fluffychixcook.com/horseradish-sauce-a-super-addition-to-any-low-carb-keto-christmas-roast-beef/
Copyright © 2016 Fluffy Chix Cook. All rights reserved.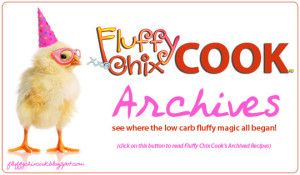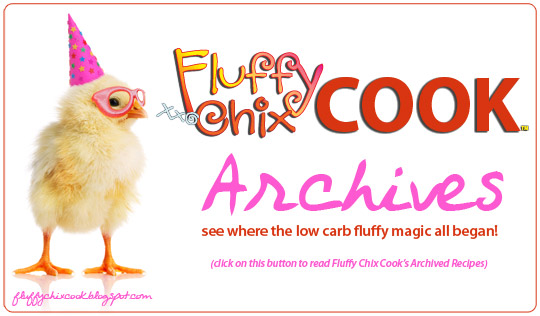 Copyright © 2010 Fluffy Chix Cook. All rights reserved.
We are not dieticians, nutritionists or medical professionals. The materials on this blog are for informational (and fun) purposes only. We do not fact check, nor do we worry about sources. Please do your own fact checking. We encourage you to look things up and check with your doctor or health care professional before acting on anything seen on Fluffy Chix Cook. xoxo