House Vinaigrette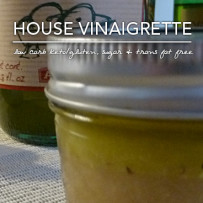 Let's make low carb keto friendly, totally gluten and sugar free salad dressing that tastes better than you can even imagine! You know you're looking for low carb salad dressings that doesn't have any hidden sugar or funky, partially hydrogenated rancid oil. We saw you!
Sure, House Vinaigrette Dressing doesn't sound like a sexy topic for a Fluffy Chix Cook blog post. But raise your hands, please. How many of you are afraid of making homemade low carb keto-groovy salad dressings? Answer this question. How many minutes do you spend reading the labels on the backs of the salad dressings in the condiment isle at the store? How many times do you audibly gasp at the carb counts, or wonder why anyone needs to add sugar to an Italian dressing? All those ingredients simply scare me spitless. They do! Oh and if it's manufactured, let's not forget those partially hydrogenated oils – and/or soy they like to hide in your food.
Those of you who know Fluffy Chix, know we are no purist. You know we flirt a little with hedonism and have been known to use a bottled product or two for convenience. But we passed partially hydrogenated vegetable oils and premade salad dressings about 10 miles and 14 years back. They were the first to get the heave-ho. Sorry premade dressings it's you, not us.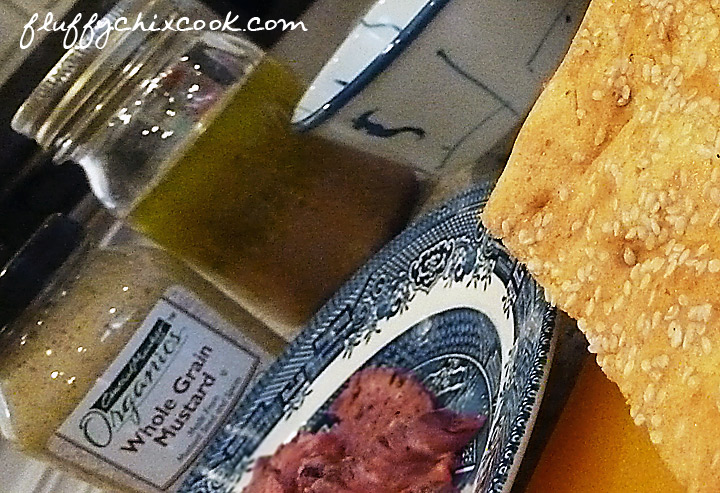 Nah, sorry, bottled salad dressing is just not for us any longer. The convenience factor can no longer be reconciled against the heavy down side of the ingredients—crummy risk/reward benefits. If you want to do little things to change your life, simply start by ditching the store-bought, pre-made salad dressings and salad dressing mixes and start making your own. You will thank me. It's the little things, the baby steps that add up to a healthy new you! And those little things will tilt your world on its axis—for the better. Homemade house vinaigrette is the best! And even better? It only takes a few minutes to make.
One of the most fun, non-traditional uses for keto-licious House Vinaigrette dressing is to add it to the greens going on your low carb sandwich! Toss the greens and vinaigrette together, then pile them onto your sandwich. Don't forget to use our Basic Revolution-ary Buns and Focaccia to make that a low carb sandwich!
What's your favorite salad dressing? We won't lie. We're House Vinaigrette and Ranch hos. Yes, indeedy!
For more Fluffy Chix Cook's salad dressings or for Fluffy Chix Cook's Ranch Dressing, simply let your fingers do a stroll through the handy search feature in the upper right page.
Fluffy Chix Cook House Vinaigrette is so quick and easy to make. It adds a punch of vinegary, garlicky-goodness to a simple side salad. Works with any cuisine! And by the way, this is SUPER as a marinade or on wings.
Ingredients
Instructions
Peel and crush garlic. Add Dijon, Worcestershire, Tabasco, ACV (apple cider vinegar) and water. Stir to combine.
Whisk in extra virgin olive oil. Season with kosher or sea salt and lots of freshly ground black pepper.
(Hint: You can also make this in a shaker cup or mason jar and shake it to combine.)
Notes
This is Fluffy Chix go-to salad dressing. The House Vinaigrette tastes better than bottled dressing and is healthy too. No fake oils, no rancid fats or BPA to worry about. You'll find yourself craving it. It's garlicky-goodness, wrapped in crispy greens.
If you prefer creamy dressings, combine some of the House Vinaigrette with plain yogurt or plain yogurt and sour cream, or add a splash of buttermilk. We like using about a 1:1 ratio. Makes a creamy dressing that lightly coats the salad greens.
Use about 1-3 Tablespoons per salad.
Serving Ideas Serve over salads and on sandwiches and veggies.
Nutritional Information
Per Tablespoon: 42 Calories; 5g Fat (94.9% calories from fat); trace Protein; 0.5g Carbohydrate; 0.04g Dietary Fiber; 0mg Cholesterol; 0.46g Net Carbohydrate
Copyright © 2010 Fluffy Chix Cook. All rights reserved.
http://fluffychixcook.com/house-vinaigrette/
Copyright © 2016 Fluffy Chix Cook. All rights reserved.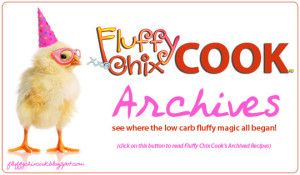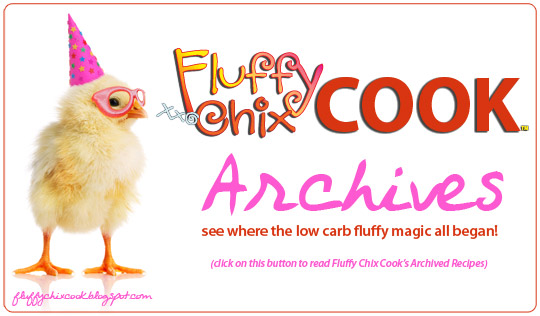 Copyright © 2010 Fluffy Chix Cook. All rights reserved.
We are not dieticians, nutritionists or medical professionals. The materials on this blog are for informational (and fun) purposes only. We do not fact check, nor do we worry about sources. Please do your own fact checking. We encourage you to look things up and check with your doctor or health care professional before acting on anything seen on Fluffy Chix Cook. xoxo