I Ain't No Chicken – Fajita Salad | Low Carb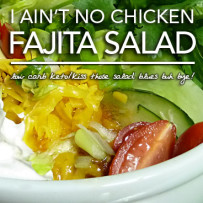 Are you looking for an out-of-the-ordinary, dare we say, the BEST Chicken Fajita Salad recipe in the entire universe and beyond? Because if you are, look no further. Fluffy Chix Cook brings you I Ain't No Chicken—Fajita Salad to show you how easy it is to pack a low carb keto Tex-Mex salad to the brim with deep flavors and textures. Lot's of chew and comfort. And the best news? This chicken fajita salad has no hidden sugars, flour or starch. It's perfectly low carb keto, diabetic goodness!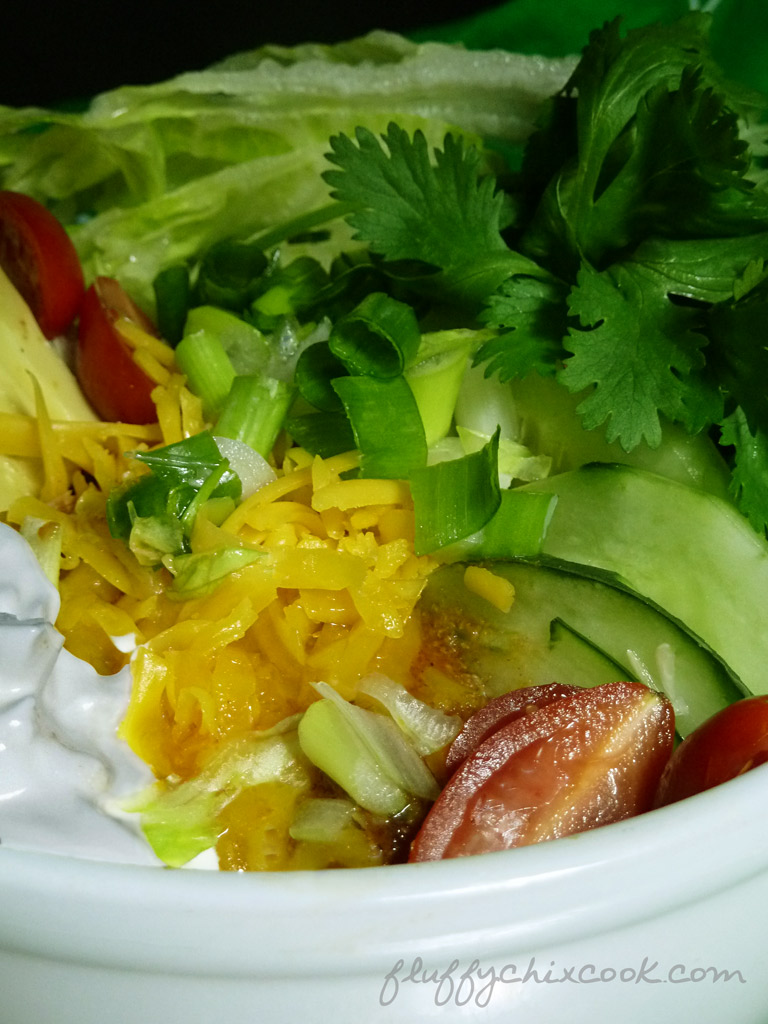 I hope you guys aren't growing tired of Lucky Leftover, Easy Button and Semi-Easy Button Recipes? They are the life's blood or backbone to easy, stress-free weekday cooking for the Fluffys. Knowing we have base meats and proteins available, fresh veggies, and a wide selection of low carb condiments (ahem, I am after all, the Condiment Queen) at our fingertips means, we're ready to go with a meal in 10-20 minutes. That's heller good. Right?
But what this really means is diet diversity. Yes, I said a 4-letter word.

DIET

There. I said it again, just cuz I can!
I'm talking about diversity and freedom from boring. I hate eating the same things over and over again! But on any given day, I've absolutely zero idea about how much energy I will have left by dinner time. I also have zero idea about how bad or good my pain level will be by 7pm. And if I don't have plenty of Plan B's, in the form of basic proteins prepped, cooked and waiting, I will tell you honestly, things could get ugly. Quickly.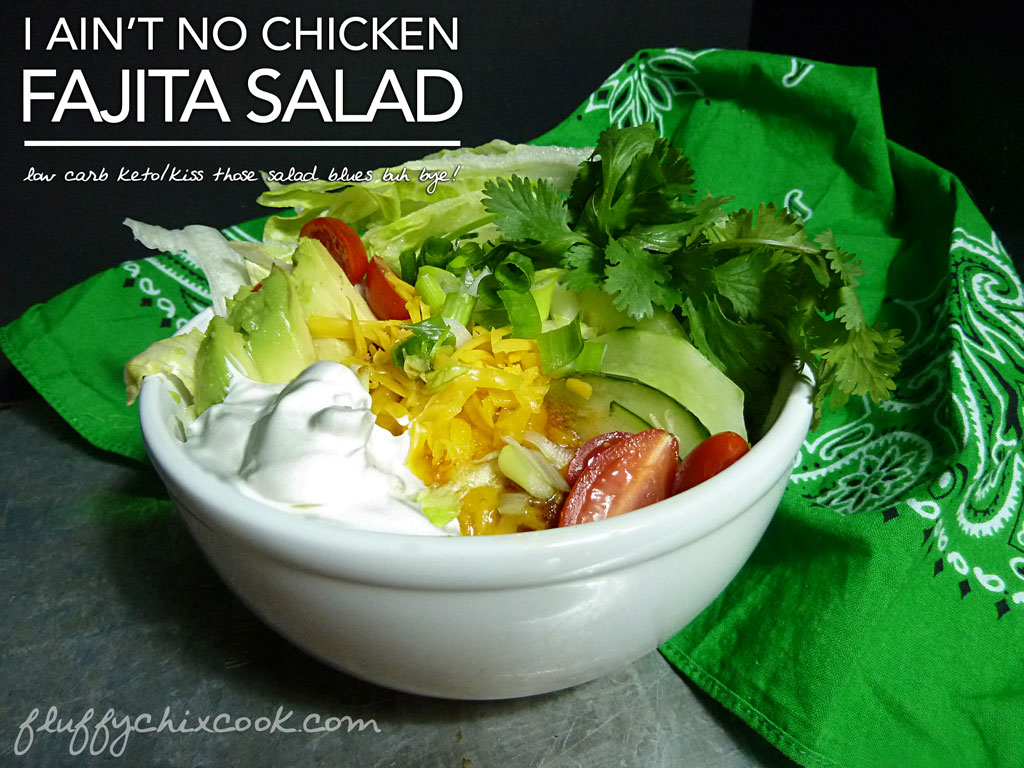 In plain letters, I would cheat on Denny. That's right. I would start the hanky and the panky with the pizza dude and the Chinese Wok guy. I'd be lettin' the phone finger get its dinner on, because through the years I have their numbers emblazoned indelibly in my memory and sadly, in my heart. And folks, that is mayhem. Diet Mayhem. Why live with the Sword of Damocles over your head? Low carb keto doesn't have to be that way. And leftovers are a good thing—a lucky thing; hence our name for them—Lucky Leftovers. They are low carb keto lifesavers.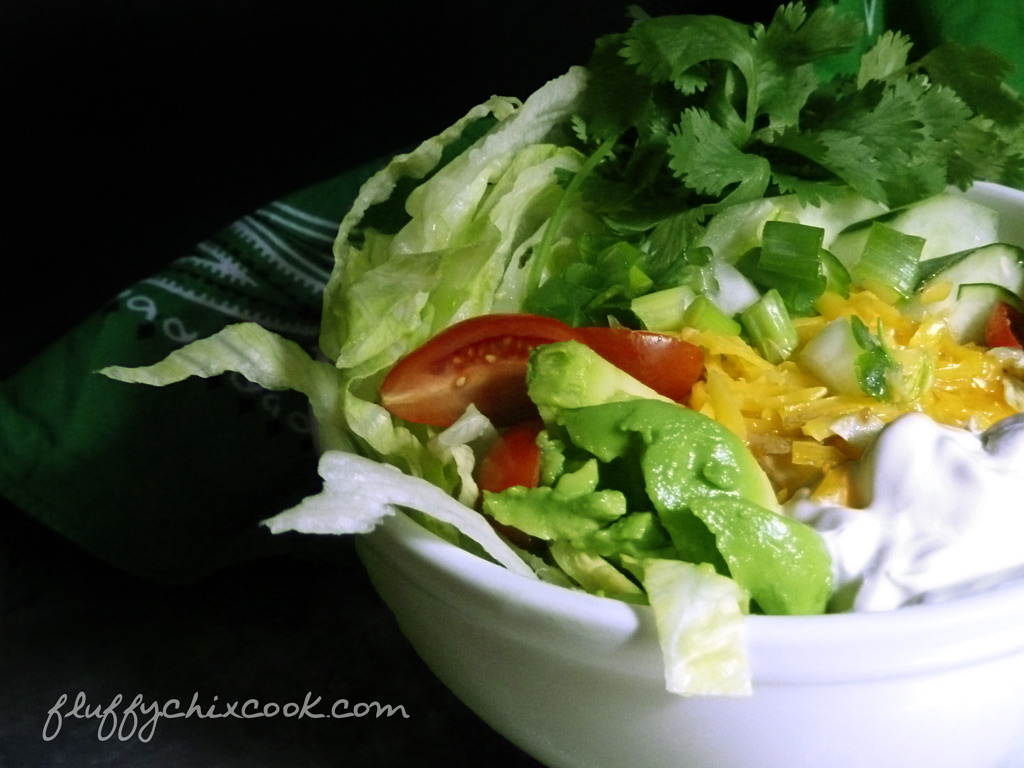 The secret to a basic protein is to spice it up and tart it out. Put lipstick on that pig, chicken, beef, lamb or seafood. Dance with that dolly! And sauces, condiments, spices and herbs allow you to quixotically change your mind and successfully morph it to fit any cuisine profile your little fluffy heart desires that night—usually in 20 minutes or less! So knowing little fancy pants sauce options that look like million dollar ability is really just a saucy chefs' 10 cent secrets.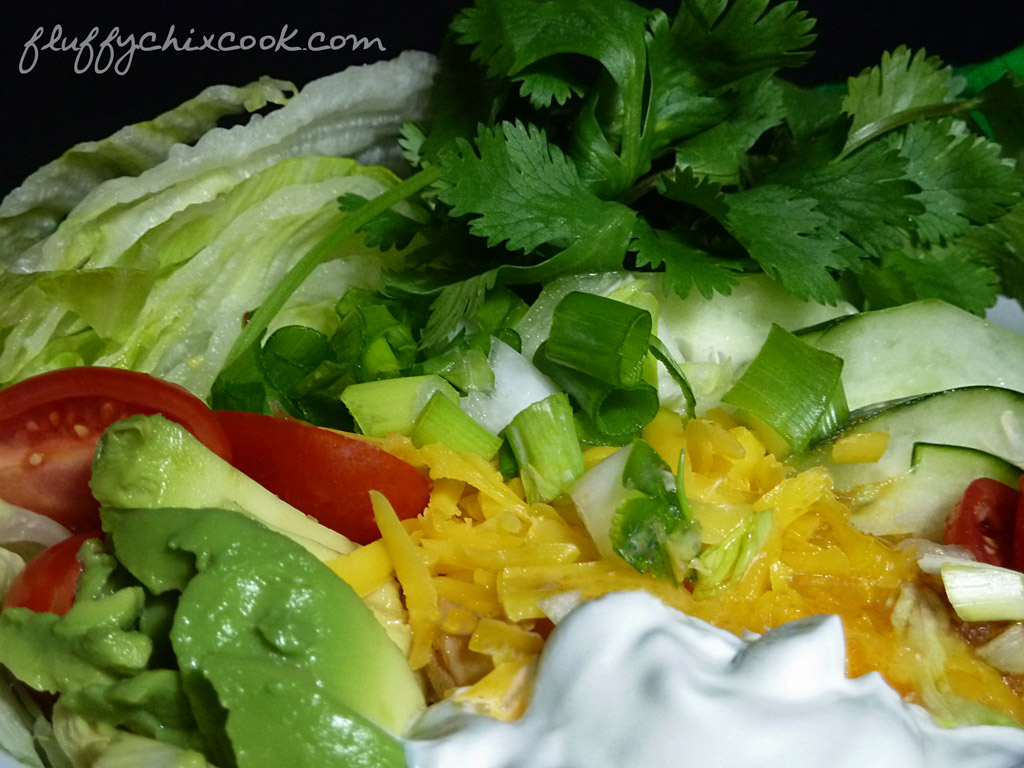 That's the lowdown with the sauce for the chicken fajitas. It's spicy. Sure it is. We use Dave's Pure Insanity. We use some Herdez Hot. But the heat gets tempered by the butter, and the cooling dairy and crisp veggies. It's like no other Chicken Fajita Salad. It's as if Frank met Mrs. Renfro and had a love child. And it melds with that sour cream into spicy, dreamy goodness—no salad dressing required, or invited.
I Ain't No Chicken – Fajita Salad | Low Carb
This Fajita Salad tastes so unique thanks to the sauce used to baste the chicken. You'll never know you've taken shortcuts in using Lucky Leftover Chicken as a base! You'll find yourself returning for it again and again. And don't be chicken of a little heat. Heat is good. Fire. Good
Ingredients
For Salad

1 1/2 cups iceberg lettuce, slivered or shredded
1/2 ounce grape tomatoes, diced
2 cucumber slices, optional
1/4 cup cheddar cheese, shredded
1 ounce avocado, sliced
2 tablespoons sour cream
2 tablespoons fresh cilantro, chopped coarsely
1 green onion, chopped
Instructions
In a small nonstick skillet, combine the first 4 chicken ingredients over medium high heat. Bring to a simmer and cook for 45 seconds to 1 minute. Add shredded chicken and spices. Toss to coat well. Immediately remove from heat and turn off fire. Transfer chicken to a bowl.
Combine lettuce, tomatoes and cucumber slices in a bowl. Top with chicken and sauce. Finish with shredded cheddar, avocado, sour cream and fresh chopped cilantro and green onion. Enjoy!
Notes
Oh come on! Don't be askeered of a little heat, baby! Seriously, the spicy sauce makes this salad. It doesn't matter where or how you choose to make the chicken; fresh or leftover—both work. Use rotisserie chicken or use your own leftover chicken. Grilled chicken is fabulous with this salad. It provides a big chew factor for only 10g of total carbs or 7g effective carbs. All the veggies are very low glycemic and provide crisp, freshness.
Serving Ideas Serve with a big glass of iced tea.
Nutritional Information
Per Serving: 577 Calories; 47g Fat (72.4% calories from fat); 30g Protein; 10g Carbohydrate; 3g Dietary Fiber; 174mg Cholesterol; 7g Effective Carbs
Copyright © 2010 Fluffy Chix Cook. All rights reserved.
http://fluffychixcook.com/i-aint-no-chicken-fajita-salad-low-carb/
Copyright © 2016 Fluffy Chix Cook. All rights reserved.
Copyright © 2010 Fluffy Chix Cook. All rights reserved.
We are not dieticians, nutritionists or medical professionals. The materials on this blog are for informational (and fun) purposes only. We do not fact check, nor do we worry about sources. Please do your own fact checking. We encourage you to look things up and check with your doctor or health care professional before acting on anything seen on Fluffy Chix Cook. xoxo