Impossible Eggnog Blender Pie | Low Carb Gluten & Sugar Free Magic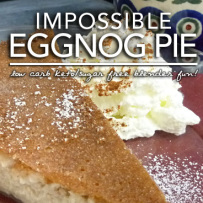 Impossible Eggnog Blender Pie gets its low carb keto roots from an old low carb recipe the Fluffys first experienced in the forums at LCF (a low carb forum). The recipe has many incarnations and has been tweaked to fit many flavors over the years. Join Fluffy Chix Cook for a low carb keto Southern treat as they presto-chango the recipe to taste like eggnog, in honor of Christmas.
It's true, the Fluffys don't make many desserts. It's mainly because we are salty, crunchy junkies rather than sweets-loving-chix. But for feast meals and special occasions we will "bust a move" and break out the Swerve or our blend of SEX (stevia-erythritol-xylitol) and whip up something to end the meal on a sweet note.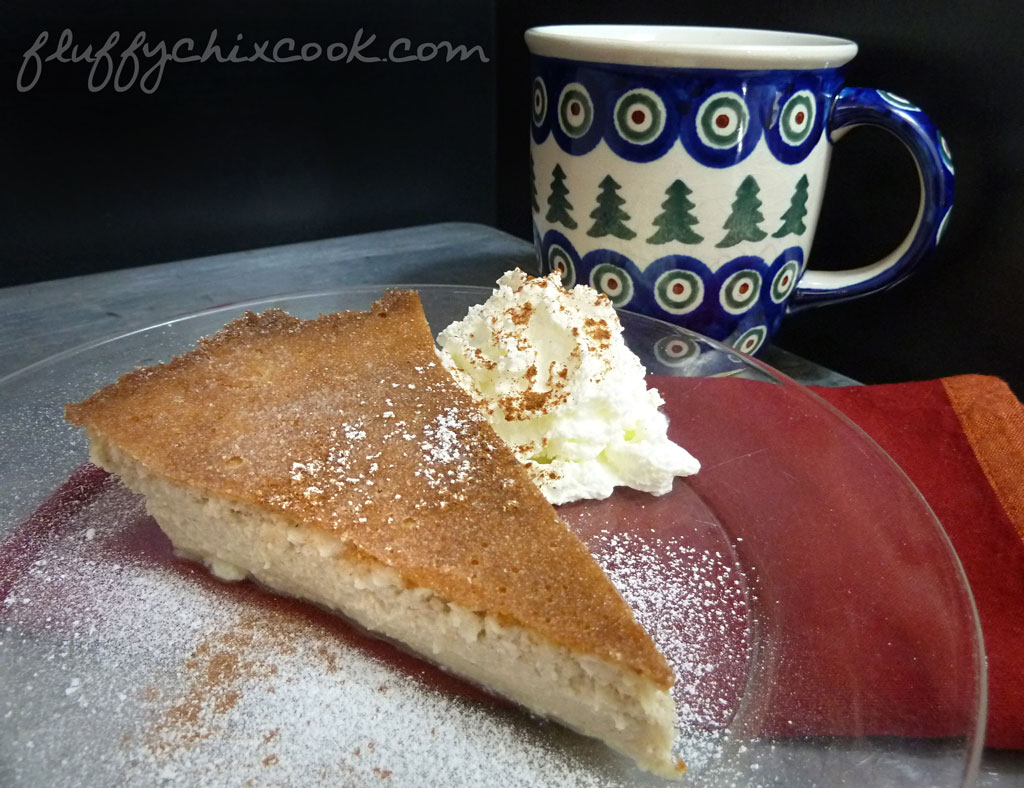 Usually, low carb keto desserts must have an Easy Button seal of approval in order to have a chance of making it to the big show in the Fluffy kitchen. They have to be no-fail,  or almost-never-ever-fail, to catch our attention. We want to throw something together and have it turn out looking and tasting like a million bucks. We don't want it to shout, "Hey, look at me, I'm a low carb keto dessert!" We want mellow and well-behaved desserts you take a bite out of and wonder, "Is it, or isn't it?"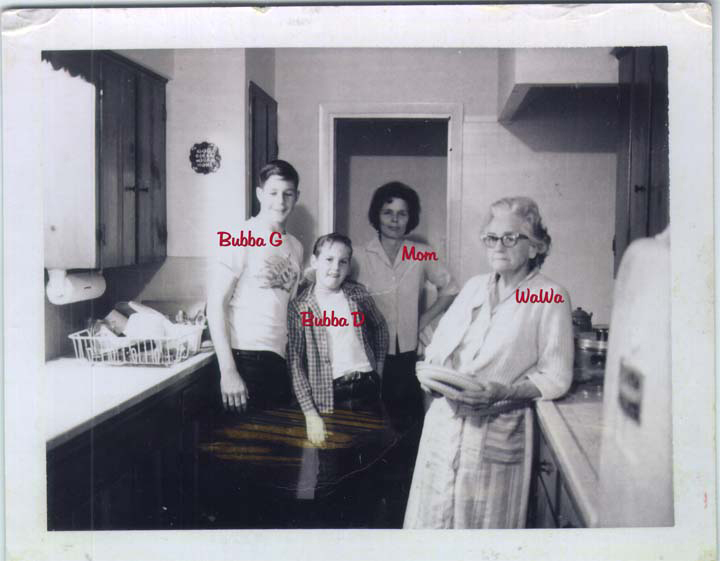 And of course, we'd kinda sorta like it to hit some memories of desserts-gone-by and reference pleasant memories of kith and kin from childhood. Mama loved chess pie and our gran'mama, who lived with us, made an amazing chess pie, a Southern classic. She also made a kissin' cousin of chess pie she called eggnog pie. Gosh it was like slicing into a glass of eggnog with a tender, shortbread cookie crust. So this year, we decided to pay homage to Wawa and Mama with two pies. We'll give you the Impossible Eggnog Blender Pie recipe below, but the low carb keto version of Southern chess pie will have to wait, we have a Christmas surprise coming in a couple of days! So please, stay tuned and get excited! Tell all your friends! "It's" coming!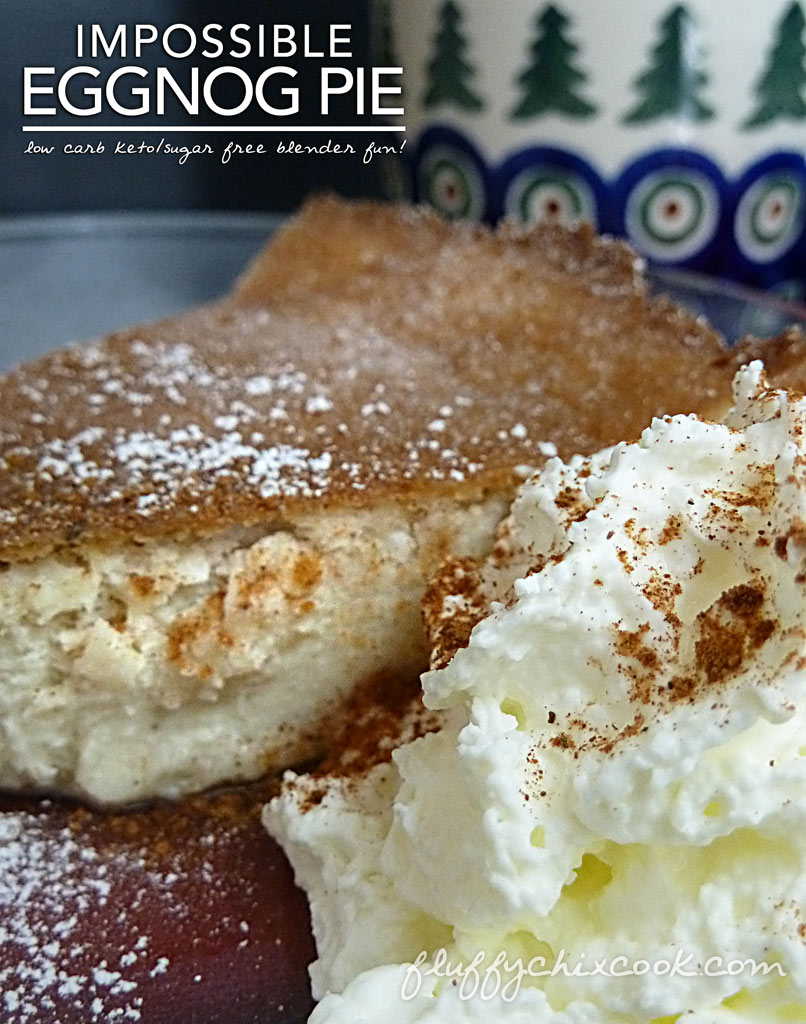 Low carb keto Impossible Eggnog Blender Pie is a hat tip to the famous low carb recipe floating around the internet for eons: Impossible Coconut Blender Pie. Everybody and their brother had a tweak for it! Sadly, we don't know who created the first Impossible Coconut Blender Pie–or else, we'd give them a great big Fluffy Chix hats-off and well-done and a link back to their original recipe, cuz that's how we roll! We first made that recipe close to 15 years ago as a result of a recipe seen on an old low carb forum we used to belong to, LCF. Impossible Eggnog Blender Pie is a doozy. So impossibly easy, no fail, super low carb, and just satisfying…yes, it reminds us of eggnog!!! (And if you want a real recipe for low carb, sugar free eggnog, just visit our Fluffy Chix Cook Recipe Archive and make our cooked custard Low Carb Eggnog. You will make it again and again and might even find yourself making it for St. Patrick's Day…weird, non-traditional, but it IS that good!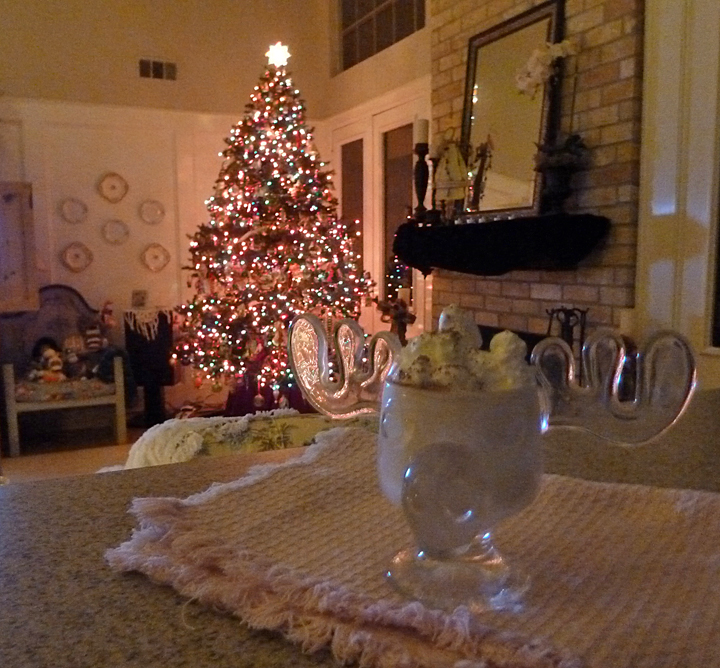 Oh and in case you want/need these adorable moose eggnog glasses that Clark Griswald loved in Christmas Vacation, here you go! We assure you, they make the eggnog taste even better! 😀
Please take Impossible Eggnog Blender Pie for a spin and see how you like it, then rush back and drop us a comment please?
Psssst! Have you ever had Impossible Coconut Blender Pie?
Impossible Eggnog Blender Pie | Low Carb Gluten & Sugar Free Magic
Delicious and creamy Eggnog Pie doesn't taste like a low carb dessert, it is a combination pie: part flan, part custard, part magic pie! It's better the next day.
Ingredients
Instructions
Preheat oven to 325°. Spray 9 to 10-inch pie pan with coconut oil cooking spray.
Place all ingredients in a blender and blend until smooth. Pour into prepared 9 to 10-inch pie pan. Place pie pan on a baking sheet pan (with sides). Place on the middle rack. Pour warm water about half way up into the outer baking pan. Bake in a preheated 325° oven for about 45-50 minutes. The center should jiggle just slightly but knife inserted into the center should come away clean. You might want to tent it with aluminum foil at about the 25 minute mark to keep if from over-browning. If it browns too much, you will taste eggy-ness and the pie might taste like scrambled eggnog, not good...
Cool completely on a wire rack then cover and refrigerate a minimum of 4 hours or preferably overnight. This pie gets better the next day! Cut it into 8-12 pieces and enjoy!
Notes
Impossible Egg Nog Blender Pie is distilled from about 3 different tweaks of a very old and famous low carb keto recipe first seen on LCF (a low carb forum). It's older than 15 years! We tweaked it a bit to adjust the sweeteners to Fluffy preferences. Because Swerve is minimally metabolized by most, we don't count the carbs in the Swerve towards the recipe total. It's a delicious and easy recipe, so much like a low carb keto version of a Southern classic, chess pie.
Serving Ideas Serve with whipped cream and a hot cup of coffee!
Nutritional Information
Per slice (1/8 pie): 363 Calories; 65g Fat (93.4% calories from fat); 5g Protein; 5g Carbohydrate; 2g Dietary Fiber; 3g Effective Carbs
Per slice (1/12 pie): 242 Calories; 43g Fat (93.4% calories from fat); 3g Protein; 3g Carbohydrate; 1g Dietary Fiber; 2g Effective Carbs
Copyright © 2013 Fluffy Chix Cook. All rights reserved.
http://fluffychixcook.com/impossible-eggnog-blender-pie-low-carb-gluten-sugar-free-magic/
Copyright © 2016 Fluffy Chix Cook. All rights reserved.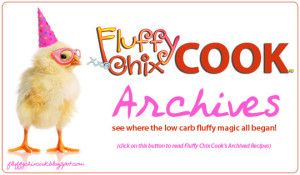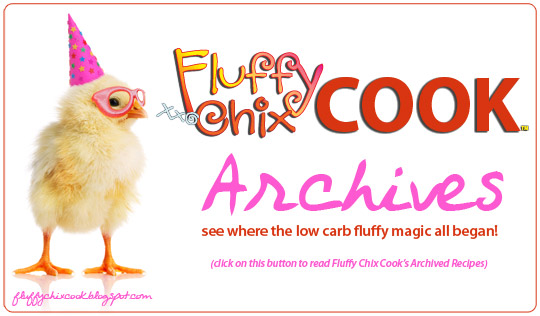 Copyright © 2014 Fluffy Chix Cook. All rights reserved.
We are not dieticians, nutritionists or medical professionals. The materials on this blog are for informational (and fun) purposes only. We do not fact check, nor do we worry about sources. Please do your own fact checking. We encourage you to look things up and check with your doctor or health care professional before acting on anything seen on Fluffy Chix Cook. xoxo