Italian Skillet Helper – Low Carb Keto & Gluten Free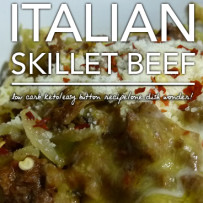 Did you ever have a mutt that wasn't such a looker but dang, you loved that mutt to pieces anyway? Low carb keto, Italian Skillet Helper is a little like that mutt. This one bowl wonder is not much to look at, but like that mutt, it's a hodge-podge of hearty players when combined. And it just might steal your heart. Start to finish the entire dish comes together in about 7 minutes—tops and represents a healthy low carb and gluten free pasta alternative that satisfies just as much as its high carbage counterpart! An Easy Button Recipe for certain.
There is a caveat…Italian Skillet Helper presumes you have the Skillet Beef Base 2 made and ready. Not that it takes very long to make a Skillet Beef Base, it simply adds about 15 minutes to your 7 minute window. Dangit! A dinner ready from total scratch in less than 25 minutes. That just takes too long! 😉 hehe.
Now, some of you non-netters are going to have a spaz-attack at the carb count in the nutritional information. Relax. Take the load off Fanny. If you can't come to terms with a non-netted carb count of 12g for a full meal—no accessories necessary. That's your prerogative. Although you may want to read a little more about that in the Read More box, below. It's easy to reduce the carb count of Italian Skillet Helper. Cut back on the cabbage by one cup and poof, you're down to 9g of whole, non-netted carbs. I personally don't worry about it, cuz I intentionally set out to eat the whole dern bowl and I can't do it. I end up stopping half way through, because I'm full. I save the rest for lunch the next day (or breakfast…cuz that's how I roll)!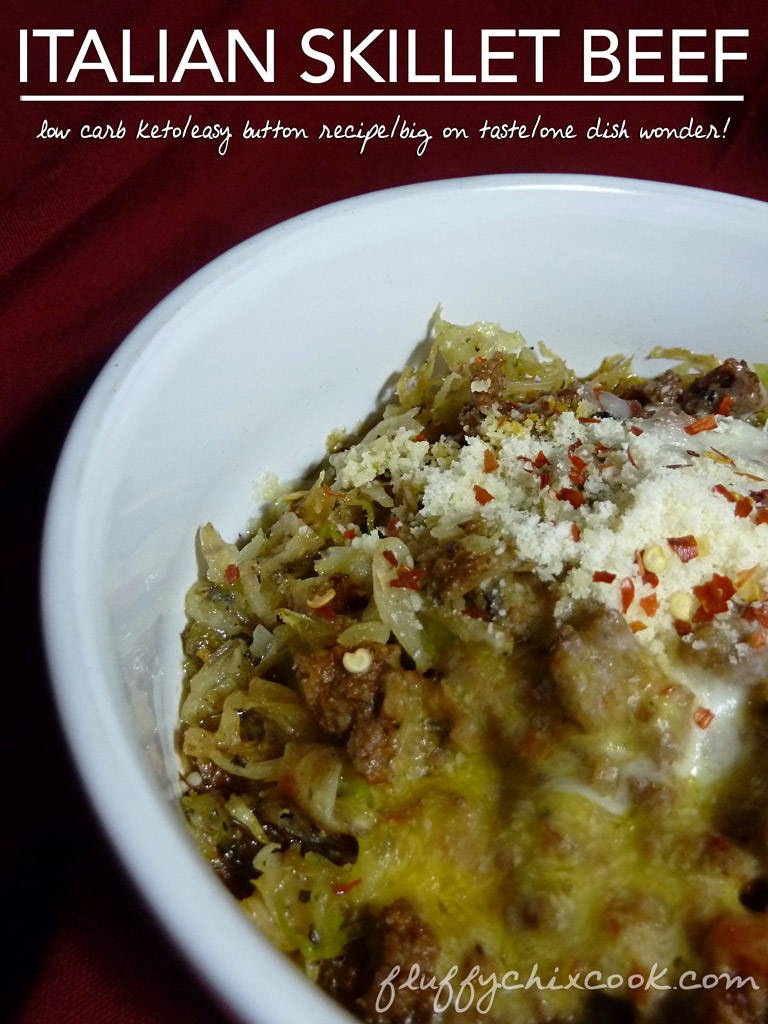 Click here to learn more
Is 12 grams of un-netted or non-netted carbs too much? People tend to think in terms of all or nothing and for one meal, they may feel a little antsy about a recipe calling for 12g or whole, non-netted carbs. Noted diabetologist, Dr. Richard K. Bernstein, author of DR. BERNSTEIN'S COMPLETE DIABETES SOLUTIONS recommends that in order to optimize blood sugars, we should eat the same meal at the same time every day and to keep the carb amount the same. (i.e. Eat breakfast at the same time every day and eat a recommended 6g of whole, non-netted carbs; Eat lunch at the same time every day and consume up to 12g of whole, non-netted carbs; Eat dinner at the same time every day and consume up to 12g of whole, non-netted carbs.) Dr. Bernstein is a Type 1 diabetic since his teens, has zero diabetic neuropathy and controls his blood sugar in better ranges than most non-diabetics with minimum injected insulin. He pioneered the use of home glucometer, blood sugar testing.
Italian Skillet Helper is a super simple recipe. It takes advantage of using a prepared, zero calorie marinara, but use your favorite low carb marinara…I swear it will not hair lip the low carb Pope if you have 1-3 extra carbs in this dish. It just won't. Swearsies. If you want to make homemade marinara, do it!!! I didn't have any when I made this recipe or I would have used homemade.
The Walden Farms Tomato Basil Pasta Sauce is a surprise. The ingredients are fairly benign from a prepared food perspective and it's very delish when combined with a few spices and wine. It extends the volume of the meal without adding more carbs to the mix. You can always split the sauce between your favorite no sugar added marinara and Walden Farms Pasta Sauce in order to extend the volume of the sauce.
The ONE thing I would not skip? I would not skip the red wine and Parmesan…ok that's two. Don't skip the red wine or the Parmesan and if you're feeling wicked, add a bit more Parm! Delish!
Using pre-shredded angel hair cabbage is a great shortcut for you haters of cooking endeavors. Personally? I like to shred cabbage in the food processor rather than buying a bag, but whatever is easiest for you. Freshly cut cabbage tastes better, has a better nutritional profile and might have a slightly lower risk of food-borne pathogens…just sayin'.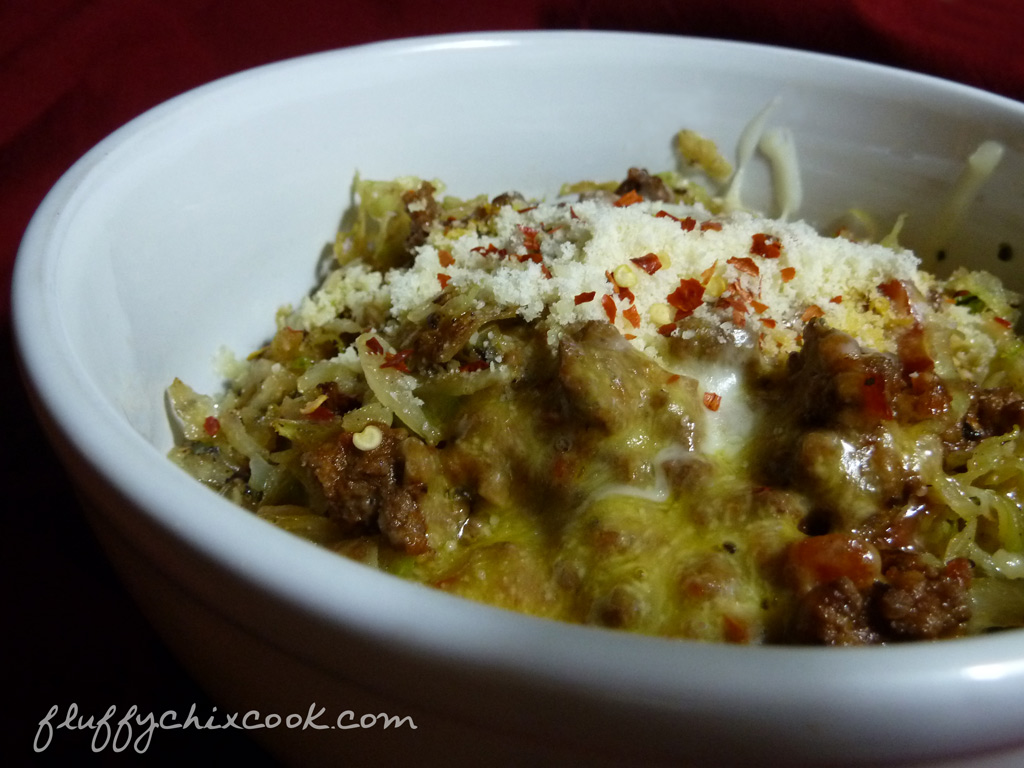 Let me know how you like this in the comments section, mkay?! Denny about licked the bowl the other night when I made it. I asked if he'd eat it again and he said, "Would I??!!!" He also gave it a solid 9 on a 1-10 scale (he doesn't give 10s). Well he did once, but it was prime rib. How can perfectly tender, rare to mid-rare prime rib score anything less than a 10?
Italian Skillet Helper – Low Carb Keto & Gluten Free
This is cheesy, Italian meat sauce heaven. A meal in a bowl. And an Easy Button recipe for sure!
Ingredients
Instructions
Heat a nonstick skillet with 2 tablespoons of beef drippings leftover from making Skillet Beef Base 2, over medium high heat. Add cabbage and spices, Cook until just wilted and transfer to a microwave save serving bowl.
While cabbage cooks combine beef with Marinara and dry red wine. Stir to combine and nuke on high until hot (about 40 seconds). Top cabbage stir fry with Skillet Beef and finish with grated cheese. Nuke on high until cheese melts. Top with optional Parmesan cheese and red pepper flakes.
Notes
Don't let 12 grams of non-netted Effective Carbs scare you. That's a perfectly respectable carb count for a full meal and this Italian Skillet Helper is definitely a full meal. in fact, stop when you start feeling hunger is satisfied. I stopped at a half bowl and have leftovers for lunch today! It keeps you satisfied for hours.
Using Walden Farms Marinara works great, because it gives you some tomato sauce taste without bulking out with extra carbs. Marinara Sauces are anywhere from 3-6g of carbs per 1/4 cup...or more!
You might be tempted to omit the dry red wine (i.e. Cabernet Sauvignon, Merlot, Pinot Noir, Zinfandel (deep red, not pink), or Dry Sherry), but it adds an enormous flavor boost! Buy cheap wine. Portion it in 2 Tbsp servings in ice cube trays and freeze them. Then empty the wine cubes into a zip top bag and store in the freezer for recipes like this one. Super easy, Super cheap. Super tasty. Pssst, most of Fluffy Chix Cook recipes that use wine, use it in multiples of 2.
Serving Ideas This is a meal in a bowl. Nothing extra needed except a tall glass of sparkling water!
Nutritional Information
Per 1 Serving: 975 Calories; 78g Fat (74.5% calories from fat); 48g Protein; 12g Carbohydrate; 3g Dietary Fiber; 213mg Cholesterol; 9g Effective Carbs
Per 2 Servings 488 Calories; 39g Fat (74.5% calories from fat); 24g Protein; 6g Carbohydrate; 2g Dietary Fiber; 107mg Cholesterol; 6g Effective Carbs
Copyright © 2014 Fluffy Chix Cook. All rights reserved.
http://fluffychixcook.com/italian-skillet-helper-low-carb-keto-gluten-free/
Copyright © 2016 Fluffy Chix Cook. All rights reserved.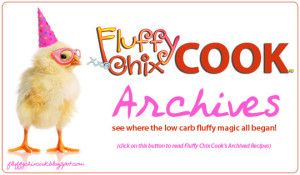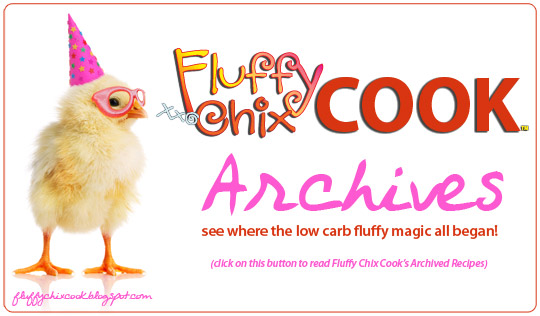 Copyright © 2014 Fluffy Chix Cook. All rights reserved.
We are not dieticians, nutritionists or medical professionals. The materials on this blog are for informational (and fun) purposes only. We do not fact check, nor do we worry about sources. Please do your own fact checking. We encourage you to look things up and check with your doctor or health care professional before acting on anything seen on Fluffy Chix Cook. xoxo