Jalapeno Creamed Spinach – Perfectly Low Carb Keto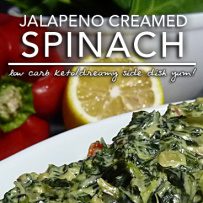 Creamed Spinach is a nearly perfect low carb keto side dish, but when you pair with a standing rib roast, magic happens! This is the perfect side dish for any roast beef, but for the king of roast beefs, the standing rib roast—sometimes called prime rib, it's not simply a pair, Fluffy Chix Cook's healthy low carb keto Jalapeno Creamed Spinach gets elevated to side-kick level. We're not joking.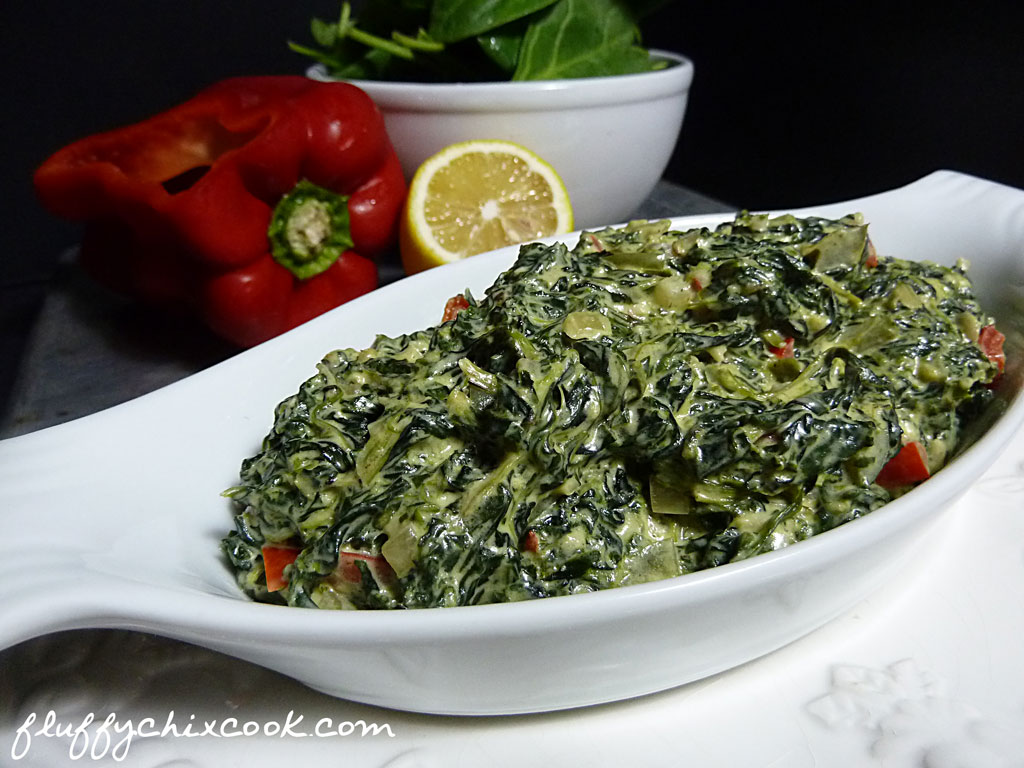 Are you sick of ordinary side dishes and want a side dish that is simply perfect, while giving you a change of pace? Then forget ordinary and go extraordinary! There's a reason why Lawry's-The Prime Rib has made a fortune off the sublime duo of prime rib and creamed spinach. It's because the two go together like Batman and Robin, like peanut butter and 'nanas, like Laurel and Hardy! We won't lie to you, the jalapeno makes this dish and we love it with the full heat, so the seeds get left in the chile while we chop it. But, if you're a tenderfoot, you can remove the seeds and ribs (where the capsaicin=heat lives) and still get a lot of the jalapeno flavor without as much heat. The sautéed veggies also add to the flavor.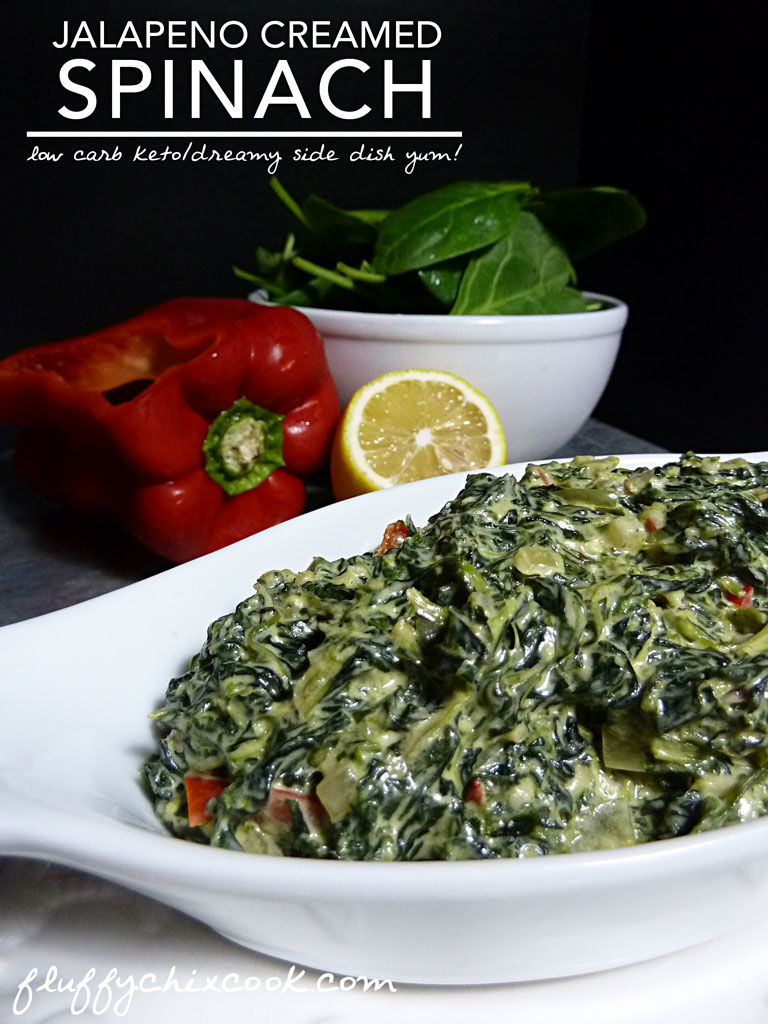 You may wonder why we feel the need to add two kinds of garlic, it's about layered flavor. Here are a couple of pointers: The granulated garlic reinforces the sautéed garlic and helps it stand up to the creaminess in the dish. So we didn't just make a recipe boo-boo, we intentionally added the two different garlics. The other tip is to make sure to wring out a lot of the liquid in the spinach. We use frozen spinach because the recipe calls for so much volume; it's a little cheaper that way. Cook it in the microwave or steam it, your choice. Then blot well with paper towels. It doesn't have to be completely dry, just mostly dry. And if it doesn't feel creamy enough at the end, add either more cream (count the carbs) or add a tablespoon or two of water and stir until creaminess happens.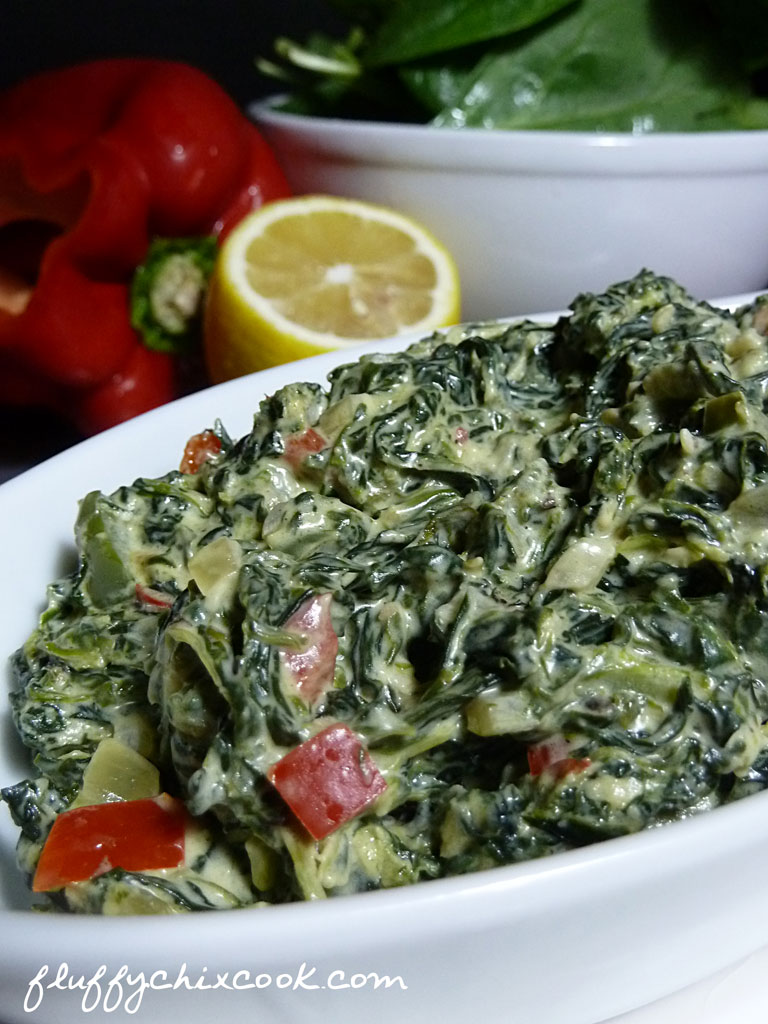 Denny, who routinely rates our recipes on his personal scale of 1-10 with 10 being the highest, is no spinach lover. In fact, he's been known to subtract a full point for a meal being "overly green." Code for: there's too much spinach on my plate. But when I make healthy, low carb keto Jalapeno Creamed Spinach, his tune soon changes. No more dings to the ratings from spinach! Yeeehaaaw! Although it could be argued, how could anything with butter, cream cheese, heavy cream and jalapeno go wrong?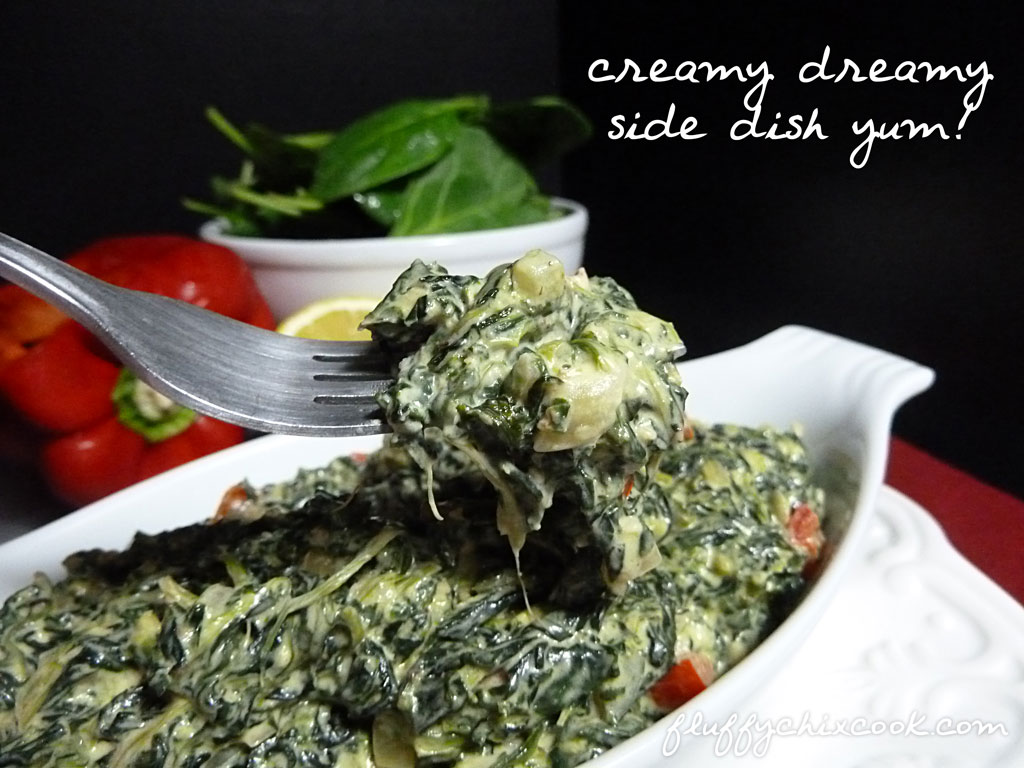 Try it with your Christmas roast beast this year and see if you agree. (Make sure to check out the Fluffy's Traditional Standing Rib Roast and the TBE Standing Rib Roast). Make sure you also serve the au jus, Sherried Mushrooms, and Horseradish Sauce! Not only will you love creamed spinach after eating this flavor-packed Christmas feast (even known spinach-haters), but you will adore the Tex-Mex hat tip to heat (the jalapeno). If you are a tenderfoot, by all means, feel free to leave out the jalapeno. The creamed spinach will still taste divine. It just won't be "packin' heat."
Please write back and leave a comment or, "Honk if you love Jalapeno Creamed Spinach!" and please share with your friends? Thanks!!
Jalapeno Creamed Spinach – Perfectly Low Carb Keto
One of the staple side dishes for a prime or standing rib roast has got to be creamed spinach. Lawry's Steak House has made a fortune through the years, trading on this wonderful combination. Here's Fluffy's Texas slant!
Ingredients
10 ounces frozen organic chopped spinach
2 tablespoons unfiltered extra virgin olive oil
1/4 cup onion, chopped
1/8 cup red bell pepper, seeded and chopped
1 jalapeno chile pepper, chopped with seeds
1 clove garlic, peeled and pressed or chopped
3 ounces cream cheese
3 tablespoons butter, unsalted
1/4 tablespoon heavy cream
1/4 teaspoon granulated garlic
2 dashes Worcestershire Sauce
1 lemon wedge
Instructions
Defrost spinach in refrigerator, or remove from box and place in a microwave-safe bowl. (We use a Pyrex pie plate.) Cover and nuke on high for about 3-5 minutes until defrosted. When defrosted, squeeze our excess moisture using food-safe paper towels or a clean kitchen towel. (Be sure to rinse your kitchen towel or wash it right away or you may never get the green out! Don't ask how we know this.)
In a nonstick skillet sauté onion, red bell pepper, jalapenos and garlic in olive oil over medium low heat until onions become translucent. This is called sweating the veggies. Don't let them brown. Add drained spinach, cream cheese and butter. Using the back of a spatula work in a side to side motion to break up the spinach and evenly distribute it in the pan with the veggies. When everything is evenly combined, add heavy cream and remaining ingredients. Turn heat up to medium and let mixture gently bubble until spinach is tender and the dish tastes cohesive and divine. Adjust salt and pepper as needed. Serve piping hot.
If spinach mixture feels too dry, add a couple of tablespoons of water or additional heavy cream. Remember to add any extra carbs added in the extra liquid.
Notes
Spinach...gosh! The house is split on this. Part of the Fluffys could (and do) eat spinach daily and the other half of the house of Fluffy actually subtracts rating points for the use of excess spinach in a meal. But only the creamy, dreamy, heat in this dish saves it from a poor rating. Even our known spinach-haters love this Jalapeno Creamed Spinach!
Serving Ideas Serve with your favorite protein. Fabulous with steak and prime rib.
Nutritional Information
per ½ cup serving (1/4 recipe) 244 Calories; 24g Fat (83.5% calories from fat); 5g Protein; 6g Carbohydrate; 3g Dietary Fiber; 3g effective carbs
per 1/3 cup serving (1/6 recipe) 163 Calories; 16g Fat (83.5% calories from fat); 3g Protein; 4g Carbohydrate; 2g Dietary Fiber; 2g effective carbs
Copyright © 2013 Fluffy Chix Cook. All rights reserved.
http://fluffychixcook.com/jalapeno-creamed-spinach-perfectly-low-carb-keto/
Copyright © 2016 Fluffy Chix Cook. All rights reserved.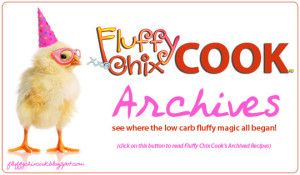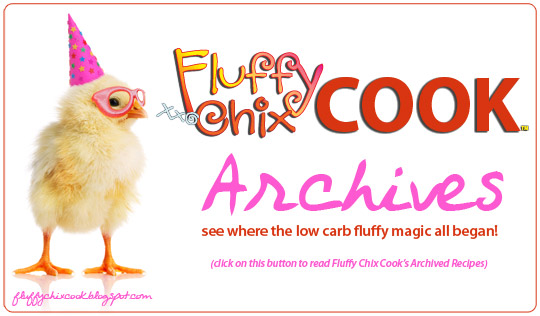 Copyright © 2014 Fluffy Chix Cook. All rights reserved.
We are not dieticians, nutritionists or medical professionals. The materials on this blog are for informational (and fun) purposes only. We do not fact check, nor do we worry about sources. Please do your own fact checking. We encourage you to look things up and check with your doctor or health care professional before acting on anything seen on Fluffy Chix Cook. xoxo