Keto Crumbs – Low Carb Gluten Free Breadcrumb Mix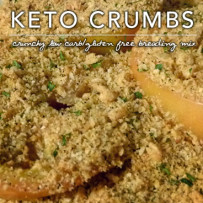 Fluffy Chix Cook healthy low carb and gluten free Keto Crumbs to bring you a low carb breadcrumb mix that is completely diabetic friendly—saving you from those old, high carb Japanese panko bread crumbs and high carb, gluten-filled breading mixes.
Do you miss the "crunch factor" and yearn for crispy, crunchy, "fried foods" in your low carb keto lifestyle? Yearn no more! Add the pizzazz back to your plate with Fluffy Chix Cook's healthy gluten free keto breadcrumb mix. These low carb breadcrumbs add so much flavor and absolutely no guilt! The salty, crispy crumbs do not taste like pork, either. Swearsies! In fact, if you've been indoctrinated to believe that pork rinds are "pure fat," please be sure to read our handy pop up.
While pork rinds may not fall into the mainstream definition of "health food" (because they've gotten a bad rap through the years),
Mark's Daily Apple declares pork rinds "Primal
," as long as they are fried in their own rendered lard and don't have other egregious ingredients such as vegetable oils, MSG or other preservatives. Watch out for some of the flavored pork skins; they can be loaded with MSG and hidden sugars. We only use the original flavor. The only negative we can find about pork skins is that they can be salty which can cause water retention for some—especially those with underlying kidney and heart disease or high blood pressure).
Pork Rinds Are Made of Protein!
Pork rinds are produced from pork skin, rich in gelatin and glycine, an amino acid that helps improve sleep, joint health and also helps metabolize lean proteins. According to
Men's Health
, a 1 ounce serving of pork rinds (aka pork skins) contain zero carbohydrates, 17 grams (g) of protein, and 9 g fat. That's nine times the protein and less fat than you'll find in a serving of carb-packed potato chips. Even better, 43 percent of a pork rind's fat is unsaturated, and most of that is oleic acid—the same healthy fat found in olive oil. Another 13 percent of its fat content is stearic acid, a type of saturated fat that's considered harmless, because it doesn't raise cholesterol levels.
In the US, pork must be produced free of hormones (so that's an extra good thing). Pork skins are minimally processed. There are only two ingredients in our bag of Baken-ets—that's Fluffy Chix Cook's current porcine heart-throb. We love Baken-ets brand because the pork skins are usually very light and fluffy—and big! Did I mention we adore unbroken pork skins? You'll also find Baken-ets pork skins have a very mild aroma with fairly "blank taste," which makes it a perfect ingredient in recipes and as a crunchy-cracker-tool, it becomes a terrific DDS (dip delivery system). They're a blank canvas. Go paint your low carb keto magic!
Forget about deep fat frying with Keto Crumbs (unless that's how you roll and you simply like the idea of deep frying until piggies fly). Keto Crumbs make great oven-baked low carb meats and veggies. Use them to make keto oven-fried chicken, low carb oven chicken fried steak, gluten free oven fried zucchini and yellow squash,  and even oven fried green tomatoes. Fluffy Chix Cook has tried Keto Crumbs on fish, pork, okra, onions, turnip greens and rutabagas and we happily endorse our Keto Crumb Low Carb Gluten Free Breadcrumb Mix (Whew! That's a long name!).
Keto Crumbs – Low Carb Gluten Free Breadcrumb Mix
Fluffy Chix Cook Keto Crumbs as a low carb breadcrumb replacement. Keto Crumbs are Induction friendly and suitable for ketogenic, gluten free, sugar free, diabetic friendly lifestyles. Why give up "fried food" when you can switch to oven fried with this tasty, low carb keto, panko-style breadcrumb mix?
Ingredients
Instructions
Pork Rind Crumb Note: Grind up an entire bag of original flavor pork rinds using a food processor and store in a tightly sealed mason jar in the fridge or freezer. B/T (Bag and Tag). We use Bakenet's or Mac's brand. (Ingredients: pork, salt). Crumbs should be similar in texture to Japanese panko crumbs. They become "pork rind flour" at this point.
Combine ingredients in a large spice jar. Shake to mix well. Shake every time before applying Keto Crumbs to breaded foods.
Store in an airtight spice bottle or mason jar in the fridge or freezer up to 1 month.
Notes
This is an inexact recipe. It's inexact because you can own it. That's right another "own it" recipe! If you like a more tender, cheesier breading, add more Parmesan. If you like a heavier, tougher, more pork-tastic breading, go with more pork rind crumbs in it. Adjust the spices to your preference. Don't add salt here because the pork rinds and Parmesan are both salty.
Fluffy Chix Cook a double recipe and store it in a large, empty Tone's Spice Jar with the shaker lid (the big ones you buy at Sam's on the spice isle). You can also keep Keto Crumbs in an old Parmesan cheese can or mason jar. Store in the fridge or freezer. Having low carb keto breading ready to go, makes oven-frying quick and easy! (You can also deep fat fry with these, but why have the hassle and clean-up? Grab 'n' Go!
Gluten Free Note – If you are gluten intolerant or sensitive, please be SURE to ONLY use certified gluten free herbs and spices. Grate your own Parmesan cheese – don't risk using the "green can."
Serving Ideas Use as a breading mix for proteins and veggies or as part of a crumb topping on casseroles.
Nutritional Information Per Tablespoon: 17 Calories; 1g Fat (57.7% calories from fat); 2g Protein; 0.25g Carbohydrate; 0.06g Dietary Fiber; 4mg Cholesterol; 0.19g Effective Carbs
http://fluffychixcook.com/keto-crumbs-low-carb-gluten-free-breadcrumb-mix/
Copyright © 2016 Fluffy Chix Cook. All rights reserved.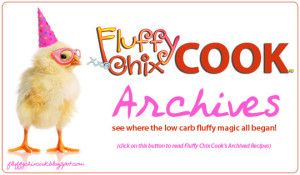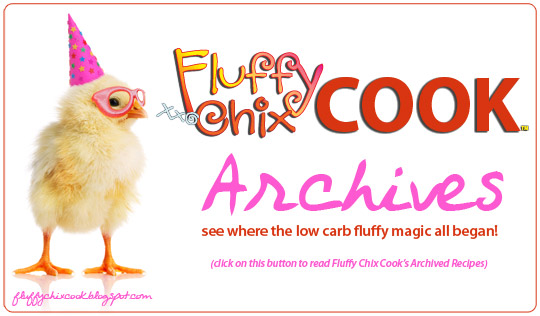 We are not dieticians, nutritionists or medical professionals. The materials on this blog are for informational (and fun) purposes only. We do not fact check, nor do we worry about sources. Please do your own fact checking. We encourage you to look things up and check with your doctor or health care professional before acting on anything seen on Fluffy Chix Cook. xoxo