Lemon Cucumber Mint Sparkler – Low Carb Beverage Make-Over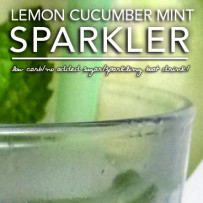 One of the most frequent questions we see in our low carb groups is, "What do we drink besides water?"
People want low carb alternatives to water, tea or coffee! We're not a big fan of sugar free drinks and sugar free drink mixes. Most are too sweet and some of the granular mixes contain sugar. So for a low carb, no sugar added (natural sugars from a slice of lemon, cucumber and mint leaves only), refreshingly healthy low carb beverage, Fluffy Chix Cook offers a cure for the common low carb drink.
Boat Drinks by Jimmy Buffet is almost a summertime national anthem in the South. It's a call to action. A challenge. And we answered that call many, many times over the years in the little 4-man Boston Whaler, sailing the "high seas" of Lake Texoma and other Dallas lakes, listening to Jimmy, watchin' the sun go down and makin' our favorite boat drink concoctions of the fizzy persuasion. Great times. Great boat drinks. We weren't low carb then, but I faithfully attended the Church of Our Lady of Perpetual Diet Sorrows. And now that we are living the low carb life, the question that dominates is, "What do we do as a reformed low carber? What do you use for a low carb festive summertime drink?" (We call them boat drinks from the eponymous song by Jimmy, our boy singer.)
There are two kinds of boat drinks in the world: mocktails and cocktails. And often, it doesn't matter whether alcohol gets a toe in the glass as long as the boat drink is served in a festive glass, has a cute straw and a garnish! You get extra points if fruit is involved and an umbrella gets stuck into the straw. But the challenge comes in making these festive summertime boat drinks low carb.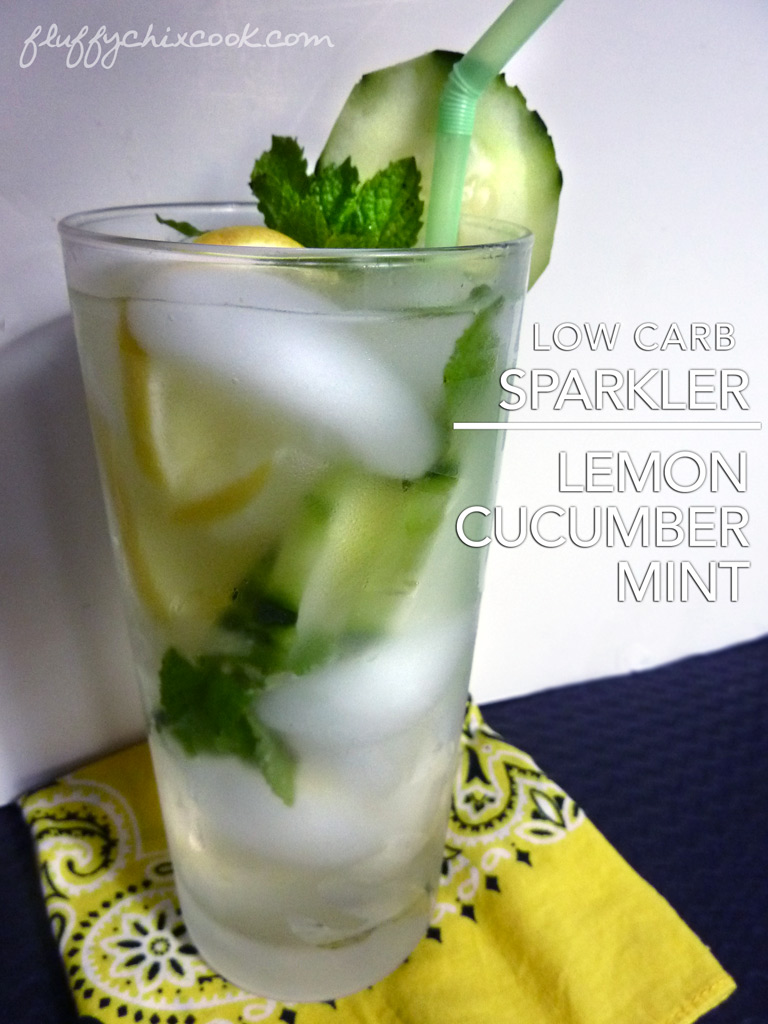 We were having dinner the other night with our nieces and nephews and one of them ordered a tall, gorgeously refreshing looking drink with vodka, lemon, cucumber and mint. I shared a sip and went, "Gak!"
Sugar? Why??? Why does this refreshingly lovely drink need sugar? The flavor combo of mint, lemon and cucumber was awesome and the vodka? Well who can hate that mighty low carb liquor?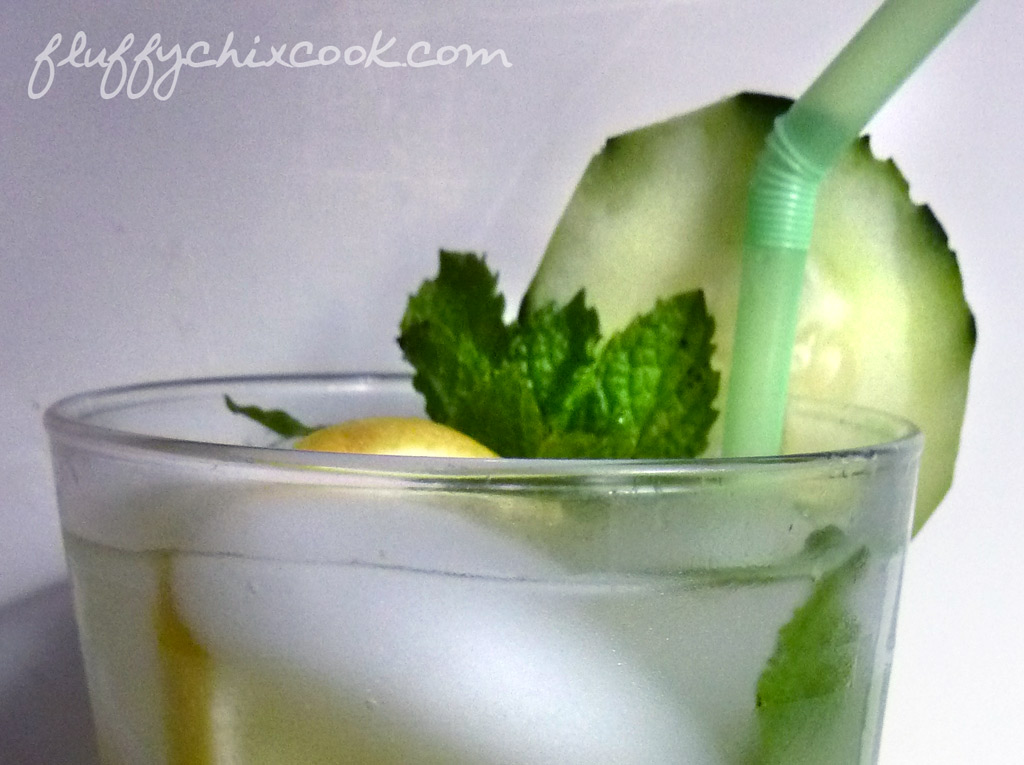 We went home that night vowing to give that promising boat drink a low carb make-over and this is what we came up with—enjoy it as a mocktail (no-alcohol-invited) or a cocktail (sure-don't-spare-the-booze) boat drink.
The wonder of this festive low carb beverage is that you don't have to use a fresh piece of lemon and cucumber each time you make a new boat drink. Use the same ones, drink after drink. Simply squish them around a bit with each new addition of ice and sparkling water.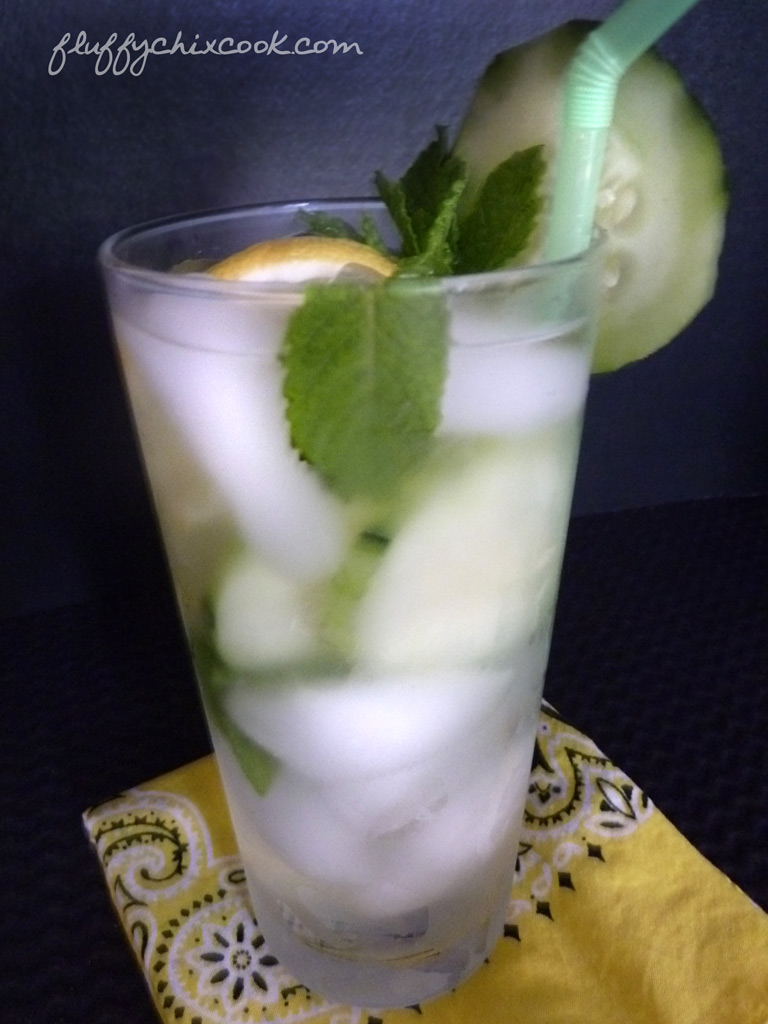 Enjoy! And tell us, please. What's YOUR favorite summertime boat drink (mocktail or cocktail allowed)?? Maybe we can give it a low carb make-over? The boys in the band want to know!
Lemon Cucumber Mint Sparkler – Low Carb Beverage Make-Over
Festive low carb mocktails and cocktails are entirely possibly when using your imagination. This Lemon Cucumber Mint Boat Drink answers the call of summertime parties!
Ingredients
1 slice lemon slice
1 cucumber slices
1 fresh mint leaves
8 ounces unflavored La Croix Sparkling Water
Optional Embellishments

1 lemon slice
1 cucumber slice
1 sprig fresh mint
1 drop unflavored liquid stevia (Better Stevia)
1 ounce Monopolowa Vodka
Instructions
In a tall glass, place 1 slice cucumber and 1 slice lemon (thin slices) along with 1 mint leaf (about 1/2 teaspoon mint). Add 1/8 cup crushed ice. Using a muddler or back of a spoon or large flat handle. Muddle together to release the natural oils. Fill glass with ice and top with sparkling water. Enjoy.
To make a Low Carb Alcoholic Boat Drink (aka Low Carb Alcoholic Beverage): Add 1 ounce of vodka and 1-2 drops of liquid sweetener. We prefer to leave it unsweetened or to use Better Stevia - original flavor.
NOTES: Lemon Cucumber Mint Sparklers are a near-perfect summer treat. Cool and refreshing, the combinations of these three ingredients simply play great together! Sparkling La Croix water has no sugar and we prefer the plain to other flavors--but lemon would work as well. The beauty of this drink is that if you do not consume the garnishes or muddle them, we don't count the carbs, because they will have minimal impact on the carb count. You can also refill the glass over and over with sparkling water and not re-count the original muddled lemon, cucumber and mint. Bonus!
Although drinking during the initial 2 week Induction period is seriously frowned upon, it's reasonable to expect that as you make low carb keto food plans a lifestyle, you might want an adult beverage (er...boat drinks). JAV (just add vodka)! We love tripled filtered potato vodka to keep wheat and grains out of the equation! These make a fancy adult cocktail or mocktail you'd be proud to serve for two or at a party! Remember to drink responsibly.
Notes
Serving Ideas Serve with a straw and a side of great music! Jimmy Buffet's Boat Drinks comes to mind!
Nutritional Information
Per Non-Alcoholic Boat Drink: 5 Calories; trace Fat (5.0% calories from fat); trace Protein; 1g Carbohydrate; trace Dietary Fiber; 0mg Cholesterol; 1g Effective Carbs
Per Alcoholic Boat Drink: 69 Calories; trace Fat (5.0% calories from fat); trace Protein; 1g Carbohydrate; trace Dietary Fiber; 0mg Cholesterol; 1g Effective Carb
Copyright © 2012 Fast Days - Healing Days. All rights reserved.
http://fluffychixcook.com/lemon-cucumber-mint-sparkler-low-carb-beverage-make-over/
Copyright © 2016 Fluffy Chix Cook. All rights reserved.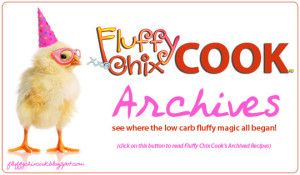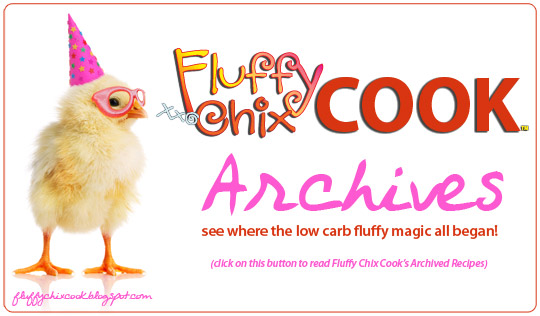 Copyright © 2012 Fast Days – Healing Days. All rights reserved.
We are not dieticians, nutritionists or medical professionals. The materials on this blog are for informational (and fun) purposes only. We do not fact check, nor do we worry about sources. Please do your own fact checking. We encourage you to look things up and check with your doctor or health care professional before acting on anything seen on Fluffy Chix Cook. xoxo