Low Carb Egg Roll In A Bowl
Who needs carby egg roll wrappers when Egg Roll In A Bowl is so flavorful and satisfying? Just the guts, mam! No carbage or other sketchy fillers or thickeners involved. Get Fluffy Chix Cook TNT (tried 'n' true) family favorite version of this very popular one-dish-wonder. And the best part? Egg Roll In A Bowl is perfectly low carb and ketolicious and won't spike your blood sugar or make your hips grow three sizes!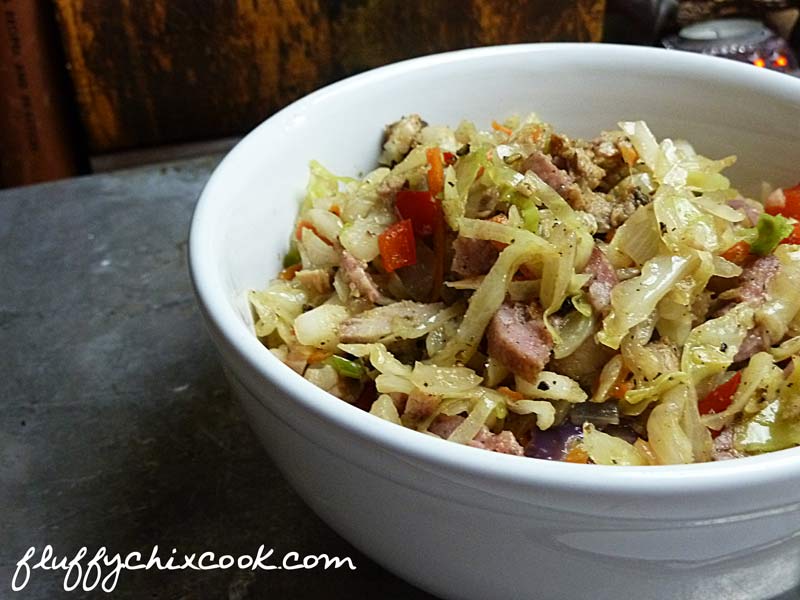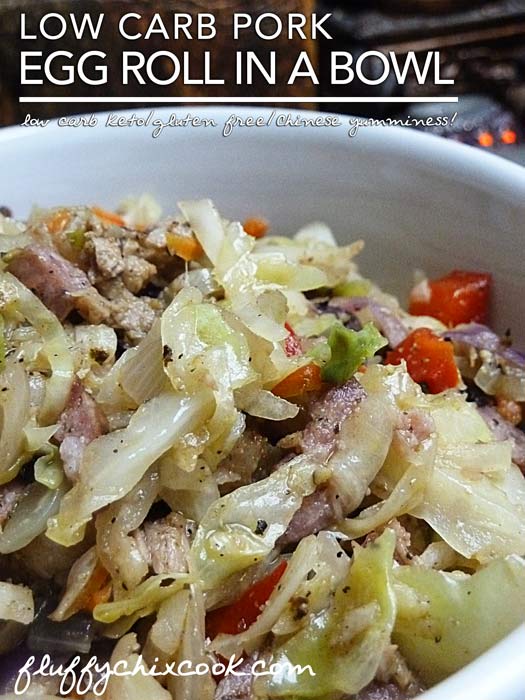 Full Disclosure: This may come as a shock…but Fluffy Chix Cook did not invent egg rolls, with or without wrappers (nor did our Mama, God rest her eternal soul). And toward that end, neither did we invent Hollandaise, Pan Seared Steak, nor any number of the classical recipes on our blog that may simultaneously be floating in blog land under eleventy billion variations…we derive inspiration from everyone we read…all our favorite recipes, authors, and food bloggers. Fluffy Chix Cook diligently attempts to attribute inspirations wherever Fluffily possible—in fact, we make it a mission of obligation to do so, bending over backwards in our efforts to map the provenance of a recipe—and apologize in advance if we inadvertently leave out any attribution.
Good golly Miss Molly! You would not believe the folderol that unfolded when I asked if people wanted a recipe for the Fluffy Chix variation of Low Carb Egg Roll in a Bowl. You'd think I was Mata Hari or a Kremlin spy or something, offering to give up my family recipe for a perennial favorite that endured and sustained us throughout the 60s and 70s.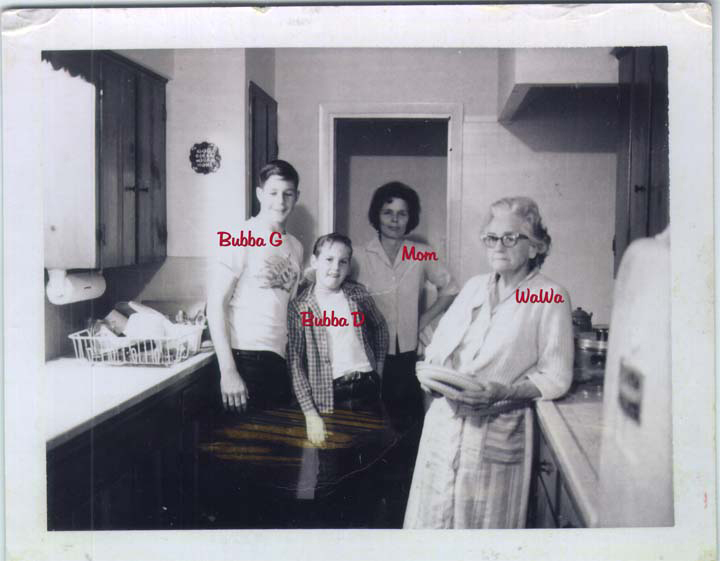 Most of you know I was born with a pair of chop sticks in one hand and a taco in the other since Mama loved Chinese and Tex Mex food so much and ate them with great regularity when she was pregnant with us. But we were a family of 8 mouths in the 50s-70s, so there wasn't a lot of "extra coin" going around for eating at restaurants. But Mama and WaWa (Dad's mom who lived with us), as well as Dad and Cakki, were awesome cooks, creative, and loved playing in the kitchen. They came up with all sorts of homemade versions of restaurant food.
Since our favorites at Bobo Chinese Cafe (a now defunct Chinese café that was located in Meyerland) were egg rolls and shrimp fried rice, it only made since for them to make a counterpart for each. But egg roll wrappers were very hard to find in Houston during the 60s, so Mom did the next best thing—after all, it was the filling that held our hearts and minds. Mama made a dish to approximate the egg roll filling. And it was a big hit—along with Skaki and chop suey, those three recipes encompassed our big mid-century "American, white bread exposure" to Chinese cuisine.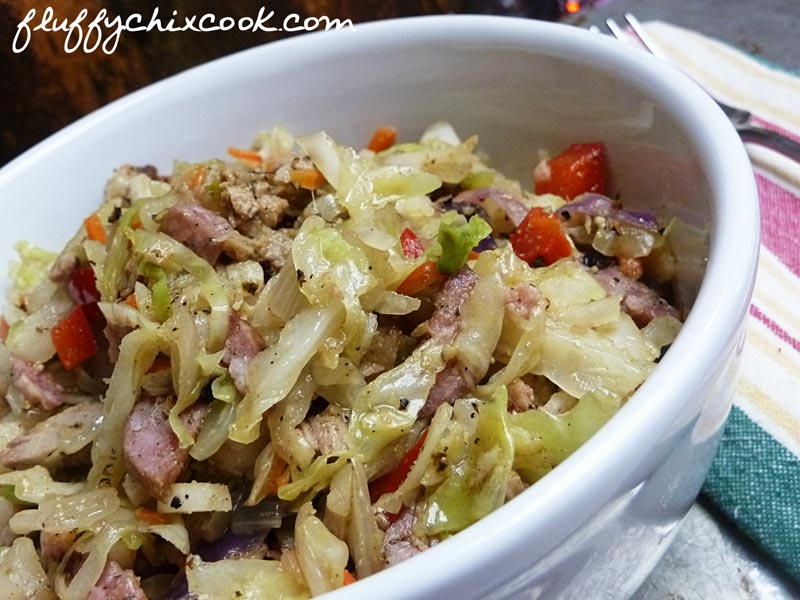 We thought we had the moon and the stars with Mama and those three recipes—totally "Happy Family." Then we met Martin Yan on PBS (in my teens) and we discovered if Yan can could cook, so could we! We also found our first egg roll wrappers during that time, and made authentic (Bobo style) egg rolls for the first time. "We like to died happy." A whole new horizon had opened up and Mama, Dad, and I rediscovered Asian! By then, WaWa had gone home, and the older kiddos were grown and gone–I was a lonely only. Then when I hit my 20s and had my first encounter with Szechuan food—well, oh my, let's leave it there. (Ahem, love ensued.)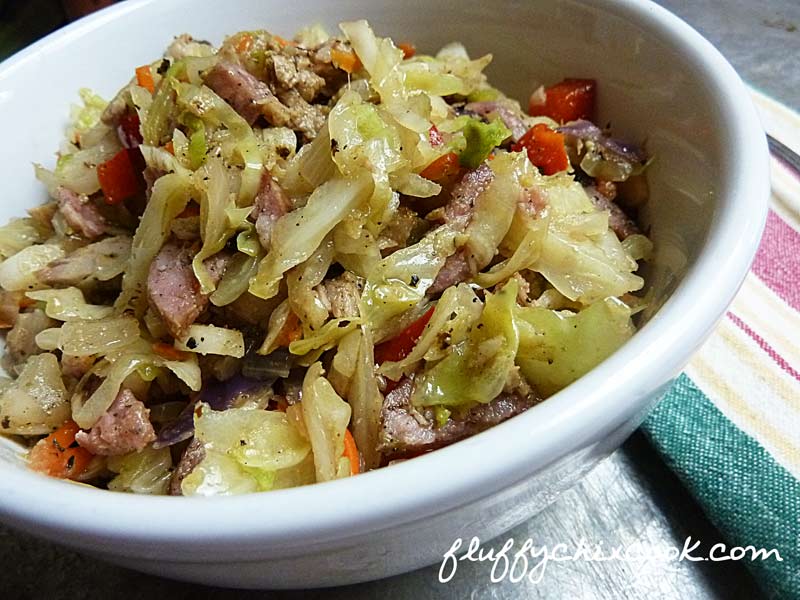 Over the years, I forgot all about Mama's unwrapped egg rolls. Oh don't get me wrong…we make crack slaw all the time, but that's a slightly different recipe. And we make stir fry from leftover pork too, but that's also different. We also make another homage to childhood with the Skaki recipe. But I was transported back to my youth while surfing Pinterest and happened upon a super-popular recipe for Paleo Egg Roll in a Bowl. I instantly fell in love with the name and was transported back about 48 years to a simpler time when scratch cooking was the norm–to kinder gentler days. Mom's unwrapped egg rolls! Oh my word! 😀
It wasn't until the bru-ha-ha-ha-ha-ha on MLCKC today, where I was accused of ripping off a recipe from Fluffy Chix Cook (ahem, ourselves), that I did search on Pinterest for Egg Roll in a Bowl and holy cow! Egg Roll In A Bowl appears to be a very popular concept. Mom was quite the 60s trendsetter! But of course, we already knew that one.
Here are a few other trending ERIABs from Pinterest that might interest you:

Smile Sandwich Egg Roll In A Bowl
Most of the recipes on Pinterest use ground pork or chicken/turkey, but Mom always made her unwrapped egg rolls with slivered, raw pork chops or pork loin. When we recreated her recipe, we used Lucky Leftovers, having just made the Mustard Crusted Pork Loin and Grilled Sausage. It was only fitting to use them in a recipe with great repurpose. Gosh was it a stroke of genius! The mustard crust added a real tang to the Egg Roll In a Bowl and paired so great with the liberal dustings of black pepper! To be fair, you could use any meat: shrimp, ground pork, ground turkey or chicken, even ground beef—use whatchahave. The true joy of Low Carb Pork Egg Roll In A Bowl is in the sauce…isn't it always? Sauce makes everything better!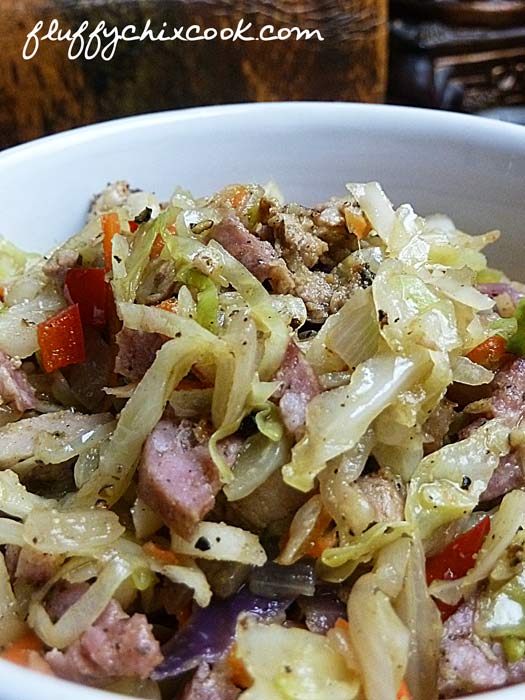 So here's to you Mom! We miss you (and your unwrapped egg rolls)!
Low Carb Egg Roll In A Bowl
All the tasty fillings of an egg roll without the carbage that goes along with the crunchy, oil soaked wrapper. Recipe doubles, triples and quadruples well!
Ingredients
1/2 tablespoon unfiltered extra virgin olive oil
2 cups coleslaw mix—or cabbage, slivered
1/2 ounce yellow onion, slivered or chopped (about a scant ¼ cup)
1/2 ounce red bell pepper, slivered or chopped (about a scant ¼ cup)
1 clove garlic, sliced thinly, minced or pressed
2 teaspoons grated ginger root
1 serving Mustard Crusted Pork Loin, cooked, sliced then cut into thin strips (julienne)
1 ounce sausage, pork and beef, cooked, sliced then cut into thin strips (julienne)
1/3 cup fresh bean sprouts (optional)
Instructions
Add olive oil to nonstick skillet. Heat over high heat until oil begins to shimmer in the pan. (Make sure your stove vent is turned on.)
Add cabbage, onion, and bell pepper. Stir fry 1-2 minutes until veggies just begin to soften. Add garlic and ginger. Cook until veggies are to your preference (about 1-2 minutes). Add meats, and sauce components. Toss together. Cook an additional minute. Add bean sprouts if you have them and remove from heat. Toss through. Enjoy.
Notes
Lucky Leftovers. There. We said it. That is the beauty of this non-recipe. This is a way to tart those leftovers up (roast pork and grilled sausage) and make it look like a Saturday night hooker in a one hook town. Put lipstick on it! If you like it spicy add chile sauce or red pepper flakes. Add Sambal Oelek, Sriracha, whatevs. Just make it your own. We don't worry too much about the total carbs in this dish. Most of them come from veggies with super high ORAC numbers (Oxygen Radical Absorbance Capacity=dietary antioxidant) such as onion, garlic, ginger, five-spice powder (a blend of 5 spices (cinnamon, cloves, fennel seed, star anise, szechuan peppercorns). This dish, despite being 14g total carbs nets to 10g and is unlikely to spike your blood sugar, but if you are concerned, you can always reduce the amount of cabbage and up the amount of bean sprouts which are lower carb than cabbage. You can also garnish with chopped green onion, but we were out that day and had to improvise. (Oh and make sure to use plenty of black pepper! Bo Bo's egg rolls had lots of black pepper in the filling!)
Serving Ideas Serve with a pair of chopsticks and a smile.
Nutritional Information per 1 big ol' bowl of Egg Roll Love 550 Calories; 39g Fat (63.9% calories from fat); 35g Protein; 14g Carbohydrate; 4g Dietary Fiber; 10g Effective Carbs.
Copyright © 2015 Fluffy Chix Cook. All rights reserved.
http://fluffychixcook.com/low-carb-egg-roll-in-a-bowl/
Copyright © 2016 Fluffy Chix Cook. All rights reserved.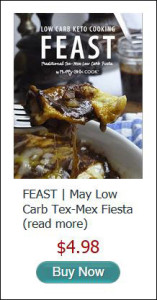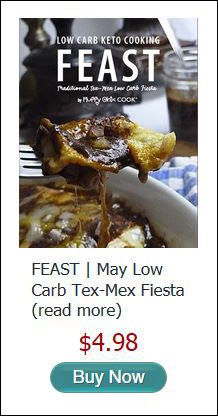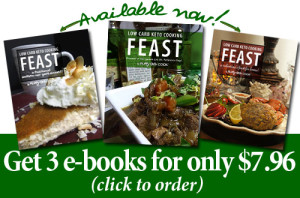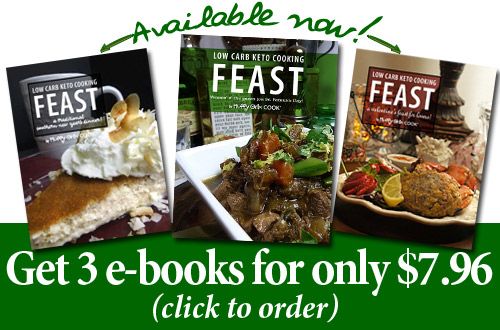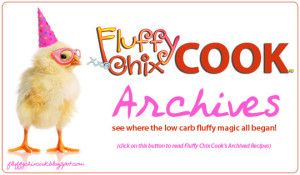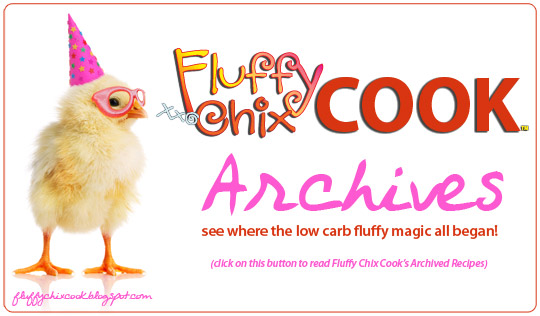 Copyright © 2014 Fast Days – Healing Days. All rights reserved.
We are not dieticians, nutritionists or medical professionals. The materials on this blog are for informational (and fun) purposes only. We do not fact check, nor do we worry about sources. Please do your own fact checking. We encourage you to look things up and check with your doctor or health care professional before acting on anything seen on Fluffy Chix Cook. xoxo