Low Carb Keto Eggs Benedict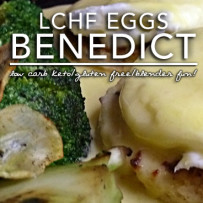 Do you want an elegant low carb keto breakfast or brunch meal just perfect for a leisurely Sunday at home? Fluffy Chix Cook has you covered, and makes Low Carb Keto Eggs Benedict for only 6g of total carbs. Incredible right? All of the flavor, none of the sin or guilt of breaking your low carb lifestyle for the sake of an English muffin.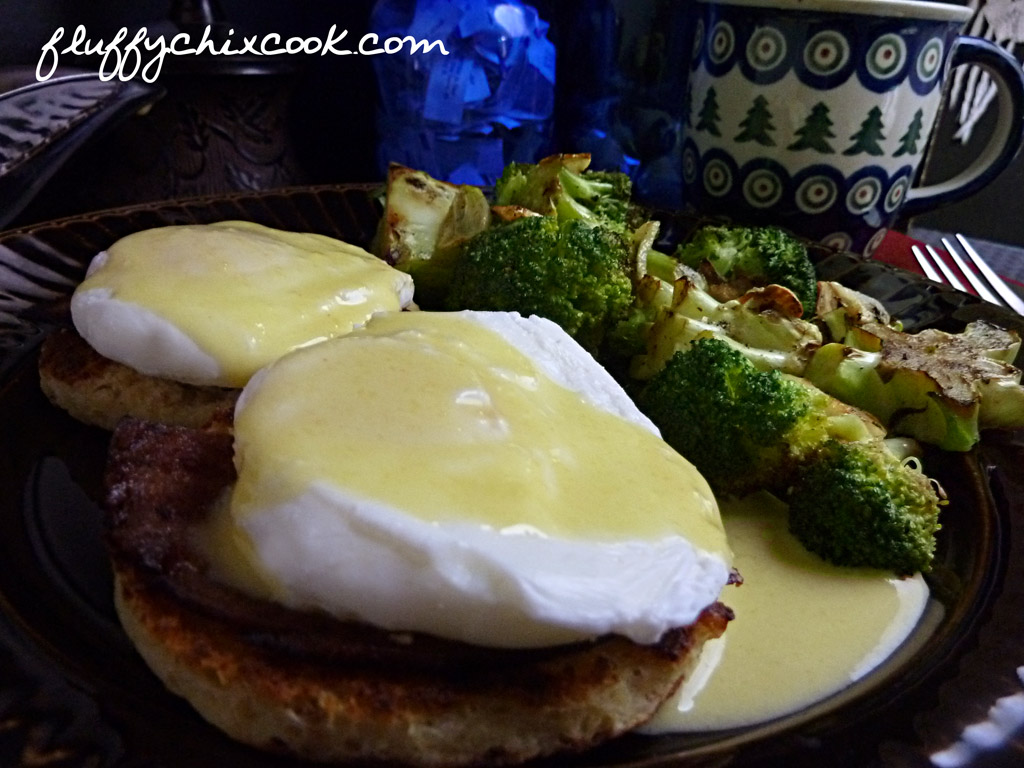 I can't tell you the origin of Eggs Benedict. No one can, it has a checkered past much longer than our Uncle Henry's! One way or another, it came into vogue in the States during the mid-teens and 1920s. Some claim Portland as its native home, others seem to think it belongs in Manhattan. Still others think Eggs Benedict originated in France because of its syntax: "eggs" before "Benedict." We don't care. That's right. The Fluffys could give a big old poof about it! We just know it's delish and needs to get in our bellehs at least once per quarter!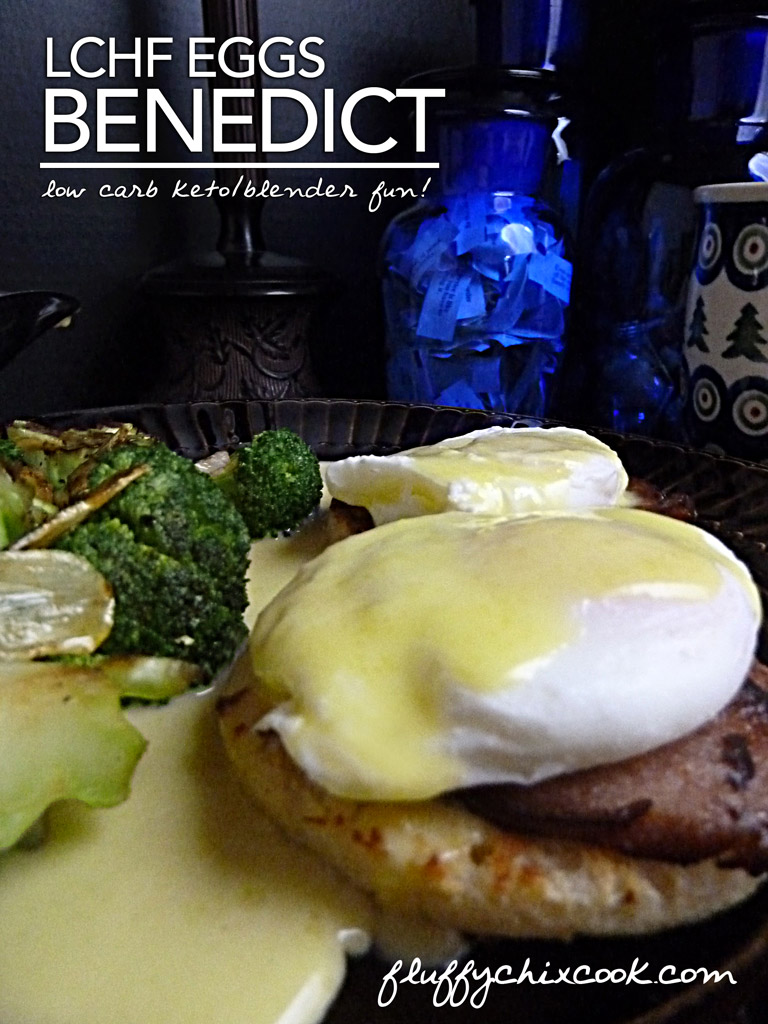 We did not grow up eating Eggs Benedict. Even though, as card-carrying DFSWs (delicate flowers of Southern womanhood), Wawa, Mama, Cakki and Aunt Rea each had their own Junior League-sanctioned recipe for hollandaise, the mother sauce of kings and queens. And ohhhh what a mothah of a sauce! We had 8 people (5 kids, Mom, Dad and WaWa) living in our 3 bedroom, 1 bath, tiny "ranch" in Suburbia. There was no practical way to make poached eggs for 8 in our tee-niney one-fanny-kitchen. Besides, during the '60s we probably didn't even know of its existence. We were still calling the stuff in the green can "Par-meeeee-see-ann" cheese, for cripes sake!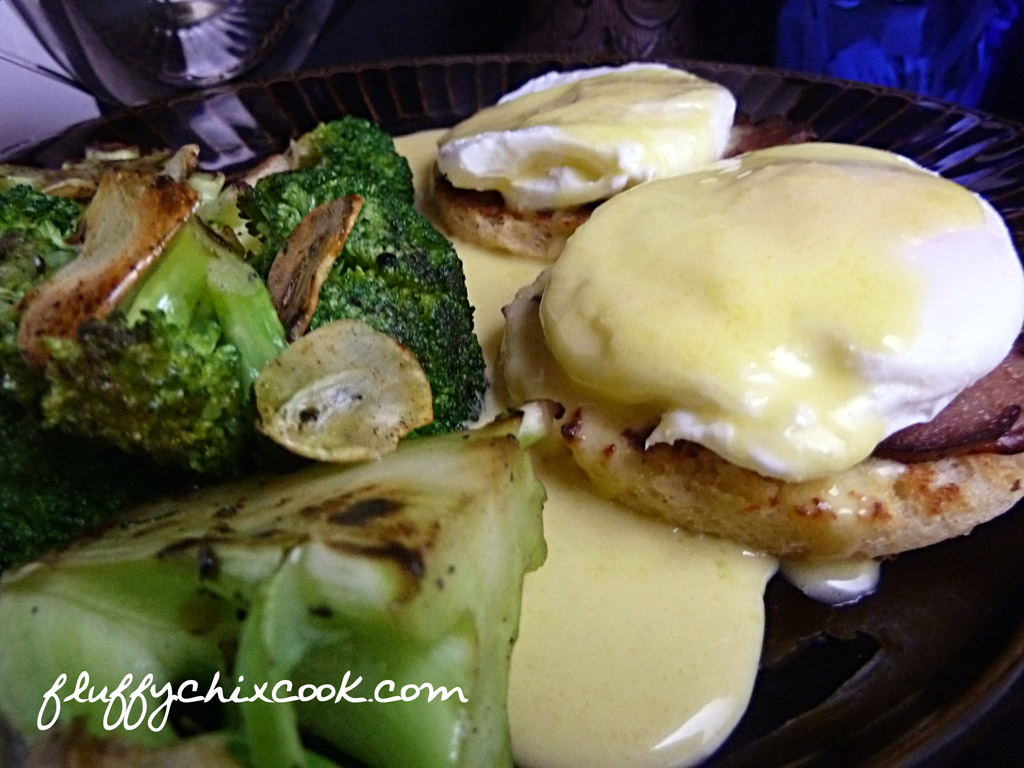 I still remember the day things changed. When we as a family found religion. The religion of brunch. The religion of Eggs Benedict a la Cakki. Hold me. I need a moment. We were at Cakki and Ford's to celebrate Christmas. I was in from Colorado where I had temporarily immigrated in my youthful insanity…and Cakki decided it was time to unveil the holy of holies; these gorgeous round pucks of egg pulchritude enrobed in Cakki's glorious hollandaise sauce, perched upon crispy, buttery, English muffin halves that were draped with slices of Canadian bacon. (Hats off to the Canadians btw, for a really swell, pork-tacular cured meat. It was the first time I ever ate Canadian bacon too.)
Well, simply put, as a twenty something it blew my foodie mind. I became an immediate acolyte. I rushed back to Colorado and immediately cracked open the Joy of Cooking (thank you Irma Rombauer) and began crack-a-lackin on developing my own DFSW-sanctioned hollandaise (one of the 5 mother sauces in classical cooking). I made Eggs Benedict with every protein you could imagine, using any kind of base that would stand still! The true pinnacle of Benedict was the crab or lobster on an artichoke bottom base. Holy Jehoshaphat kiddie troopers. I swear I cannot make this stuff up. Angels wept.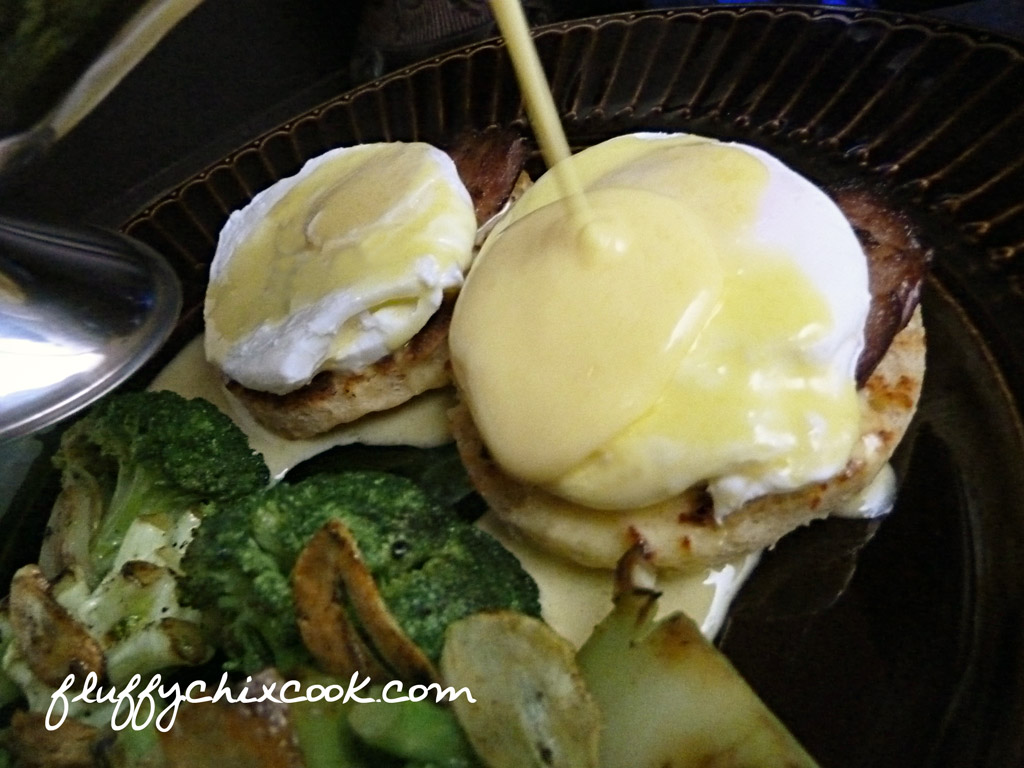 Fast forward to today. You'd think Eggs Benedict would be off the table now that we live a low carb keto life. Not so fast! The Fluffys' Mile High English Muffins and the Induction and Page 4 friendly, Keto Buns (of steel) work perfectly in our favorite brunch dish (in the world). But if you prefer to wipe the bread off the face of the earth, even in low carb keto form, use your favorite veggies as a base, instead. Here are our suggestions: Portobello mushrooms caps (remove the black gills), blanched asparagus, artichoke bottoms, blanched and sliced broccoli or roasted cauliflower planks, sautéed garlic spinach or kale, sliced roasted planks of rutabaga (Swedes) or turnips.
Let's reinforce that truly great hollandaise, that holy mother or a recipe is only as good as its key ingredients: butter and eggs. You really can't skimp on the budget here. The Fluffys adore Kerrygold butter (unsalted, because we like to keep control of the salt levels in recipes) is our go to. It's widely available across the country, is economical, and more importantly is made from the milk from grass fed cows. We all know about the value that brings to your low carb keto table: extra Vitamin K2 (important for directing where Vitamins D & A direct calcium to land–in the bones and teeth, not your heart, arteries, or joints), extra CLA (important for energy production and for promoting a low inflammation cytokine pathway), as well as naturally occurring Vitamins A, D, and E. Yahtzee!!!!
Eggs are equally important as the other main ingredient in hollandaise, and since most of the nutrients are in the yolks and we use yolks in hollandaise, you'll get extra points if you can find eggs from pastured chickens. Eggs from pastured chickens are higher in naturally occurring Omega-3 fatty acids (the kind we don't get a lot of in a SAD diet). They also have higher levels of Vitamins A, D, and E. These vitamins appear in their natural state with all vitamin constituents and that is important because you body recognizes them and utilizes them readily without mounting an inflammatory response. And low inflammation is the name of the game in a keto diet. (Although you know the Fluffys are not purists and recognize we all must eat to our pocketbooks, if you get one thing "right" in a low carb diet, it's getting your sources of healthy fats "right." Eating the best butter and eggs will take you a LONG way along the healthy low carb keto continuum.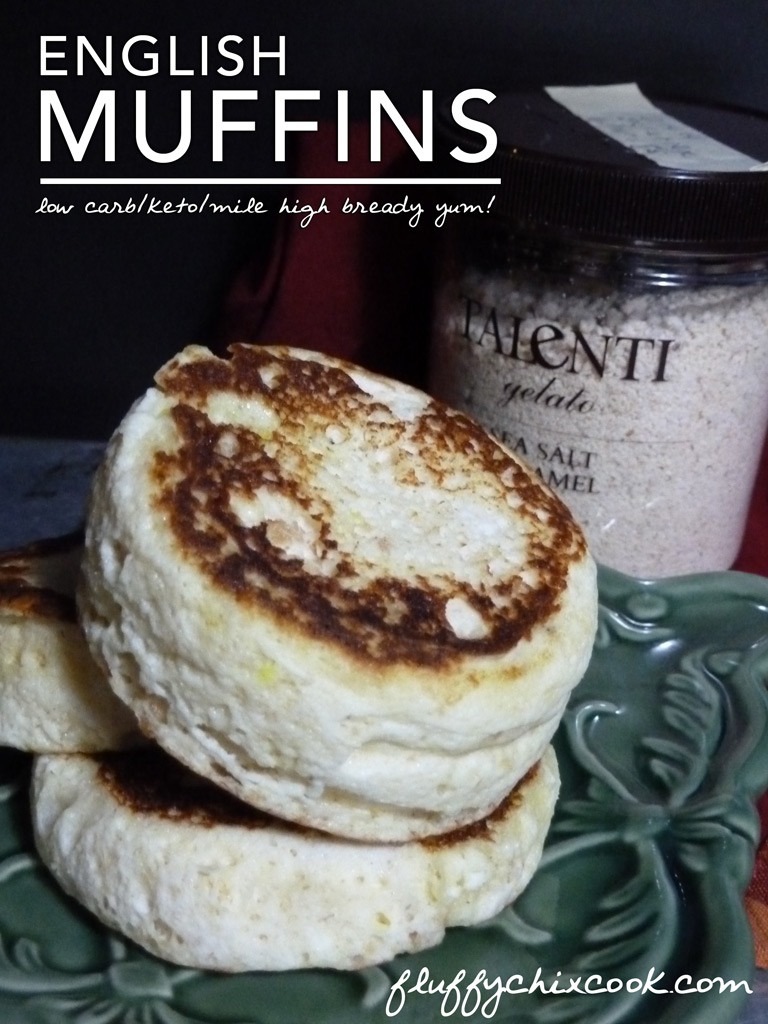 You could actually make the argument that you could use a hubcap as a base as long as hollandaise in abundance is involved.
Eat it.
Moan.
Then come back here and write a note in the comments about how much you adored it.
Low Carb Keto Eggs Benedict
Creamy Eggs Benedict is the breakfast or brunch of champions. It makes a festive FEAST meal any time of the day, but works great as a low carb keto, super elegant brunch.
Ingredients
Instructions
Split Mile High Keto English Muffin into two halves using a fork. Melt butter in a small skillet and pan toast muffin, cut side down. Add ham slices and brown at the same time.
Bring a skillet filled with water to a strong boil. Reduce heat to low. Add a splash of white distilled vinegar to the water. Crack an egg into 2 small bowls or cups. Each egg should be separate. Use the handle of a spoon or spatula and swirl water to create a mini vortex in the water. Hold cup just above the vortex and gently but quickly turn egg into the vortex. Repeat with the second egg. Cover pot and begin timing for 2 minutes. Check eggs to test doneness. Continue cooking (usually 1 more minute). The whites may not be totally done at the yolk but that is okey dokey, for now. Remove eggs with a slotted spoon and reserve in a bowl of ice water to stop the cooking. They'll hang out here while you cook any remaining poached eggies and make the hollandaise. Reserve the poaching water to re-warm eggs when ready to serve.
(Psssst, you can omit the ice water bath step if you've already made your hollandaise and it's waiting for you! If the hollandaise is made, then continue cooking the eggs, covering then checking every 30 seconds until you reach your preferred level of doneness. The Fluffys prefer set whites with runny yolks--about 4 minutes in the poaching bath.)
Make Never Fail Hollandaise per the Fluffys' recipe. When hollandaise is ready, re-warm eggs in hot poaching liquid. About 30 seconds should do it. Remove eggs with a slotted spoon and drain on paper towels. Make sure to get ALL the water off, it will make your sauce runny and icky.
Assemble the Eggs Benedict: 2 pan toasted low carb English muffins, cut side up, 1 slice of ham or Canadian bacon on each muffin half, top with eggs (1 per side), and enrobe each half with creamy, unctuous, Hollandaise Sauce. (Or alternately toss everything out and simply eat the hollandaise with a spoon! In a dark kitchen. Barefoot. Standing at the counter. Did I just suggest that?)
Notes
Low Carb Keto Eggs Benedict is a beautiful FEAST meal. Why? Well, because even in Ketopia, calories do count—and 803 calories for breakfast is a little excessive for most of us as an "everyday meal." But, this is a big FEAST, or special occasion meal. Most will be satisfied with Eggs Benedict serving as both breakfast and lunch. For two meals, 803 calories is perfectly within the scope of fine and dandy. No worries, mon! Eat it every day when you count it as two meals.
For convenience, the Fluffys keep Mile High English Muffins made and packaged in the DS9 (Deep Space 9, the chest freezer), at all times. We usually have some kind of leftover meat (yes, it works with any kind of protein, especially crab, lobster and shrimpies). And poaching eggs is quick and easy once you know how many minutes it takes to create your personal, ideal poached egg. If you have a stick blender (aka immersion blender) and a tall, narrow container that fits it, making hollandaise is practically no fail. Make it. It will kill your appetite for hours and has brilliant keto numbers (78% cals from fat—brings new meaning to "holy cow"). We even like it leftover as a cold sauce. Don't try to re-warm hollandaise, it will break, meaning the butter will separate from the other liquids and solids, and will not provide a rewarding experience.
Here's the link for Induction and Page 4 friendly Keto Buns (of steel)
Serving Ideas Serve with your favorite veggie garnish, sliced tomatoes, and plenty of hot coffee or tea!
Nutritional Information
With Mile High English Muffins Per 2 Halves: 803 Calories; 70g Fat (78.5% calories from fat); 37g Protein; 6g Carbohydrate; 2g Dietary Fiber; 4g Effective Carbs
Per Half: 401 Calories; 35g Fat (78.5% calories from fat); 18g Protein; 3g Carbohydrate; 1g Dietary Fiber; 2g Effective Carbs
With Keto Buns (of steel): Per 2 Halves: 815 Calories; 72g Fat (80.7% calories from fat); 35g Protein; 4g Carbohydrate; trace Dietary Fiber; 3g Effective Carbs
Per Half: 407 Calories; 36g Fat (80.7% calories from fat); 17g Protein; 2g Carbohydrate; trace Dietary Fiber; 1g Effective Carbs
Copyright © 2015 Fluffy Chix Cook. All rights reserved.
http://fluffychixcook.com/low-carb-keto-eggs-benedict/
Copyright © 2016 Fluffy Chix Cook. All rights reserved.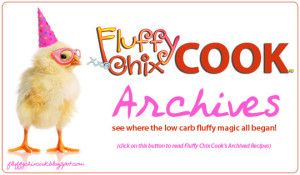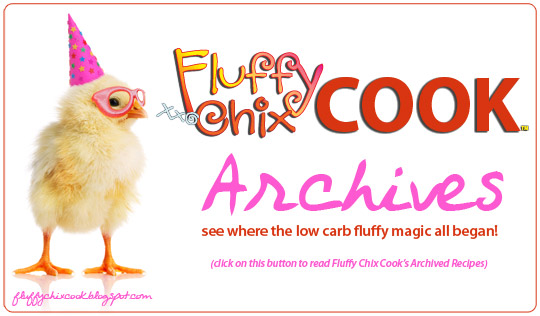 Copyright © 2010 Fluffy Chix Cook. All rights reserved.
We are not dieticians, nutritionists or medical professionals. The materials on this blog are for informational (and fun) purposes only. We do not fact check, nor do we worry about sources. Please do your own fact checking. We encourage you to look things up and check with your doctor or health care professional before acting on anything seen on Fluffy Chix Cook. xoxo