Low Carb Mustard Crusted Roasted Pork Loin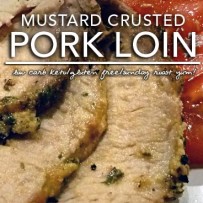 Do you love the idea of cooking Sunday roast but are terrified about cooking a big hunk of meat? Do you need a tried and true roast pork loin recipe–the kind that's been around for generations and that's absolutely fool-proof? Do you dream of being able to buy roasts on sale for $1.47/pound, but don't know the first thing about cooking them? Join Fluffy Chix Cook as they de-mystify delicious and moist Low Carb Mustard Crusted Roasted Pork Loin and get comfy with Sunday roast!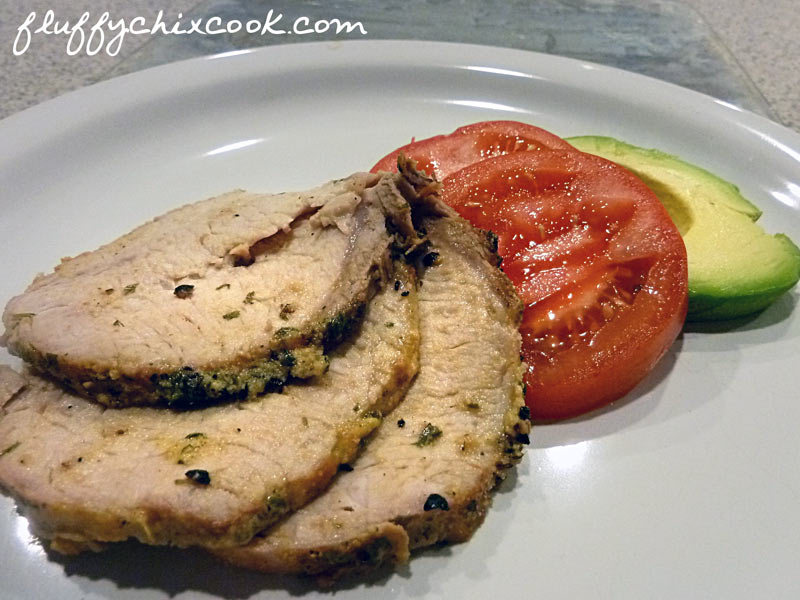 We grew up eating Sunday roasts. They were a way to easily cook for a crowd and also to have a few leftovers for lunch on Monday. They were cheap, easy, and tasted so comforting and satisfying and honestly, we've no idea why our generation fell out-of-touch with the Sunday Dinner Roast. They're cheap (when purchased on sale), easy to prep, and have fast clean-up. And did we mention that as long as you hold the flour and starchy thickeners, they're also perfectly healthy low carb keto food? There's not even any special equipment necessary, just a pan large enough to cook it in, and you can find those at the thrift store or at a garage sale.
Why are we as a whole, so dern stuck on the value of slow cookers? We "get" they have a convenience factor…you can make dinner and cook it overnight or can put dinner on before work and come home to a nice hot, home cooked meal. But you know, some things just have no business in a slow cooker. There. We said it. Now tar and feather us and rip off the official DFSW Susie Homemaker Decoder Ring why doncha?
Slow cookers have their place. They work great to keep queso perfectly warm. They are superb at making bone broth and other stocks. They work "ok" with chili and stews and some soups…although we still believe that even set to low, slow cookers cook most foods too dag-burned hot. And if given a choice, we will choose a heavy Dutch oven and a low oven setting any day!
But for lean meats such as roasts, chicken, whole poultry…well blah on you slow cookers! These cuts were never intended to be subjected to mercilessly high cooking temps with a never ending cooking cycle. These cuts perform best when you cook them to temperature rather than by a clock, using a very stable heat source. Ask anyone who's bitten into a slice of roast pork that tastes mealy, grainy, and dry as the Sahara Desert about that and see if we're not keepin' it real for you.
This TNT (tried 'n' true) family recipe comes down from our WaWa. It's simple Southern fare. We had pork roasts at least 2 Sundays per month for the first 18 years of my life. So I do know a thing or two about the easy-peasy best method for cooking them. And she passed it along to Mama and Cakki and eventually down to Nannie and me. It just doesn't get any easier in the most basic preparation: slather a hunk of loin (bone in or bone out) with mustard (any kind), season the bejeesus out of it with granulated garlic, pepper, dried parsley and some salt of some kind (we like kosher salt or coarse sea salt). Brown it in a little olive oil or bacon grease, shove a thermometer into the thickest portion and roast it until the temp reads 140° (about 15 minutes/pound on average when cooked in a preheated 350° oven.)
In less than an hour, we seasoned the roast, browned it and finished cooking it to yield about 2 1/4 pounds of succulent, tender, drippingly moist roasted pork loin. Sometimes, when the fat cap is really thick, we'll score it in a diamond patter and that takes an extra minute; but, it's worth it because the spices get down to the skin and the fat renders better before the meat gets dry-as-old-bones-over-cooked.
We use a nonstick skillet to brown and roast the loin. It's a one-pot-wonder with super simple clean up. And the payout is that we had a gorgeous Sunday dinner and have over 1 ¾ pounds of roasted pork in the fridge just daring us to make all sorts of things from bánh mì to egg foo yung and beyond.
Here are our current enameled cast iron skillet and nonstick skillet crushes!
And here's the kind of oven-safe meat thermometer in it's cheapest derivation. Happy roasting!
Low Carb Mustard Crusted Roasted Pork Loin
Low Carb Mustard Crusted Pork Loin is so simple to make, only 3-4 minutes of prep and about 45 minutes of cooking yields meat for a week! Succulently juicy and a well-balanced background to be spiced any way you like as Lucky Leftovers!
Ingredients
Instructions
Heat nonstick skillet with olive oil over medium high heat.
Season loin with salt. Place in hot skillet and brown on all sides (about 2-3 minutes per side). Remove from heat. Slather pork with mustard on all sides and season generously with garlic, pepper, and dried parsley. (Psssst. We don't even measure the spices.)
Poke an oven-safe thermometer into the thickest portion and roast to 140° internally (about 15 minutes per pound). Remove from oven and rest 15 minutes before slicing.
Fast Method | Slather roast with mustard and season with granulated garlic, kosher or sea salt, freshly ground black pepper and dried parsley. Brown pork loin on the 4 main sides of the roast—about 2-3 minutes per side. Stick an oven-safe meat thermometer into the thickest part of the loin.
Transfer pan to a preheated 350° oven and roast loin until the thickest portion registers 140° internally (in the center of the thickest part). A ball park guestimate is about 12-15 minutes per pound.
Remove roast from pan and rest of a cutting board for 10-15 minutes. Slice thinly and return meat to pan with the drippings and fat. Toss meat with the juices and serve to rave reviews.
Notes
This is a super economical meal and filled with great nutrition. Full of flavor and satisfaction, you'd never guess how cheap or easy it is to make a big protein like this. The best part is you have Lucky Leftovers for many other meals such as Pork Egg Fu Young, Teriyaki Pork, Pork Crack Slaw, Tacos Al Pastor, Green Chili, Enchiladas Verdes, Hash, Pork and Fried Cabbage, oh so many different leftovers can be made and let's not forget the basic pork roast sandwich! Holy Moly, hold us please!
Serving Ideas Serve with your favorite veggie or salad!
Nutritional Information Per 3oz cooked serving with pan juices: 318 Calories; 23g Fat (66.4% calories from fat); 25g Protein; 1g Carbohydrate; trace Dietary Fiber; 1g Effective Carbs
Per 4oz cooked serving with pan juices: 397 Calories; 29g Fat (66.4% calories from fat); 32g Protein; 1g Carbohydrate; trace Dietary Fiber; 1g Effective Carbs
Copyright © 2015 Fluffy Chix Cook. All rights reserved.
http://fluffychixcook.com/low-carb-mustard-crusted-roasted-pork-loin/
Copyright © 2016 Fluffy Chix Cook. All rights reserved.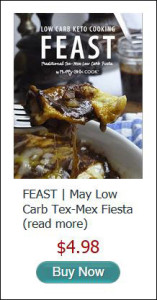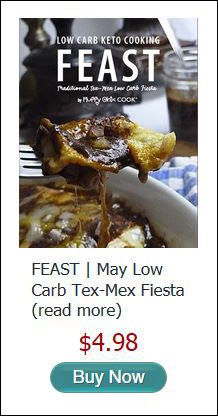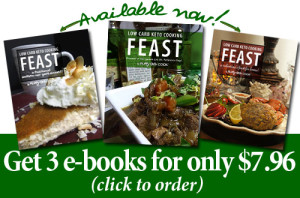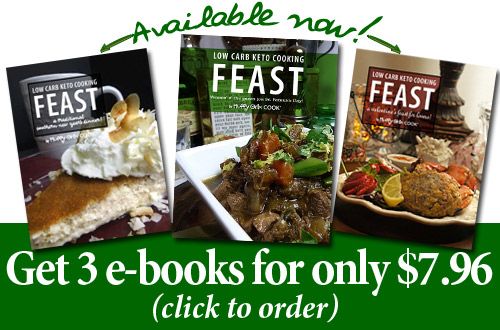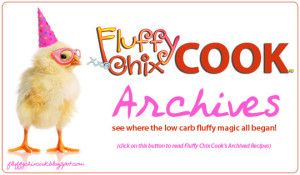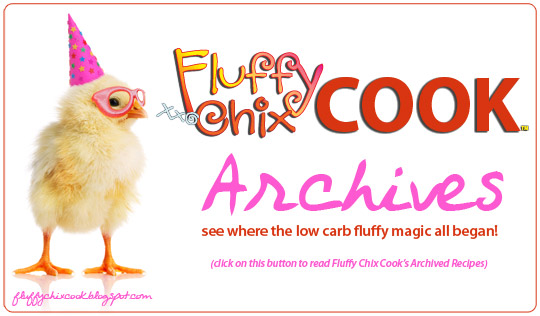 Copyright © 2014 Fast Days – Healing Days. All rights reserved.
We are not dieticians, nutritionists or medical professionals. The materials on this blog are for informational (and fun) purposes only. We do not fact check, nor do we worry about sources. Please do your own fact checking. We encourage you to look things up and check with your doctor or health care professional before acting on anything seen on Fluffy Chix Cook. xoxo