Low Carb No Grill BBQ Baby Back Ribs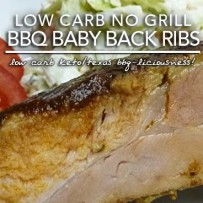 Do you want your baby back, baby back, baby backs? But, you don't want the passel of sugar in them, or the expense from eating ribs at restaurants? Maybe you don't have a barbecue pit, smoker or grill? Or what if you have a smoker, but it's too dang much trouble to drag out for just little ol' you and the mister? Well if any of these situations ring true, then maybe you should join Fluffy Chix Cook and take a trip down BBQ row to getcha some bonafide Texas-style Low Carb No Grill BBQ Ribs and enjoy knowing you're staying low carb keto street legal and living the low carb life!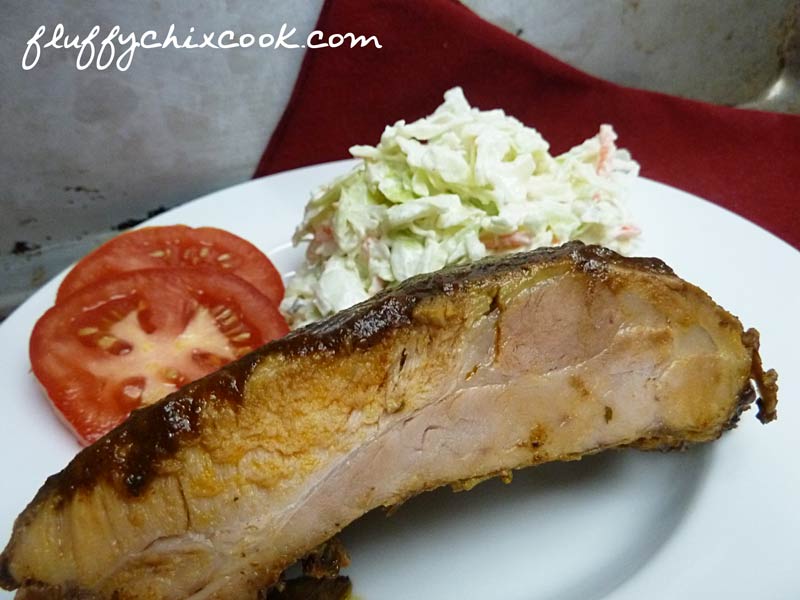 Extra meaty baby back ribs were on sale a few weeks ago, during a loss leader at HEB, for $1.47/lb. Holy Jehosephat! That's the equivalent of going through a rain shower and having it rain down frogs! It's a blue moon occurrence that signals an extreme buying event in the Fluffy camp. Baby back ribs usually go for upwards of $3-$4/lb on a good day. We bought a few racks, threw them into DS9 for another time and promptly forgot about them. So when the 4th of July rolled around, we happened to look in the chest freezer and exclaim, "It's Ribs!!! We' got ribs—rejoice and amen, my brothah!" We immediately knew it was game-on for the 4th and we were headin' for Rib City, USA, Population 002.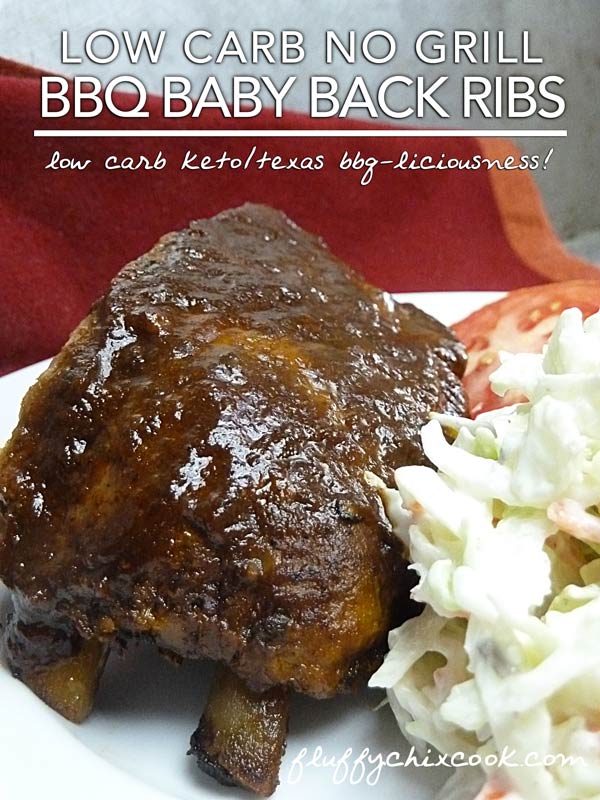 And to make it even better, we also had the Texas BBQ sauce handy so it was going to be one of those meals so dastardly easy, but so stealthily marvy—you can't help but brag about yourself. Remember, the Low Carb True Texas TNT BBQ Sauce you guys went viral over just a few days ago? That's the stuff, man! That's the stuff. Just a little spice, a long slow roast in the oven (time you can use to take a nap), and a little Texas ingenuity…and you too can have tasty ribs with little fuss or muss.
The three things you need to know about cooking ribs | on or off the smoker:
1. There is usually a membrane on the back side of the ribs (actually there are 2). The outer, thick membrane is the one you remove. The thin, inner membrane stays on the meat. Some stores (like Costco) remove the outer membrane and you will drive yourself crazier than Aunt Bea trying to remove it. So don't be that chix.

2. Do not try to think you can outwit your ribs. It's LOW and SLOW. Not hot and fast. (Unless you have a pressure cooker…and bakin' ribs instead of smoking them is bad enough-but pressure cooking ribs??? We have names for people like you who are pressure-cooker-happy…ahem, PETE O'NEIL!) Cook them on a 225°-250° oven temp. (The Fluffys cook them at 225° just like our sainted daddy, may he eternally rest in peace.

3. Don't overcook them. The best test by far is to pick them up about 1/3-1/2 way along the rack with a pair of tongs and see if they bend and begin to separate. If they do, take 'em off. If they don't, they need a little more time. That's usually around 180°-190° internal temp. (According to BBQ for dummies.)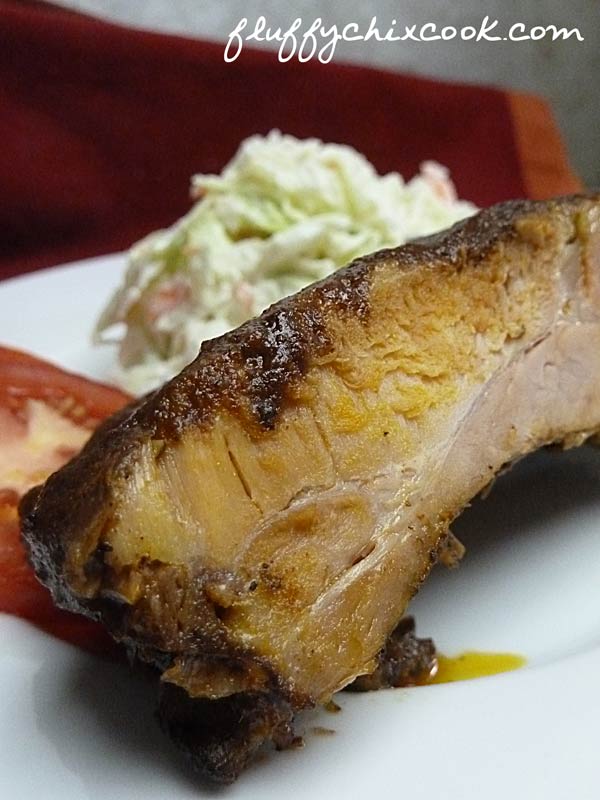 This recipe is so quick and easy, we're almost embarrassed to share the recipe. Truly, the quantities listed here are estimates 'cuz no measurements were taken. You pour until it looks "right." The only thing you can do is over salt. So don't do that. Mkay? Cook 'em low and slow. Don't get impatient. Don't be askeered. Just get in there and roll your sleeves up and getherdone. You'll wonder why you don't cook these Low Carb No Grill BBQ Ribs every week.
Low Carb No Grill BBQ Baby Back Ribs
Texas BBQ Ribs so good you'll search and search for the smoker or barbecue pit. These low carb ribs are winners and the meat can be used in so many recipes. (Pssst - think BBQ Pork Soft Tacos!)
Ingredients
Instructions
Use a spoon to remove the rib membrane. Hold the spoon bowl in your hand and insert the spoon handle under the edge of the tough membrane found on the back of the ribs. Wiggle the edge of the spoon handle between the membrane and bone. When it's inserted, place a paper towel over the membrane (so it won't slip). Grasp the spoon, membrane, and paper towel and pull to peel off the membrane like a piece of tape. Discard membrane. Wash and dry ribs.
Slather both sides of ribs with yellow mustard—or your favorite type of mustard. Sprinkle liberally with granulated garlic, parsley, kosher salt and freshly ground black pepper.
Place rib side up on top of a double layer of aluminum foil. Tightly wrap aluminum foil around ribs being careful not to pierce the foil. Fold edges of foil up and over itself into a tight seal. Seal both ends so that moisture and steam do not get out. Place foil wrapped ribs in a baking pan, seam side up. The pan needs to be large enough to hold the ribs without piercing the foil.
Bake ribs in a preheated 225° oven for 3 to 3 1/2 hours depending on the size of the rack. Transfer roasting pan to the stove top to work.
Place BBQ Sauce in a small saucepan and heat over medium high heat.
Carefully open foil and temporarily transfer ribs to a cutting board or platter. Pour the liquid in the foil package into the sauce pan with the BBQ Sauce. Remove foil from the pan and reserve.
Bring BBQ mixture to a rolling boil. Cook until sauce is thick and sauce like again. The sauce will need to reduce by 1/2 or more until is almost the same as the original volume before adding the meat juices. The addition of the meat juices makes the sauce more flavorful and reducing the volume concentrates the flavor even more. This takes about 20 minutes of boiling. Stir now and then to keep it from sticking or boiling over.
Liberally paint ribs with the sauce. Be sure to get it all over both sides! It should be fairly thick. Turn the heat up to 300°. Place ribs into the baking pan rib side down and bake at 300° for an additional 30-60 minutes. Ribs should wiggle a little and the entire rack should bend in the middle when you begin to pick it up with tongs. Feel free to baste the ribs with more sauce as you bake them that final 30-60 minutes.
(Optional Grill Method-Just pretend you HAVE a grill and want to set the sauce on the grill? Turn grill to medium after preheating. Paint ribs rack with sauce and grill over direct heat for about 10-15 minutes, turning about every 5-6 minutes until sauce is set. You can also set the sauce on indirect heat on the grill, with the lid down.)
Remove ribs from oven and transfer to a cutting board. Tent with the aluminum foil and rest ribs for 15 minutes. Slice into double rib portions and serve with extra sauce and moans of pure joy.
Notes
We recognize by giving this No Grill recipe to you that we are jeopardizing the very cornerstone and foundation of being a card-carryin' Texan. Susie could have her DFSW (delicate flower of Southern womanhood) badge revoked at any time. But the truth is that a lot of you do not have a barbecue pit, smoker, or grill. (We weep for you.) But, there is no reason you can't have delicious BBQ-like meals without a grill. AND without the abomination known as liquid smoke. YUK! Double YUK! Pox on all that uses that nastiness!
Use this method for your ribs and you will enjoy tender, juicy—beyond juicy—succulent spareribs without the hassle of a smoking session, without the storage issues and expense of a grill and they will taste better than 98% of the ribs you've bought from a restaurant. The sauce reinforced with the tangy meat drippings is phenomenal. No they aren't mustardy—this is Texas style BBQ—if by Texas style, you mean Texas-Cheaters-BBQ. And they're slap yo' mama, ridiculously good.
Serving Ideas Serve with your favorite sides, but we're just sayin' if coleslaw isn't involved, you should be slapped silly.
Nutritional Information per 1/4 of a rack (which will be way too much food for most of you) 858 Calories; 70g Fat (74.0% calories from fat); 46g Protein; 9g Carbohydrate; 2g Dietary Fiber; 5g Effective Carbs
per 1/5 of a rack (a more reasonable serving, but still big) 686 Calories; 56g Fat (74.0% calories from fat); 37g Protein; 7g Carbohydrate; 2g Dietary Fiber; 4g Effective Carbs
per 1/6 of a rack (a serving is about a good 2 rib portion--normal for most) 572 Calories; 47g Fat (74.0% calories from fat); 31g Protein; 6g Carbohydrate; 1g Dietary Fiber; 1g Dietary Fiber; 3g Effective Carbs
Copyright © 2015 Fluffy Chix Cook. All rights reserved.
http://fluffychixcook.com/low-carb-no-grill-bbq-baby-back-ribs/
Copyright © 2016 Fluffy Chix Cook. All rights reserved.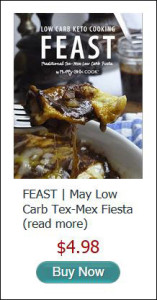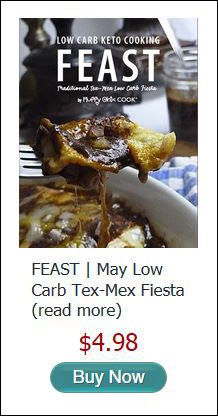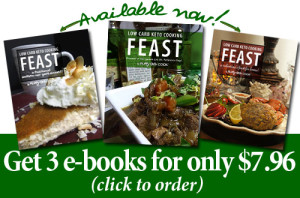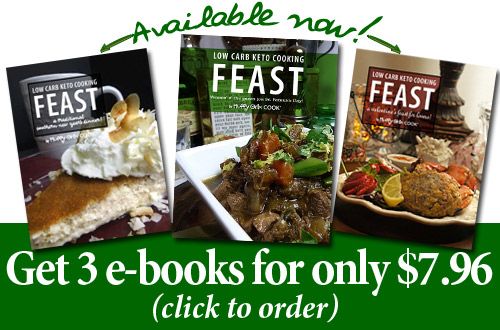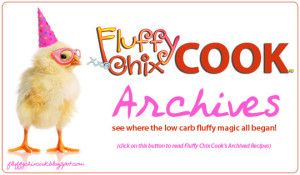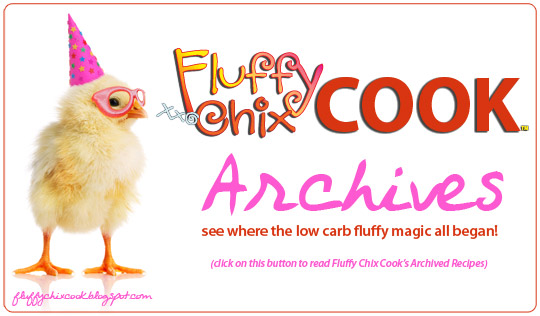 Copyright © 2014 Fast Days – Healing Days. All rights reserved.
We are not dieticians, nutritionists or medical professionals. The materials on this blog are for informational (and fun) purposes only. We do not fact check, nor do we worry about sources. Please do your own fact checking. We encourage you to look things up and check with your doctor or health care professional before acting on anything seen on Fluffy Chix Cook. xoxo