Mile High Keto Biscuit Mix – Low Carb | Sugar Free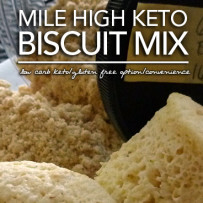 If you live a low carb keto lifestyle, you might find yourself missing bread and biscuits or the convenience they represent: breakfast biscuits and sandwiches, portable food choices, toppings for pot pies, or even the functionality of sopping up egg yolks with biscuits or as a base for sausage gravy. Yum! You might even wonder if a healthy low carb Southern biscuit is an oxymoron?  We believe Mile High Keto Biscuit Mix offers low carbers, ketogenic, gluten free options to live an easy and convenient lifestyle and provides many health benefits.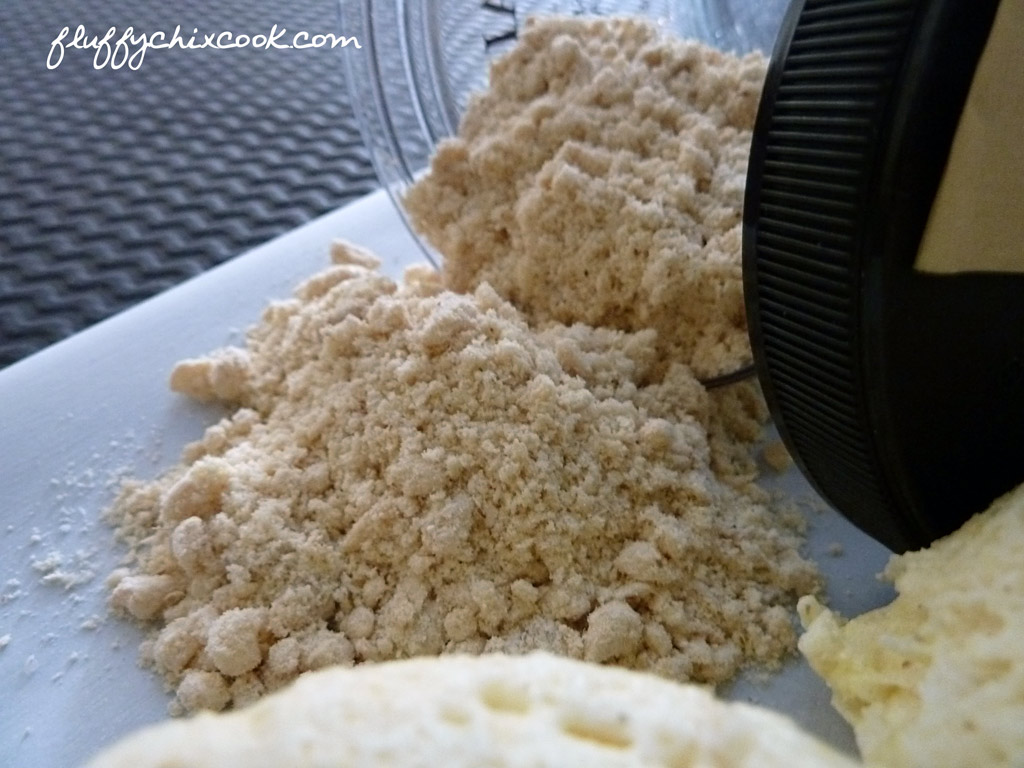 Fluffy Chix Cook is big on homemade low carb bake mixes. Mixes are the bomb. They offer diabetic friendly and keto friendly convenience and Easy Button options that streamline low carb meals. We're working on new mix recipes all the time, but here is a really yummy recipe for Keto Chocolate Cake Mix. Mile High Biscuit Mix comes together quickly and is the beginning step towards making the OWL friendly low carb Mile High Keto Biscuit recipe. First, make the mix and keep it with you always.
For ever and ever.
Amen.
Then later, make the actual Mile High Keto Biscuits when you want or need them. The recipe for the actual biscuits follows this one. Simple!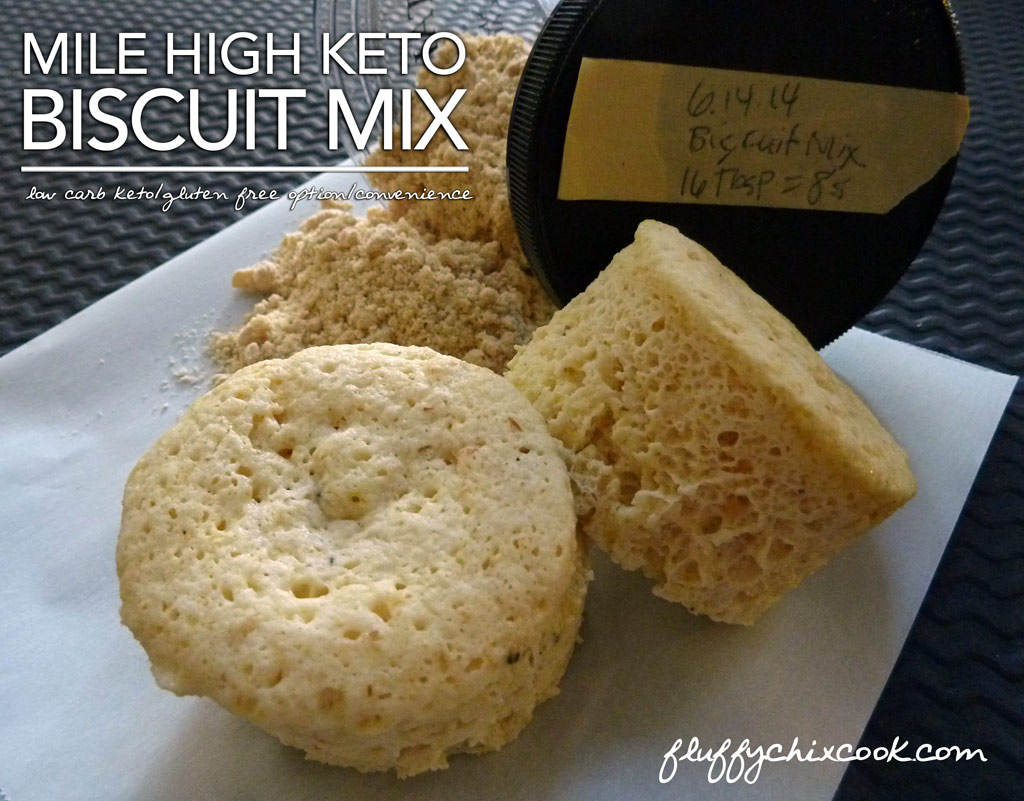 Most of the ingredients are readily available at the grocery store. You can also order them online at our trusted amazon.com store. (Your purchase helps support Fluffy Chix Cook's efforts and don't cost you any more than if you order directly from them.)
Mile High Keto Biscuit Mix can be made with different ingredient options depending on your gluten free or nut sensitivity status and needs. Choose to use almond flour, your favorite low carb gluten free low carb bake mix, or use oat fiber as part of the biscuit mix formulation—if you don't mind the oat fiber not being certified gluten free, and if you tolerate fiber derived from grains, oat fiber is our first recommendation and what Fluffy Chix use. Read a little more about oat fiber in the Fluffy Chix Cook recipe for Keto Chocolate Cake Mix recipe. Be sure to make the Keto Chocolate Cake, too!
If you're looking for Induction or Phase I (or Dr. Westman's Pg 4) friendly low carb keto biscuits, you won't find them in this recipe. Click here to get the Basic Induction Fluffy Biscuit. If you follow an Atkins or Atkins-style plan, Mile High Keto Biscuits can be enjoyed as part of a low carb ketogenic lifestyle, once you progress through the first 2 week induction period and walk the carb ladder, often referred to as the OWL (on-going weight loss) ladder.
The Atkins OWL phase describes a weight loss period where each person challenges their individual carb tolerance against different classes of foods. Each class of food is progressively further out upon the ladder and represents a better grasp on glucose metabolism. Some never make it out of Induction. Others make it to rung 3 or 4 of OWL before experiencing a weight loss stall. Still others walk completely to the end of the ladder and continue to lose and improve healthy, without any issues.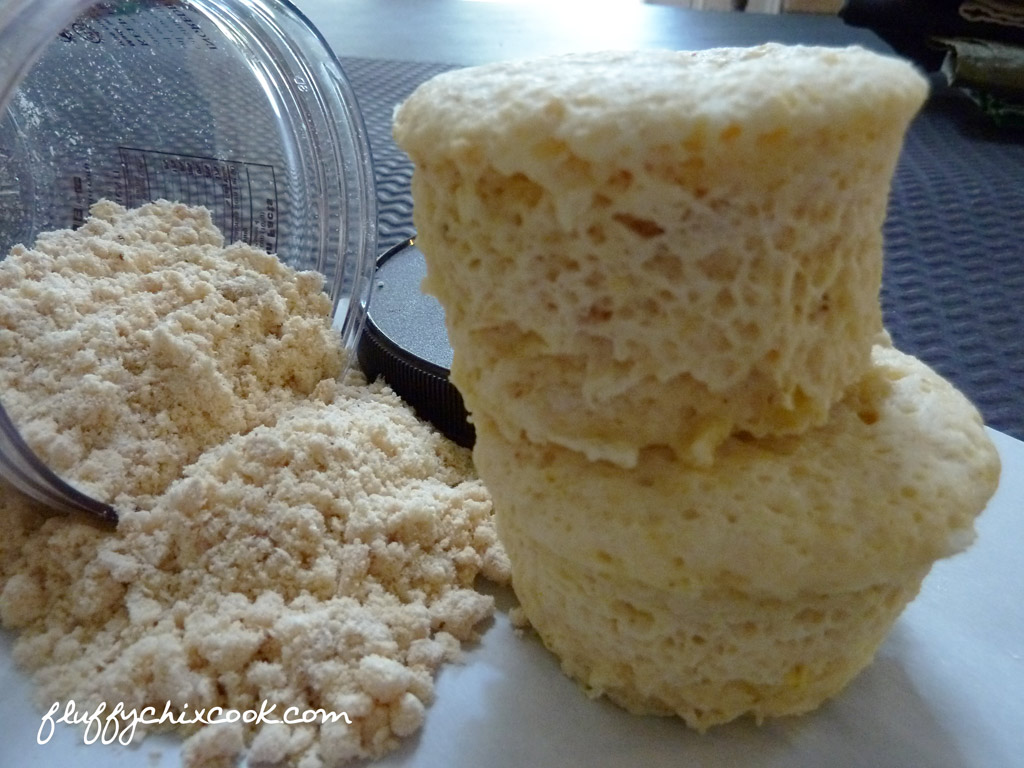 Find more information about OWL, now referred to as Phase II, at the Atkins site. If you are interested in losing weight in one fell-swoop, the recommendation has always been to stay in Phase I as long as possible to experience quicker weight loss. If you don't mind slower weight loss (for some) in exchange for a lifestyle that offers the greatest eating flexibility with the least amount of deprivation, then OWL is your ticket. Options, choices and dietary freedom await in OWL! As always, low carb keto diets are highly individual and we all need to find our way and take the path at our own pace along the low carb continuum.
Personally, Mile High Biscuit Mix has never given us a problem with weight loss. We don't really see why oat fiber would be in the grain rung, when other fibers are Phase I. Oat fiber, being 100% fiber, offers few problems for low carbers. This biscuit mix is very filling and offers a good amount of fiber in return for the carb count. Few have problems with over-indulging in its use. We use the mix for other types of baked goods such as buns, flatbreads, tortillas, pancakes, waffles, Danish and coffee cakes, and we're experimenting with it for a low carb breading.
To make the biscuits (click on the links below), we simply mix 2 tablespoons of the mix with 1 tablespoon sour cream and 2 tablespoons egg white. Stir it up. Let it sit 5 minutes to thicken, then tump into an oiled 4-oz ramekin. Nuke on high for 45-49 seconds. Remove from ramekin and either split and top with butter for a soft, bread-like biscuit, or split and toast, then top with butter or your favorite topping. We love the Norpro ramekins. They come as a set of six and work great for micro, stove or freezer.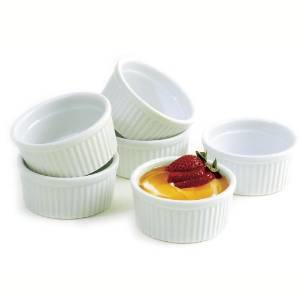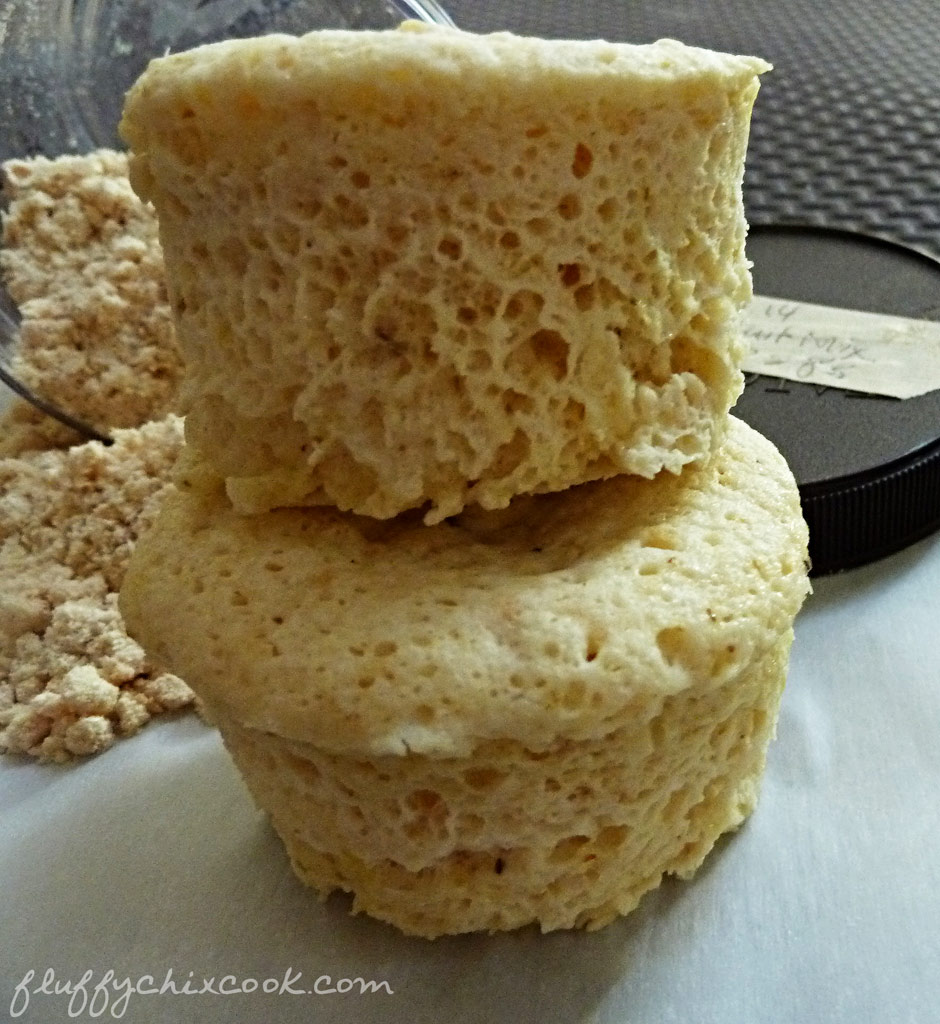 Fluffy Chix Cook developed several biscuit recipes for different purposes. The formula is a tiny bit different in each one. Choose the one you prefer. One is induction friendly and the others are OWL friendly.
Visit Fluffy Chix Cook's other low carb keto biscuit recipes (click on the biscuit names to link to the recipe):

Fluffy Biscuit – Induction and Page 4 Friendly
Mile High Keto Biscuit—OWL Friendly
Southern Biscuits—OWL Friendly (Recipe Archives)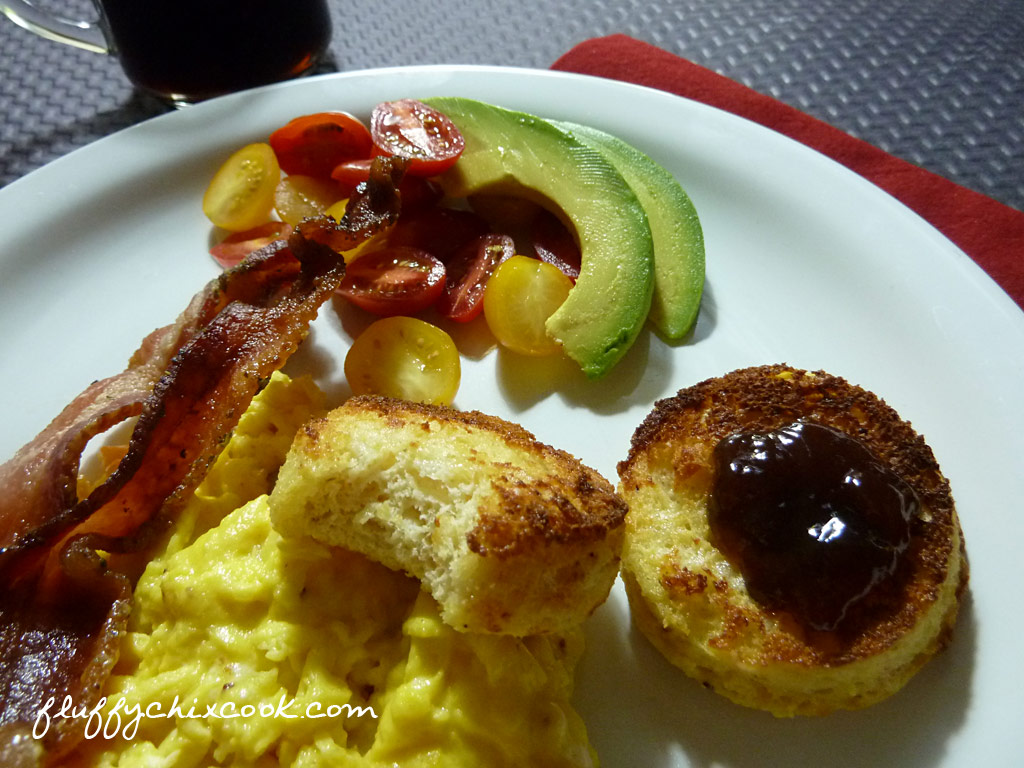 And then, all that's left is the eatin'! We love to toast the biscuits with butter and add no sugar added "sugar free" jam as a Sunday brunch treat, about once a month. Delish!
Mile High Keto Biscuit Mix – Low Carb | Sugar Free
So easy to make and makes fabulous, low carb biscuits. Keep the mix on hand for many baking options.
Ingredients
Instructions
Combine all ingredients in a glass jar. Cover tightly and shake to combine. Shake before scoop and leveling with the back of a knife.
Use 2 tablespoons per biscuit.
Notes
Of course you don't have to make the low carb biscuit mix in advance. Feel free to make a big batch of biscuits at the same time. But, this low carb biscuit mix is so convenient to have on hand and to make as individual biscuits or make them 2 biscuits at a time, why would you want to make all eight at one time?
This recipe makes enough for 8 low carb keto biscuits. We use 2 tablespoons per biscuit.
Note on Baking Powder: I made my own baking powder for this recipe. I think it may have contributed to the big rise. I used this formulation: 2 parts cream of tartar: 1 part baking soda. The action of it was pretty immediate - it started bubbling a bit here and there. I made about 2 Tbsp of homemade baking powder and measured out 2 teaspoons of it for the mix.
(See Mile High Biscuits for the exact biscuit recipe and preparation.)
Serving Ideas Combine with the ingredients for making Mile High Keto Biscuits for a great tasting low carb bread. Just make it in a 3 1/2-in brulee ramekin, then split in half to make 2 slices of "bread".
Nutritional Information
Per Tablespoon of Mix: 15 Calories; 1g Fat (30.6% calories from fat); 1g Protein;; 1.875 C; 1.5g Effective Carbs;3mg Cholesterol; .38g Effective Carbs
Per 2 Tablespoons: 31 Calories; 1g Fat (30.6% calories from fat); 2g Protein; 3.75g Carbohydrate; 3g Dietary Fiber; 6mg Cholesterol; 0.75g Effective Carbs
Copyright © 2012 Fluffy Chix Cook. All rights reserved.
http://fluffychixcook.com/mile-high-keto-biscuit-mix-low-carb/
Copyright © 2016 Fluffy Chix Cook. All rights reserved.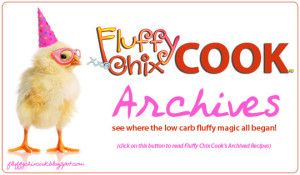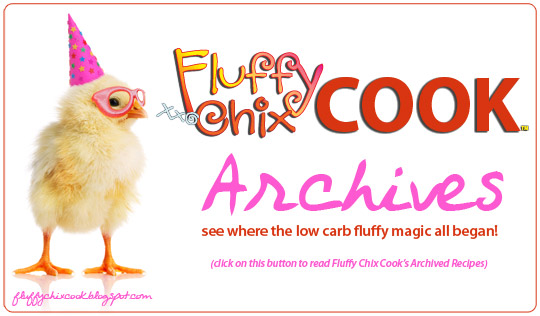 Copyright © 2014 Fluffy Chix Cook. All rights reserved.
We are not dieticians, nutritionists or medical professionals. The materials on this blog are for informational (and fun) purposes only. We do not fact check, nor do we worry about sources. Please do your own fact checking. We encourage you to look things up and check with your doctor or health care professional before acting on anything seen on Fluffy Chix Cook. xoxo