Mile High Keto Biscuits – OWL | Low Carb | Gluten Free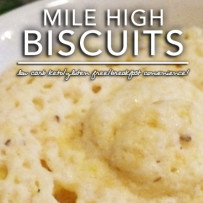 As low carbers and keto-opians we often miss portability and convenience foods the most. Those foods you pick up with your hands like you did in a former high carb world are missed the most, like biscuit breakfast sandwiches. If you've ever googled for low carb biscuits or keto biscuits, you're in good company. We all want healthy convenient low carb keto breakfast foods we can pick up with our hands. Fluffy Chix Cook's Low Carb Mile High Biscuits not only make breakfast food convenient, but the low carb Mile High Biscuit Mix makes them convenient to make, too.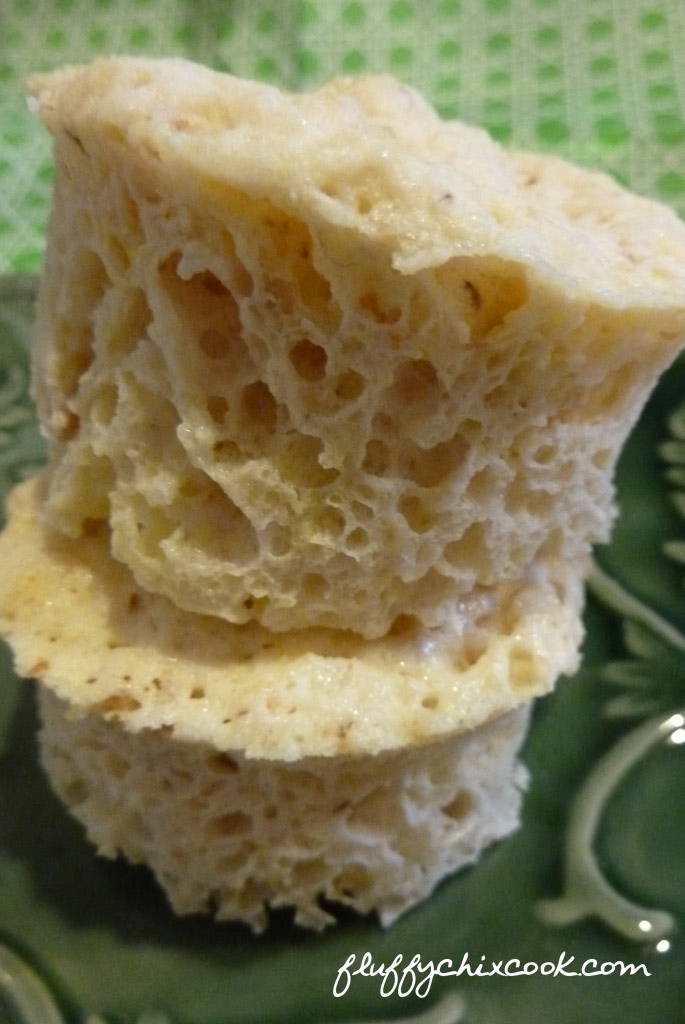 People of Keto-pia arise! Not only do you now possess the power within to make convenient low carb breakfast food options, but you now have low carb-alicious portability, too! Rejoice! Mile High Keto Biscuits work great for any meal and do offer convenient portability, but they aren't "just" for breakfast anymore! We eat them at any meal and morph them to protect their identity: sometimes we make bread from the Mile High Keto Biscuit Mix and other times we use the mix to make flatbreads, wraps, "English Muffins" and so many more options, we'd be here all day.
As a practicing DFSW, I can swear to you that the joy is back in Mudville because of this fabotastic biscuit recipe. Are you kidding me? Low Carb Biscuits with 1g of net Effective Carbs? Hold me. Then begin making low carb sausage or Bacon Gravy. Yes, please and I'll arrive within 30 minutes to help you eat them.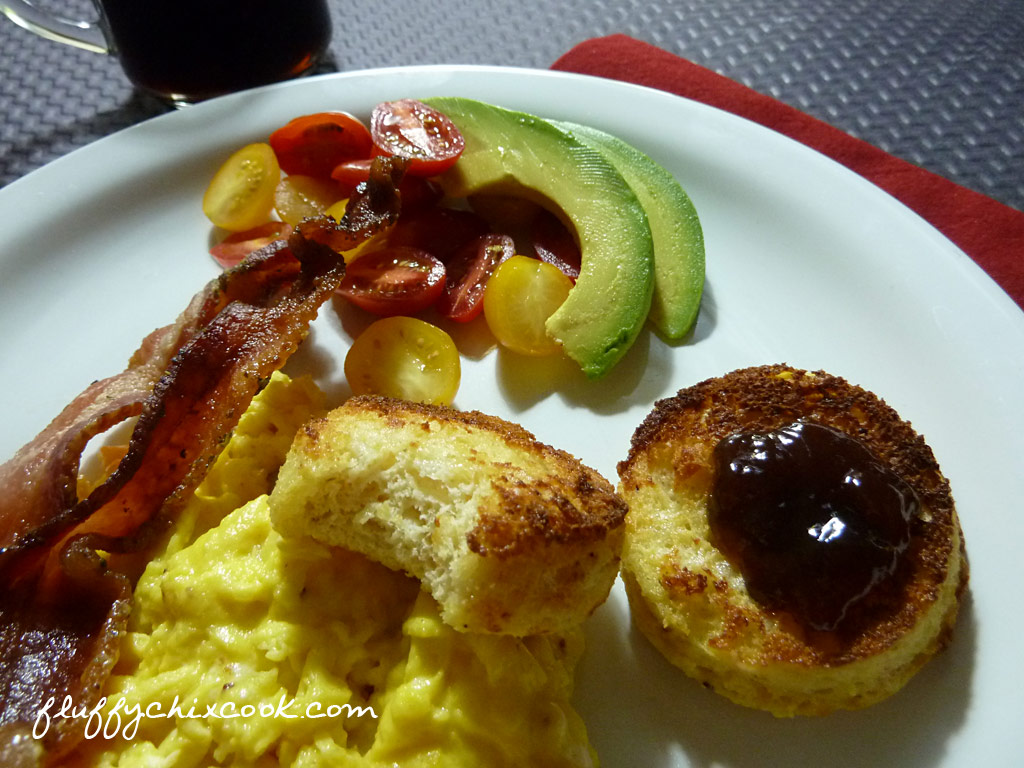 You can even use this batter to make coffee cake, pancakes and waffles! Now be warned. At first, the batter looks impossibly thin. It can't possibly work! Darn it! I shoulda added less liquid. But don't be fooled. Stir it all together. Poof. Then walk away. As Alton instructs, "Walk away! Just, walk away." (only you don't even need to bother mixing dry ingredients separately from wet, just tump. I said, "TUMP," it all in together and stir until the batter looks completely mixed.  Don't touch the batter again for 5 minutes. When you come back, it will be thicker and ready to cook.
You can make 1 biscuit at a time. But why would you? Make 2 and put one away for tomorrow. It's easier and Lucky Leftovers rule school. Don't forget to split and toast the Mile High Keto Biscuits with butter. OMGersh—so good.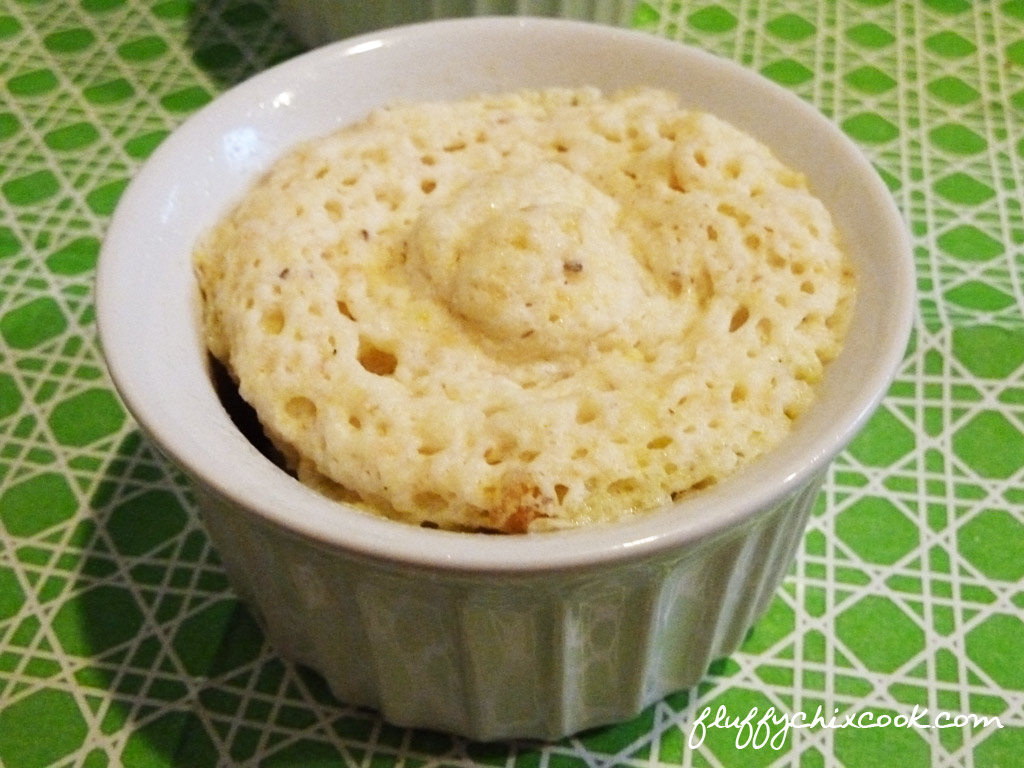 This is the companion low carb biscuit recipe that goes with the Mile High Biscuit Mix posted earlier this week. It's such a simple method, no cutting in solid fats, no careful stirring techniques to keep the biscuits from becoming tough. Simply tump everything together and stir! Then sit back, have a swig of coffee or two and wait 2-3 minutes for the batter to rest and thicken slightly.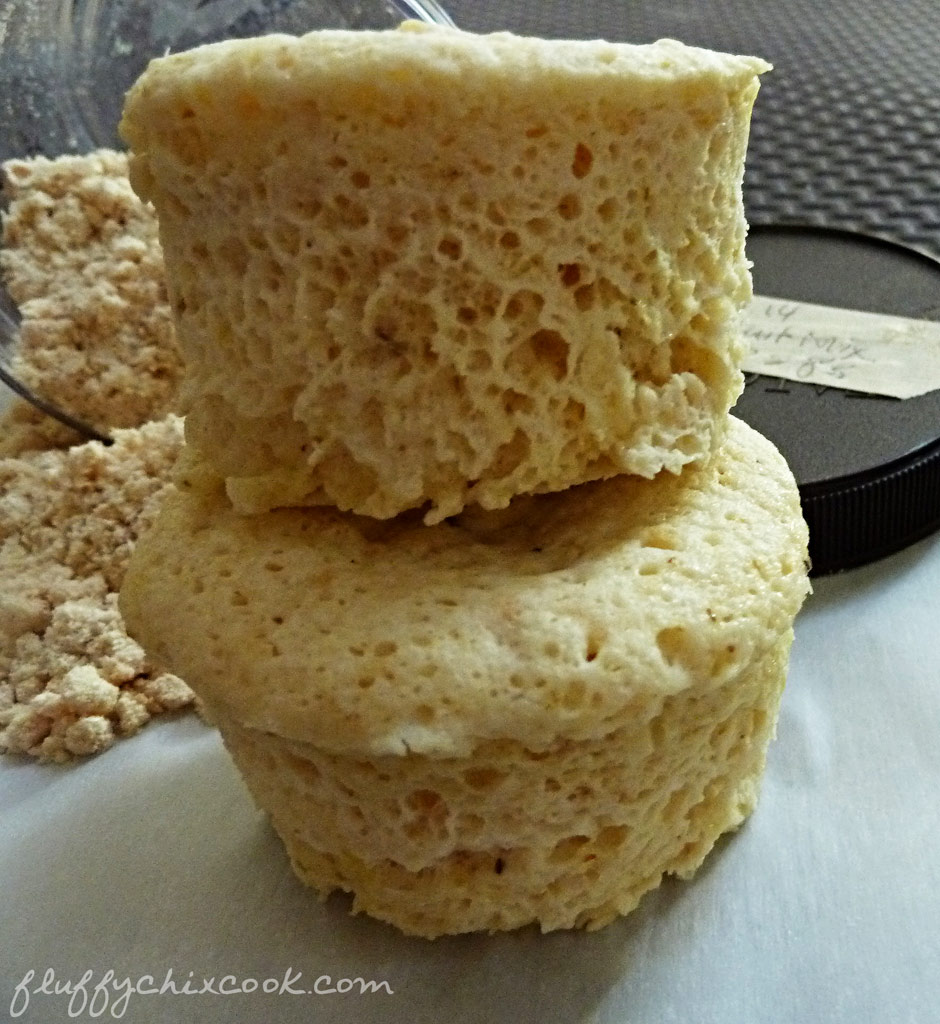 A Key Note:
A couple of people did not experience the rise I described as "mile high." They tasted great and rose nicely, but did not have that explosive tall.
NESS!!!! 
So my friend Allison and I tested the recipe this morning and made a slight tweak. She helped test the idea of adding a splash of unfiltered apple cider vinegar—an ingredient I've used successfully in both the old fashioned Southern Biscuit from the Fluffy Chix Archives and with OMM (one minute muffins aka cakes).
Apple cider vinegar (I like Bragg's unfiltered) adds nice flavor to batters and increases acidity, making it easier for the baking powder to make bubbles and create a rise. It's worth trying in baked goods. I also recommend trying your regular baking powder, then trying the homemade baking powder mix. 2parts cream of tartar:1part baking soda.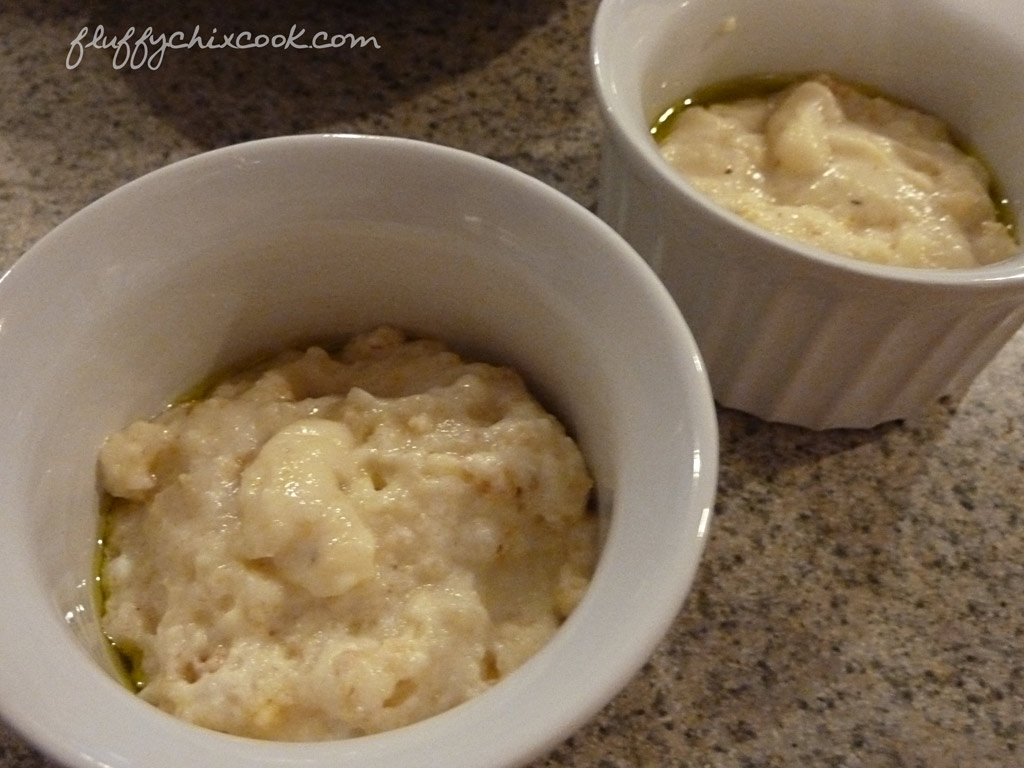 The other piece of the equation is that your ramekin or baking dishes should be about 2 ½ or so inches in diameter for the best amount of rise given the volume of batter described in the recipe.
Thanks Allison for your willingness to test and review!! Visit Allison's Pinterest Boards—such an incredible collection!
Hope you try these and let me know how they turned out!!
So what's your favorite way to eat biscuits? Share with us please? Did you grow up eating biscuits? You might be a Southerner if…
Visit Fluffy Chix Cook's other low carb keto biscuit recipes:

Fluffy Biscuit – Induction and Page 4 Friendly
Mile High Keto Biscuit—OWL Friendly (recipe below)
Mile High Keto Biscuits – OWL | Low Carb | Gluten Free
Mile High Keto Biscuits are the OWL friendly biscuit recipe that's a companion to the Mile High Keto Biscuit Mix recipe. It's easiest to make these 2 at a time!
Ingredients
Instructions
Oil 2 4-oz ramekins (Norpro, 6 piece set) with olive oil or bacon grease.
Mix all ingredients with a spatula until evenly combined. Rest batter for 2 to 5 minutes. Batter thickens as it sits. Stir before dividing between the 2 oiled ramekins.

Microwave Version

Microwave on high for 45 to 49 seconds. Cook 1 at a time for the best rise. Remove from ramekin and serve immediately. Biscuit will be soft and bread-like. Or split biscuits and toast in a toaster oven, cut side up, until golden. Butter and serve for a more biscuit-like experience!

Oven Method

- )From my experimenting friend Carol Wheatfree (Thanks Carol! Hats off to you!)
If baking these in the oven, use either the 4 tablespoons of egg whites or use 1 large whole egg (use a little less egg for the oven version than you do in the microwave version), in the recipe as written. Split biscuit batter between 2 oiled ramekins and bake in a preheated 350 oven for about 10 to 12 minutes. (Psssst: Check them at 8 minutes to make sure they didn't cook quicker. You can also use mini quiche pans and mini cake pans to make sandwich buns using this same method.
Notes
This is Fluffy Chix Cook's favorite, OWL friendly, low carb keto biscuit recipe. We love that the recipe offers an option for those wanting, or needing, gluten free options and we love that it's entirely diabetic friendly and won't spike your insulin or blood glucose.
When you have the biscuit mix on hand, you can make so many different low carb bread recipes in only minutes. We use the microwave for initial cooking, because for some reason, the boost of moist cooking power from the microwave drives a higher, more explosive rise than that experienced through conventional baking. It takes very little time to cook initially in the micro, then brown in the toaster oven. But feel free to experiment!
Serving Ideas Enjoy these with butter and low carb preserves or as a breakfast or sandwich. Dry split biscuits in the oven and use in delicious low carb dressing!
Nutritional Information
Per Biscuit: 78 Calories; 4g Fat (47.5% calories from fat); 6g Protein; 4g Carbohydrate; 3g Dietary Fiber; 13mg Cholesterol; 1g Effective Carbs
Copyright © 2012 Fluffy Chix Cook. All rights reserved.
http://fluffychixcook.com/mile-high-keto-biscuits-owl-low-carb-gluten-free/
Copyright © 2016 Fluffy Chix Cook. All rights reserved.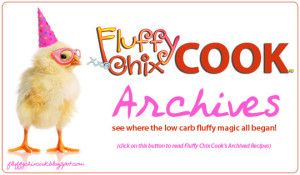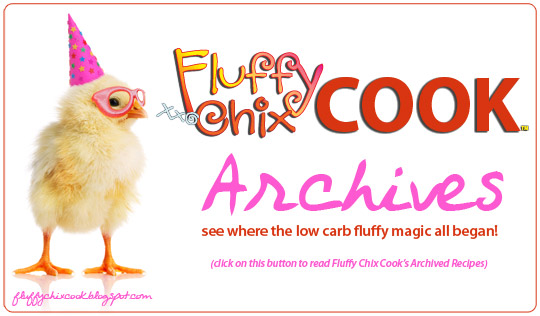 Copyright © 2012 Fluffy Chix Cook. All rights reserved.
We are not dieticians, nutritionists or medical professionals. The materials on this blog are for informational (and fun) purposes only. We do not fact check, nor do we worry about sources. Please do your own fact checking. We encourage you to look things up and check with your doctor or health care professional before acting on anything seen on Fluffy Chix Cook. xoxo