Monster Claws – Low Carb Gluten Free Chicken Fingers Perfect for Halloween!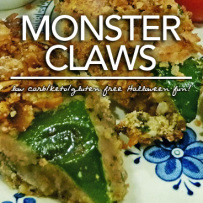 Give your family a "trick" (they're healthy but taste like you're being a devil) and a "treat" (they're tasty). Low carb keto Monster Claws taste so delish and are fun to make. They're a festive low carb keto Halloween recipe sure to please the whole family. Fluffy Chix Cook brings you ghoulishly yummy Halloween treats sure to please.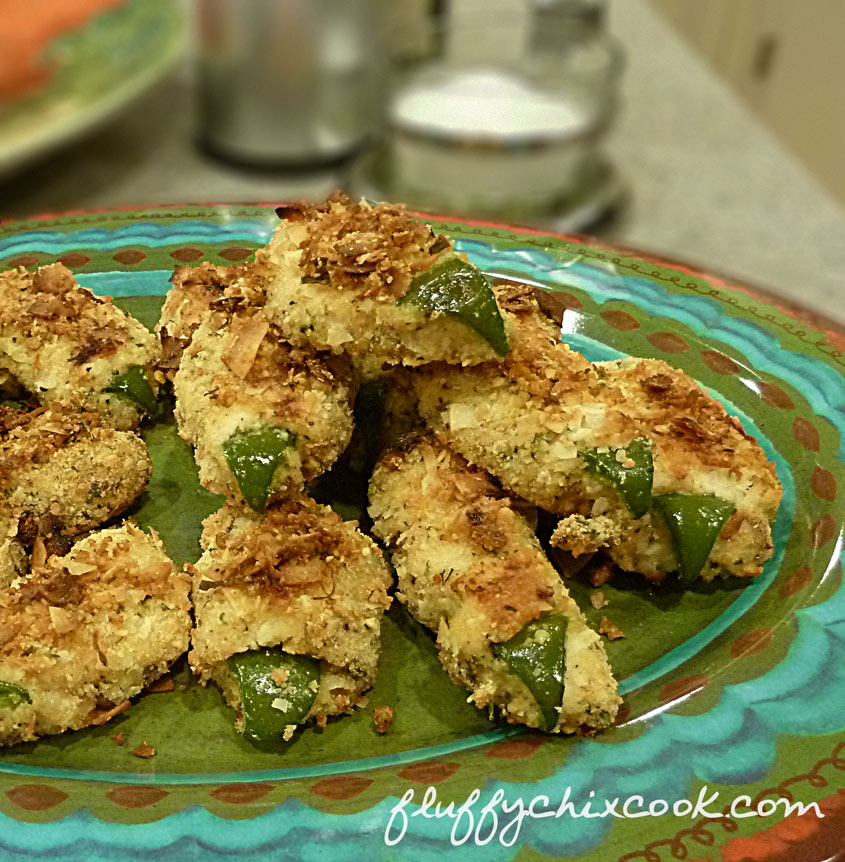 The Fluffys heart Halloween! And we all know that second to Valentine's Day, Halloween is one of the single-most-spectacularly-carbacious holidays on the face of the earth! Most moms, eager to get the kids suited-up, and out on the streets with plastic pumpkins in hand, give their children carby dinners like McNuggets or frozen chicken nuggets. But we also know those aren't the healthiest choices for your little ones. And then, a high carb nugget dinner is followed by candy, candy, everywhere. Oh my!!
So why not start Halloween out right. Spend a little more time (20 additional minutes), preparing this low carb keto, spooky (and fun) Halloween recipe instead? They'll never guess Monster Claws are low carb. They just taste yummy—a crispy, coconutty crunch on the outside, tender and juicy chicken inside. You're tricky, Mom! You could even follow it by making special low carb treats! Sure, take them trick or treating! But have such yummy stuff at the house, they won't even remember their "punkin" went to live at the top of your closet while you gave them time to forget about the high sugar candy!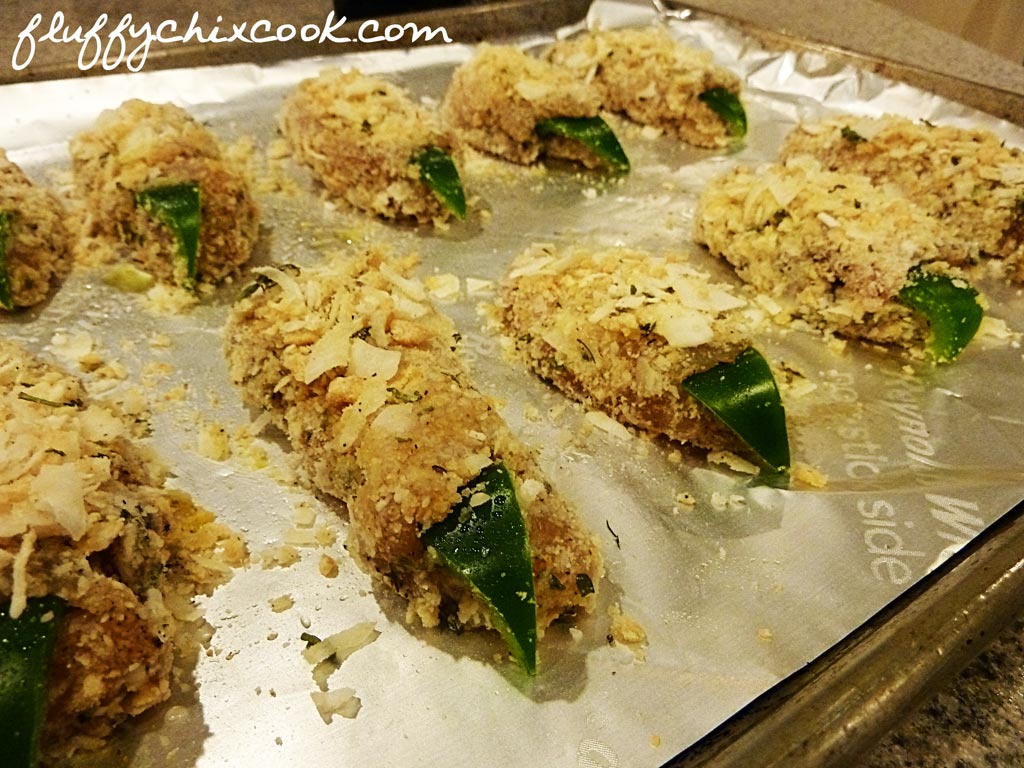 But, back to talking Monster Claws! Don't forget the Creamy Ranch dipping sauce on the side! Fluffy Chix keeps the Ranch Dip Mix made up and stored in a little Mason jar, ready to spoon into the Creamy Ranch fixins. It's as easy as opening a package without all the hidden sugars, carbs, preservatives and ingredients you can't pronounce that come in the packages of Ranch Dressing. Another tricky move on your part, Mom! Bravo! (Pssst, we sometimes like serving Monster Claws with Spicy Asian Mustard Dipping Sauce, but that's a whole 'nother recipe to visit later…the kiddies will prefer the Ranch!)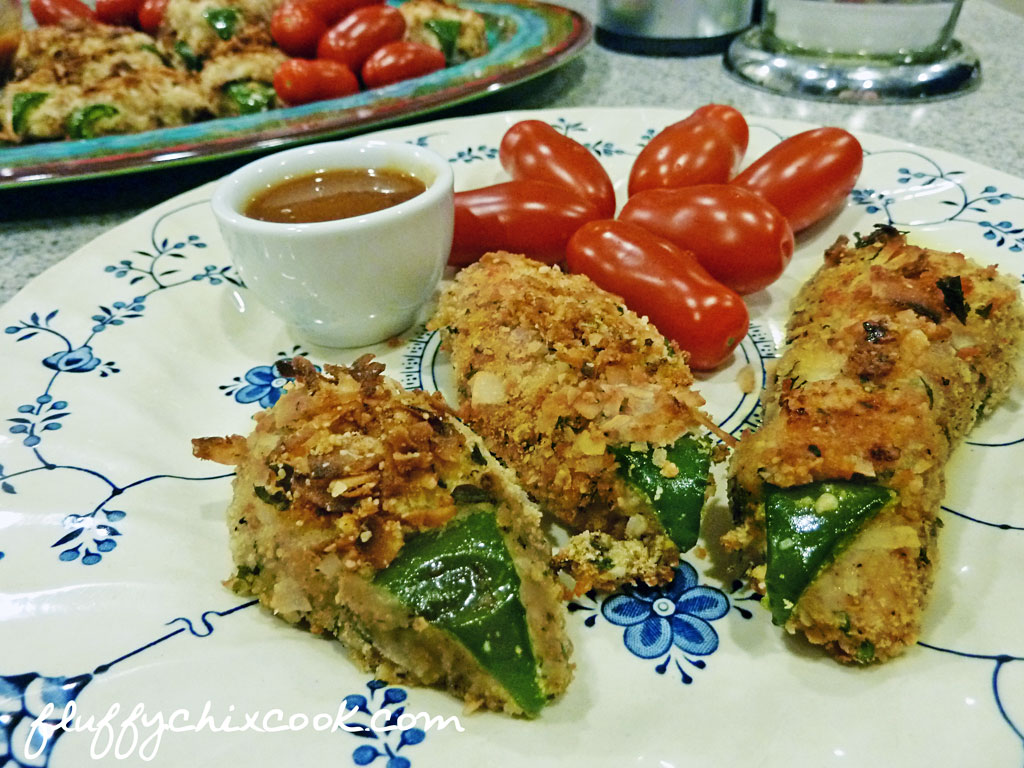 Be sure to try these yummy Monster Claws then come back and tell us if they were a hit with the kiddies and hubs! (OH and btw! When you carefully seed and remove the ribs of fresh jalapenos, you remove most of the heat, but leave the flavor. But, if you need an even milder alternative, use strips of green bell peppers to make the claws! They still taste yummy!)
Monster Claws – Low Carb Gluten Free Chicken Fingers Perfect for Halloween!
Chicken fingers never looked so ghoulishly delightful. The kids will never know these spooky Monster Claws are secretly healthy low carb keto "finger food;" in fact, they're a trick, AND a treat!
Ingredients
Instructions
For Monster Claws

Preheat oven to 450°. Line baking sheet with non-stick aluminum foil.
Pulse pork rinds into panko-sized crumbs in the food processor. (We make 2 bags of crumbs at a time and store extras in a Mason jar in the fridge.)
Wash and dry boneless, skinless chicken breasts. Cut breasts into ½ to 3/4-inch "claws" by slicing across the breast into 4-5 strips. Bake them with the widest side of the claw face up.
Season monster claws On a plate or in a pie plate, combine granulated garlic, salt, pepper, and cayenne. Combine grated Parmesan cheese, pork rind crumbs, coconut flour and coconut flakes along with remaining spices: parsley, garlic, salt and pepper. Mix to combine.
In a separate bowl, beat egg whites with a fork until foamy.
Cut fresh, seeded jalapenos into quarters, lengthwise. Slice quarters diagonally to cut each strip into triangular pieces. Alternate the direction of the cut to make a triangle with each cut. Set aside.
Dip monster claws into the egg white wash. Shake off excess. Roll in coating mixture or shake with coating using a plastic bag. Work in small batches; the coating doesn't adhere well once it gets damp.
(Alternate Breading Method: You can also shake to coat. Using an old Tone's spice container or old green-can Parmesan container works great for adding the crumb mixture, because of the large holes in the shaker top. It's better to shake the toppings onto the claws, than roll the chicken in them. You use less crumb mixture. Firmly press coating onto all sides of the claws.)
Make a small slit into the smallest end of each claw. Gently position the widest end of the jalapeno triangle into the chicken strip to form the claw. The smaller the slit, the better.
Congrats! You now have monster claws! Spray each side of the claw well with olive oil spray. Place on non-stick aluminum foil and bake for 12-14 minutes. Remove from oven and turn claws to the opposite side. Spray with olive oil cooking spray again, and return to oven. Bake another 12-14 minutes, or until claws are done and crispy. Don't overcook them! (You can also pan fry Monster Claws in lard or tallow for an even crispier coating. Fry at 350°-375 ° until brown and crispy (about 3-5 minutes).

For Dipping Sauce

Make a recipe of Fluffy Chix Cook's Creamy Ranch to use as a tangy dipping sauce for these scary Monster Claws. Allow about 2tbsp per serving.
Notes
Wow, these are such a fun item! Anyone can eat chicken fingers, but monster claws? Perfect for Halloween! The breading combination and Creamy Ranch work great for other things like breaded boneless chicken thighs, shrimp, fish, and pork fingers too!
Serving Ideas Serve Monster Claws with a crisp green salad or Asian slaw and be done with it. Don't forget the Creamy Ranch!
Per Serving Monster Claws (no sauce): 384 Calories; 57g Fat (70.3% calories from fat); 48g Protein; 6g Carbohydrate; 3g Dietary Fiber; 3g Effective Carbs
Per Serving Monster Claws with Creamy Ranch: 464 Calories; 66g Fat (72.6% calories from fat); 49g Protein; 7g Carbohydrate; 3g Dietary Fiber; 4g Effective Carbs
Copyright © 2014 Fluffy Chix Cook. All rights reserved.
http://fluffychixcook.com/monster-claws-low-carb-gluten-free-chicken-fingers-perfect-for-halloween/
Copyright © 2016 Fluffy Chix Cook. All rights reserved.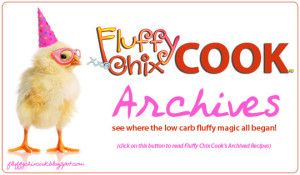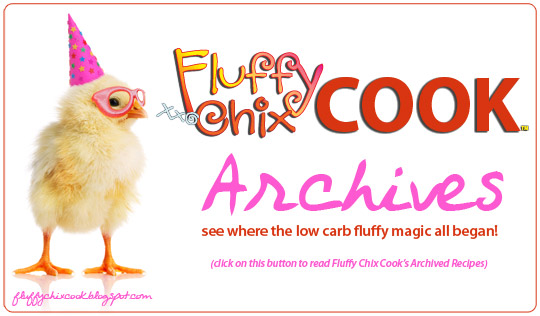 Copyright © 2010 Fluffy Chix Cook. All rights reserved.
We are not dieticians, nutritionists or medical professionals. The materials on this blog are for informational (and fun) purposes only. We do not fact check, nor do we worry about sources. Please do your own fact checking. We encourage you to look things up and check with your doctor or health care professional before acting on anything seen on Fluffy Chix Cook. xoxo